Sponsored Content
Greek island holidays are made for artsy teenagers. But which ones to choose? We asked Visit Greece to tell us the best Greek islands to visit with creative kids. Without missing a beat, the experts came back with the Cyclades islands, and here's why.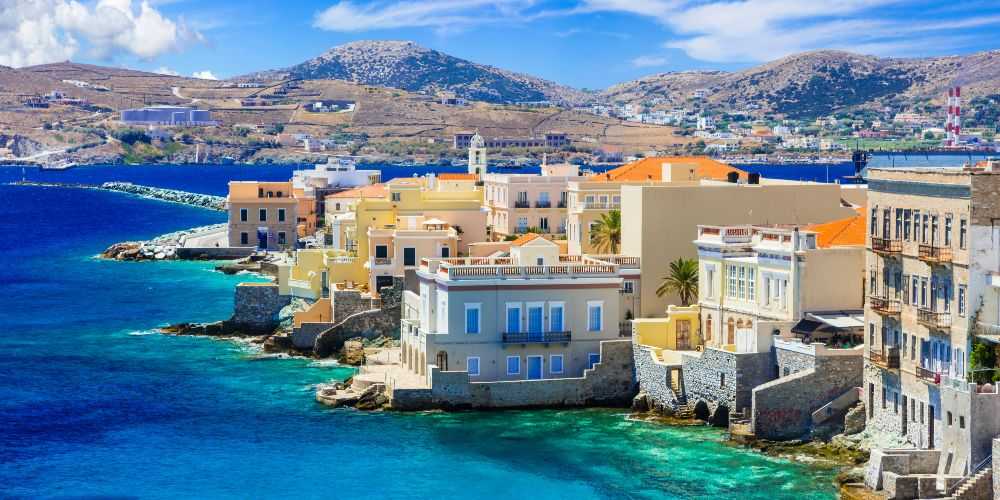 Syros for Greek island holidays with camera-ready teens
If your artsy teen gets creative on Tik Tok or Instagram, Syros gives plenty of scope for self-expression. Island capitals don't come much more photogenic than Ermoúpoli with its twin-peaks; sun washed mansion houses and 'film me please' harbour. Many stepped Ano Syros (Upper Syros) is best explored on foot – keep phones charged for astonishing Aegean views. When kids want something extra sweet to capture, Syros is also the place for loukoúmi  – a delicious, traditional Greek treat so good you need to snap it quick before it's eaten. Don't forget to take some home. And of course you can't miss the island's gorgeous beaches. Most unmissable of all is Agathopes, where golden sands come with the added bonus of one of Syros' prettiest villages, Foinikas – another stop-and-stare walking tour for artsy teens.
What artsy teens love best about Syros
Teens who like odd facts will be fascinated to learn that, at the beginning of the 20th century, Syros was known as the 'Manchester of Greece'. Find out more at the Industrial Museum in Ermoúpoli.
One of the island's most impressive buildings is the Cultural Centre of Ermoúpoli. Worth a visit to admire the grand neo-classical architecture – the sweeping marble staircase is a particular showstopper – it's where several of Syros' many cultural events take place throughout the year.
Climb uphill through the maze-like little streets of Ano Syros to the mighty Cathedral of Agios Giorgis. It's an atmospheric walk and at the top is a view so big you can see the neighbouring Cyclades on a clear day.
Musical teens should visit the Museum of Markos Vamvakaris for a snoop round the bohemian life of this son of Syros credited with founding Rebetiko – 20th century Greek folk music.
Catch a boat to Grammata Bay and explore the Grey Cave where walls are inscribed with hopes and prayers written by sailors stranded on the shores of northern Syros centuries ago – most messages date back to Ancient Roman and Byzantine eras.
Visit in early autumn for the annual Animasyros International Animation Festival. Launched in 2008, this exciting festival now attracts a global audience and features new and established animation talent from all over the world. Catch it with teens in 2021 between 22-26 September.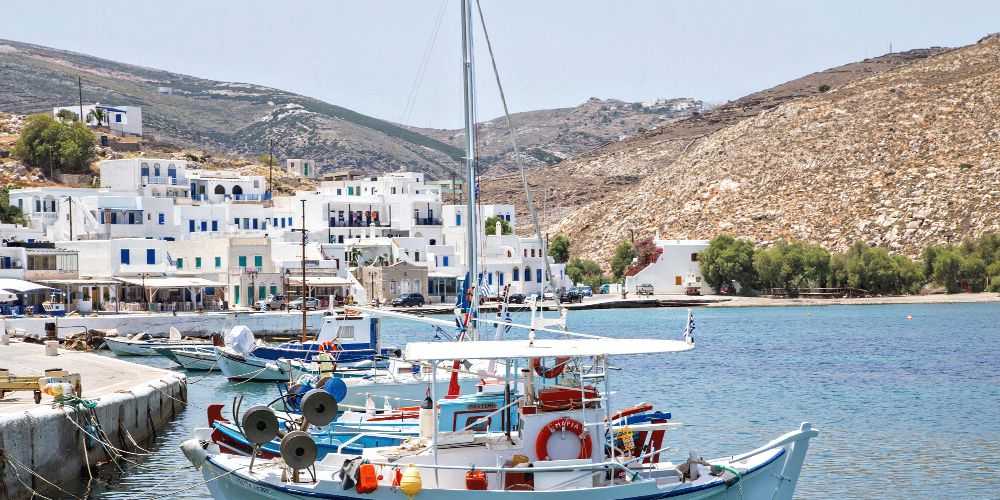 Tinos for Greek island holidays with craft-keen teens
Tinos is one of the lesser known Cyclades islands, although that relative anonymity might come as a surprise considering its worldwide reputation for incredible marble sculpting skills. According to legend, these were originally taught to the islanders by none other than  the Ancient Greek sculptor, Phidias. And there are examples of Tinos' remarkable artistry all over the island, from incredibly ornate pigeon lofts and sacred chapels to the Museum of Marble Crafts in Pirgos. Walking around one of the 45 traditional island villages is another treat for artsy teens here. And when you all need to assimilate the culture and craftsmanship, head for the beach. Or beaches. Tinos has many, every one is lovely and they're all washed by the Aegean, of course. So take your pick from glittering pebbles to silvery sand and always make time for Kolympithra, Agios Fokas and Panormos.
What artsy teens best love about Tinos
Make it your mission to visit Triantaros-Berdemiaros with teens. These two – almost joined villages – look delightful and come good on some of the island's best galleries.
The Museum of Marble Crafts in Pirgos is the first of its kind in Greece and the impressive collection covers everything from tools and techniques to astonishing art and artefacts.
Don't miss the Costas Tsoclis Museum in Kambos. Greek contemporary artist, Tsoclis, is world famous but lives in Tinos and his deconstructed St. George Slaying the Dragon sculpture in the museum courtyard is worth a visit alone.
Head to Panormos to see the historic harbour famous for exporting the island's marble crafts. Ormos Isternia is another port to explore, kids will like the quaint fishermen's huts on the shoreline.
Tinos islanders are almost as artistic with the land as they are with marble, local produce is amazing and you have to take your teen to see the wonderful, sweet smelling orange and lemon groves.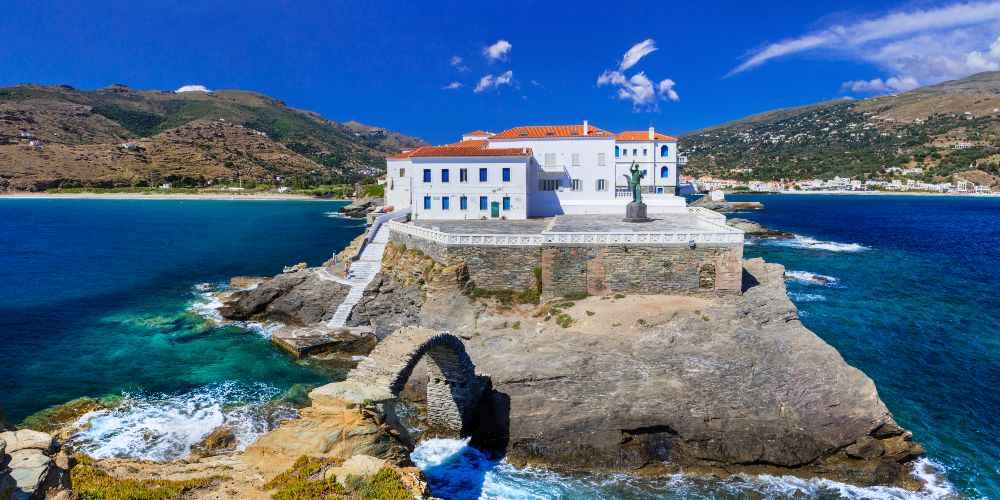 Andros for Greek island holidays with museum-mad teens
The most northerly of the Cyclades, Andros is known for its dramatic Hora (main town) where grand mansions cluster along a rocky promontory into the Aegean. The island's also famous for wonderfully well managed walking routes – over 160km of them at the last count. And artsy teens should prepare to book out plenty time to explore the many, many museums and galleries here. Like most Greek islands, Andros looks great on film. The village of Messaria is definitely one to capture – don't miss the Captain's House. If you don't mind a bit of climb, the hilltop castle in Faneromeni is worth a hike for the sensational sea views. And for some art history, the former island capital, Paleopolis, traces its roots back to the Ancient Greek and Roman eras – you'll find it on the island's west coast.
What artsy teens will love about Andros
The Museum of Contemporary Art in Andros has a well deserved reputation, not just for outstanding exhibitions but for its unusual design – leave time to linger a little on the Roof Garden.
Ancient culture from the ground up is explored in amazing detail at the excellent Archaeological Museum in Andros Hora.
Romantically inclined teens will definitely want to meander along the rocky promontory where Hora's historic quarter sits. Don't miss the 13th century castle on the islet at the far end.
Makes space for the enchanting Cyclades Olive Museum and a visit to Andros Maritime Museum is a must for its imposing building alone.
Andros is known for magnificent monasteries, teens will especially like Zoodochos Pigi in Batsi and Panagia Tomarhiani in Korthi.
Mykonos for Greek island holidays with gallery grazing teens
Probably the best known Cyclades island, Mykonos is loved for white sand beaches – over 20 ring right round the coast. It's also pretty good for celebrity spotting – another reason teens love it here. Mykonos Town couldn't be more captivating; if you want to see classic Cyclades architecture, this is the place. There are even adorable little working windmills on Mykonos – teens will want to film those. And if sunsets are  high on the must-capture list, head for the waterfront district of Alefkántra, grab a seat at one of the cafés and just wait – it's a magical experience. The museums and galleries of Mykonos could fill an entire holiday by themselves, so you may want to curate a little. Teens interested in traditional clothing and design will like Lena's House in the heart of Mykonos Town. The Castle House is the island's excellent folk museum. And for 24-hour art, culture and heritage, just go walking round the atmospheric streets of Mykonos Old Town, day or night.
What artsy teens will love about Mykonos
Mykonos is the island for gallery hopping. Don't miss the Municipal Art Gallery for its fine permanent collection and art events all summer.
The stunning Alefkántra district of Mykonos Town is nicknamed Little Venice and teens will lose their hearts to its handsome 18th century mansion houses and intricate balconies gazing over the Aegean.
There are many gorgeous beaches to choose from on Mykonos, but always make time for beauties like Elia and Agrari on the island's south coast.
Don't leave Mykonos without capturing at least one reel of the island's famous pelicans. You can see them on the waterfront in Mykonos Town and any local will be delighted to fill you in on the story of the original: Pétros the Pelican.
The island of Delos is an easy boat trip from Mykonos. A World Heritage site and one of the most important archaeological sites in Greece, Delos is known worldwide for its magnificent Lions' terrace, and the Delos Archaeological Museum will thrill artsy teens.
Every artsy teen is completely different which is why Greek island holidays are made for them? Go to Visit Greece to see more of the Cyclades and countless other artistic, creative and thrilling places to inspire teens and kids of all ages this summer and beyond.