Sponsored Content
Greek island activity holidays come in as many different variations as families do, so we asked Visit Greece to share their expertise and gives us a short list of the top five Greek islands best loved by sporty families for this summer and next.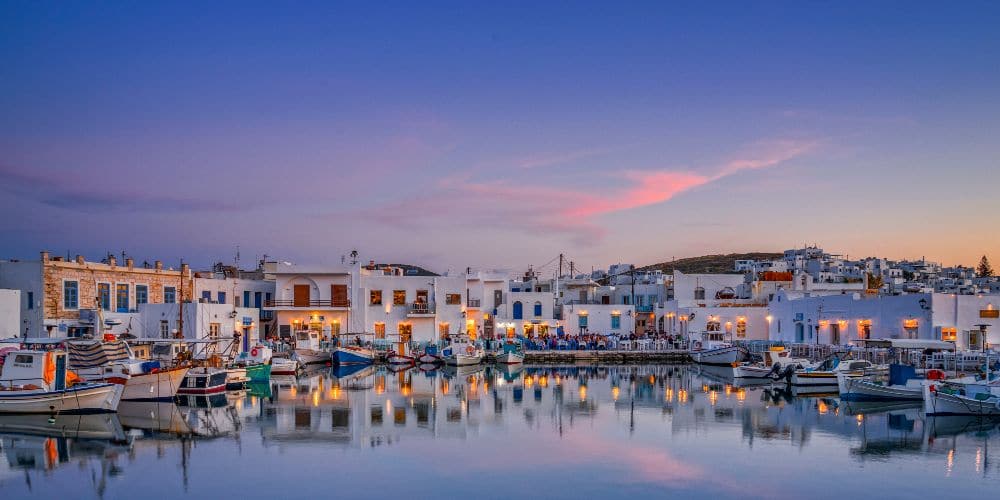 Paros –  Greek island activity holidays for wind-sport wild families
There's no getting away from the prettiness of Paros. It's right at the heart of the Cyclades and if your heart's set on sugar-cube houses and charming harbours, the island capital Parikia and the picture-perfect village of Naoussa supply all that, and then some. You won't ever run out of history to explore here. The beaches are beautiful, without exception – a horseback tour of the coast is an amazing way to see them. And sporty families keen on wind or kitesurfing couldn't pick a better Greek island to pursue their passion. The Windsurfing World Championships  are held at Chrissí Aktí on the south east coast of Paros every year.
What sporty families love about Paros
Pounta beach on the strait to Antiparos is an ideal place for surfing – try Santa Maria Beach for scuba diving and canoeing.
The annual Pan-Hellenic Wakeboard Championships are held at Ai Giannis on Paros.
Horse riding tours round Paros' coast are a great way to find your favourite beach and see some of the island interior too.
Step off the beach for a bit and hike the historic Paros' 'strates': well-marked walking trails originally created by local farmers.
For a free spa, head to Kalogeros Beach; cake yourself in natural clay; bake in sun; then rinse in the sea – perfect for soothing muscles and softening skin.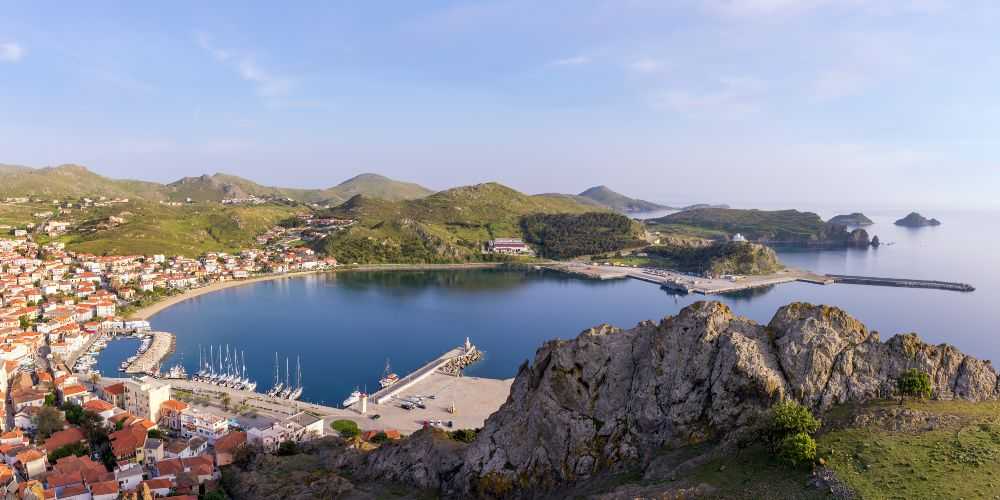 Limnos – myth laden island with the coolest surf beaches
Travelling with surf-keen kids or kids who're keen to learn? Limnos should  go up top on your family travel wish list. Known as the island of Hephaestus – the mythical blacksmith responsible for forging the weapons of the Gods – Limnos is also where you can see the remains of Europe's oldest Neolithic city. But for families who prefer fresher legends, the beaches of Limnos are where surf heroics happen on the daily. Keros Beach, with its combo of reliable waves and sandy seabed is the one to beat, both for surf newbies and experts. Windsurfing and kitesurfing are big on Limnos too. And it's also the island to try Wind Wings – think windsurfing and kitesurfing with a hydrofoil twist and the crystal clear northern Aegean to practice on.
What sporty families love about Limnos
Keros Bay is three kilometres wide and one of the best places to learn to kitesurf or windsurf in the northern Aegean.
Limnos is known for its soft, sandy seabed and mix of small to medium waves so it's a natural confidence builder for first time surfers – as well as more advanced improvers.
Off the beach, kids will love the watery wonderland created by the amazing 15m high Kaspakas waterfalls.
Take a gentle stroll round Myrina, the charming island capital, then really stretch your legs with a climb up to the impressive Byzantine castle which lords it over the entire town – the views are incredible.
Don't miss Neolithic Poliochni and take kids to explore the astonishing Petrified Forest near Moudros.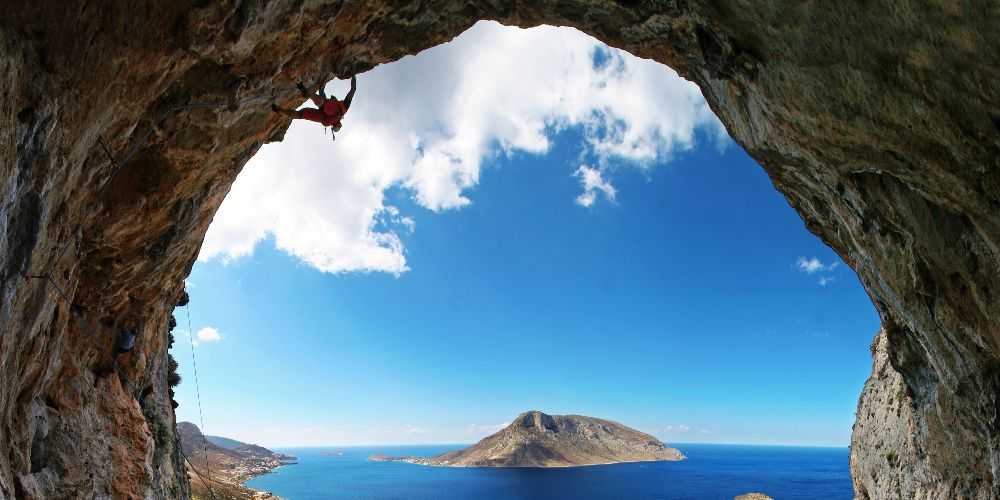 Kalymnos –  the Dodecanese where the world comes to climb
You might think you don't know Kalymnos, but you probably do. It's the Dodecanese that gifts the world spectacular images of rock climbers gracefully suspended in vast stone arches against the bluest of skies. Considered to be one of the best places in Europe for technical rock climbing, it's also a great island for families to try out less challenging ascents – it could start a passion for life in kids. If you don't have a head for heights, Kalymnos is well known for diving too – it's one of the Greek islands where sea sponge harvesting is still a thriving industry. Though you definitely don't need to be a skilled diver to explore underwater – snorkelling's just as much fun here and almost as rewarding in the clear, warm waters of the Aegean.
What sporty families love about Kalymnos
Kalymnos' dramatic landscape offers up 1300 exceptional rock climbing tracks ranging from beginner-ready to technical-experts. 1300 climbing tracks might sound impressive, but actually it's only about 10% of the island's potential, so new tracks are being discovered all the time.
If you've seen pictures of the Grande Grotta, you won't be surprised to learn that it's the centrepiece of the legendary international Climbing Festival hosted on Kalymnos each year.
Kalymnos is almost as famous for scuba diving as it is for rock climbing. Extraordinary experiences here range from wreck diving to exploring underwater caves. Dive centres on the island cater for beginners right though to professional divers. And if you visit in summer you can catch the annual 'Diving Festival and Skandalopetra Games of Kalymnos'.
The island's also known for exceptional hiking routes – again many are perfect even for younger kids. And if caves are your thing, Kalymnos has over 50: the Cave of Kephalas is the one for stalactites and a boat trip too.
For days when you just want to kickback and play by the sea, the island's gorgeous beaches range from softest sand at Masouri on the west coast to windsurfing wonder, Emporios, in the north.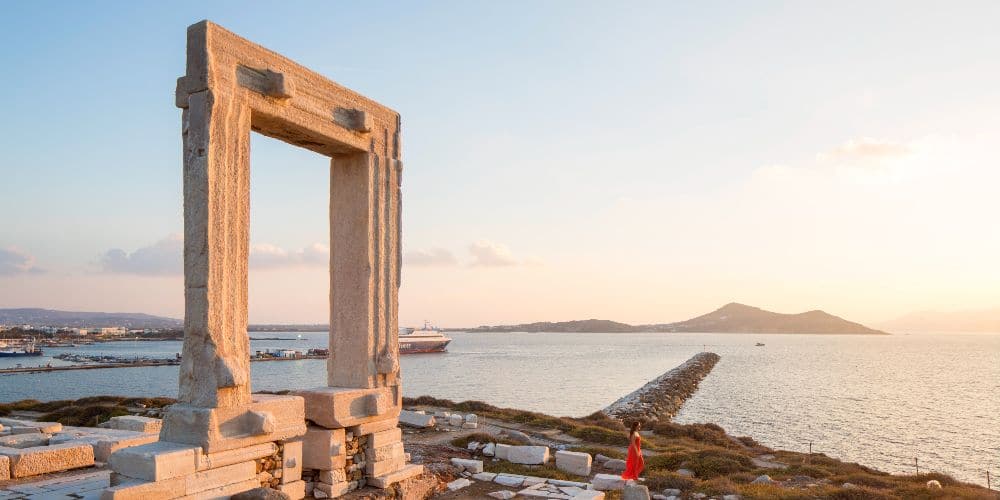 Naxos – the Cyclades island for walking, cycling and exploring
The largest of the Cyclades, Naxos is amazingly green and lush, as well as warm and sunny. So not much of surprise to find it tops the list for Greek island activity holidays, particularly if the activities you like best are walking and cycling with fun water sports on the side – Naxos also has great beaches. Following well marked hiking trails is the perfect way to explore the island's famously charming villages. For more ambitious older kids, a climb to the top of Zas Mountain (highest peak in the Cyclades) is an  incredible thrill; don't miss Zas Cave on the way up, or down. And if you prefer wheels to feet, cycling on Naxos is a perfect balance of challenge and reward.
What sporty families love about Naxos
Mix culture, history and hiking on walking tours round the lovely mountain villages of Naxos. Don't miss Apeiranthos for no fewer than five museums and beautifully preserved local architecture which has remained virtually unchanged since the days of the Venetian Empire.
Apart from the fun of walking on Naxos, just about every route comes with astounding views. Follow the Emery Mines trail from Apeiranthos and the prize at the end is an overview of the entire Cyclades archipelago.
The island's north west coast is famous for etesian winds all summer long making it a Mediterranean magnet for kite and windsurfers – or kids who want to learn.
Naxos is known for wreck diving, but if you want to get underwater closer to shore, go snorkelling off sheltered and peaceful Panormos Beach on the island's south east coast.
You'll never tire of exploring Naxos' gorgeous countryside but make time to tour the capital, Chora. And always take a walk to the massive Portara. Once gateway to the Temple of Apollo it's the island's most iconic monument.
Kefalonia – the best Greek island for paragliding
Another giant for Greek island activity holidays, Kefalonia is the largest of the Ionians and home to Myrtos Beach. Not only one of the most beautiful in the world but also a paragliding paradise thanks to its cradle of soaring cliffs and uplifting summer breezes. Skala is another of the island's remarkable beaches where excellent water sports and lazing on vast swathes of sand are encouraged, except in areas cordoned off to protect nesting Caretta-Caretta Turtles. Ainos National Park is the only national park on a Greek island and great for a day's hiking with kids, keep your eyes sharp for its famous wild horses. Head to Ai Helis for beach volleyball and more water sports. And if you feel like sailing, take a boat trip to the Cave Lake of Melissani, it's not an official wonder of the world, but it should be.
What sporty families love about Kefalonia
Myrtos is another gorgeous beach immortalised on film (Captain Corelli's Mandolin) but these days it's simply one of the best paragliding locations in Greece.
Kefalonia is as sporty underwater as over, great for diving or snorkelling and famous for marine life ranging from Caretta-Caretta Turtles to rare Monk Seals.
The miraculous Mellissani underground lake was a place of worship in ancient times and, if you take the guided tour by boat, it's easy to understand why.
Centred around dramatic Mount Ainos, Ainos National Park is an incredible place to walk and hike, trails are graded in order of difficulty and even younger kids can manage the easier routes.
When you visit Myrtos Beach, make time to explore colourful Assos nearby. Between the charming houses and astonishing location it's one of the prettiest (and most photographed) villages in Kefalonia.
Every sporty family is completely different which is why Greek island activity holidays are made for them? Go to Visit Greece to see more of the glorious family-friendly places to play this summer and beyond.