Sponsored Content
It's great fun deciding which Greek island to pick for a family holiday, and even better with some guidance to steer you expertly around an admittedly enormous and gem-packed archipelago.
Naturally Visit Greece have island expertise to spare, know all the best ones for toddlers, ideal isles for teens and multi-talented treasures to keep everyone happy. So when they single out the Dodecanese for special mention, it's definitely worth learning a bit more.
These are the islands that float in the Aegean, almost as far south as its possible to go in Greece, so needless to say they're very sunny, beachy and stunningly beautiful. If you hear that Hippocrates was born on Kos, you probably don't need to be told that they're also laden with amazing stories. And kids with a bold spirit of adventure are in the best type of company in the Dodecanese: at one time or another everyone from Ptolemaic Egyptians to Trojan warriors has set foot on these ancient shores.
So which island would you like to visit first? Here's a run down of the top six handpicked by Visit Greece, now you just have the fun of choosing your favourite.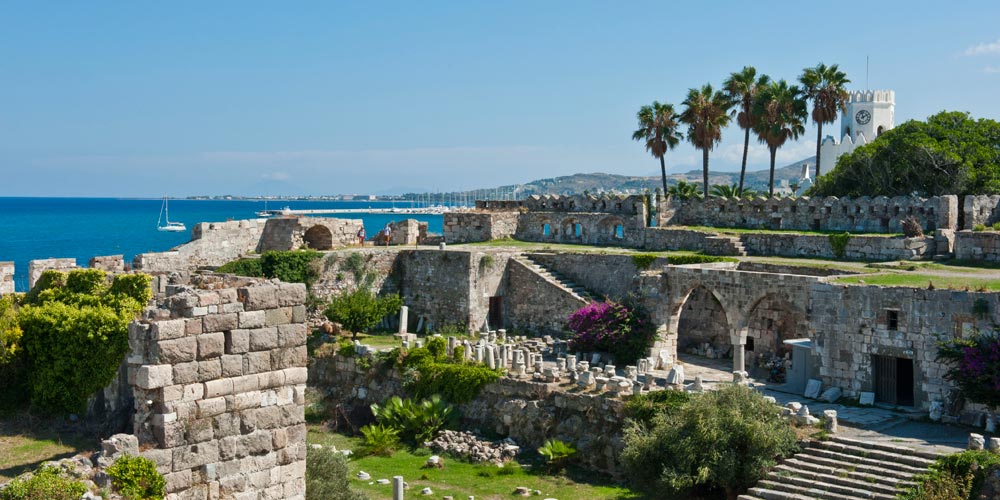 Kos
Kos is the third largest island in the Dodecanese and even at that you can still drive it from end to end in just over an hour. Which is why it's all the more wonderful to find it piled high with activities, archaeological marvels, ancient history and a seemingly never ending supply of spectacular beaches.
Its reputation as a European windsurfing giant should appeal to sporty kids, toddlers will be won over by the friendly, easy going atmosphere everywhere, and there isn't anyone immune to the charms of pretty Kos Town or the fact that you can cycle just about everywhere: brilliantly refreshing in summer when sunny, southern Aegean temperatures climb steadily upwards of 25˚.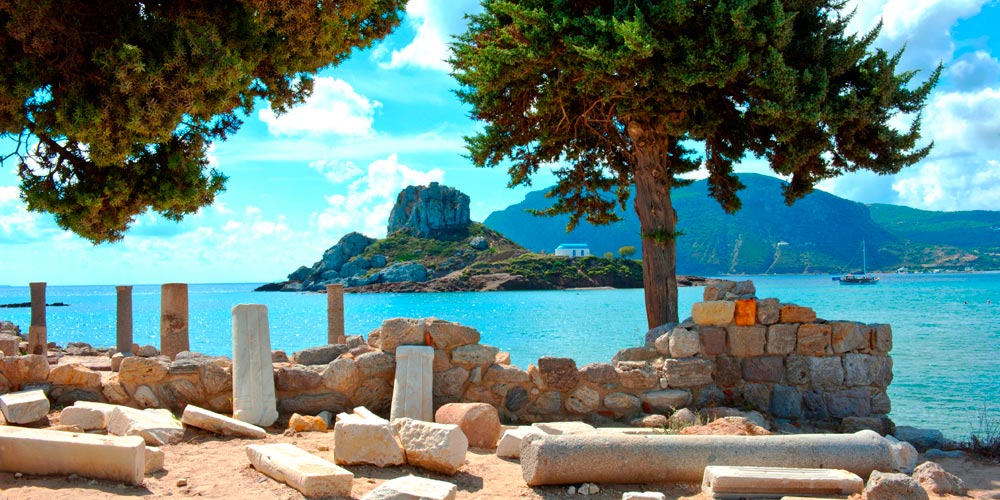 Why families love Kos
Start with the beaches, Kos has over 70km of them ranging from golden sunbathing sands to windsurfing and water sports legends. Several are Blue Flag and you'll particularly like: Mastichari, about 20 minutes south of Kos Town and a favourite with families; toddler-friendly Tigkaki Beach; white sand Kardamena Beach considered best on the island by locals, and Therma Beach, minutes from Kos Town and famous for hot springs – of course.
Before you delve into the island's ancient sites, visit the fabulous Kos Archaeological Museum. Recently reopened after four years of complete renovation, it's now hard to tell what is more jaw-dropping: the spectacular building or the awesome collection of antiquities.
Wandering in the footsteps of Hippocrates round the Asklepion just south of Kos Town is an island must-do. Doctors flock here from all over the world to watch Hippocratic Oath re-enactments. And even non-professionals can't help but be impressed by the excavated remains of what's believed to be the first ever Medical School, founded by Hippocrates in the 4th century BC.
Kids will appreciate a ramble round Neratzia Castle accompanied by courtly tales about the Knights of the Order of Saint John, responsible for building this imposing fortress in the 14th century.
Kos Town is a lovely small city with a gorgeous waterfront district, heaps of restaurants and unusual shops. Blue Flag Agios Fokas is the fantastic town beach. The Sanctuary of Hercules is just one of the remarkable archaeological sites excavated around the Old Port. And make time for charming Eleftherias Square right in the heart of town, home to the colourful Public Market and Kos Archaeological Museum. Puppet shows in the Park of Colours are another must-see with younger kids.
Whether you want to swim or play on its beaches or just stare in awe at the view, Agios Stefanos is the spot that makes more appearances on Instagram than anywhere else on Kos. The archaeological site is fascinating and you can see right across to the romantic islet of Kastri on a clear day – which is just about every day here.
Kos is only 40km long by five kilometres wide and it's cycling heaven for families. There are safe, well-marked paths a plenty and even bike trails down on the sands at quite a few beaches. And if you want to explore Kos Town, there are cycle lanes there too.
Hot spring swimming is an ethereal experience at Ebros Thermes on the island's south coast. You can't drive down to the beach, but that's great news for kids since donkeys are the preferred mode of transport on to the sands instead.
Antimahia Castle is one of the island's most popular sites and famous for its almost transcendental air of serenity. Though if you want to change it up bit, go see the castle then drop in on nearby Kardamena after: it's the Kos resort known for laid back chic, gorgeous white sand beaches and a very pretty harbourfront.
Distracting as the stunning coast clearly is, don't forget to go inland occasionally. Deserted mountain villages dating back to medieval times make for eerie exploring with older kids. And hiking the foothills – or higher – on Mount Dikeos is a fun contrast to windsurfing and water sports for teens.
How to get to Kos
Direct flights from London to Kos Airport take four hours.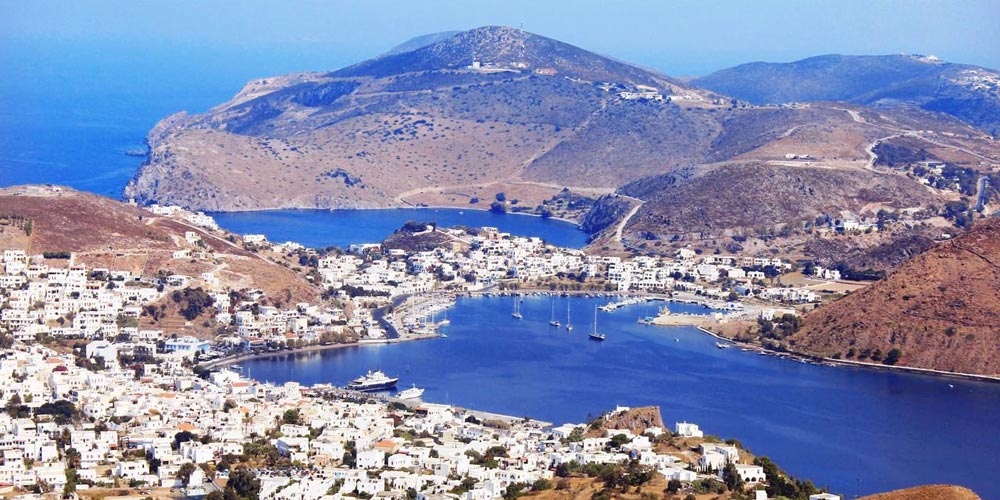 Patmos
One of the most northerly islands in the chain, Patmos goes by several names. It's often known as the Island of the Apocalypse or occasionally, Divine Island – a title it would earn even without its place of pilgrimage status and UNESCO World Heritage religious sites. Historically it's known for the Monastery of Saint John which dominates the Hora, and for the Cave of the Apocalypse where it's said Saint John wrote the Book of Revelations. However, it's also a famously laid-back holiday island and kids adore its soulful combo of cute, sandy coves; warm seas and eminently explorable nooks and crannies.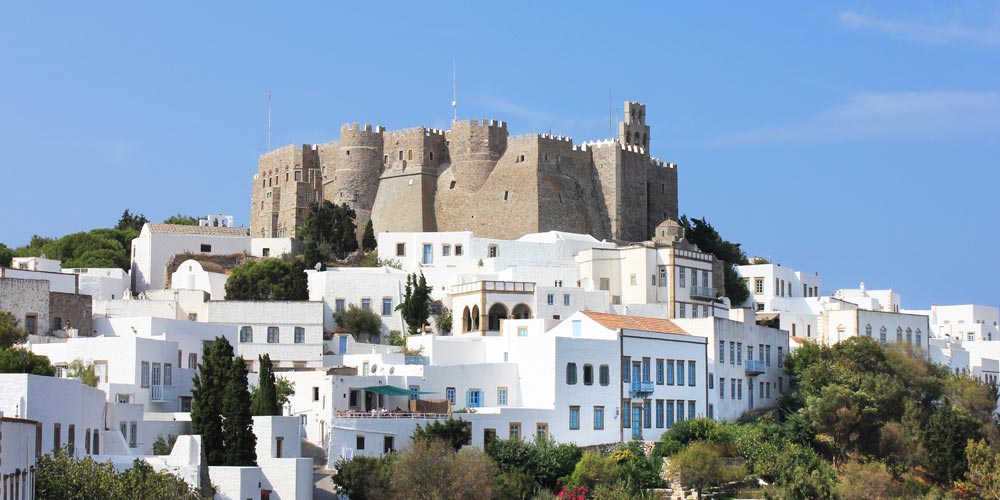 Why families love Patmos
The Hora (old town) with its unusual flat-roofed houses, atmospheric alleyways, flower-drenched courtyards and the reward of the mighty Monastery of Saint John right at the top is a completely captivating place for kids. Even younger ones won't mind wandering around and an evening stroll will make teens Patmos' converts for life.
Apart from all the pilgrim tales, Patmos has plenty of pirate legends in its pocket too. Kids will love finding out that the Hora's flat-roof buildings were designed in the 16th century to create an aerial transport network for the townspeople in case of attack from the sea.
Hiking is heroic on Patmos and the island is criss-crossed with walking trails, well marked, graded by order of difficulty and great fun for families.
Lambi Beach just north of Patmos Town is fantastic for swimming and covered in colourful pebbles – don't pick them up, just admire.
For coolest swims on hot summer days, Grikos Bay is perfect and comes with the added bonus of shelter from the little isle of Tragonisi just offshore.
The Cave of the Apocalypse is one of the island's most mythical sites and a guided tour is a must-do with kids.
Younger kids will enjoy the views from The Monastery of Saint John which lords it over Patmos Town and stares straight out across the Aegean. But if you're with teens, definitely do the full tour and hear all about the history that makes this one of the Dodecanese' most striking UNESCO World Heritage sites.
Interesting art galleries are second only to delightful restaurants in Patmos Town, and thoughtfully pedestrianised streets makes exploring the former a pleasure, and eating outside at the latter an absolute must.
Wine tours might not be top of a kid's holiday wish list, but Patmos does them with a twist and even under 18s enjoy visits to the island's agroecological vineyards.
For a classic Greek beach holiday experience, head to Agriolivado just outside Skala and hire sunbeds and umbrellas for the day.
How to get to Patmos
Direct flights from London to Kos Airport take four hours.
Regular ferry crossings from Kos to Patmos take two hours, 35 minutes.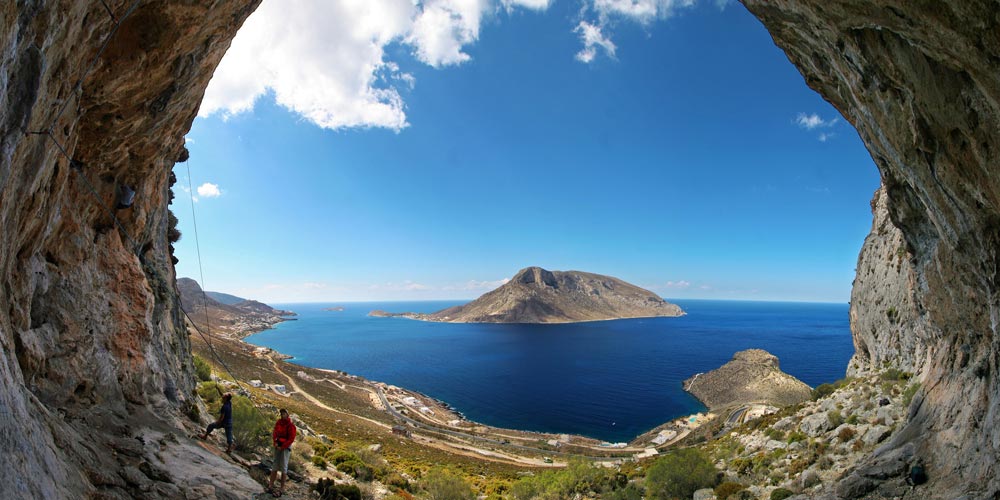 Kalymnos
If images of rock climbers dangling upside down in impossibly huge stone archways stretch your credulity, you have to visit Kalymnos and discover the truth: it's one of Europe's top destinations for extreme climbing, right down to having its own International Climbing Festival each year in May.
It's also the island of sea-sponge harvesters, which is just as intriguing as it sounds. And as well as a parade of ancient castles, monuments and archaeological sites, it's famous for heavenly local seafood, home-grown honey, sensational wreck diving, and a simple, authentic way of life that fits just fine with family holidays.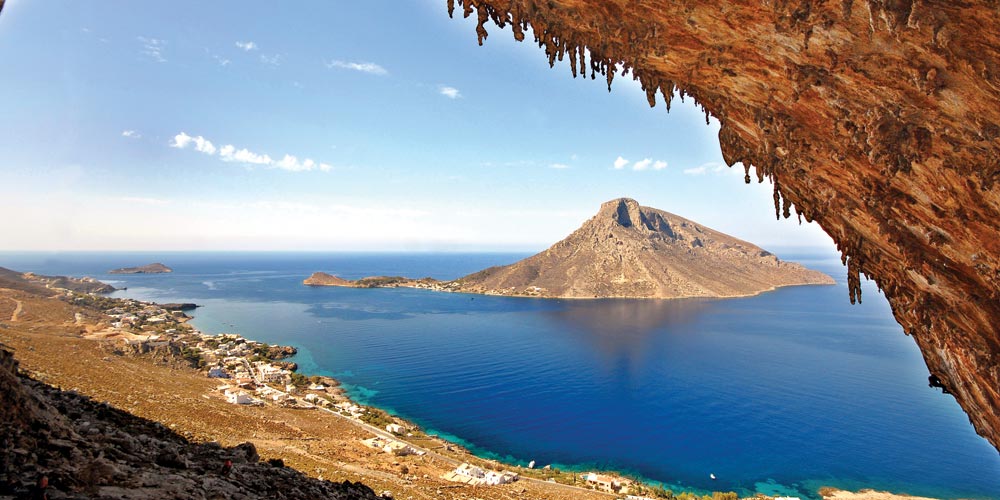 Why families love Kalymnos
Póthia, the capital of Kalymnos, is spread out over two hills around a traditional, sheltered harbour. Expect gentle, easy charm and you won't be disappointed, though the excellent local restaurants wouldn't be out of place in much more touristy towns than this.
Kalymnos Archaeological Museum and Chryssoheria Castle are two Póthia must-sees, but wandering aimlessly around and just admiring the town is fun in itself.
Grand Grotta is the phenomenal limestone arch where the island's most famous climbs take place. It's worth a visit just to gaze on its immensity, and during summer you can usually spot serious climbers scaling the heights.
There are over 70 marked climbing routes on the island, but low-level clambering around is just as exciting for non-technical kids.
Sunny day hiking is another very Kalymnos' activity and, despite its rugged cliffs and grand coastal arches and towers, the island has heaps of routes that are perfect for walking with kids.
The early Christian settlement at Eliniká is one of the best preserved in Greece and lovely to explore on a sunny afternoon.
There are dozens of beaches strung round the island's dramatic coastline. Pick Myrties, west of Póthia, for good facilities and water sports; a little further north, Massouri has soft sands and a backdrop of impressive cliffs and Kalamies in the north is one of the most family-friendly beaches on the island.
How to get to Kalymnos
Direct flights from London to Kos Airport take four hours.
Regular ferry crossings from Kos to Kalymnos take 45 minutes.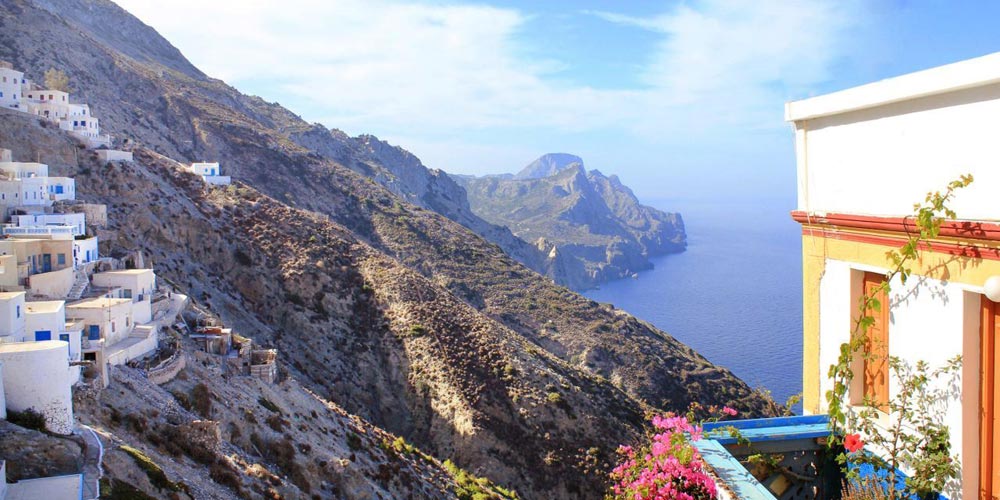 Karpathos
Gorgeous, peaceful, beachy and traditional Karpathos could have been designed just to enchant kids. Toddlers love the paddle-perfect seas, older kids can't get enough of the colourful local customs and quaint towns, and if you want to win a teenager's heart, point them in the direction of any one of dozens of outdoor activities which have made the island an adventurer's mecca for decades.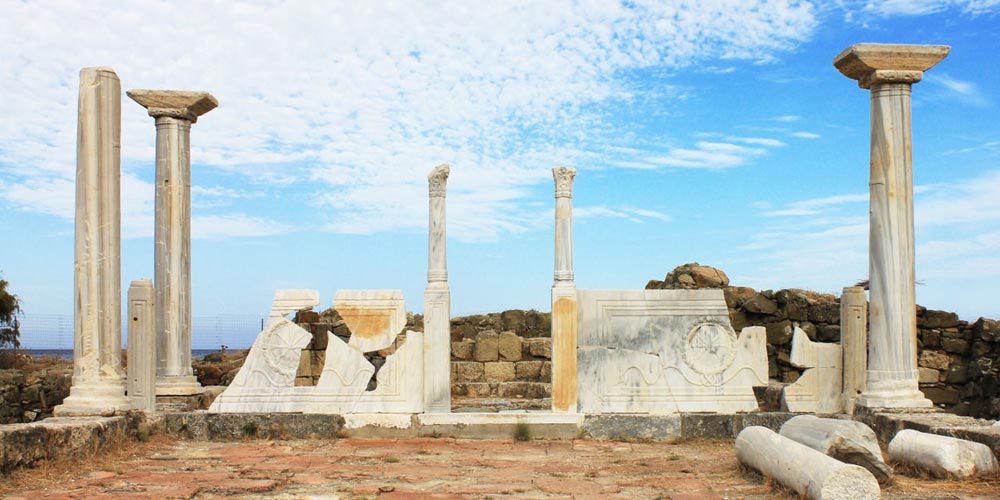 Why families love Karpathos
Pigadia, the island capital, looks sensational, mixes up an almost impossible to number variety of architectural styles and has a truly excellent Archaeological Museum as well as sweet local shops and cafés to dip into as you stroll around.
Palaiokastro is the site of the ancient city of Arkasa and you can go gaze on its graceful mix of Mycenaean, Classical and Hellenistic monuments just outside Pigadia.
Don't miss heritage villages like Olympos and Mesohóri, the traditional Greek costumes alone are enough to inspire a lifelong passion for folklore in kids.
For a complete contrast head to the stately village of Aperi to see some of the Dodecanese' most opulent mansions. And make a point of visiting cheerful Menetes in high summer, the views over the Aegean are breathtaking.
Several small museums are fun for kids, try the Agricultural Museum in Pyles; the Othos Folk Museum and Othos Workshop Gallery; or the Folk Museum of Menetes where you can see marvellous historic kilimi carpets.
Catch a cruise to Saria Island and see the wildlife, it's a haven for Monk Seal, rare birds of prey and more than 2000 wild goats.
Leave plenty of time for beaches too: Apella Beach is the island's most famous; Chicken Bay is brilliant for novice windsurfers; the snorkelling is amazing at Kipos Michaliou, and Araki Beach is good for lazing around with under fives.
How to get to Karpathos
Direct flights from London to Kos Airport take four hours.
Regular ferry crossings from Kos to Karpathos take seven hours, 35 minutes.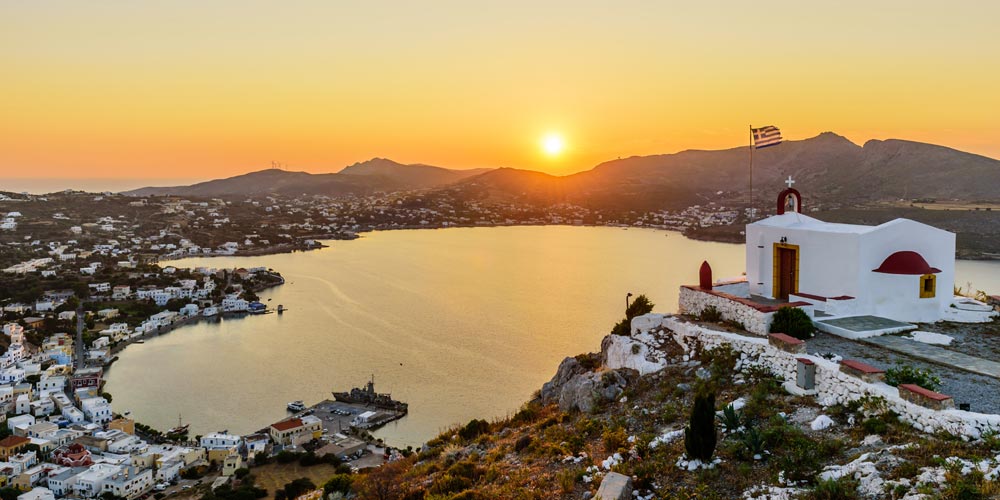 Leros
When you want nothing more than real escapism, tiny harbours snug round towering castles, delectable seafood, scented forests, gorgeous beaches and a healthy amount of outdoor adventure – not to mention scatterings of cute, historic windmills – Leros is quite possibly the holiday island you had in mind. Leros – according to mythology – is the island of Artemis, the goddess of forests and hunting.
Why families love Leros
Leros is known for its sheltered coves which make for heavenly swimming, safe and shallow paddling waters and quite often, perfect peace. Favourite family beaches with locals are Alinda and Gourna.
The captivating island capital of Aghia Marina is a delight to explore and a climb up to its lofty Kastro (castle) is worth every step for the astounding views.
Catch a cruise to the local islets of Arki, Lipsi and Marathi. Lunch on board is a wonderful treat and if they're lucky, and sharp-eyed, kids can often spot dolphins.
Look out for the lovely, typically Greek windmills dotted about the island or standing, sea side in stately rows, they're impossibly cute and naturally Instagram-ready.
Visit the atmospheric chapel of Aghios Isidoros, it's one of the most picturesque in Greece and vies with some of Europe's great romantics for lovely weddings.
Don't miss laggites for breakfast. They're honey-covered dough fritters sprinkled with cinnamon and pretty much the perfect start to the day on holiday.
Swap island hopping for village-hopping on Leros, the quaint fishing hamlets are extraordinary, wonderfully welcoming and each one's totally unique.
How to get to Leros
Direct flights from London to Kos take four hours.
Regular ferry crossings from Kos to Leros take four hours.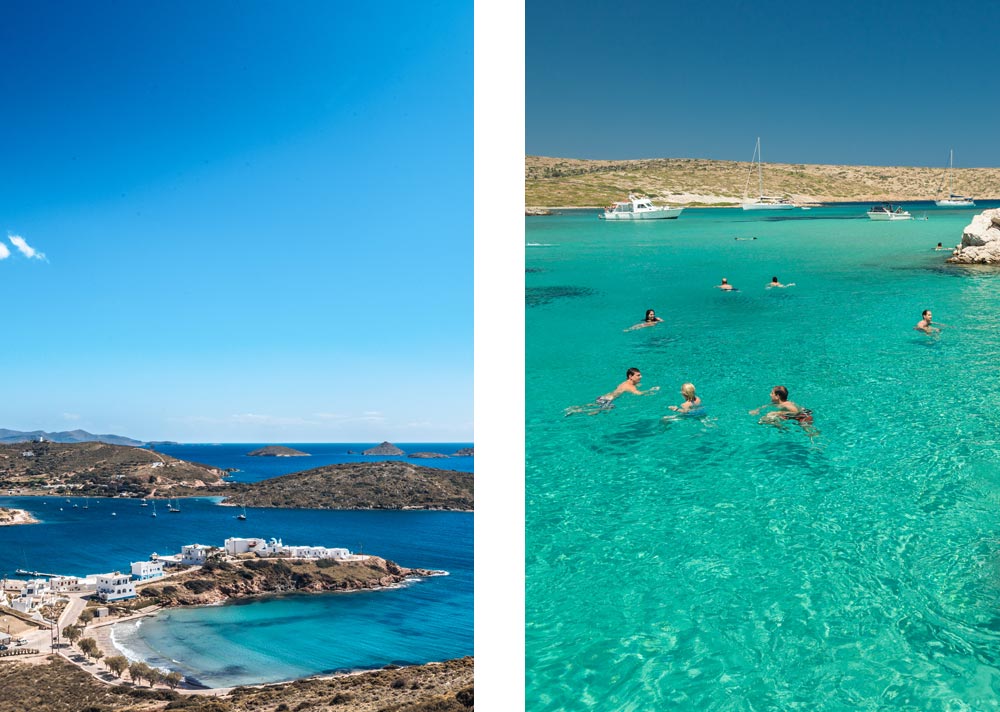 Lipsi
Little Lipsi is a tiny island with its own archipelago of another 20 islets, along with a privileged position among the larger Dodecanese which makes it a natural stopping off point for ferry crossings. So altogether, you have a deliciously cute little jewel of a holiday spot, great connections and another island group to play with into the bargain.
Why families love Lipsi
As well as being well-connected, Lipsi is also a bit of a haven for wildlife, a renowned spot for spying dolphins and a magnet for seals and turtles.
Well marked hiking routes all over the island are great fun for getting out, stretching little legs and discovering the other side of Lipsi away from the coast.
Unusual beaches are an island theme here try Hohlakoura Beach for mammoth rock formations and emerald seas; head to Aspronisia to mix up swimming with islet hopping, or go for Phanaghia Koimisis Beach and experience the sensation of being on your own, private island: it really is that peaceful.
Take kids to watch local cheesemakers in action, or visit the island winery and see how Fokiano is made.
This is the island to introduce young palates to the pleasure of meze, it's a lovingly upheld tradition in taverna and cafés all over the capital, Hora. But just as easy to enjoy at beach bars or pretty seafront restaurants.
Make a pilgrimage to the Church of Aghios Ioannis Theologos to see the unusual Panaghia tou Harou icon. The name translates as Virgin Mary of Death and it's one of very few representations of the Virgin embracing the crucified Christ.
How to get to Lipsi
Direct flights from London to Kos take four hours.
Regular ferry crossings from Kos to Lipsi take one hour, 50 minutes
Do you like the idea of the Dodecanese or do you have another Greek island group in mind? Take a closer look at the archipelago and find out where else Visit Greece highly recommend for family holidays.