Sponsored Content
A beachy holiday doesn't solve everything, but it can help put things in perspective. And with a news cycle that's almost permanent doom and gloom at the moment, who doesn't need a change of view?
Sunwing have been in the business of sharing a little sun, some soft sand and a splash of warm, blue sea with families for over 50 years now. So there's almost nothing they don't know about making beach holidays carefree and affordable; regardless of what's happening in the rest of the world.
And 2017 isn't an exception. In fact, with more Sunwing Resorts than ever, greater freedom of choice for larger families and some of Europe's sunniest spots on the menu, this could turn out to be a surprisingly good year for holidays.
Non-average families are a Sunwing speciality.
Nothing from Sunwing feels 'packaged', probably because they've had half a century of taking families on holiday and that's more than enough time to realise there's no such thing as 'average'.
Every resort has several swimming pools and a choice of family apartments to suit everyone. Kids get to spend as much or as little time as they want in Lollo & Bernie's Mini Land (Sunwing's kids' club and playground). Family activity programmes are great for sociable types, and resort reps are on hand to give you advice on the local area, arrange days out, book attractions or just point you in the direction of independent adventure.
But where you'll really appreciate Sunwing's 'unpackaged' approach is at mealtimes. Forget dull children's menus or drawn battle lines at the table. Instead, kids have their own restaurant buffet and, don't worry, it's not a Willy Wonka-esque feast of treats. Think more along the lines of: fresh and healthy, designed to tempt and with some goodies on the side. So, picky eaters should be happy, junior foodies will love the fill-your-boots attitude to second (third and fourth) helpings and, since under 12s eat free, you can relax a bit on most mealtime rules.
Where's good to go right now?
Whether you're up for some sun this minute, holding out until May half-term or planning ahead for summer, here are three perfect Sunwing Family Resorts, beachfront, and ready when you are.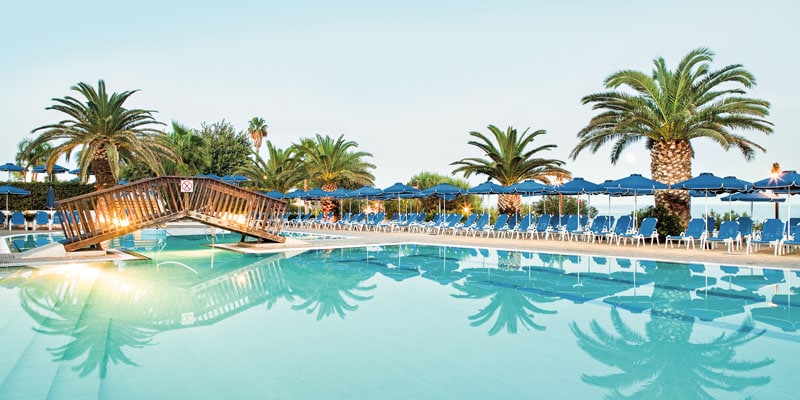 Sunwing Kalithea Beach, Rhodes
If all you know about Rhodes starts and finishes with the Colossus, you're on the right track. This historic, myth drenched Greek Island's steeped in legends and even does a nice turn in medieval grandeur courtesy of UNESCO World Heritage Rhodes Old Town.
Just 25 minutes away from the monuments, Sunwing Kalithea Beach resort is as fresh and modern as Rhodes Town is ancient and fascinating. Beachfront, of course, the hotel also has three full-size swimming pools, waterslides, toddler splash pools and separate kids activity programmes for ages 3-7, 8-12 and 12-15.
One bedroom family apartments on the ground floor have great sun terraces and open out into the hotel's lovely gardens, a short stroll from the sea. Book now for mid-May and prices start from £266 per person for seven nights self-catering flying out of Gatwick to Rhodes.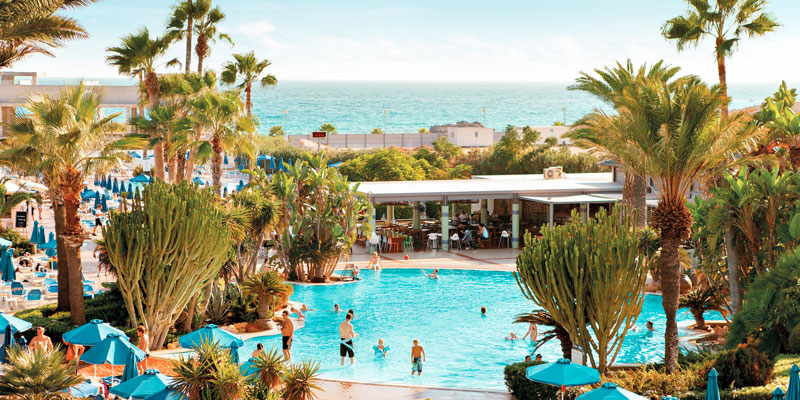 Sunwing Sandy Bay, Ayia Napa, Cyprus
Cyprus is just heating up nicely at the moment and rumour has it this is the year to be in the south east; Paphos in the west is European Capital of Culture 2017 and that's where the crowds are headed.
Not that Ayia Napa's quiet, in fact it's one of the buzziest Cypriot resorts and most fun for families; especially if you've teens in tow. Sunwing Sandy Bay has a fantastic seafront location just far enough away from the town centre to be peaceful, close to historic Larnaca for days out and even Paphos is less than two hours drive along the lovely south coast.
Think about a family studio or one bedroom apartment for early May and you can choose to fly from 12 airports with prices starting at £309 per person for seven nights self-catering.