Sponsored Content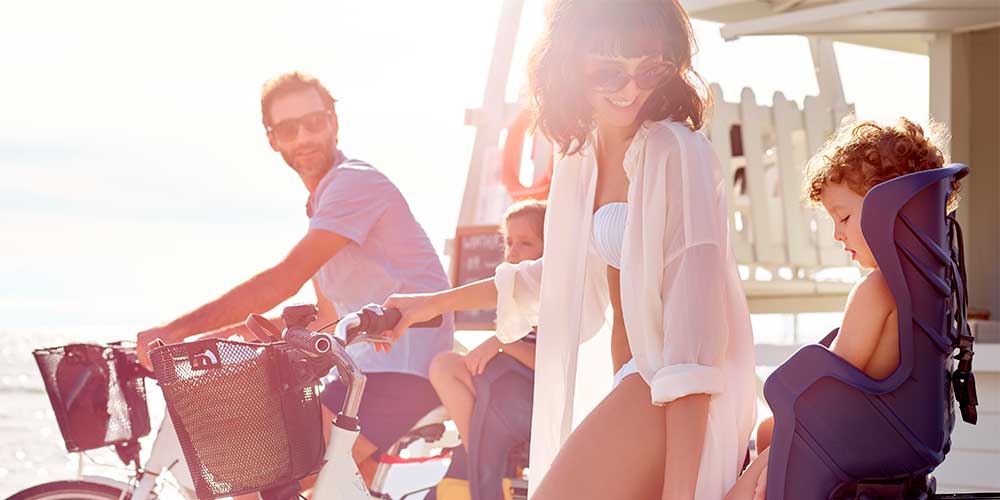 You only have to look at the glowing customer reviews of Sani Resort to understand why families come back here on holiday year after year.
The resort's prime position, right on the coast of the Kassandra Peninsula in Halkidiki, is obviously a big part of the attraction. And it doesn't hurt that all its beaches are on the beautiful Aegean and it's also surrounded by over 1000 acres of unspoiled nature. Then there's the private marina, a choice of no less than five different hotels as well as over 40 restaurants and bars, pools a plenty, exquisite spas for all manner of soothing, plus a shopping mall, treetop adventure park and a seemingly endless supply of activities, ranging from water sports to professional football coaching. But it's the sense that families really are at the heart of everything that definitely gives Sani Resort the edge when it comes to creating those truly great holidays, everyone remembers, for all the right reasons.
And now they seem to have surpassed even their previous stellar standards of family-friendly with the refurbishment and redesign of  the all-Suite Porto Sani hotel. Ready to launch in May for the 2020 season, Porto Sani is dedicated to young families and to ensuring every second of holidays with babies, toddlers and under 12s is just that – a holiday; making sure frazzled parents have a chance to unwind, chill and take some essential guilt-free time for themselves.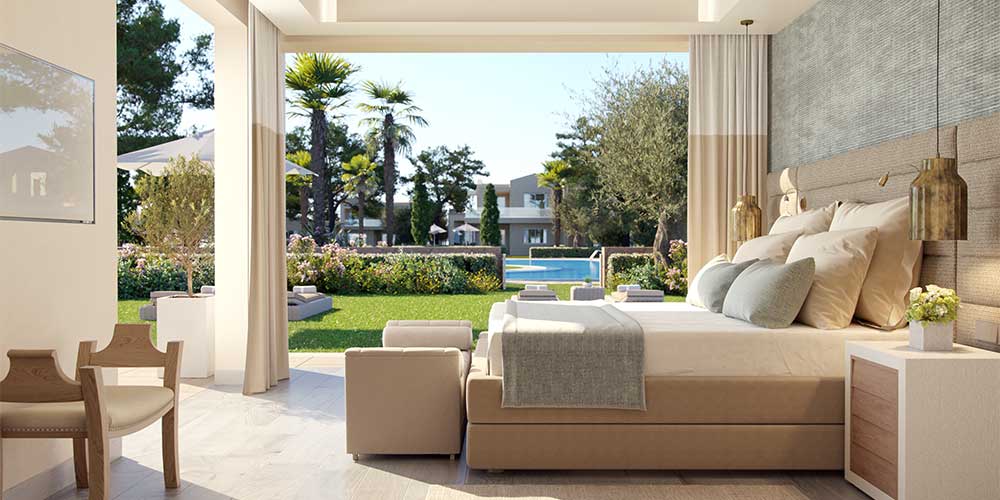 A sneak preview of Porto Sani's Suites perfect for families
Nothing if not indulgent, newly refurbished Porto Sani now has 99 Suites to choose from. Space, light, warmth and comfort are the main design theme. Fresh, clean colours and cocooning elements are perfectly aligned, so you feel at home, but also on holiday, just as it should be. And there are suites for all shapes and sizes of family; ages and stages of kids; you can pick for the view, choose gardens or terraces and there are even Suites which come with private pools – bliss for first time swimmers and sheer fun for older kids.
One bedroom Suites with outdoor terrace and garden or balcony, large family bathroom and separate living room, sleeps up to two adults and two children.
Luxurious two bedroom, two bathroom Suites with separate living room, private garden and terrace or balcony, sleeps two adults and three children.
Large three bedroom family Suite with beautifully designed central living area, three bathrooms and two outdoor terraces, sleeps up to two adults and five children.
Upper floor Marina View Suites have wide balconies, one bedroom, separate living room and family bathroom, and sleep up to two adults and two children.
Three bedroom family Suites with swimming pool and large garden sleep up to seven and are ideal for larger or multi-gen families.
Upper floor three bedroom family Suites with large balconies, separate living room and three bathrooms also sleep up to seven and are another good choice for larger families.
Of course Porto Sani has because Porto Sani's been thoughtfully designed with younger families in mind, it's ideal for under 12s and perfectly peaceful for babies and toddlers – although the rest of Sani Resort combined with excellent babysitting means grown-up fun isn't in short supply either.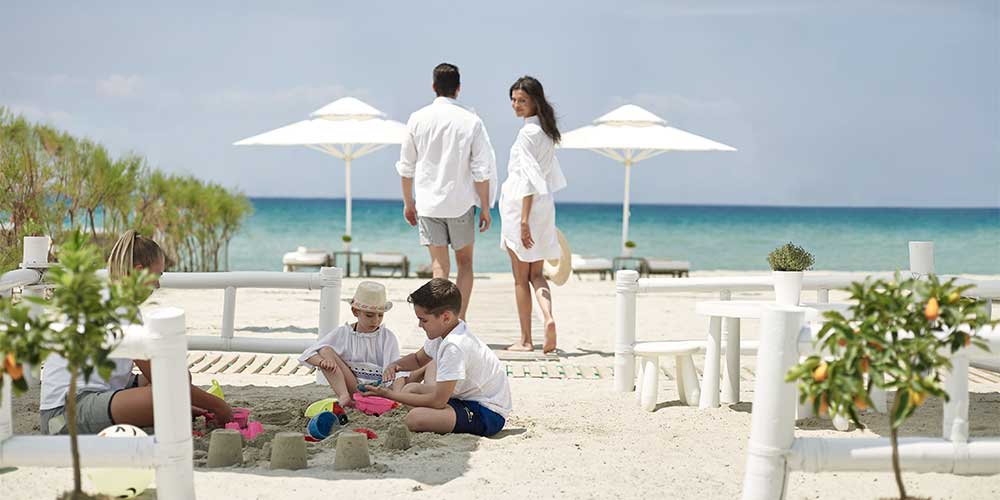 Personalised holidays tailored to young families
Think about all the things which make a family holiday perfect, then start multiplying, and you pretty much come to what Porto Sani is all about: almost everything is covered, nothing feels packaged and you have an extraordinary amount of freedom to design your own experience.
Naturally that starts with your choice of Suite, but Porto Sani invest the same type of attention to making sure you have baby equipment ready and waiting when you arrive, right down to high-end buggies. Nutritionist Annabel Karmel is the expert behind the resort's fresh, tempting and super-healthy menus made just for kids. There are splash-friendly, heated kids pools and clubs ranging from Sani Creche for little ones from four months to four years right through to Sani Football Academy for ages four and over. Professional babysitting is available from 6pm every evening so there's no reason not to test out at least a few of Sani Resort's many, many restaurants. And if you feel in need of some me-time during the day, Porto Sani Spa Suite takes pampering and soothing to another level in a truly stunning space – don't even try to resist.
Sani Creche (4 months to 4 years) and Melissa Mini Club (4 to 11 years) are managed for Sani Resort by international childcare experts at Worldwide Kids Company.
Sani Football Academy in partnership with Chelsea FC Football Coaching Association, teaches and coaches kids from four to 16 years – no previous ball skills necessary.
The beach for Porto Sani Guests trims the Aegean in front of Sani Marina. Beach beds are plentiful as are beach kiosks manned by Beach Buddies to serve up drinks and snacks to sunning guests. And Sani Resort Babe Watch service is also available to give you a welcome 30 minute break from parenting now and then.
Porto Sani has its own lovely lagoon-style swimming pool complete with Sea Breeze pool bar, and there's also a separate, heated, children's pool.
If you're up for something more active, both the PADI Sea World Diving Centre and the Water Sport Hut are just a short walk along the beach from Porto Sani.
Porto Sani gives you a choice of restaurants from Artemis for family breakfast and dinner to smart Byblos Caviar in the evening, relaxed lunch at the Lagoon Restaurant or poolside snacks and drinks from Sea Breeze Bar.
The lowdown
Where
Porto Sani, Kassandra Peninsula, Halkidiki, Northern Greece
How to get there
Direct UK flights to Thessaloniki Airport take from three hours, 15 minutes
Porto Sani is 48 minutes' drive south of Thessaloniki Airport.
If you're tempted to find out why families love Porto Sani, book a family holiday in 2020 and take advantage of Free Full Board for minimum 5-night stays on selected UK school summer holiday dates in July or August.
To find out more about this Porto Sani family holiday offer and what else is new at Sani Resort for 2020 have a chat with Sani Holidays Luxury Travel PAs on 0800 810 8121 or visit Sani Holidays – A preferred UK tour operator and partner of Sani Resort, ABTA & ATOL bonded for your peace of mind.