Sponsored Content
No country does culture with quite the same ease as Greece, making it a natural solution to the family holiday puzzle of how to balance fun and horizon broadening for kids. Because of course Greece also has sensational beaches, islands to spare and the sort of bold sense of adventure which comes from having invented the Olympics and birthed most of the world's original superheroes.
But how much can you realistically fit into one holiday, even in multi-faceted Greece? According to the experts at Visit Greece, if you pick the right region you can do more than you ever thought possible without rushing one bit. Put their wisdom to the test with a quick look at Athens and the Saronic Islands in the fabulously cultured and well connected Attica region, the epicentre of history and modern culture with the glamorous and cosmopolitan Athens Riviera.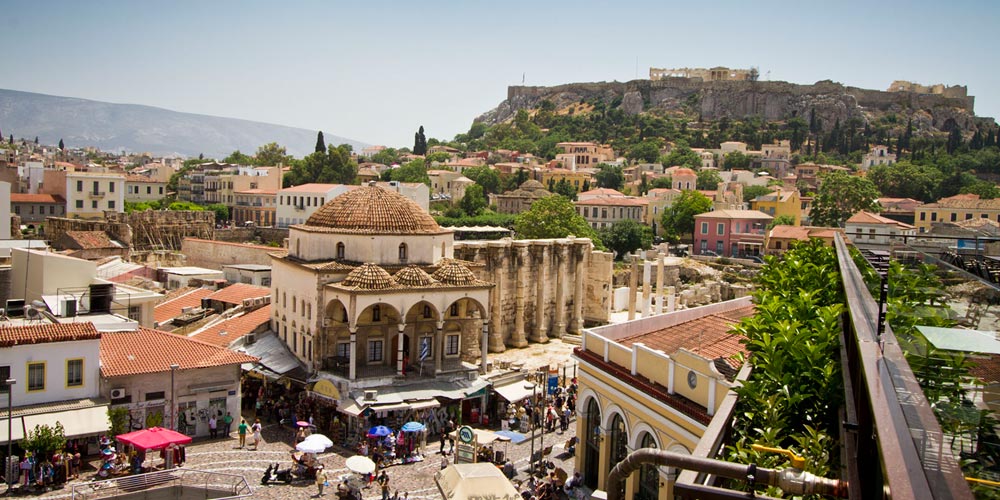 © Monastiraki, Athens
Athens
If you want to introduce kids to a bit of culture cunningly disguised as a classic Greek beach holiday, Athens is the place. Not only is it the most historic city in Europe, and one of the oldest, it also has a Riviera. Which basically means huge beaches and fun seaside resorts within easy reach of the monument-rich historic centre: perfect for that dip-in-dip-out potential that works wonders with kids.
Although, once teens have visited the ancient heart of the city, it might be a struggle to tear them away. Even the most nonchalant are awe-struck by the might of temples like the Parthenon and Olympian Zeus. Climbing the Acropolis rock is almost a rite of passage for teenagers and all soulful types can expect to fall head over heels for the heritage charms of delightful districts like Plaka or Thission. And as for museums: start at the stunning Acropolis Museum and you won't have to do much work to persuade kids into exploring dozens of other incredible Athenian collections.
When you want a breather from antiquity, the city's public gardens make lush and lovely pockets of peace for younger kids. And colourful Downtown Athens is a complete contrast to the historic centre: always lively and a great vantage point for admiring the floodlit Acropolis by night. Though, if you want the ultimate look at the city – to the Aegean and beyond – take the cable car up Mount Lycabettus. It's the tallest hill in Athens and the views are jaw dropping.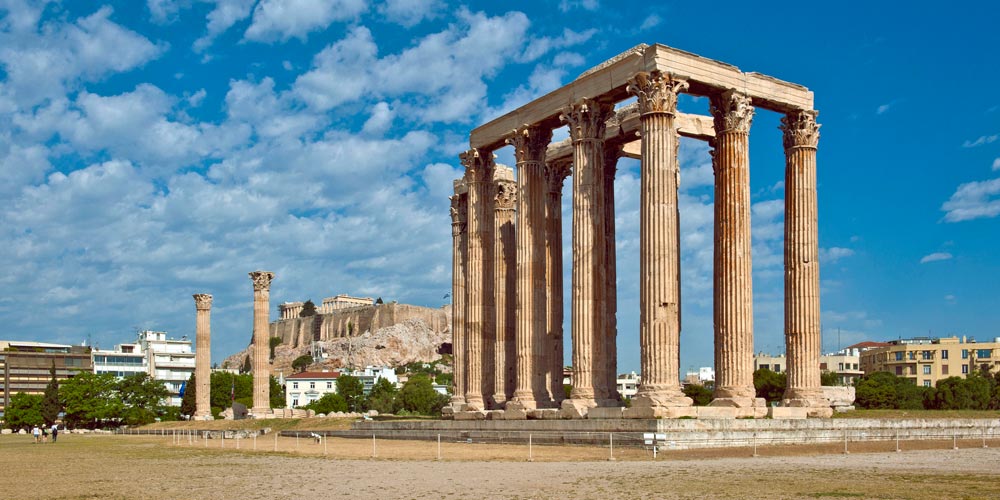 © Athens – Olympeion Temple Of Olympian Zeus
Don't miss
A walking tour of the Acropolis is a must-do with older kids, and wonders like the Parthenon, Olympian Zeus, Hadrian's Arch and the Temple of Athena Nike are only more astounding close up.
The award-winning Acropolis Museum looks spectacular from the outside and contains a collection of over 4000 antiquities excavated in and around the Acropolis.
Let kids get hands on around culture designed with them in mind at the Hellenic Children's Museum or the brilliantly inventive Children's Art Museum.
For beachy downtime head to Faliro on the Saronic Gulf – just a short, and pretty, tram ride from the city centre. Nearby Glyfada is great for big sandy shores with resort chic. Or you can even go full Athenian spa in the thermal waters of Vouliagmeni Lake.
Head to the energetic seaside resort of Voula for water sports and the fabulous Aqua Sea Sports waterpark.
The Technopolis science museum has a fantastic year round programme of children's events, and Goulandris Natural History Museum and the Athens Planetarium are even more fascinating experiences for science-curious kids.
Swap coast for countryside and go walking, hiking, cycling or horse riding in the wonderful landscape of Attica all around Athens.
The Stavros Niarchos Foundation Cultural Centre is a stunning new arts venue, designed by renowned architect Renzo Piano, and surrounded by Stavros Niarchos Park which kids will love: it even contains a labyrinth.
Attica Zoological Park is home to more than 2,000 animals from all over the world including reptiles, African big cats, primates, desert animals and several rare species native to Greece.
Hadrian's Library and the beautifully preserved Temple of Hephaestus are another two Athens' must-dos: kids will appreciate the temple's tale of Saint George Akamatis AKA Saint George the Lazy.
A visit to the Panathenaic Stadium is unmissable for sporty kids. It was originally built in the 4th century B.C, then excavated and magnificently restored in time to host the very first modern Olympic Games in 1896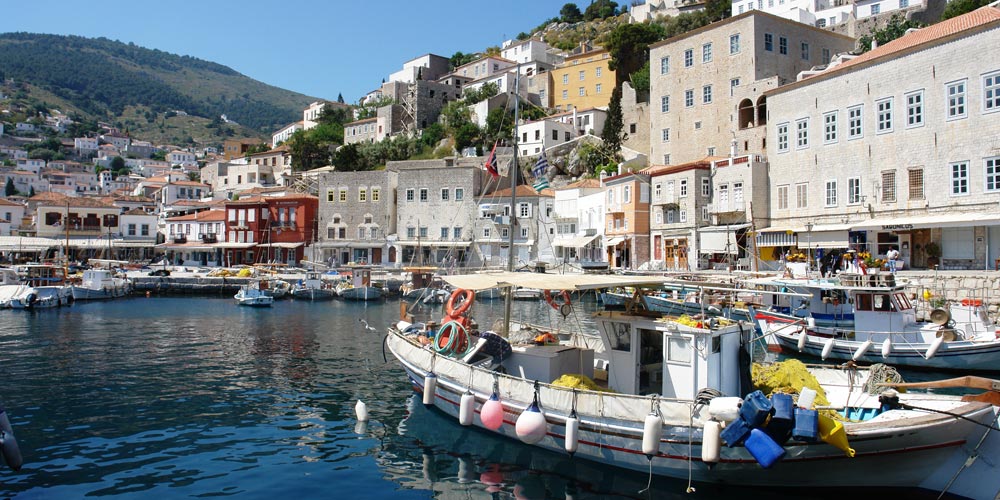 © Hydra
Hydra
Hydra is just over an hour by fast ferry from Athens which only makes its sense of complete escapism all the more captivating. The otherworldly atmosphere might have something to do with the fact that the island is totally car free, but truthfully it's hard to pin down what's most magical of all here. Beaches more than earn the overused description, pristine. Shallow waters and lifeguards make them safe for younger kids and give older ones a bit of freedom. Quaint harbour towns and traditional villages help magnify the time-stood-still charm. And donkeys are the preferred mode of transport almost everywhere, which really is as sweet as it sounds.
Don't miss
Designed like an architectural amphitheatre around a natural harbour, prepare to be swept away by Hydra town's almost too perfect traditional prettiness.
It's best to get about by donkey on Hydra and the island has over 500 in residence, so take advantage of the no-wheels rule and discover the fun of exploring on four legs instead.
Hydra has petit proportions but plenty of museums, including an annex to the National Historical Museum and a superb Byzantine Museum.
Head to the beach at Bisti for diving, swimming and kayaking. Catch a water taxi to the perfect sands of Ayios Nikolaos. Or take a hike with older kids to Limnióniza, it's the loveliest beach on the island and worth the effort.
There are 300 churches on Hydra. Favourite with kids is Profitis Ilias Monastery: it's high above Hydra town, involves a fairy-tale walk through the cobbled streets and rewards little legs with phenomenal ocean views at the top.
Check out Hydra's 18th century, seafront cannons. Older kids will enjoy the pirate tales and, if you time it right, you can enjoy a remarkable sunset.
Regular Flying Dolphin ferries hop to Hydra from Athens in one hour and 30 minutes.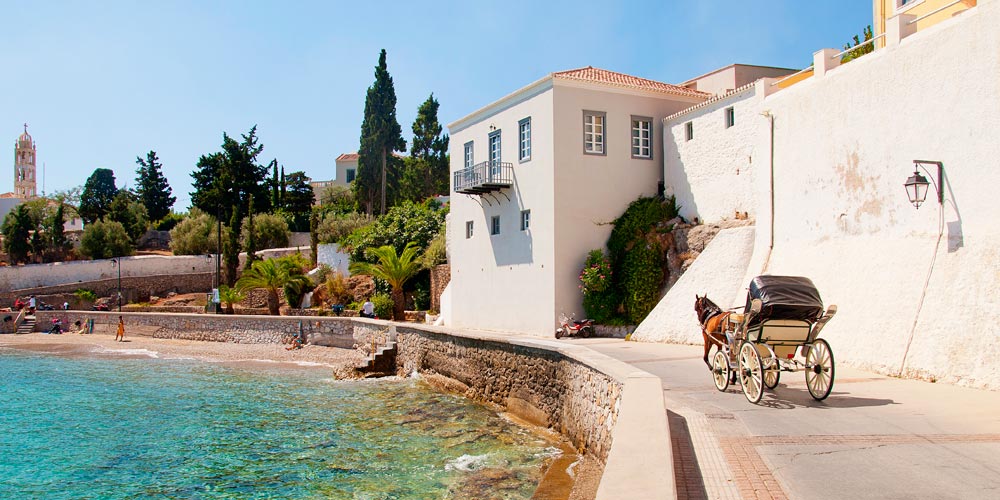 © Spetses
Spetses
The furthest flung of the Saronic Islands, Spetses is still under two hours by ferry from Athens, so it's more than doable as a day out, but plenty tempting for a longer stay.
Sunny, sandy, southern beaches are a signature theme here and, depending on the ages and stages of kids, you can take your pick from water-sport laden shores to paddling-perfect seas. In the days before lazing around on sun loungers was a thing, Spetses was famed for its grand naval traditions and political clout: the flag of independence was first raised here in 1821. So don't be too surprised to find the streets lined with historic mansions and a remarkable number of opulent public buildings – as much of an excuse to explore on foot, as the town's cute cafés, pretty gardens and delectable sea views.
Don't miss
The 17th century House of Bouboulina is a wonderful example of Florentine architecture and the one time home of local War of Independence heroine, Bouboulina. Teens will like the intriguing museum and it's a fun visit to couple with a look at the extravagant ship figureheads in the nearby House of Hatzigiannis Mexis.
Famously good for cycling, Spetses even has themed cycle events (the oddest has to be the annual Tweed Run where riders wear, you guessed it, tweed). If that doesn't appeal, touring round the island on well marked routes is any time of year fun for families.
Head to the Old and New Port to see traditional ship builders at work, soak up the lively atmosphere and throw all sugar rules out the window in legendary harbourside sweet shops.
Kids with a sense of the macabre have to visit Ayios Nikolaos Cathedral, where it's said the body of Napoleon Bonaparte's nephew was kept pickled in a barrel of rum for three years.
Everyone finds their own favourite beach on Spetses, but you could start at enormous Ayioi Anargyroi beach for snorkelling and water sports or try idyllic Vréllos beach, dipped into pine forest and known simply as 'Paradise' by the locals.
Regular Flying Dolphin ferries hop to Spetses from Athens in one hour and 45 minutes.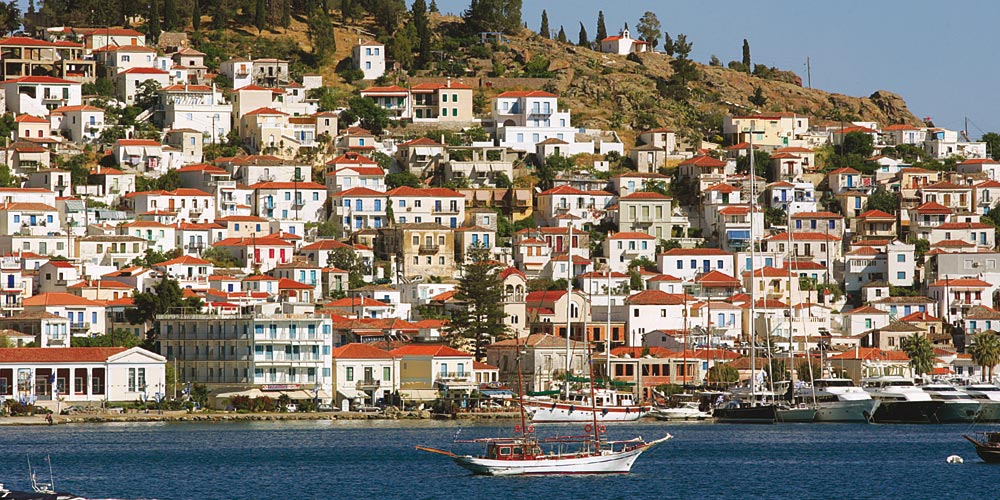 © Poros
Poros
Love Athens but like the idea of island hopping? Poros couldn't be better placed for that particular adventure. It's less than an hour by ferry from the city which makes it popular for weekends. But if you've outdoorsy kids in tow, this forested and beachy island could easily fill a longer break. And even picky teens tend to be won over by Poros Town's lively waterfront district, along with the island tradition of boating to beaches: not to mention heaps of spellbinding local legends, and the scent of summer supplied by a 30,000 tree-strong citrus grove on the nearby Peloponnese peninsula.
Don't miss
A protected landmark and studded with remarkably grand villas, Poros Town is an architectural gem with a colourful and vibrant holiday spirit alive and well all along the waterfront.
Poros has no less than 10 sunny, southerly beaches and almost every one is naturally protected by dense forest. The branches of pine trees trail actually trail in the water at Love Bay.
Local museums are a mine of unusual information about folk customs and archaeology, and the Temple of Poseidon is a must-see for junior classicists: Athenian orator, Demosthenes committed suicide here in 322 B.C.
Take a short boat ride from Poros to Galatas and stroll around the Lemon Forest breathing in the scent of 30,000 orange and lemon trees.
Hire a boat and go islet-hopping for the day or book a Poros day cruise, bring a picnic and let someone else do the sailing bit.
Poros is 55 minutes from Athens by hydrofoil.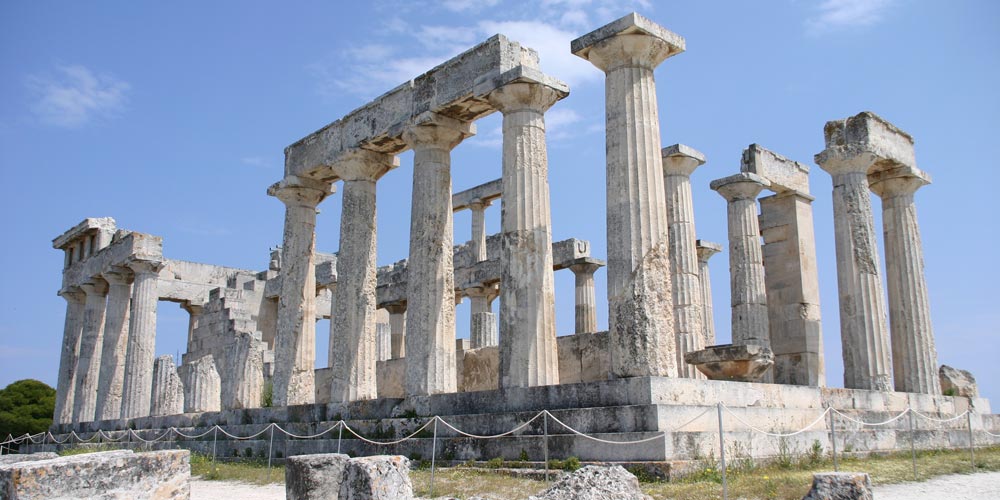 © Temple of Aphea
Aegina
The closest Saronic Island to Athens, Aegina has mythical links to Zeus and a very factual link to Greek independence: it was named state capital from 1827 to 1829. And it's also famous for producing some of the finest pistachios in the world. Oddly enough, so many different influences have produced a very harmonious whole. So don't be surprised to find grand mansions comfortably at home with ancient classical temples and bustling harbour towns neighbouring traditional villages. The beaches are beautiful, there's no shortage of history and the island even comes good on therapeutic waters.
But over and above everything else what attracts families to Aegina is a gentle pace of life, the unchanged landscape and a sense of peace that makes the real world seem much further away than 45 minutes by ferry.
Don't miss
Visit colourful Aegina town and extend your island-hopping adventure with cruises to neighbouring Moni, Metopi, Kyra and Dorousa.
See the incredible Temple of Aphea Athena, then head to the Archaeological Museum of Aegina to brush up on the history of that and many other island treasures.
For best beaches, water sports and activities, you want the family resorts of Agia Marina and Perdika, just a few kilometres from Aegina town.
Troubled by rheumatism or just in need of some soothing? Splash around in the naturally healing thermal waters at Souvala.
Add to kids culture quota with tours of the local Historical and Folklore Museum; Christos Kapralos Museum and the 19th century Governor's Kapadostrias Residence.
Aegina is 45 minutes from Athens by Flying Dolphin ferry.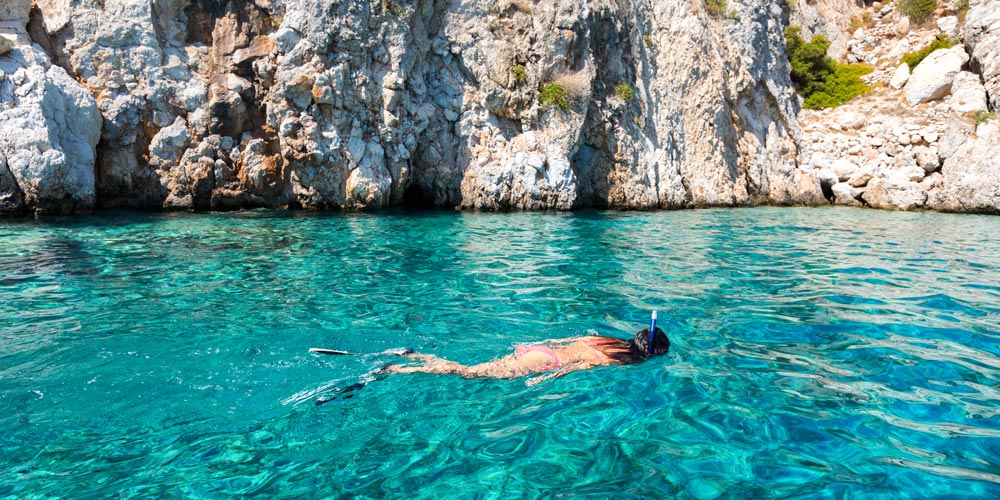 © Snorkelling in Agkistri Island
Agkistri
Less than 1000 people live on Agkistri and you only have to spend a few minutes on this divine little island to think: lucky them. It might be down to the compact size or the fact that nature is very much allowed to do its own thing, but Agkistri is lusciously lush, the sea is crystalline and local beaches are often described as the cleanest and most natural in Greece: no small accolade in a country famous for fabulous beaches.
Don't miss
The village of Skala is known for water sports and it's famous locally for an unusually swimmable harbour: great fun for older kids.
Make sure kids look out for the peace and love messages inscribed on stones along the road leading to lovely Dragonéra Beach.
If kids are into diving and snorkelling the village of Limenaria is where they want to be for everything from clear seas to equipment hire.
Family horse riding is actively encouraged on Agkistri and Megalohori is the best place for beginners and experienced equestrians.
Taking advantage of its small scale, Agkistri is fantastically safe for cycling and there are well marked walks and hikes all over the island that work well for kids.
Regular Flying Dolphin ferries from Athens to Agkistri take 55 minutes.
The lowdown: Athens
How to get there
Direct flights from London to Athens, year round, take three hours 35 minutes.
Island hopping
Fast ferry services from Piraeus in Athens to the Saronic Islands run daily, year round and take between 45 minutes and one hour, 55 minutes.
Tempted by the idea of a family holiday in Athens and Attica? Visit Greece have everything you need to know about this cultured and connected region.