Sponsored Content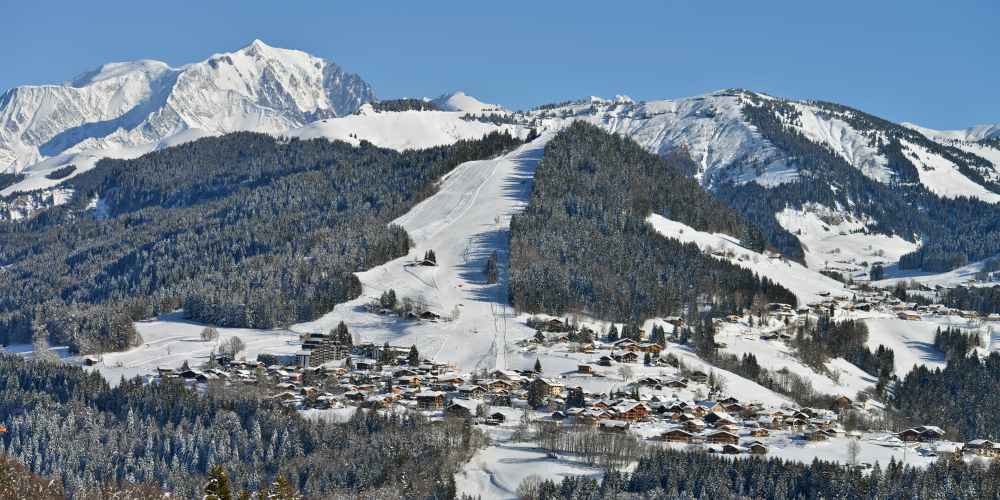 Few places in the world, let alone Europe, hold claim to the unique combination of spectacular mountain scenery, mouthwatering cuisine and unbelievable skiing. Val d'Arly in the Mont Blanc area of France is one of those lucky few. A lively region made up of several charming village resorts, Val d'Arly boasts an authentic alpine feel that doesn't cost an arm and a leg to enjoy, while offering some of the best skiing around. Revel in the distinct mountain culture of the village where locals and tourists happily mingle as you make your way through the tangle of streets, past medieval churches and cosy restaurants, before arriving in the warmth of your family chalet after an action-packed day on the slopes.
Each of the village resorts (Crest-Voland / Cohennoz, Flumet / St Nicholas la Chapelle, La Giettaz en Aravis and Notre Dame de Bellcombe) is steeped in a rich history, offering a friendly, close-knit community atmosphere, accessible skiing, gourmet dining and fun activities for all.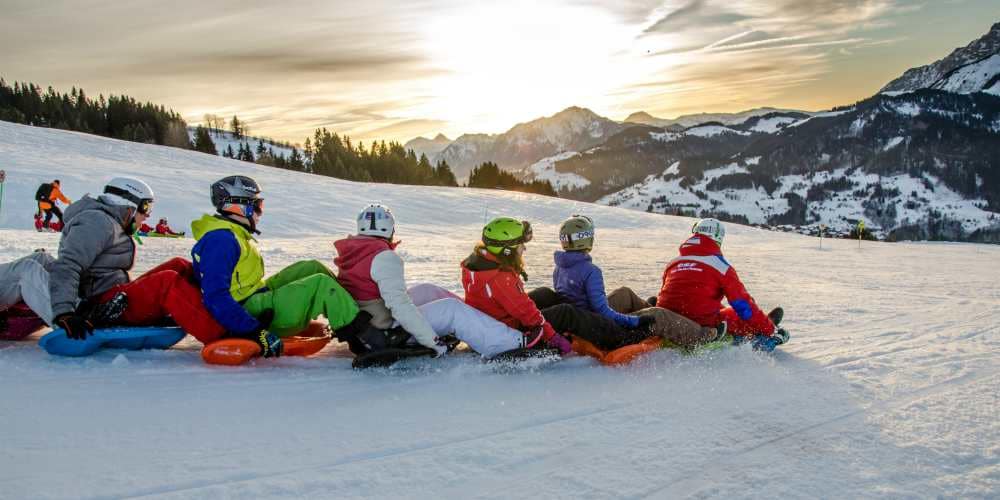 Winter activities for families
For skiing in the winter, families are spoiled. Val d'Arly is directly connected to two large ski areas offering a wide variety of slopes for all levels and breathtakingly beautiful panoramas on the way down.
L'Espace Diamant plays host to more than 190km of trails from Flumet, Notre Dame de Bellecombe and Crest-Voland/Cohennoz. Here, you will encounter a stunning mix of landscapes as you whizz through acres of pure alpine nature, all under the watchful eye of the flawlessly majestic Mont-Blanc, making you want to stop and gaze around in wonder at every opportunity. Skiing in L'Espace Diamant provides a genuinely unforgettable experience for every member of the family. 
Les Portes du Mont-Blanc encompasses 100km of slopes and a brand spanking new chairlift at Le Torraz that offers striking 360-degree panoramic views over the Aravis range, Mont-Blanc and all the way up to Beaufortain. After being blown over by the vistas, you and your clan can slalom your way down between the spruces, taking in nature at its finest. 
Yet it's not all about skiing. In Val d'Arly there is a range of family-friendly activities available, including Mountain Trott', mountain biking on snow, skijoring and a baby sleigh park for kids between the ages of three and seven.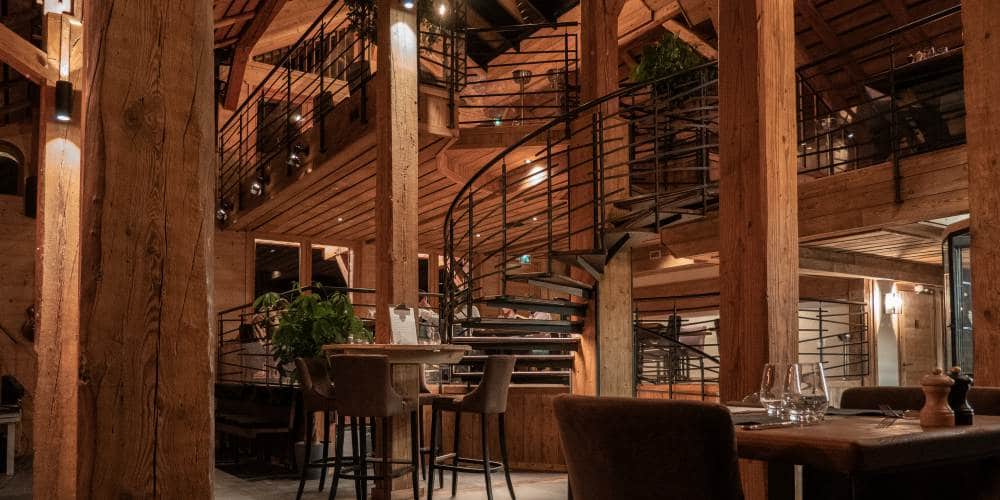 Sustainable tourism
Sustainable tourism is at the very heart of Val d'Arly, not least at the cafes and restaurants that populate the region. Florent Perrin, owner of Le Toî du Monde restaurant, is one example of how high up on the agenda sustainability has become here. His carbon-neutral site combines solar thermal, wood heating and natural wood wool insulation for warmth, while the dishes served each day use delicious local ingredients. It has become a flagship feature of the region and helps to set the tone for the eco-consciousness that permeates throughout. When you visit Val d'Arly, you can take solace in the fact that you'll be leaving a far smaller carbon footprint than you would elsewhere. 
NEW: Family-friendly theatre show
Experience the history of Flumet and Val d'Arly like you've never seen them before, with a brand new family-friendly theatrical performance.
Discover the enchanting story of Pierre and the legend of the underground. For on one rainy morning, Pierre makes an incredible discovery in the cellar of his house: an old map of underground passages! But is it good that he found it? Follow the adventure of Agnès and Pierre as they explore the hidden secrets of Flumet and discover that the historic capital of Val d'Arly village has not always been just a simple mountain village…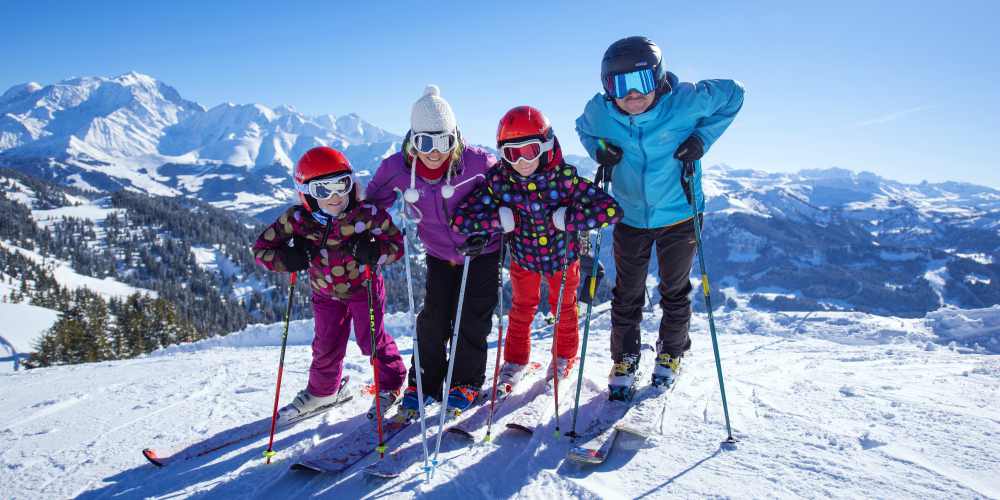 Ski and Famille
Get the "Ski and Famille" package from 26 December 2020 to 2 January 2021, an affordable week for families of four to discover the mountain and all the joys that come with skiing. The stay includes:
Furnished rental accommodation for four
6-day ski passes for two adults and two children (including one under the age of five)
From just £242 per person
How to get there
Ideally located on the boundary of Savoie and Haute-Savoie in the French Alps, accessing Val d'Arly is effortless. By car, it is just 25 kilometres from both the A40 and A43 motorways, while Geneva Airport is one hour away. It can also be reached from Lyon-Saint-Exupéry airport, which is 1 hour and 45 minutes away by car.