Sponsored Content
When it comes to getting family ski holidays just right, you want a real family ski holiday specialist on board and that's exactly what you have in Ski Famille, because for nearly 30 years they've done nothing else apart from creating amazing skiing experiences for families in the gorgeous French Alps.
The only all-chalet family ski holidays with in-chalet childcare
Chalets make complete sense for families as far as Ski Famille are concerned. Not only are they a lovely combination of lux and cosiness, they give kids a familiar sense of home which you seldom find in hotels or self-catering apartments. And while cocooning young guests in warmth and comfort is always a priority, chalets let them have more freedom too, and even the littlest need some of that now and then.
Ski Famille are also the only UK ski operator to provide in-chalet childcare and dedicated playrooms in all chalets. You can choose from a range of À La Carte childcare options designed for kids from ages four months to 12 years and perfect for young skiers or non-skiers. And, of course, all Ski Famille nannies are fully qualified or highly experienced, so you get to ski 'child-free' when you want, with complete peace of mind.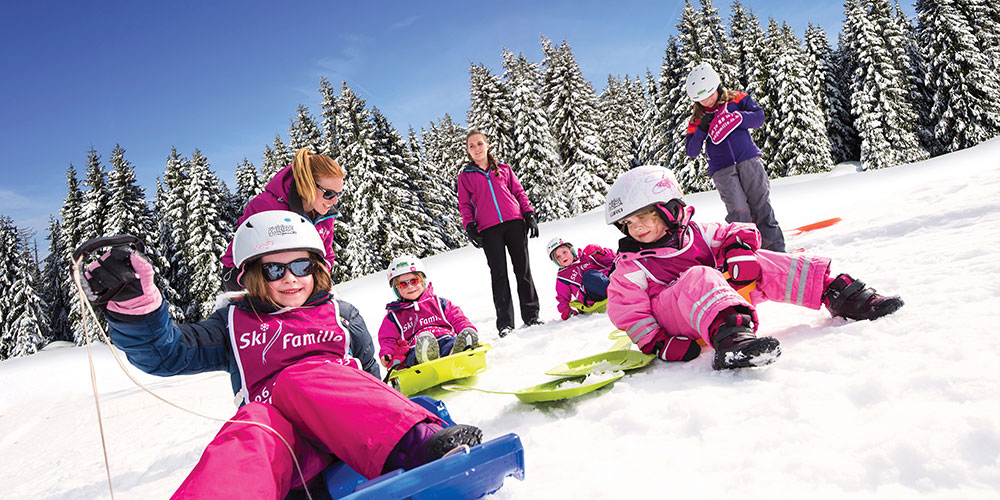 1/4 

Why Parents love Ski Famille
Well designed, colourful and fully equipped kids playrooms in all chalets.
Six days a week in-chalet childcare provided fully qualified or experienced, English speaking nannies
A choice of À La Carte childcare options ranging from Mini Marmots for parents from four months to four years to Mountain Marmots for young skiers from 3 years to 12 years – including group ski lessons.
Supervised in-chalet lunch and Monty's Afternoon Club let parents ski 'child-free' all day.
Meet 'n' greets with Ski Famille's kid-friendly mascot, Monty the Marmot – based on the main character from the book 'Monty Goes Skiing'.
Six nights a week babysitting service.
A wide range of baby and toddler equipment, as well as complimentary Ski Famille Baby Packs which include essentials like nappies, wipes, sterilisers, monitors etc.
Early evening children's meals so kids can eat with other kids.
Separate adult dinners, perfect for fantastic food and wine, and sharing ski stories with fellow (grown-up) guests.
Find out more about in-chalet childcare on Ski Famille family ski holidays