Sponsored Content
When it comes to getting family ski holidays just right, you want a real family ski holiday specialist on board and that's exactly what you have in Ski Famille, because for nearly 30 years they've done nothing else apart from creating amazing skiing experiences for families in the gorgeous French Alps.
The only all-chalet family ski holidays with in-chalet childcare
Chalets make complete sense for families as far as Ski Famille are concerned. Not only are they a lovely combination of lux and cosiness, they give kids a familiar sense of home which you seldom find in hotels or self-catering apartments. And while cocooning young guests in warmth and comfort is always a priority, chalets let them have more freedom too, and even the littlest need some of that now and then.
Ski Famille are also the only UK ski operator to provide in-chalet childcare and dedicated playrooms in all chalets. You can choose from a range of À La Carte childcare options designed for kids from ages four months to 12 years and perfect for young skiers or non-skiers. And, of course, all Ski Famille nannies are fully qualified or highly experienced, so you get to ski 'child-free' when you want, with complete peace of mind.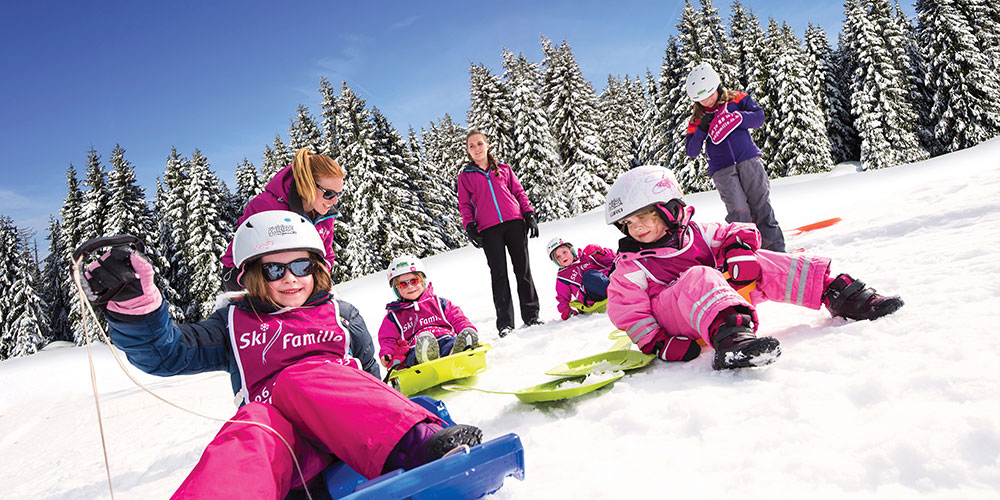 1/4 

Why Parents love Ski Famille
Well designed, colourful and fully equipped kids playrooms in all chalets.
Six days a week in-chalet childcare provided fully qualified or experienced, English speaking nannies
A choice of À La Carte childcare options ranging from Mini Marmots for parents from four months to four years to Mountain Marmots for young skiers from 3 years to 12 years – including group ski lessons.
Supervised in-chalet lunch and Monty's Afternoon Club let parents ski 'child-free' all day.
Meet 'n' greets with Ski Famille's kid-friendly mascot, Monty the Marmot – based on the main character from the book 'Monty Goes Skiing'.
Six nights a week babysitting service.
A wide range of baby and toddler equipment, as well as complimentary Ski Famille Baby Packs which include essentials like nappies, wipes, sterilisers, monitors etc.
Early evening children's meals so kids can eat with other kids.
Separate adult dinners, perfect for fantastic food and wine, and sharing ski stories with fellow (grown-up) guests.
Find out more about in-chalet childcare on Ski Famille family ski holidays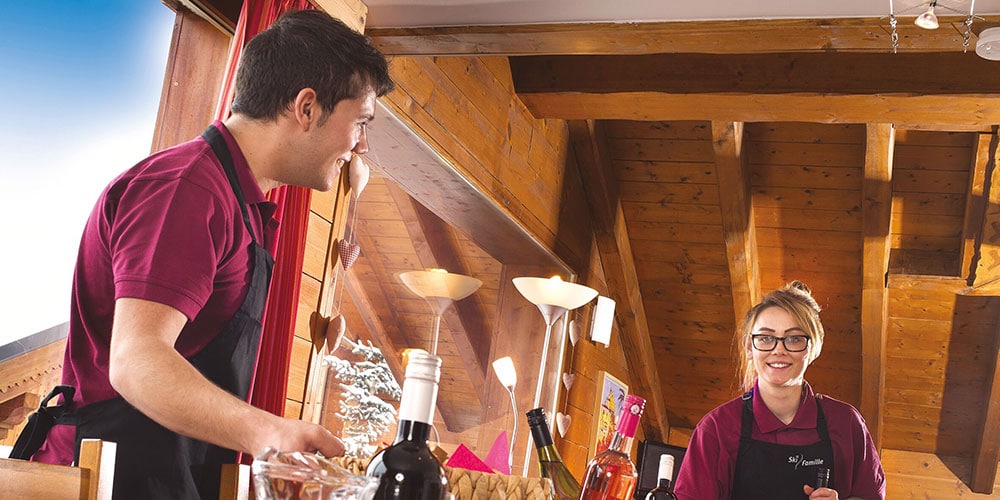 2/4 

Relax and enjoy the snow, Ski Famille have thought of everything
Ski Famille chalets are carefully designed to create the atmosphere of a relaxed family home, only these particular homes have full-time UK staff to take care of the cooking and cleaning, come with nannies to look after your children and are set in some of Europe's best ski resorts.
Spending time with other families, kids making new friends, sharing tales from the slopes and sharing evening meals are just a few of the pleasures of chalet life. But Ski Famille never forgets the importance of privacy and personal space, so all family suites are self-contained with separate parent and children's bedrooms and their own private bathrooms.
With 16 chalets in La Plagne, Les Gets, Les Bruyères (Three Valleys) and Reberty 2000 (Three Valleys). Ski Famille lets you choose exactly the resort that works best for the type of skiers you are, what you like to do when you're not skiing, and the ages and stages of your kids.
However you make your choice, all chalets have hot tubs and heated boot racks, TV/DVD Bluetooth Sound-bar, free WIFI and their own playrooms. Some even have their own cinema rooms and dedicated fitness areas too! And you'll be pleased know that not one is more than five minutes from ski-lifts or slopes and several are ski-in / ski-out – bliss at the end of a day's skiing.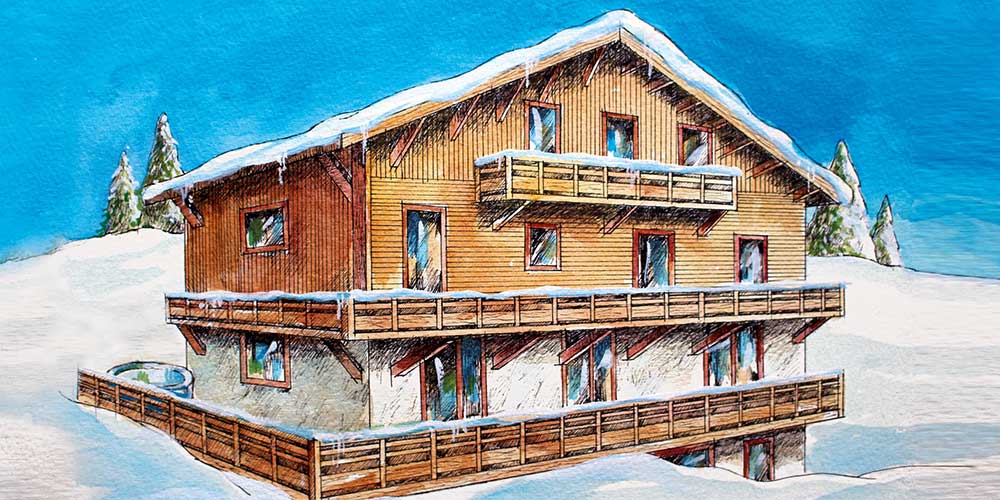 3/4 

New Chalet Cocon des Neiges in Les Gets
Aptly named Cocon des Neiges is a recent addition to the family ski chalet collection. Designed to Ski Famille's specifications, it fits perfectly with the charming, traditional architecture of Les Gets, one of the most authentic villages in Haute-Savoie. Although there's nothing traditional about the cocoon-like luxury of hot tubs and family suites with balconies, a huge children's playroom and the gorgeous living room with remarkable views over the resort.
What to look forward to at Cocon des Neiges this winter
Large, detached chalet with fabulous views and space for 18 guests (up to five families)
Four family suites and one double bedroom with cot.
All suites and rooms with en-suite shower or bathroom.
Large, dedicated children's playroom and À La Carte childcare.
Living room with views over Les Gets.
Bluetooth Soundbar, TV/DVD, free WIFI.
Outdoor hot tub.
Ski room with heated boot warmers.
Free Ski Famille shuttle to children's ski school.
Two minutes walk to Mont Chery ski lifts.
Five minutes walk to centre of Les Gets.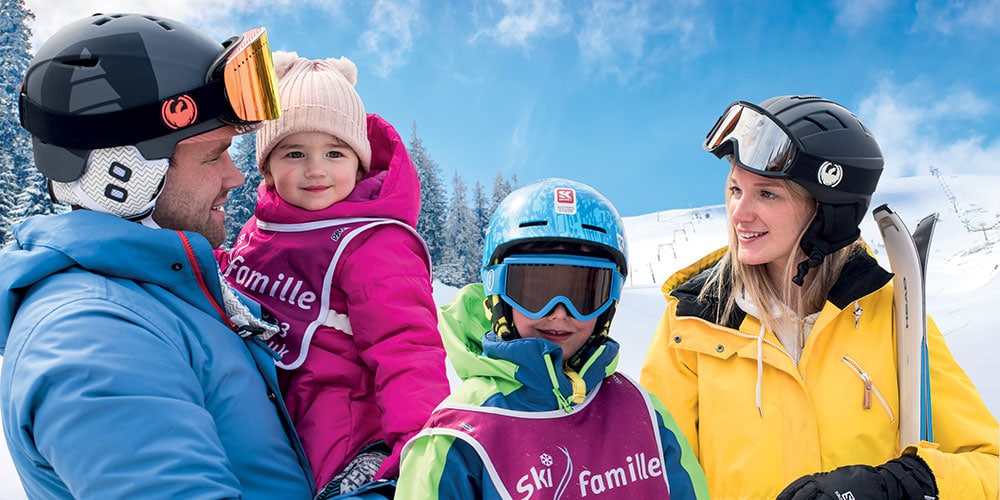 4/4

A quick guide to Ski Famille family ski holiday basics
Ski Famille make family ski holidays as easy as possible and fantastic fun for children, but with plenty of room for parents to ski longer, unwind in the evening and experience a little more après-ski than usual, courtesy of unique in-chalet childcare and excellent babysitting services. A combination of high quality childcare and carefully chosen catered family ski chalets in superb locations means guests have a fantastic family ski holiday with children whatever their age.
A choice of 16 family chalets in the French Alps, including brand new Cocon des Neiges.
Self-contained family suites with separate parent and child rooms, and private bathrooms.
Choice of four family ski resorts: La Plagne (Paradiski), Les Gets (Portes du Soleil), Les Bruyères (Three Valleys) and Reberty 2000 (Three Valleys).
All holidays include return flights from Gatwick, transfers or a Eurotunnel Flexiplus Pass.
Holiday prices also include accommodation and six days catering (seven for children).
À La Carte in-chalet childcare options available six days a week.
In-chalet babysitting services available six days a week.
Childcare, ski lessons, lift passes and equipment can all be booked with your holiday.
Free child places for under fours available on certain weeks of the season.
Child discounts of up to 70% available during the season.
Holidays are from Saturday to Saturday and ski season runs from 14 December to 11 April.
Ready to discover the difference Ski Famille makes to family ski holidays? Visit Ski Famille today or call Jack, Michayla or Sheila on 01252 365 495.