Sponsored Content
Choose Vaucluse for Easter holidays in Provence this year and you can travel there and back by train. Sustainable, easy and spectacular? If that sounds like your perfect family break, take a closer look at this lovely part of France.
If you haven't come across Vaucluse on your travels yet, it's the area of Provence where you'll find Tour de France legend, Mont Ventoux. It's also the place for iconic Provencal sights like endless fields of lavender; gold and ochre landscapes; impossibly perched mountain villages; vineyards and imposing wine châteaux. Châteauneuf du Pape comes from Vaucluse.
Wildly beautiful Luberon sits in the east of Vaucluse. To the west is the celebrated medieval city of Avignon and that's where the sustainable part of Easter holidays in Provence comes in. Avignon is less than six hours from London by Eurostar.
Now you know how to get to Vaucluse, here are many more reasons to visit this Easter, handpicked for families by the experts at Vaucluse Tourism.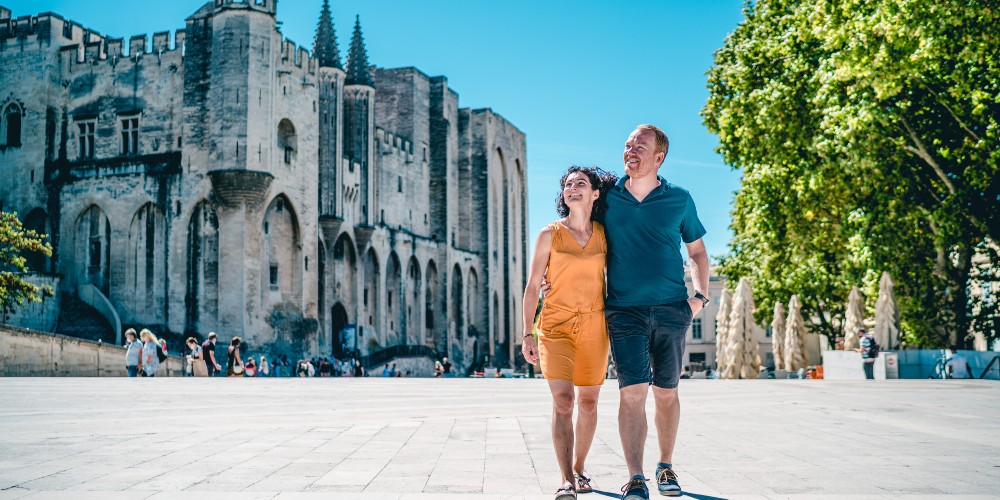 Enjoy sunny spring weather on Easter holidays in Provence
Avignon is undeniably grand. Its 14th century Palais-des-Papes is the largest Gothic palace in the world – equivalent in size to no fewer than four Gothic Cathedrals. There really is a Pont d'Avignon, but bust out dance moves with care as the imposing bridge has only stretched halfway across the River Rhone since the 1600s. And Avignon's fortified walls are equally impressive – not least because they're so well preserved and massive.
Yet, despite its historical importance and UNESCO World Heritage status, Avignon is still very much a living city and Easter is the ideal time to visit with kids. The weather is sunny, not too hot, and summer crowds are a few months away.

Discover some of Europe's loveliest villages in Vaucluse
France does delightful villages like almost nowhere else on earth and no fewer than seven in Vaucluse are officially, 'Most Beautiful Villages in France'. Again, spring is the season to see them without too many tourists in the mix. You've more space to linger over views and wander round markets. Kids can dip into local history and get a true sense of traditional Provencal character. And parents have time to discover the great wines of Vaucluse – graceful chateaux and exceptional wine caves are very much part of village life here.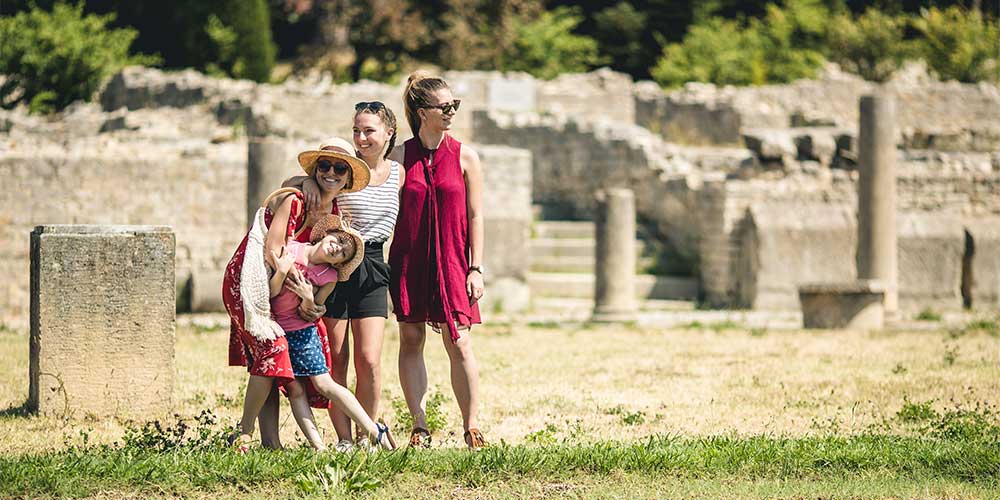 Meet Ancient Romans on Easter holidays in Provence
The Ancient Romans loved Vaucluse so much they stayed long enough to create what is now Vaison-La-Romaine. The largest Gallo-Romaine site in France it covers an area of more than 15ha and forms a phenomenal open-air museum which sneaks learning into monumental drama so even younger kids find it exciting. And, it may be called one of, 'the most beautiful detours in France', but it's less than an hour's drive from Avignon, so not too far off the beaten track at all.

Experience easy Tour de France thrills on Mont Ventoux 
The Vaucluse countryside alone gives you a clue as to how good it is for outdoor activities. Come Easter you can even adventure on Mont Ventoux. Then, one of the most challenging Tour de France stages, becomes a fun family playground. So look forward to tree-top adventure parks, inflatable theme parks, tubing, karting, hiking and climbing. Naturally, cycling is big on Ventoux. But if you're not ready for a King of the Mountain jersey, think about hiring electric bikes for Tour de France rewards, without the legwork.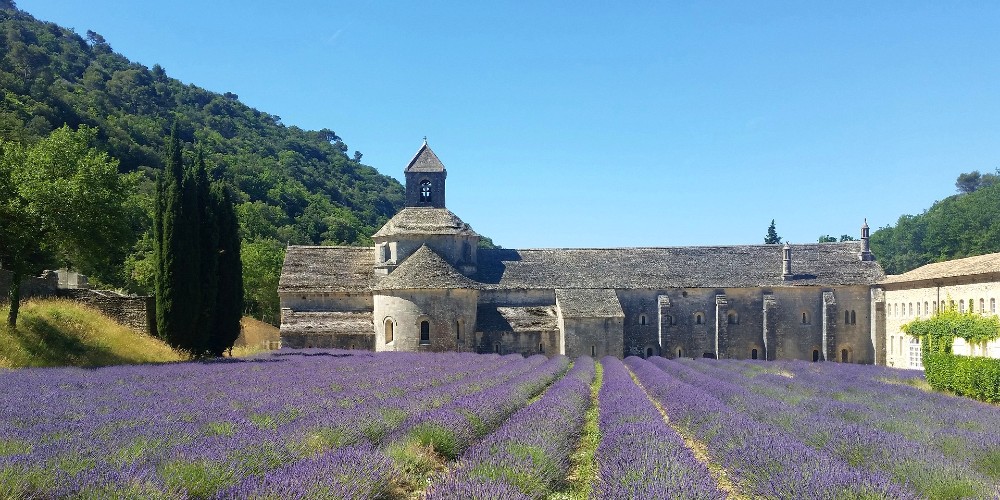 Explore colourful Luberon on Easter holidays in Provence
Parc Naturel du Luberon is also incredibly bike-friendly and two wheels are by far the best way to explore this untouched-by-time area in south east Vaucluse. It's astonishingly dramatic in parts and scattered with mountain villages. And if you've come looking for a typical Provence colour palette of ochre, yellow, lavender and deep, rich scarlet, this is definitely where to see that entire spectrum – often in the space of a single afternoon.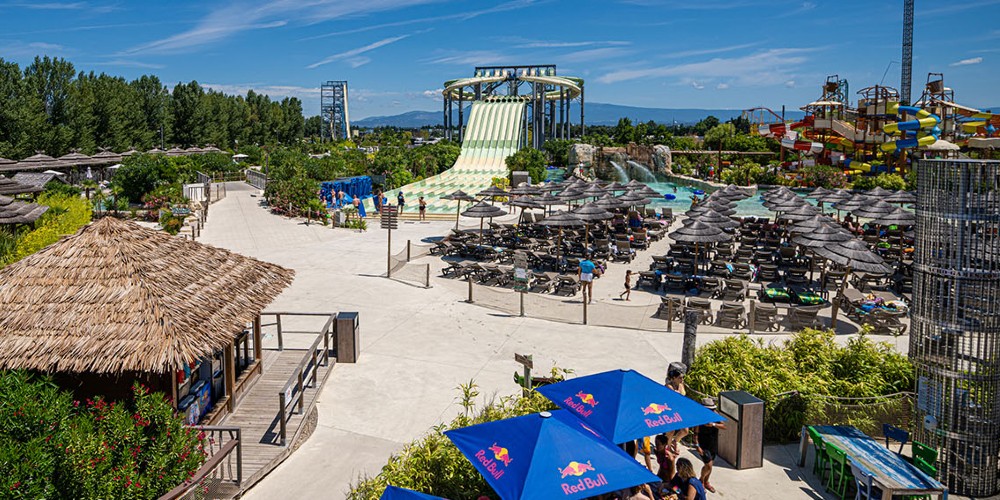 Fun family activities to fill every minute of your Easter break
If kids like nature, they'll love Naturoptère. This eco-friendly living-museum is home to all manner of insects which can be seen and studied in their natural environment. It's also set in Sérignan-du-Comtat, the hometown of Jean-Henri Fabre, one of the world's leading entomologists. The museum is dedicated to his work, so it comes with impressive scientific credentials too.
More natural magic in colourful, fluttery form is the speciality of Le Carbet Amazonien butterfly farm in Velleron.
Another Vaucluse phenomena is Grottes de Thouzon, the only natural cave in Provence and one of the most intact in France. It opens again in March and family tours are magical for kids.
Wave Island in Monteux, just 20 minutes from Avignon, is one of the best waterparks in France. It has the longest lazy-river in Europe and one of the world's biggest surf simulators. It's also surrounded by 4.7ha of parkland dotted with water chutes and slides, play areas and gentle splash-zones fun for younger kids.
Monteux is also home to Spirou Land, a giant amusement park themed around Belgian comic book characters. If your kids aren't familiar with Spirou, don't worry. The language of thrills is universal and the rides here are truly thrilling.
How to plan Easter holidays in Provence
Where is Vaucluse
Vaucluse is in Provence, South East France. Avignon is just over an hour's drive north of Marseilles and 45 minutes' drive east of Nimes.
How to get to Vaucluse
Eurostar from London St. Pancras to Avignon takes from 5 hours, 52 minutes.
Ready to plan your Easter break in France? Visit Vaucluse Tourisme to book accommodation, explore the local area and find everything you need for perfect Easter holidays in Provence.