Sponsored Content
Think about the Dordogne Valley and images of hot air balloons sailing across clear, blues skies may be on your mind. You might conjure up snapshots of rolling vineyards and impossibly pretty villages. Or perhaps it's all about the river, enchanting châteaux and deeply mysterious forests.
Hold on to those captivating thoughts. Then open your mind to quite a few other ideas. Because the delightful Dordogne Valley may be a breathtakingly beautiful UNESCO Biosphere Reserve and world-class romantic, but it's also a natural playground, awash with adventure and packed from end-to-end with the type of phenomenal outdoor activities kids love best.
If you need a little more persuasion, try direct UK flights to Bergerac or Brive taking as little as an hour and 35 minutes. Or better still have a look at the top ten most fun activities for family holidays handpicked by the experts at Dordogne Valley Travel.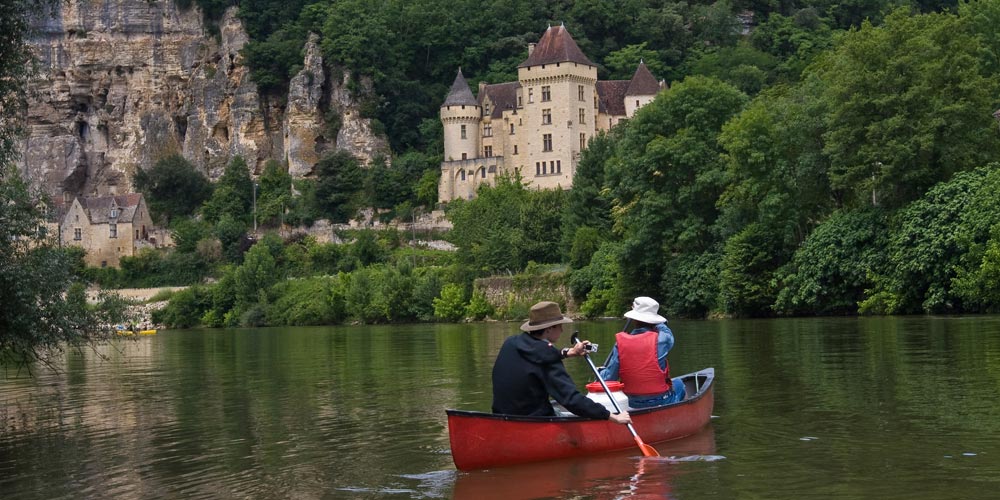 1.

Canoeing

When kids can handle a canoe, they can handle just about anything, and the Dordogne River is a great place to start. Gentle downstream routes are unbeatable for skill building, you can hire one and two man canoes from local companies: with friendly advice thrown in for free – 'river' is the universal language of the Dordogne Valley. You'll also be delighted to know private motorboats are banned on the Dordogne River, so all sailing is safe and serene; though expert canoeists looking for a bit of a challenge don't have to look too hard either. And if you want to put canoeing right at the heart of your holiday, then hire canoes for a few days and plan your voyage to take full advantage of family-friendly riverside campsites on-route.
Find out more about canoeing with kids on the Dordogne River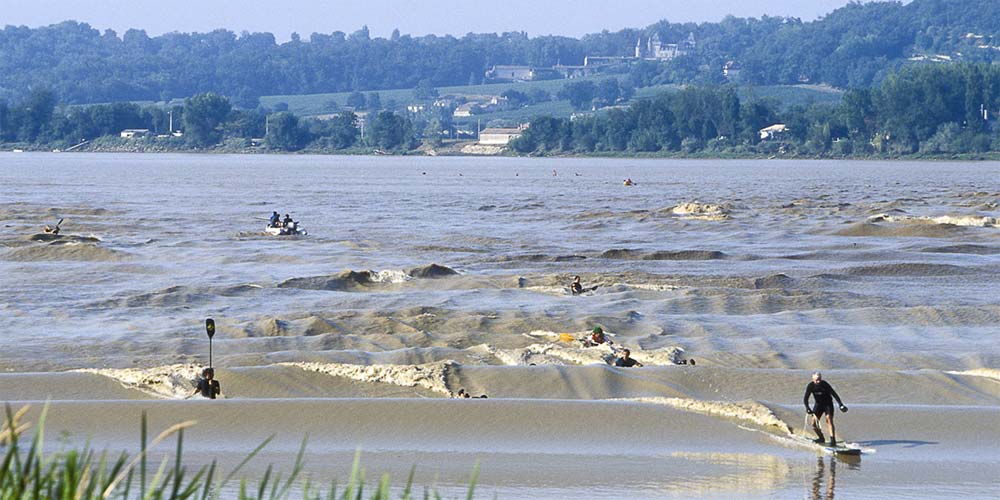 © Gironde Tourisme
2.

Surfing

Thanks to its tidal bore, you can actually surf on the Dordogne River. The French call the phenomenon 'un mascaret'. Which you have to admit, sounds more poetic than 'tidal bore'. And the one formed at the confluence of the Dordogne and Garonne Rivers has top-quality surf-able and canoe-able waves at Île Cazaux up to 50 times a year.

Even watching other bold types riding the raging river is an amazing sight, so don't be shy about simply taking kids for a look, you'll be in good company. And if you just want to see the phenomena itself, it happens in less spectacular style, twice a day, every day, all year round.
Find out more about surfing the mascaret on the Dordogne River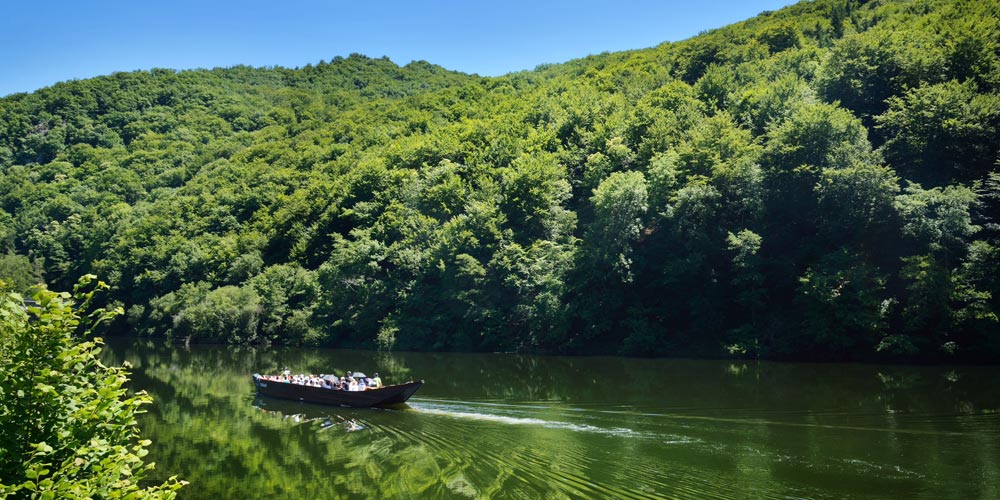 © Romann RAMSHORN Corrèze Tourisme
3.

Guided Gabare Cruises

Actively involving kids in the Dordogne Valley's history is just a matter of heading down to the river and hopping on a gabare: the flat-bottomed boats used to transport goods along the Dordogne River in the 18th and 19th century. Today's impeccably restored boats might have swapped wine barrels for passengers, but their voyages are no less exciting, and on-board guides are perfect combo of master storytellers, history buffs and entertainers. So you can just sit back, enjoy the views – such as Collonges-la-Rouge, one of the 'most beautiful villages of France' – and let someone else man the parental information service for a bit.
Find out more about riverboat cruising on the Dordogne River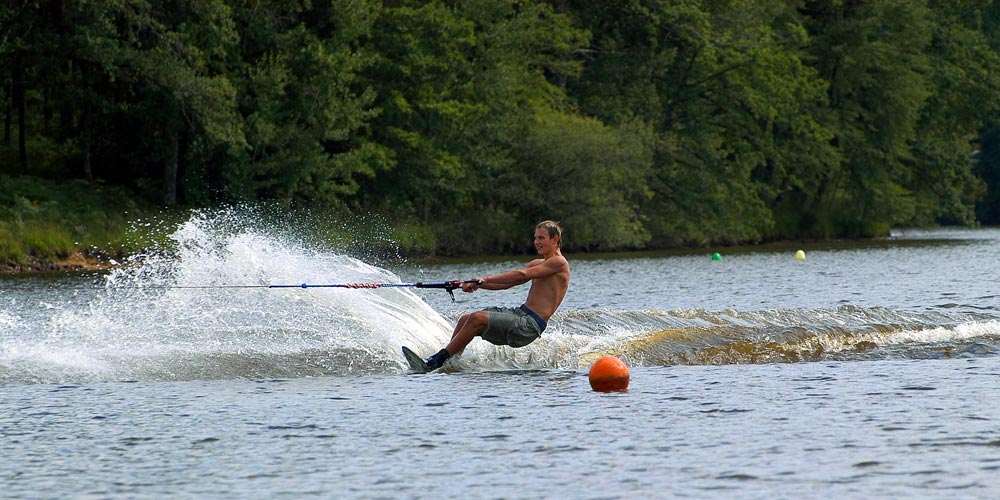 © D Guillemain CRT Limousin Ski Nautique
4.

Wakeboarding and water-skiing

Lots of the Dordogne Valley's lovely lakes are as much about water sports as great looks. Tiki Wake Park on Seilhac Lake incorporates the largest bi-pulley wakeboarding system in France. If you think your kids are too young for water-skiing, Baby Ski at the Ski Club Dordogne's Base Nautique in Trémolat starts mini-skiers out on the Dordogne River as young as three. Junior windsurfers can be pretty much certain of summer breezes on Lac de la Triouzoune at Neuvic or Lac du Tolerme in north east Lot. And there's a high chance you'll find SUP anywhere with a beach and some water in the Dordogne Valley these days.
Find out more about water sports for kids in the Dordogne Valley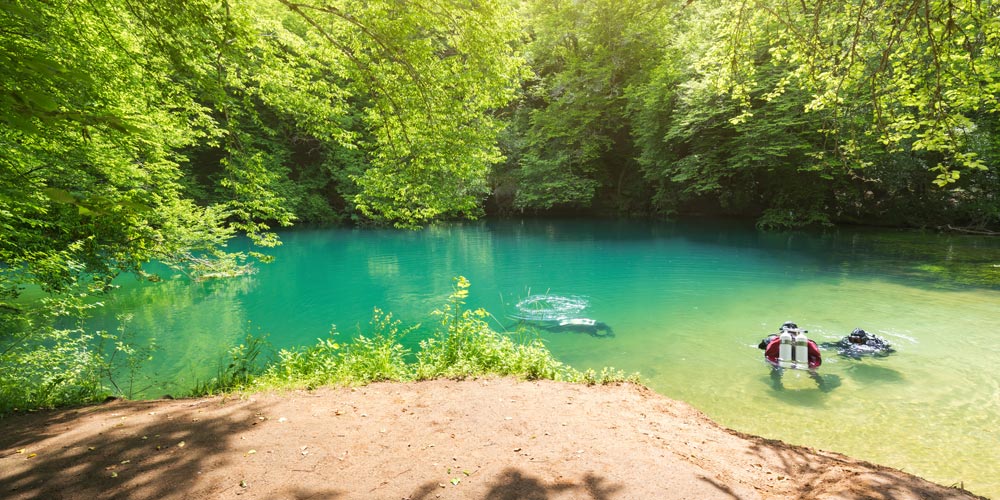 5.

Swimming in rivers and lakes

You definitely don't want to miss swimming in the Dordogne River. It's the cleanest in France, the water's astonishingly clear and you can take your pick of pretty beaches – there's even a beach at Limeuil, one of the most beautiful villages in France. Several larger beaches have lifeguards in July and August. Picnicking is almost a rule everywhere: perfect excuse to shop the Dordogne Valley's charming food markets. And when you want a change from the river, try lake swimming and test another type of beach for the day: again, many are supervised in summer.
Find out more about swimming with kids in the Dordogne Valley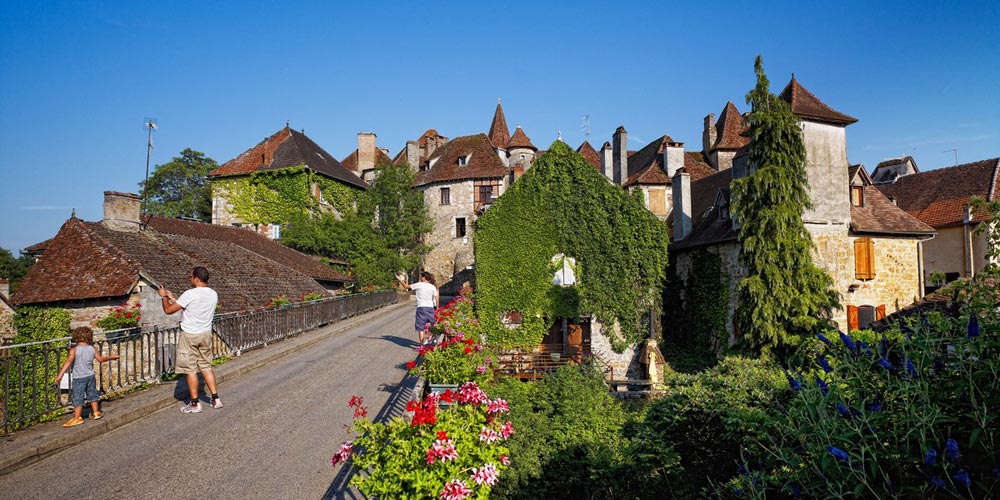 © OT Vallee de la Dordogne
6.

Walking and hiking

You can't take the shortest stroll in the Dordogne Valley without coming upon intriguing local history, curious tales or remarkable scenery. And if you're prepared to really stretch your legs some of the most fascinating hiking trails in SW France criss-cross this area. Many of them are exceptionally well-marked and graded in order of difficulty, so you know what's doable with kids.

Follow heritage trails to high summer pastures in Cantal and discover why the local cheese is world famous. There are over 60 walks in the Lot covering everything from riverbank rambles to hiking through vineyards. Gorges on the River Corrèze make for some fine and dramatic wilderness trekking. And you can trace the travels of Lascaux cave artists along the Vézère Valley. Or walk in the footsteps of ancient pilgrims on the Voie de Rocamadour which takes you through charming towns like Aubazine, Martel, and unusual Collonges-la-Rouge, before reaching the dramatic town of Rocamadour itself.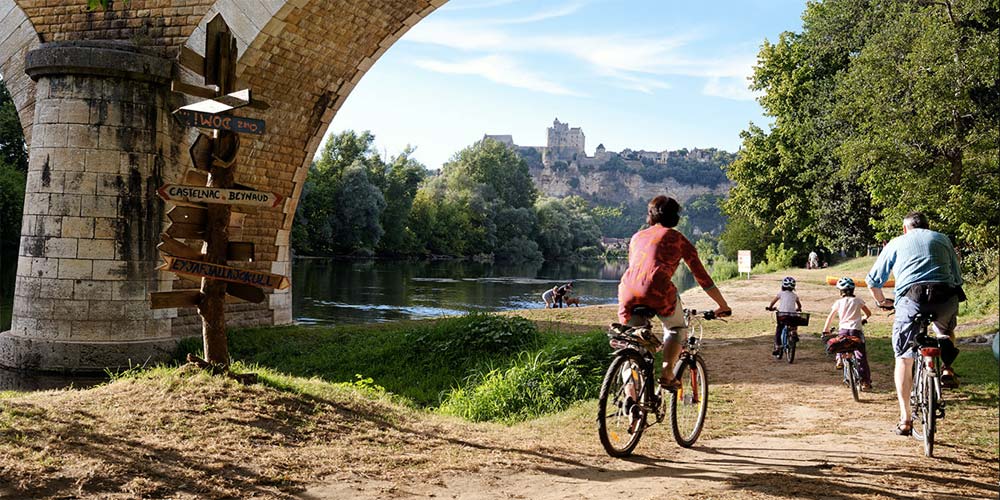 © Jonathan Barbot
7.

Cycling

Don't be bike-shy in the Dordogne Valley. It's a ridiculously pretty area for cycling and couldn't make it easier or safer for families. You'll find dedicated véloroutes covering almost 150km in the Corrèze. The former Sarlat to Souillac railway line is now a cycle track and almost totally flat which makes it perfect for younger kids. You can even cycle car-free paths along the Dordogne River for up to 100km between Périgueux and Le Pizou. And if you've MTB fiends in tow, they'll be pleased to know the northern Dordogne Valley has France's biggest network of mountain bike trails.

You'll find anything from electric bikes to tandems, bikes with toddler trailers, mountain bikes and road bikes to rent here. And most hire companies deliver to accommodation at no extra charge.
Find out more about family cycling in the Dordogne Valley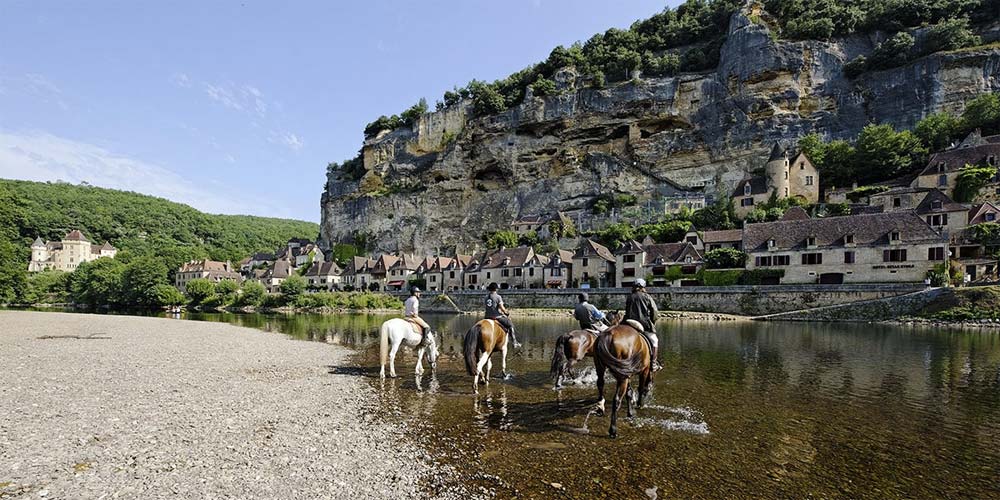 © Jonathan Barbot – CDT Dordogne
8.

Horse-riding

Another low-impact way to really see the Dordogne Valley is on horseback. You won't be surprised to learn that riding is a long-established tradition here, though you don't need any experience to trek for a few hours at one of the area's family-friendly equestrian centres. And if you need any more encouragement to saddle up, just think about the ethereal beauty of the local landscape and the fact that horses virtually have an all-area-pass in this part of the world.
Find out more about horse-riding in the Dordogne Valley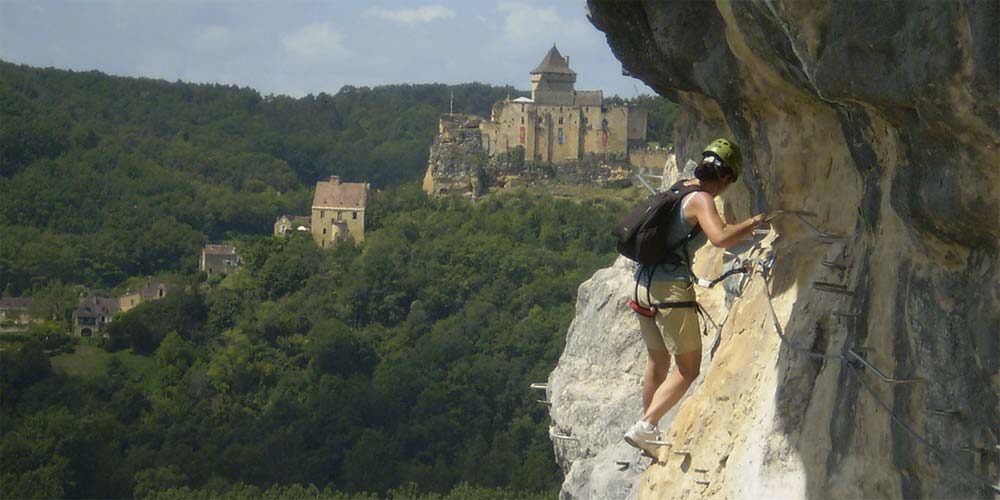 © Jardins de Marqueyssac
9.

Climbing for all ages and stages

Climbing in the Dordogne Valley is broad-spectrum, covers everything from ziplining adventures to technical rock climbs and lets kids clamber and soar to their heart's content in the most spectacular of settings.

There's no shortage of superb aerial adventure parks, with imaginative and thrilling routes designed to take full advantage of impressive local forests, all the while keeping kids ultra-safe and never outside their comfort zone. Bold teens will definitely be up for the daring Via Ferrata cliff courses at Jardins de Marqueyssac. And if you want all-round excitement with a combo of SUP, canoeing, kayaking, archery, rock climbing and Via Ferrata, put Escapade Nature Pays d'Argentat in Corrèze high up on the holiday to-do list.
Find out more about climbing in the Dordogne Valley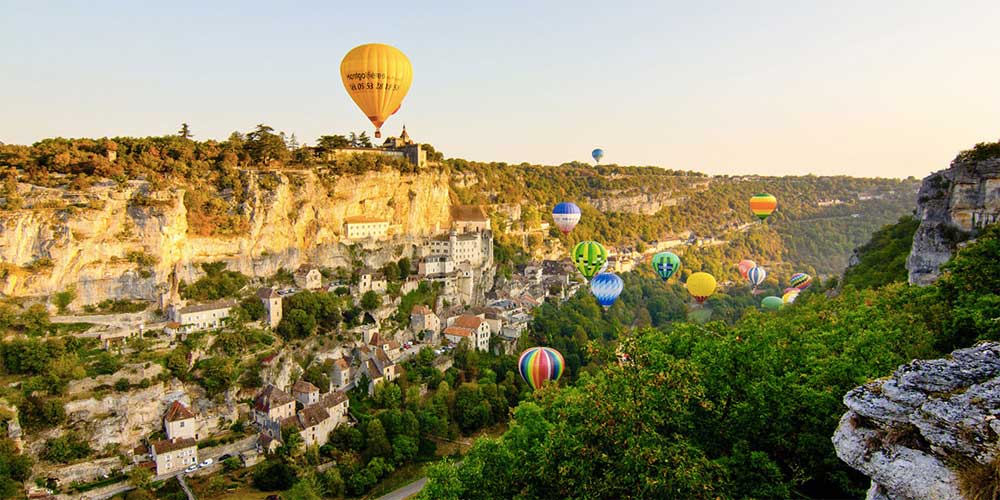 ® Lot Tourisme C. Novello
10.

Hot Air Ballooning

Hot air ballooning is not just for champagne-sipping romantics in the Dordogne Valley. It's one of the area's most iconic experiences and, some would argue, more loved by kids than couples. Several companies in the area organise flights during spring and summer, and if you think the valley looks incredible on the ground, the aerial views will take your breath away. Not ready to take to the skies? Then make a plan to visit in early autumn instead for Les Montgolfiades: Europe's largest hot air balloon festival held annually in Rocamadour.
Find out more about hot air ballooning in the Dordogne Valley
The lowdown
Where is the Dordogne Valley
The Dordogne Valley in South West France, stretches the entire length of the Dordogne River from its source at Puy de Sancy, west to the border of Gironde.
How to get here
There are direct flights to Bergerac from ten UK cities, including London.
Flights take from one hour, 35 minutes.
There are also direct UK flights to Brive in the Dordogne Valley.
Flights take from one hour, 40 minutes.
Now you've had a hint of the adventure, visit Dordogne Valley Travel and have a closer look at all the other reasons why the Dordogne Valley should definitely be your next family holiday.