Sponsored Content
Chamonix, the enchanting alpine town at the base of stunning Mont Blanc, is a mecca for adventurous families. Thanks to well-positioned family accommodation, the outdoor fun starts right on your doorstep. Plus, with temperatures regularly reaching 30°c, you'll explore spectacular mountain landscapes with the sun on your face. There are endless exciting things to do in Chamonix and we've picked out ten of the best.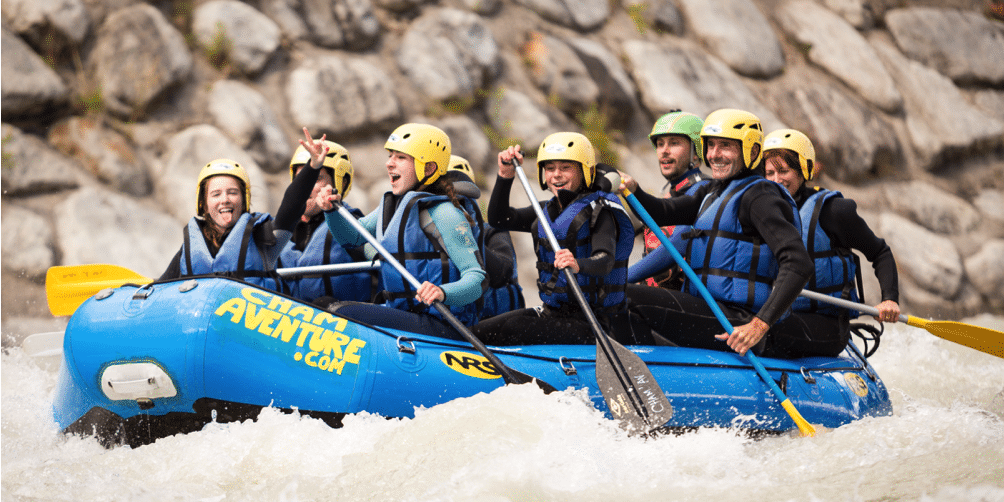 1/10

  Water rafting

Come rain or shine, water rafting is the perfect summer activity for families. Surfing the glacial melt waters of Chamonix's Arve river is the perfect way to cool off on a hot day. Or on a rainy day, you won't worry about getting wet so it's the ideal activity choice! Children from 8 years can cruise along the river through the town centre waving at passers-by, while teens will want to tackle the Dora Baltea in Italy – the highest grade river in Europe – on a half or full day adventure. And at the end of all that, head back to the rafting base for a welcome warm shower.
Parc du Mont Blanc apartment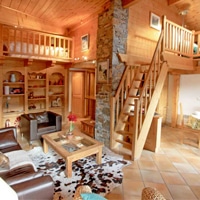 Families with older kids will love everything about Parc du Mont Blanc apartment. It has an unbeatable central location. It's adjacent to Chamonix's lively Jazz club and has two separate mezzanine snugs – one for retreating up the ladder to watch TV and another for sleeping. The apartment has a true chalet feel and also benefits from a large sunny terrace overlooking Mont Blanc.
Price from £1070 a week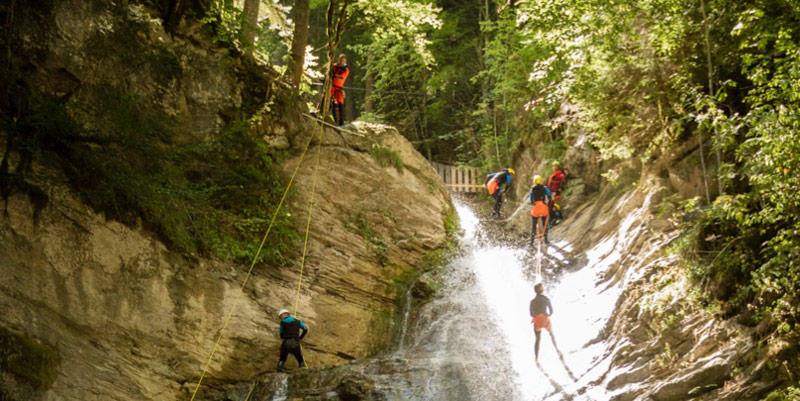 2/10 

Canyoning

The kids will be in fits of giggles when they see each other wearing the special wetsuits designed for canyoning. To allow you to slide down the rocks and small waterfalls, you'll all have to sport a padded bottom, which is sure to have you in stitches! This attire is however the perfect way to make sure you can enjoy abseiling down waterfalls, sliding over the rocks with the torrents and jumping into deep clear pools of water to the max. Teens and parents can join a group, or youngsters from 6 years can try out canyoning with a private guide.
L'Androsace apartment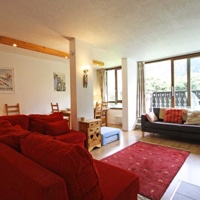 L'Androsace apartment is perfect for active families, with two double bedrooms and a quad bunk room for the kids. There's also a swimming pool and communal garden, as well as a large balcony, with gorgeous views of Les Grands Montets. There are plenty of walks and hikes nearby, plus books and games to keep the kids out of trouble in the evenings.
Price from £851 a week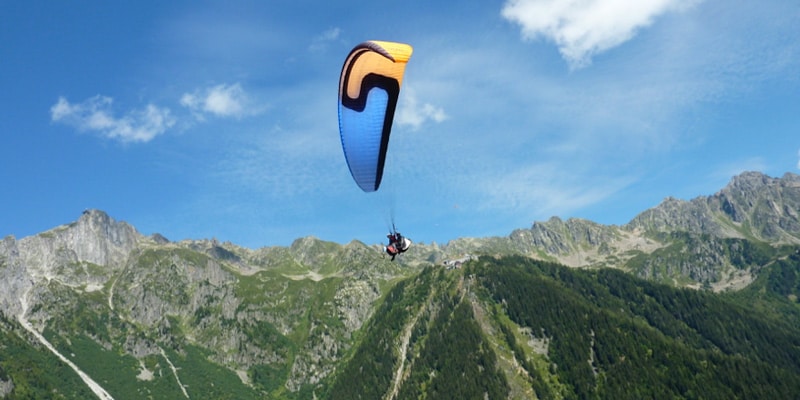 3/10  

Parapenting

Soaring like a bird over the Chamonix valley is guaranteed to give your kids memories to treasure when the time comes to head back home. What's more, even your youngest can enjoy this activity, as it's available from 5 years old. Parents and kids can fly at the same time with different tandem guides, so you can all enjoy the views of the tumbling glaciers and snow-capped peaks, and can take pictures of each other. The instructors will even be able to tell you whereabouts they'll land, in case mum or dad prefers to head to the landing fields and take some action shots as the kids head down to land.
Chalet Union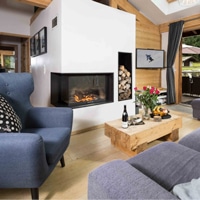 A boutique chalet with a Wii, games and DVDs. Kids will love playing in the sunny garden as parents watch on, wine in hand, from the table on the terrace – all against a backdrop of glaciers and soaring peaks. There are four ensuite bedrooms and two of the bedrooms have extra mezzanine sleeping areas where older kids will love climbing up the ladders. Round of a perfect day by watching the stars from the sunken hot tub on the terrace.
Price from £1955 a week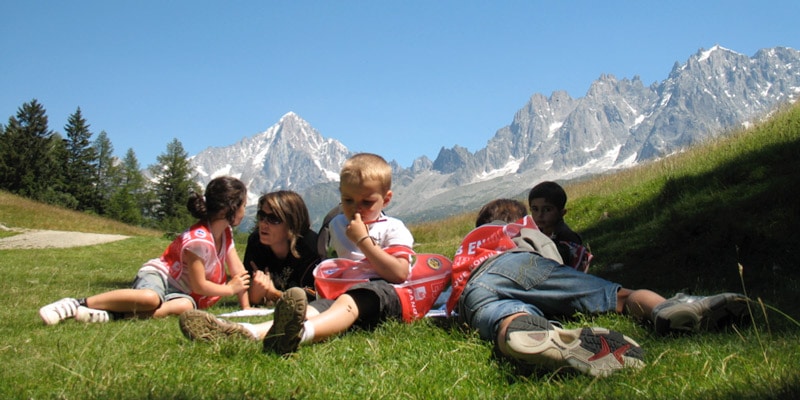 4/10

  Kids' activity programmes

If your kids are looking to get their teeth stuck into some activities without parents cramping their style, the kids' activity programmes are just what you need. Tailored to three different age groups, your offspring will be in safe hands as they head off for the day with a mountain professional to experience everything that Chamonix has to offer. Tiny ones will focus on crafts, games and fun, while older children will mix it up with exploration and alpine sports. Teens will get the chance to experience some of the adrenaline sports which Chamonix is famous for, up on the glacier or on the river. Book them in for as many days as you like, choosing one day à la carte or going for the whole weekly menu of adventures.
Chalet Jean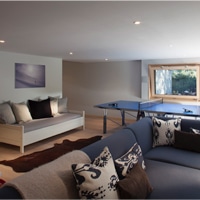 The chalets sleeps up to 14 people with the use of a spacious games room / bedroom 7. The playroom offers a treasure trove of games and toys, as well as table tennis and a TV. Upstairs, the huge open plan living area has floor-to-ceiling windows, an Apple TV, DVD library and Sonos music system, while outside the balcony benefits from a hot tub and BBQ. Smaller families can book this chalet with only three bedrooms.
Price from £1438 a week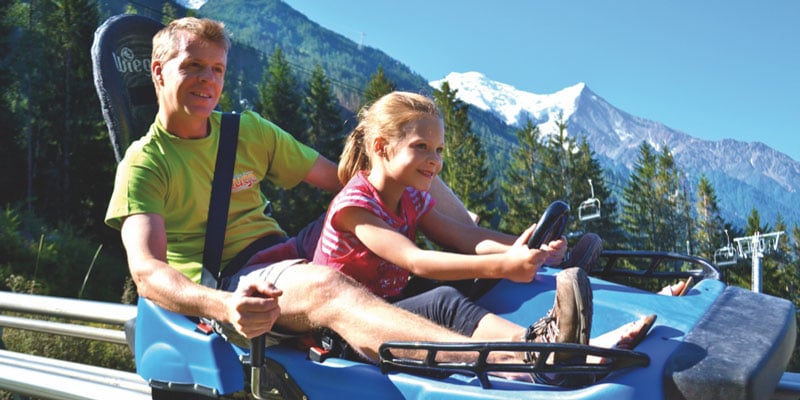 5/10

  Summer luge

The summer luge puts you in the driver's seat so you can ride the rails as fast as you dare. The track is over 1km long, with spins of up to 540° to make you dizzy. And once you've had your fill of that, kids of all ages will enjoy the other activities in the parc des loisirs (leisure park), including slides, trampolines, log flumes, go carts, water pistols and more…! Entrance to the park is free, and once inside you can buy tokens for access to the different attractions and slides. Located opposite the Montenvers train station, it's the perfect destination for a family afternoon out.
Paradis Ski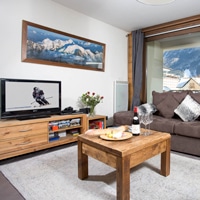 This apartment in the heart of Chamonix town centre is always a favourite with families, thanks to its two bedrooms and flexible sofa bed. It comes with plenty of games and even a Playstation. The supermarket is a stone's throw away, making it super convenient for families who like to cook for themselves.
Price from £851 a week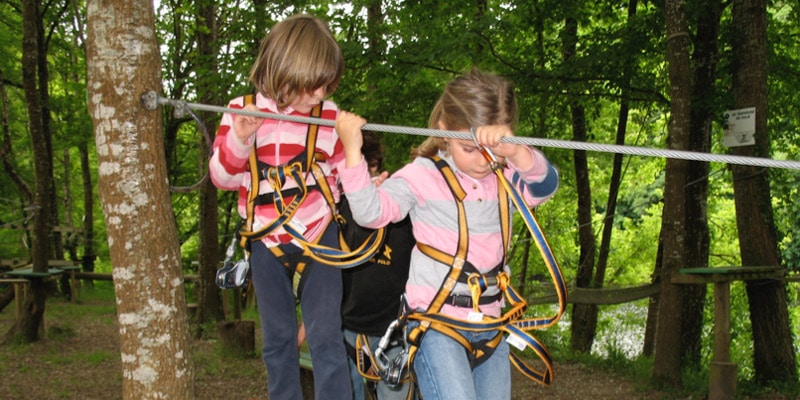 6/10

  Adventure tree park

Set beside the picturesque Lac des Gaillands, the Adventure Tree Park offers courses to suit daredevils of all ages. The courses creep higher and higher through the trees as you tackle the different obstacles, so everyone can push themselves as far as they want, before retiring to the snack bar to wait for the adrenaline junkies. Challenges such as Tarzan swings, air-borne skateboards and ziplines await… Les Gaillands is a great place for families to spend the day, as once you've exhausted the tree park, there's a climbing wall where you can book a lesson on the outdoor crag, or just enjoy the views of Mont Blanc reflected in the lake's waters.
Les Sonnailles and Le Soleil apartments
These family apartments are all about location, location, location. Chamonix's indoor and outdoor pools are metres from the front door, and the rafting base is just around the corner. Both apartments have a master bedroom with double bed and a twin (or bunk) room, making them ideal for a family of four.
Price from £794 a week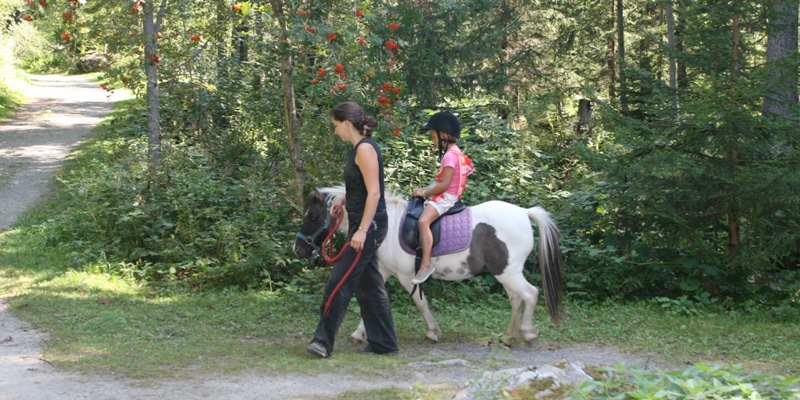 7/10 

Family parks

In addition to the Parc des Loisirs, Chamonix and the surrounding valley is also home to more family parks for kids of all ages. At the top of the valley and just over the border into Switzerland, the Emosson dam is accessed via three fun funicular attractions. In Les Houches, the Parc de Merlet offers the chance to get up close and personal with the native animals of the mountains, including chamois and llama! Meanwhile, little ones will adore the Paradis des Praz park, nestled in the woods where you can enjoy pony rides, play areas and a snack bar as a stream babbles by.
Ginabelle 14 apartment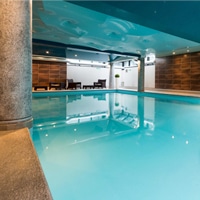 Chamonix is bursting with outdoor activities, but for those odd rainy days, accommodation with a pool is a great alternative for restless kids. Ginabelle 14 apartment is perfectly set up for a family of four, with a double master room and a twin second bedroom, plus a living room complete with games and DVDs. As well as a pool, there's a sauna and hammam (Turkish bath) to relax in, plus a gym.
Price from £690 a week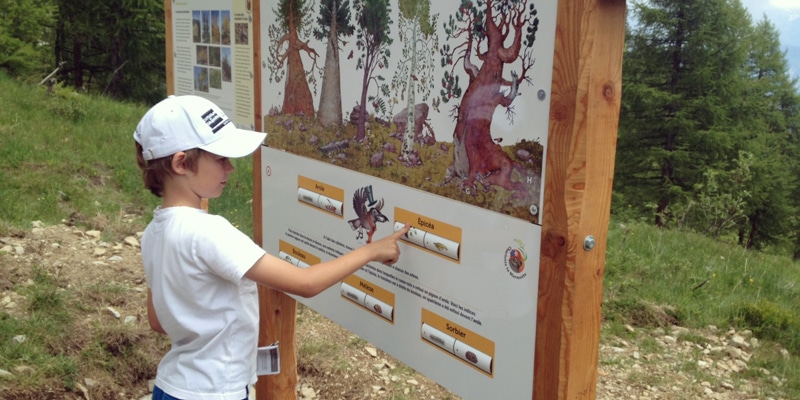 8/10

  Family hiking adventure with forest fondue – NEW FOR 2017!

Our guides will lead you in the footsteps of Charlotte the Marmotte along a trail through the forest, admiring views over the valley and of the tumbling glacier. Information boards give an insight into the history of the ice industry for inquisitive minds, while younger kids will love learning about the nature and environment through the playful booklet. Energetic families can continue from the end of the trail to get up close and personal with the glacier, or you can choose to cool your feet in its melt waters while you enjoy a home-made ice cream from the snack bar. After this, you'll descend the valley to a great picnic spot where you'll enjoy refreshing drinks and a hearty forest fondue over an open fire – with toasted marshmallows as a sweet treat at the end too!
Chalet de l'Ours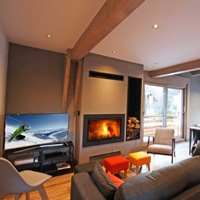 Independent families will love this chalet. It offers a main shared living area as well as a second snug where kids can retreat to entertain themselves. Chalet de l'Ours has a great playroom with TV, Playstation and games, away from the bustle of the main living room, but there is still plenty of space for you all to come together.
Price from £1840 a week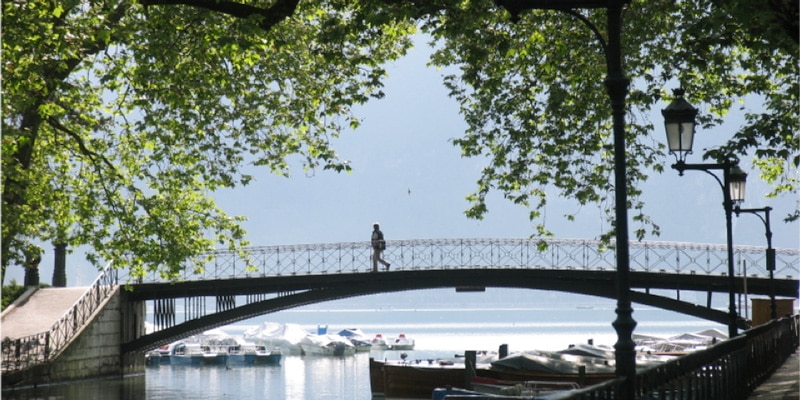 9/10

  Annecy skating adventure

Annecy is known as the Venice of the Alps and you'll see it in style on this sightseeing tour, cruising the town's green spaces on your inline skates. Learn the basics on the lakeside, looking out over the crystal clear waters to the mountains which rise on the other side, then younger kids can choose to carry on with a half loop round the lake. Older children or teens can do a full loop to work up an appetite for your picnic lunch, before exploring the historic old town and its canals with your guides – not forgetting the amazing ice cream shops and various souvenir stalls.
Chamois Apartment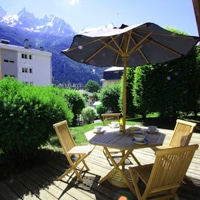 Larger families looking for their own space in the heart of Chamonix will love Chamois Apartment. With four bedrooms and four bathrooms, you can bring the kids and grandparents too. Everyone will find something to enjoy on the doorstep, from walks, hikes and activities to delicious bakeries and stylish cafés. In the evenings, catch up on the terrace, looking up at Mont Blanc. Inside, the kids will love the extensive collection of games, DVDs and books.
Price from £1322 a week
10/10 

Monster scooter adventure

Start your day with a picturesque train ride through the mountains, enjoying views of spectacular canyons, Mont Blanc and idyllic villages. From the train station, it's a short walk to the cable car which will whisk you up to the starting point of your hike at 1800m. After 90 minutes of breathtaking trails, you'll reach a viewpoint where you can enjoy an outdoor alpine lunch provided by your guide as they talk you through the natural sights and surrounding mountains. You'll return to the cable car station where you'll hop onto your monster scooters for an incredible 10km race back down the mountain, before jumping back on the train to head back to Chamonix, worn out from your exciting day!
Caprice des Neiges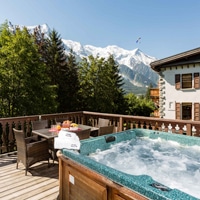 If you want a traditional chalet in the mountains, then Caprice des Neiges is the one for you. Perfect for families whose kids span a range of ages, it has three double bedrooms and a kids' twin room, spread across three floors. The main living floor has a cosy lounge with TV, DVD player and Playstation, as well as a separate dining area and large kitchen. Outside, a wrap-around terrace is the perfect location for dining al fresco and enjoying the views from the beautiful hot tub. Some charming family walks start from the door step of the chalet.
Price from £1840 a week
Chamonix: the lowdown
How to get there
There are regular flights between London and Chamonix (1 hour 30), or drive from southern England to Chamonix in around 10 hours.
BA flies from London Heathrow (from approx £130 return) and from London Gatwick (from approx £80 return) to Geneva. easyJet flies from London Gatwick to Geneva, from approx £50 return. The transfer from Geneva to Chamonix takes one hour and can be booked here
When to go
The weather in Chamonix is very pleasant between May and September, but the sun shines brightest in July and August.
Things to do
The Chamonix All Year Resort Shop  offers a full programme of summer activities for adventurous families and kids. There's everything from white-water rafting to paragliding, and a full day of activities costs £61–£86.
Where to stay
Chamonix All Year have a wide range of good value, quality accommodation options to suit your family and your budget. Their in-resort team can recommend the best activities for your kids.