Sponsored Content
Grace Bay is the world's best beach, so say millions of voters in Trip Advisor's Travellers' Choice Awards 2016. Are they right or is it impossible to define the best of anything, never mind beaches?
Well this particular award winner does have a head start simply by trimming the coast of gorgeous Providenciales: one of the largest Turks & Caicos' islands right in the middle of the Caribbean. It's also over 18km long and beautifully broad without a single rock or ribbon of seaweed to mar its acres of powdery-fine, white sand. And then there's the advantage of calm, warm, blue seas conveniently sheltered by a famously pristine coral reef about a kilometre from shore.
But is that really all it takes to be named the 'world's best beach'?
The truth is voters are seldom swayed by looks alone – even when they are undeniably spectacular. So to make the grade, knock-out all other coastal competition and walk off with the main prize, Grace had to go far beyond sweet sands and stunning seas.
Top marks for Grace Bay's flawless island setting
The Caribbean isn't short of unspoiled isles, most of them stay that way because they're uninhabited or have nothing much apart from views.
Providenciales is not that place. It is impossibly fresh and untainted – they didn't have a road here until 1964. But it's also fun for kids whether they want waterparks or wildlife or day's out with dolphins. Award-winning can be applied to everything from restaurants to diving here. And, despite having traffic and even an international airport these days, the island manages to hold on to its natural charm even at its liveliest and most colourful – the annual New Year celebrations on Grace Bay are legendary.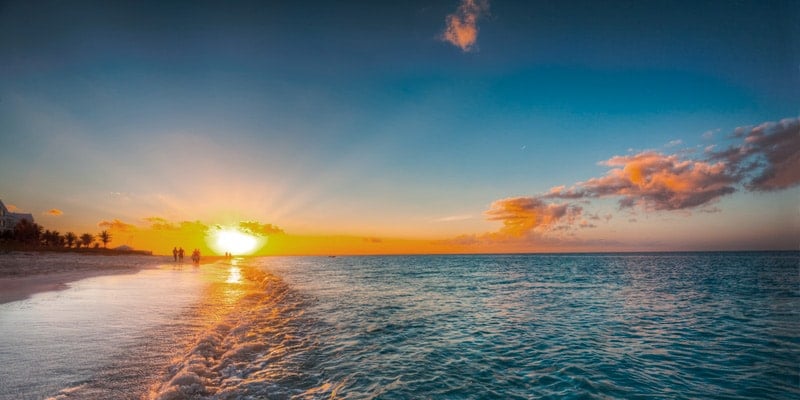 Extra paradise points from nature lovers
The world's best beach also wins out for its place in Princess Alexandra National Park. Remarkably, this is just one of three national parks on Providenciales, plus three nature reserves and eight protected environments.
Alexandra's the largest, covers 2643ha and, on top of big, beautiful Grace Bay, it's home to the celebrated coral reef and almost all the best dive sites. So understandably it's a natural magnet for adventurous kids, scuba-fiends and curious snorkelers – sailing from Grace Bay to the reef is one of the most amazing experiences.
For sheer size and diversity, the biggest national park beats all. But there's strong competition from Chalk Sound's enchanting lagoons and the dramatic cliff strewn coastline at Northwest Point.
A winner for water sports
Grace Bay's sheltering reef is a wonder but Turks & Caicos has over 1000km of coral. And diving in the clear waters here is rated top in the Caribbean and top five in the world – ship wrecks off the coast are a bit of a passion for more experienced underwater explorers.
Safe swimming seas are great for water sport beginners, brilliant for paddle boarding and glorious to just float around in. Plus there's the added bonus of protected status in this area, so motor boats are kept to a minimum, jet skis are banished and vast swathes of sand mean there's always somewhere quiet for kids to practice without an audience – until they get really good.
A clear all-rounder for incredible resorts
It takes a certain confidence to sit overlooking Grace Bay, know you're in the company of the world's best stretch of sand and still name your resort, 'Beaches'.
It works. Not only is Beaches Turks & Caicos a delightful collection of four individually designed villages and one of the most exciting family holiday experience in Turks & Caicos, it's also all-inclusive. So no matter how many times kids swim up to the kids-only bar, race down the waterslides, get into gaming duels or go back for ice cream, they're more than welcome.
But Beaches has a unique approach to all-inclusive. Nothing feels packaged, everything is about freedom of choice and there's so much to choose from.
Each of the four villages recreates the essence of a world icon. So guests can holiday in the Caribbean, explore the history of France and Italy or kick-back and feel the sand between their toes in beachy and easy-going Key West. Whichever option suits; huge seascape, miles of horizon and lush, garden grounds are always part of the view.
Days on the beach, fantastic water sports, sailing and diving are mixed in with the wild fun of Beaches' Waterpark – 650m of lazy river, a surf simulator, white-knuckle rides and eight huge waterslides, just for starters.
Younger children have their own clubs and older kids can pick up new skills over and underwater, hang out in the dazzling teen disco or chill in the Xbox Play Lounge. It's up to them, it's all part of the experience and, of course, all-inclusive.
Exploring Providenciales, voyaging round national parks, discovering historic sites and heritage landmarks, none of that is extra at Beaches Turks & Caicos. The resort is fiercely proud of its magnificent location and actively encourages guests to get to know the fascinating island above and beyond the resort. But with over 20 restaurants, leading chefs, legendary mixologists and a raft of entertainment day and night, staying home and being wonderfully well taken care of can be very tempting – at least some of the time.

So, is Grace Bay the world's best beach?

It's difficult to work out how millions of voters got sight of Grace Bay. From the beach to the centre of Providenciales, uncrowded and peaceful is the order of the day everywhere. But even without the acclaim of Trip Advisor or World Travel or Scuba Diving Magazine or the dozens of other accolade dispensers who've showered unconditional love on this magical stretch of sand, it's impossible not to want to pack up the kids and go see for yourself.