Sponsored Content
Floating peacefully in impossibly clear seas, Saint Lucia is the vivid splash of green between Barbados and Martinique. It's one of lushest, hilliest islands in the Caribbean and, from a distance, looks a bit like a set from a technicolour 1950s fantasy movie: all pointy pitons, volcanic ridges and glittering beaches.
Get in closer and it's pretty much paradise, if paradise had a drive-in volcano and made sensational chocolate: just two of the reasons kids love it here. And the others? Turquoise Holidays are long time Saint Lucia admirers, here's their take on why the island works beautifully for families and a little inside knowledge on where to stay and what to do – if you can tear yourself away from the beach.
A classic beach hotel on Saint Lucia's loveliest beach
Almost right on the equator, Saint Lucia's tropical and doesn't really do seasons – temperatures sit at a balmy 29˚C year round and 27˚ passes for a cold snap. So a cooling sea breeze can be fairly important when it comes to choosing a hotel.
The Landings Hotel and Spa settled on Pigeon Island Beach several decades ago and has held a pole position on this lovely stretch of sand ever since. In fact, it's probably fair to say the elegant neo-classical resort is almost as recognisable a landmark on the island's north west coast as nearby Pigeon Island National Park and Rodney Bay Village.
Naturally, remarkable open views are a hotel theme, water sports come as easily as breathing. And, of course, the unbroken stretch of Pigeon Island Beach has the advantage of making kid-monitoring easy, without the close-quarter hovering hated by any child over five.
[soliloquy id="15183″]
Large family suites and endless family freedom
But extraordinary space isn't just an outdoor feature. The hotel's villa suites are so enormous they're practically apartments right down to sleek kitchens fitted with Miele appliances. Bathrooms are vast too and balconies are more like terraces: perfect for breakfast with sea views or a nightcap under Saint Lucia's romantic, starry skies.
The island's morning markets are fantastic and local seafood's the stuff of legend, so cooking for yourself every now and then is fun. But if you don't feel like lifting as much as a wooden spoon all holiday, The Landings' restaurants are amazingly creative with Saint Lucia's natural pantry too.

Children love The Landing's famous Kids Club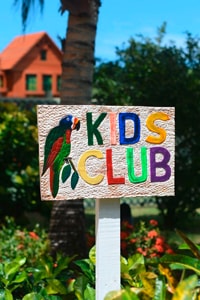 The Landings' Kid Club is one of the finest in the Caribbean and everything comes down to one person, Aunt Cathy. Chief of play, coach, confidence builder and all-round fun maker, Cathy's been in charge here for decades and her take on creative adventure, activities and learning's a huge hit with 4 to 12 year olds.
The club's open seven days from 8am to 5pm and packed with activities from cool stuff like picking up patois and limbo dancing to tennis lessons, cookie making and outings to Pigeon Island national park.
To save you pining too much, Soleil Spa's a wonderful distraction. Then there's always the beach to while away a few hours. Or you could just laze around one of the hotel pools with a big, fat book and a long, cool drink. Whatever you do, don't feel guilty, your kids couldn't be in better hands or having more fun.
Take time to see a little of Saint Lucia too
Between the beautiful beach and brilliant kids club, you could stay put at The Landings and be perfectly content all holiday.
But Saint Lucia's fascinating: Napoleon's wife, Joséphine de Beauharnais, grew up here; the island's 18th century plantation houses are spectacular; Rodney Bay village is packed with pirate lore for curious kids; and you can't leave without seeing Sulphur Springs at least once.
So take a break from being cosseted once in a while and go exploring. Here are a few Turquoise holiday favourites you have to try:
Quaint, little south coast town at the start of the Gros Piton trail, famous for links to the First Empress of France and ziplining at historic Morne Coubaril Estate.
Leatherback Turtle nesting site where kids can camp out and witness the miracle with local guides between March and August.
The larger of Saint Lucia's iconic pitons takes about four hours to climb, the trail's well marked and it's a great day out with teenagers.
Saint Lucia is the most active geo-thermal area in the Caribbean and keeper of the only drive-in volcano, the guided tour's excellent.
Tree to Bar Chocolate Experience
Beautiful Rabot Estate produces the island's most celebrated chocolate and seeing the process from start to finish is pretty exciting – there's tasting involved too.
The eight seater gondola which soars over the rainforest canopy at Rodney Bay is one of Saint Lucia's most sensational experiences. 
Pigeon Island National Park
The Landings sits right on the edge of this small but perfectly lovely national park. It's stuffed with history, pretty restaurants and lots of wild space for kids to rampage around to their heart's content.
Book a seven-night stay at The Landings with Turquoise Holiday

s from

£4,699 per family of four (two adults and two children under the age of 12) inc

luding flights with BA, transfers and half-board. Alternatively call the Caribbean team on 02071 477 087 for details.