Sponsored Content
Jamaica is the island for rainforest bobsledding, wild river rafting, waterfall climbing, treetop ziplining and subterranean caving. It's fantastic at enormous waterparks; considers flip-flops formal-wear; doesn't have a cut off point when it comes to beautiful beaches and thinks of jungle safaris as downtime. No surprise to find older kids love holidays here, and you only have to look at the endless variety of teen-centric activities to see Jamaica loves them right back.
On a practical note, direct UK flights to both Kingston and Montego Bay take from just 10 hours, which is almost short-haul for the Caribbean. You'll find family-friendly resorts and hotels all over the island. And when it comes to planning, Visit Jamaica couldn't be more helpful, right down to recommending outdoor adventures aimed at impressing the most extreme-seeking teenagers. Take a look at their top seven for starters: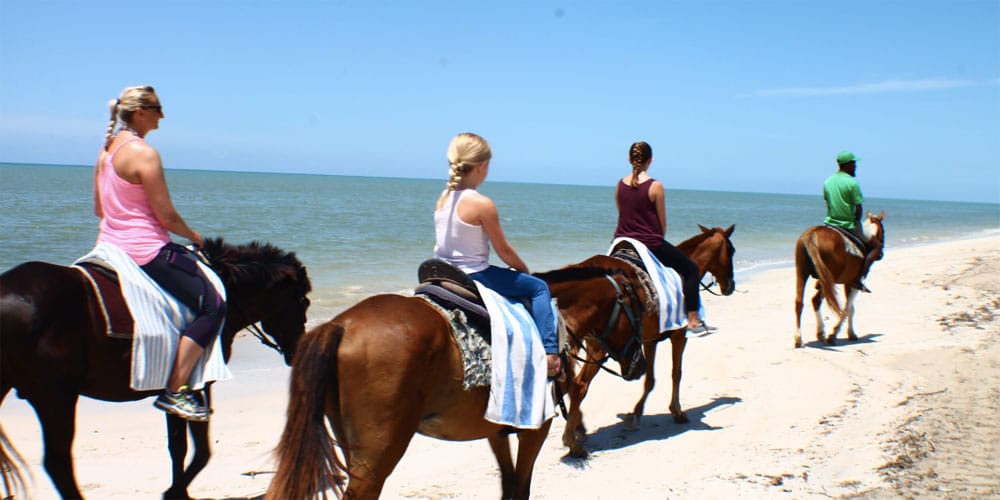 1/7

Reggae Horseback Riding, Negril

You don't need any experience to ride at Reggae Horseback. The horses are famously gentle, guides friendly, and anyway, the stunning loveliness of their 900 acre estate tends to set a peaceful pace for two hours meandering in the saddle. The only surprises are good ones, like spotting Jamaican parrots or picking local fruit in season. And the big finale of a ride along the beach is a fantastic only-in-Jamaica memory for kids. Just make sure phones are charged to capture every unforgettable moment.

Where:
Little London, Westmoreland
20 minutes' drive east of Negril.
What:
Two hour guided ride round 900 acre eco-estate, and one mile of south coast beach.
Suitable for kids age five and over, no riding experience needed.
Cost: Two hour estate and beach guide ride, from £55 per person.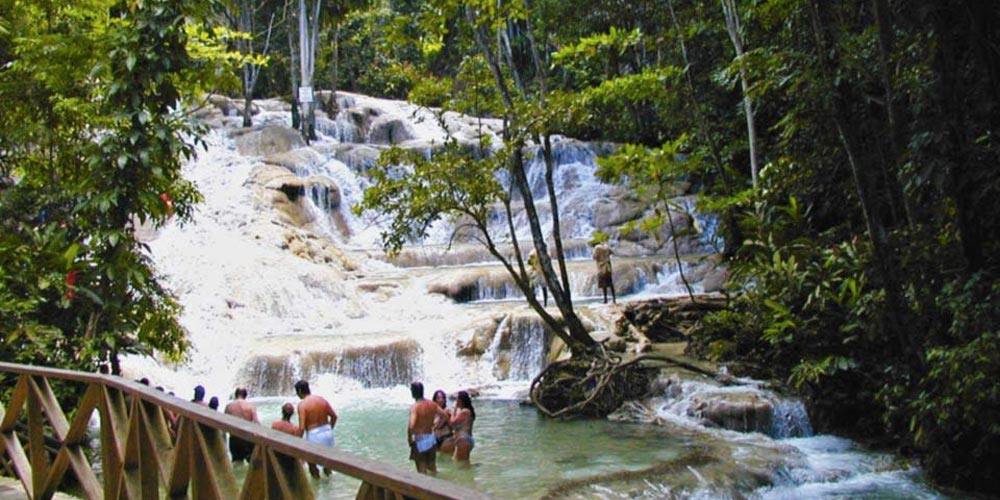 2/7

Dunn's River Falls and Park, Ocho Rios

You can't visit Jamaica without climbing Dunn's River Falls, it's one of the island's most iconic experiences, almost as famous as jerk chicken, slightly less well known internationally than Bob Marley, and basically a right of passage for teenagers.

The falls are always busy – that's part of the fun – but they're also enormous, so finding space in the lagoon-like pools to catch a breath is never an issue. The climb to the top is fairly strenuous, though more than doable for most older kids. Just leave plenty of time, since it's pretty much impossible not to stop and stare constantly – the falls are as beautiful as they are thrilling, and they're very thrilling.

Where: North east coast of Jamaica, 15 minutes drive west of Ocho Rios.

What: Experienced Falls Guides lead climbers up the waterfalls in a 'human-chain', pace is easy enough for older kids and teens, or you can simply sit and watch others do the work.

Cost: Admission and guided fall climb, from £12 per person.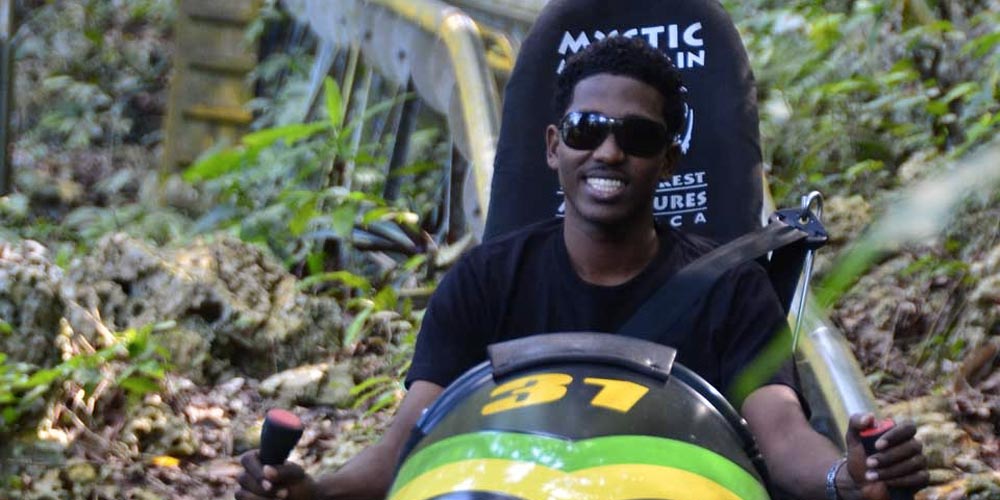 3/7

Mystic Mountain, Ocho Rios

Bobsledding in a rainforest might seem unusual, but Jamaica has bobsled history: in 1988 the national team was the first ever from a Caribbean country to compete in the Winter Olympics, and they've been competing ever since. So in fact, a Jamaican Rainforest Bobsled makes perfect sense: just don't expect any snow on Mystic Mountain. Instead custom-designed bobsleds speed through tropical rainforest on a 1000m long gravity-drive. It's no less thrilling than more traditional bobsledding, only the views are much better.

Mystic Mountain is also home to the Rainforest SkyExplorer chairlift which sweeps visitors up 700ft to the top of the mountain. And if kids need any more excitement, they can go ziplining through the tree canopy here too.

Where: North east coast of Jamaica, 10 minutes drive west of Ocho Rios.

What: A tropical rainforest adventure park on Mystic Mountain and home to the Rainforest SkyExplorer chairlift, Rainforest Bobsled, and tree canopy ziplining.

Cost: Mystic Mountain adventure packages, from £30 per person.
Find out more about Mystic Mountain with Visit Jamaica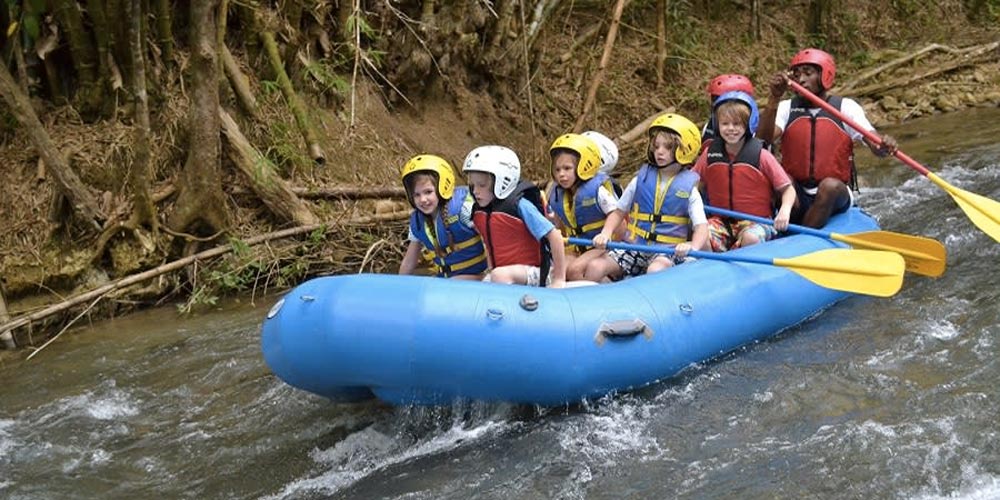 4/7

River Rapids Adventure, Rio Bueno

When it comes to intense white-water activities, River Rapids Adventure owns just about all the thrills on the Rio Bueno. They're also highly experienced, so kids are in the safest possible hands no matter how extreme the fun gets, and it does. Think river tubing and boarding, kayaking, rafting and climbing the fabulous Bengal Falls in the company of excellent guides. All adventures are suitable for teenagers, and younger kids are welcome to try river rafting or jungle tubing.

Where:
Rio Bueno, Trelawney, north east Jamaica.
Transport available from Ocho Rios, Montego Bay, Runaway Bay and Falmouth.
What: Guided river tubing, rafting, boarding, kayaking and fall climbing on the Rio Bueno.
Cost: River Rapids Adventure packages (including transport), from £40 per person.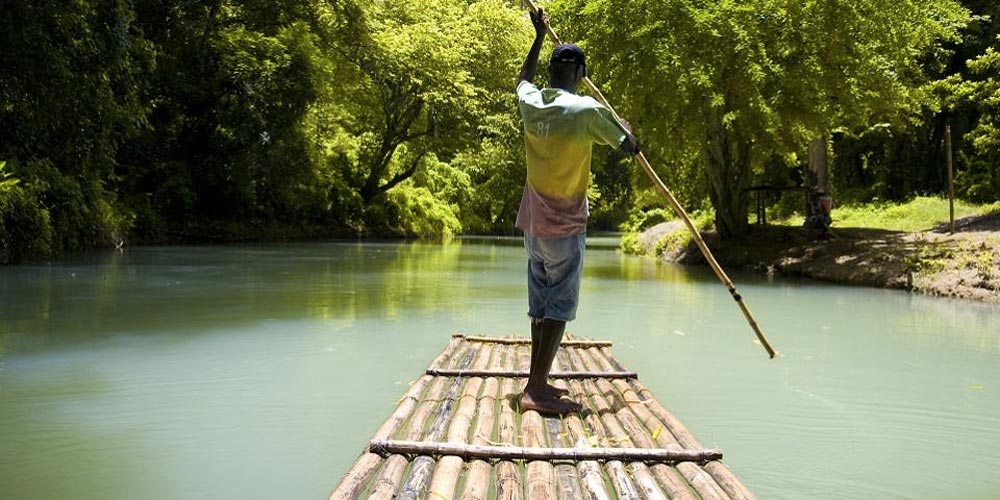 5/7

Rafting on the Martha Brae River

Rafting on the Martha Brae River has impressive celebrity endorsement: turns out everyone from Spike Lee to HRH Queen Elizabeth II and Usain Bolt are fans. But will a one hour cruise on 30ft long traditional bamboo rafts along one of the most famous waterways in Jamaica pass the teen-test?

Well, the scenery's gorgeous and raft captains are masterful tellers of haunting tales about Martha Brae, the legendary Arawak witch who tricked Spanish fortune hunters and changed the course of the river forever. Then there's swimming – if kids want a break from plain sailing, they can hop off the raft into the river. Even the Rafting Village is great fun, and soulful types love Miss Martha's Herb Garden. So, all in all, this one's almost made for teens.

Where:
Martha Brae Rafting Village, north east Jamaica
10 minutes' drive south of Falmouth, 45 minutes' drive east of Montego Bay.
What: Rafting on Martha Brae River, six acre Rafting Village with swimming pool, picnic area and Miss Martha's Herb Garden.
Cost: One hour raft cruise, including transport to Martha Brae Rafting Village and tour of Miss Martha's Herb Garden, from £18 per person.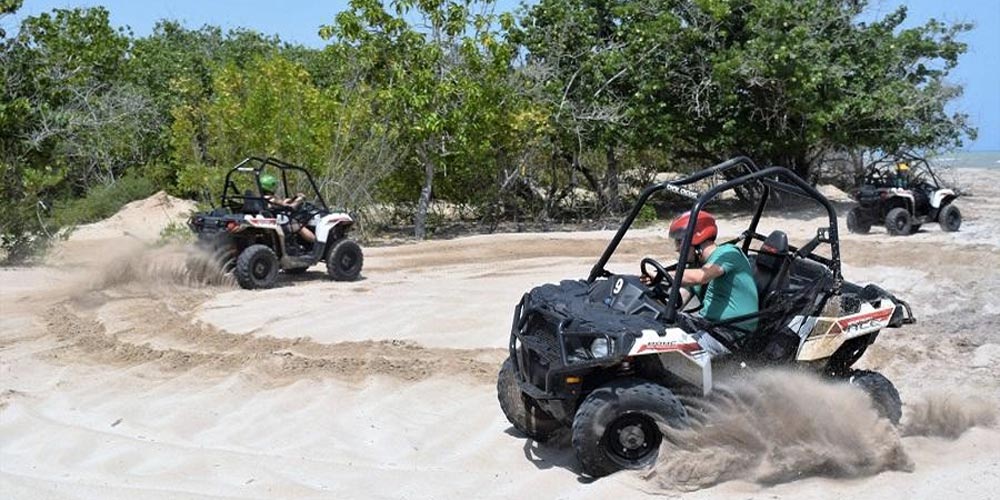 6/7

JamWest Motorsports and Adventure Park, Negril

Swap soulful for sensational at one of Jamaica's largest speedway circuits just outside Negril on the south west coast – drag racing is just the start of the adventure.

This is the place for off-road ATV tours deep into the jungle and along the beach on quad bikes and dune buggies. Competitive families can try Racing Zips parallel ziplines or take the JamWest rock climbing challenge. The park's natural mineral pools come with extreme waterslides. Wild jungle safaris throw some learning into the intrepid explorer mix. And if more peaceful communing with nature is their thing, kids can go horse riding, wander through the aviary or get up close to cuteness at JamWest's petting zoo.

Where:
Little London, 35 minutes' drive east of Negril.
Two-way transport available from several island resorts and hotels.
What: One of Jamaica's largest speedway circuits offering 'arrive & drive' racing, along with off-road ATV tours; parallel ziplining; rock climbing; wild swimming; horse riding; jungle safaris; petting zoo and aviary.
Cost: JamWest packages including two or more activities, from £108 per person.
Find out more about JamWest Motorsports with Visit Jamaica
7/7

Green Grotto Caves, Ocho Rios

The magnificent Green Grotto Caves' human history stretches all the way back to the Tainos, Jamaica's original people. Spanish invaders hid here in the 1800s to escape the island's English invaders. In the 20th century the caves were used by smugglers. And during WWII the Jamaican government turned them into storerooms for precious rum. All these tales and more are part of the fascinating Green Grotto guided tour. But nothing compares to the experience of actually walking through the one and half kilometre long network of underground chambers, and the big reveal of the Grotto Lake right at its heart.

This is slower-paced than some of Jamaica's high-energy adventures, but the eerie beauty and wild stories are plenty exciting. Plus Green Grotto Caves are Green Globe and Platinum Earth Check Certified, which will please eco-aware teens, as it should.

Where: Discovery Bay, 30 minutes' drive west of Ocho Rios.

What: Guided tour of 1.5km long underground cave network with subterranean lake.

Cost: Green Grotto Caves guided tour, from £15 per person.
Find out more about Green Grotto Caves with Visit Jamaica
No doubt about it, Jamaica has an adventure for every type of teen, and that's just the top seven. Take a look at Visit Jamaica for hundreds of other awesome holidays experiences made for older kids, all over the island.