Sponsored Content
The Dominican Republic is one of the most popular Caribbean countries for family holidays, and a lot of the attraction comes down to over 250 miles of beaches around a spectacularly varied coastline.
There are shimmering white sand islands, beaches in national parks, shorelines that qualify as completely deserted, watersports and wind sports' legends, reefs for snorkelling and lagoons for lazing: and that's just covering the basics. Fortunately the Dominican Republic Tourist Board are experts in all things beachy. So instead of trying to work out which beach is best for your family, here are 10 they know you'll love, because everyone does.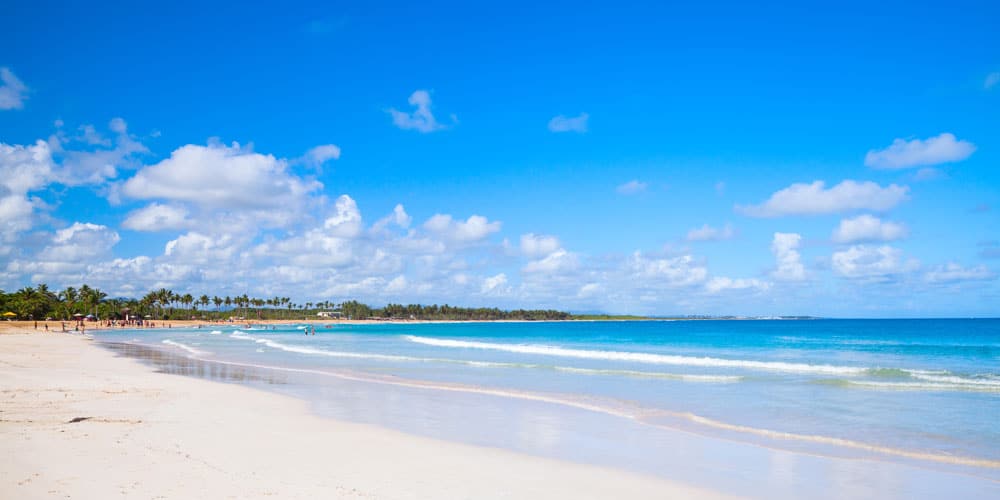 1/10

  Playa Macao – good for first time surfers
Skills are the new souvenirs for kids, and learning to surf for the first time in the Dominican Republic beats taking home a tee-shirt any day. It's a great country for beginners: right in the heart of the Caribbean, with waters temperatures seldom less than 25˚, and a consistent year-round swell: so waves are exciting without breaking records.   
The founders of Surf Camp Macao taught their own children on Playa Macao, long before they set up school here, so it comes highly recommended. Conditions are perfect for learning board basics, there's enough challenge to keep kids interested, and the beautiful beach itself is heavenly for non-surfing spectators. 
Where: North Punta Cana, walking distance from several family resorts.
Find out more about

Playa Macao

for first time surfers and spectators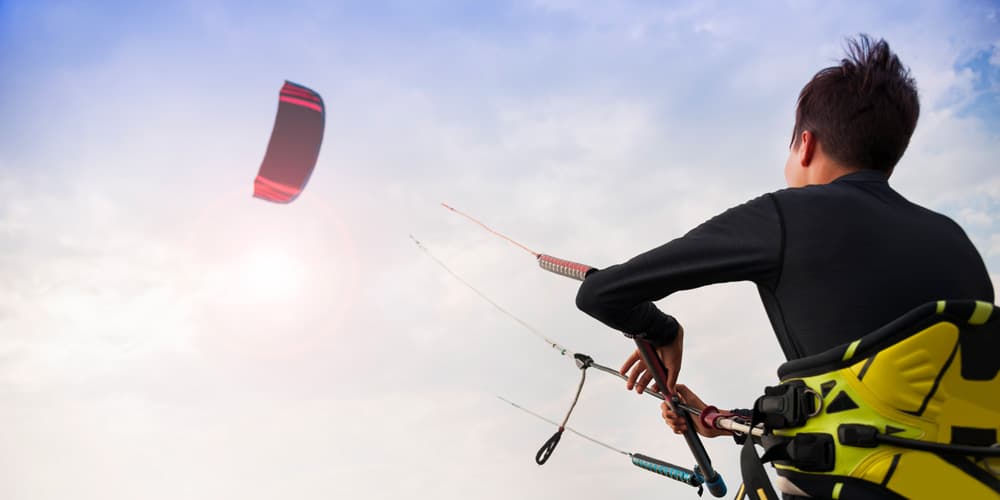 2/10 

Playa Blanca – good for kite surfing kids
Three long, peaceful miles of shimmering white sand; shady palm trees, and warm, transparent seas, come together on Playa Blanca to make it one of the loveliest Punta Cana beaches, and there's a lot of competition for that award in this area.
Plush sun loungers and stunning views are a big part of Playa Blanca's appeal. But, it's also a good spot for first time SUP lessons, and The Kite Club, one of the country's top kite-surfing schools, is at home here too. Technically the beach is private, although families taking sports' classes or eating at the excellent Playa Blanca Restaurant are free to enjoy the sands as well. 
Where: South Punta Cana, part of Punta Cana Resort & Golf Club.
Find out more about

Playa Blanca

for beginner's SUP and kite-surfing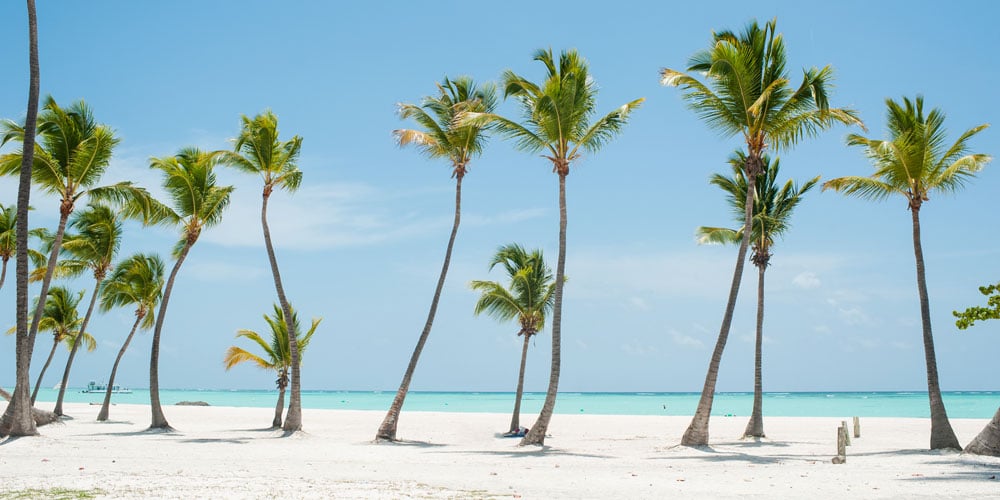 3/10 

Playa Juanillo – good for sporty teens
There are few Dominican Republic beaches that won't boost Instagram likes, but Playa Juanillo has ready made influence in the shape of cute beach bars like Little John (#littlejohnbeach – 17.5K followers and counting).
But the biggest attraction here is the beach itself. Think flawless sands and blue-green seas, and you come close to understanding why it's often described as one of the country's loveliest. And if kids are a little too young to appreciate the lively evening atmosphere, there's everything from sea kayaking to horse-riding to keep them busy during the day.      
Where: Punta Cana, just south of Cap Cana Marina.
Find out more about

Playa Juanillo

for sporty kids and Instagram appeal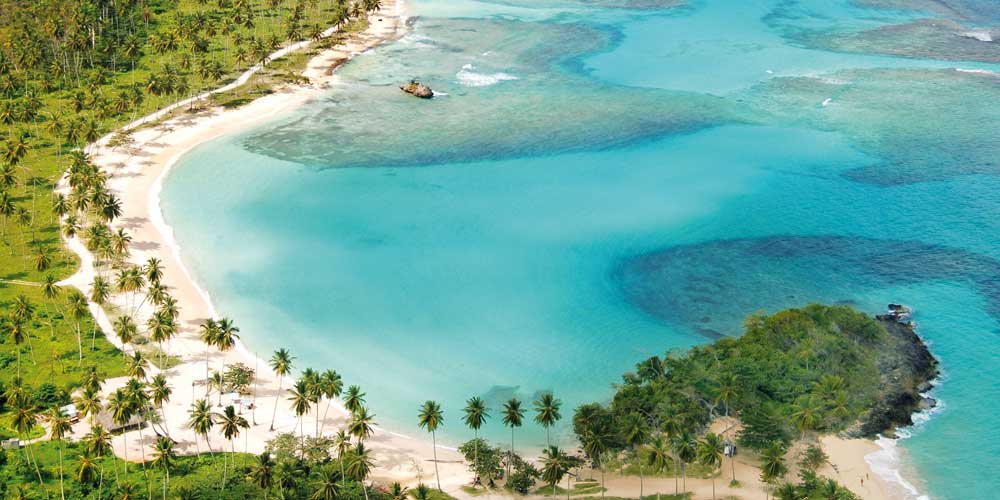 4/10

  Playa Rincón – good for adventurous families
The stunning Semana region is where to find exotic Haitises National Park, and one of the country's most idyllic beaches, Playa Rincón.
Tucked into a peaceful bay on the northern tip of the Semana Peninsula, this is the place to head for an unforgettable hideaway day with kids. Undeveloped, apart from a few beachy restaurants serving up excellent grilled fish, Rincón is all about peace and serenity, breathtaking views, and great bodyboarding at the wavier end of the shore: bliss of a different sort for kids. Surprisingly, for such an escapist fantasy, it's remarkably easy to reach: you can drive here from Las Galeras, or better still, arrive by boat.
Where: northern tip of Semana Peninsula, 15 minutes by road or sea from Las Galeras.
Find out more about

Playa Rincón

for blissful family days out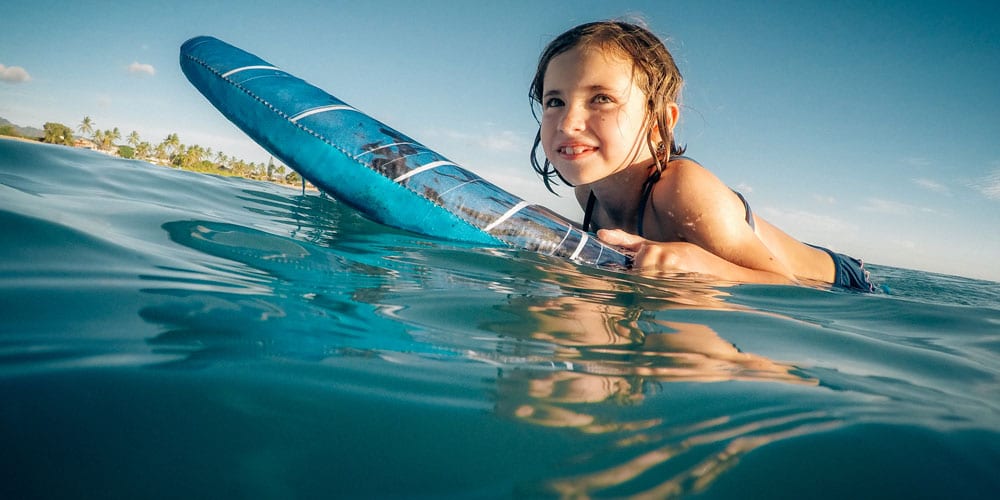 5/10

  Playa Cosón – good for beginner bodyboarding
Playa Cosón is fabulously long and sandy, nicely flat for walking, and has some of the best bodyboarding waves in the Dominican Republic. It's also on the north west of the Semana Penininsula, so the surroundings are sensational too: legendary El Salto del Limón is only a short drive south of Cosón.
But even with none of those attractions in play, the seafood here would be enough to put this beach high on every wish list. The most famous restaurants are more beach bar than fine dining, and you can look forward to fresh fish, grilled, served simple, and sublime.
Where: Semana Peninsula, 20 minutes drive  west of Las Terranas.
Find out more about

Playa Cosón

for great bodyboarding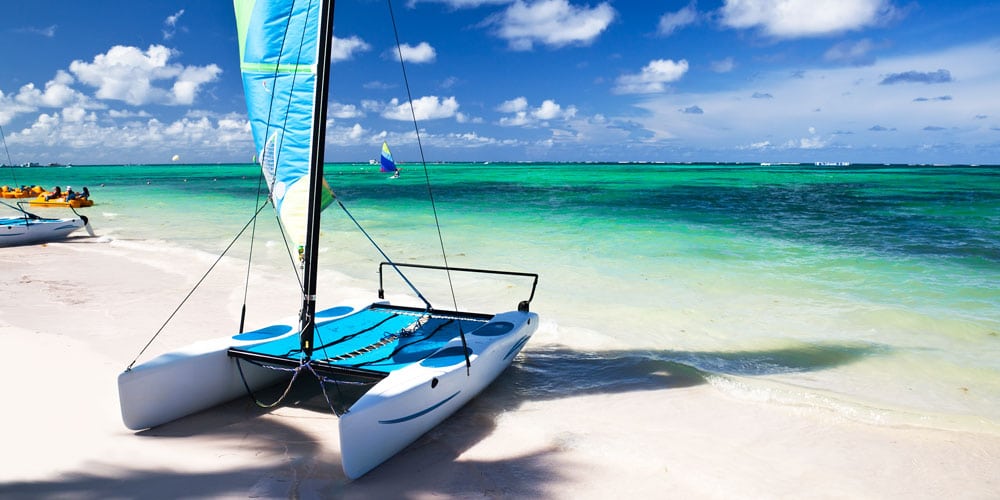 6/10 

Cayo Arena – good for island hopping
Cayo Arena sits just off the north west coast, holds a permanent place in CNN's  Most Beautiful Beaches in the World list, and is known locally as Paradise Island. Cruise over for the day and before you even set foot on the faultless, white sands, you can understand where the nickname came from.
But, lovely as Arena is, what lies beneath is even more astonishing. Home to one of the country's most pristine coral reefs, the waters here teem with colourful marine life, and it's nothing short of snorkelling heaven for kids. Several excellent tours from Playa Punta Rucia include beach picnics and often sail you back to the mainland through nearby Montecristi National Park: home to one of the Caribbean's largest mangrove forests.
Where: North west coast, 20 minutes by boat from Playa Punta Rucia.
Find out more about

Cayo Arena

for island hopping adventures
7/10 

Playa Cabarete – good for wind-sports
Visit the pretty north coast town of Cabarete on a summer's day and its skies are a kaleidoscope of colourful kites, only outdone by dozens upon dozens of dazzling sails skimming across the water. This is the Dominican Republic's wind-sport capital, and experienced sailors, windsurfers and kite-surfers speak of the fantastic, breezy conditions here, with awe.
If kids are up for catching the wind-chasing bug, Cabarete is a fun, beachy resort, with a good choice of family holiday apartments. It's also just minutes from Playa Cabarete, home to excellent wind and kite-surf schools, and several equipment hire companies – if you already know what you're doing.   
Where: North coast, 20 minutes drive east of Gregorio Luperon Airport.
Find out more about

Playa Cabarete

for wonderful wind-sports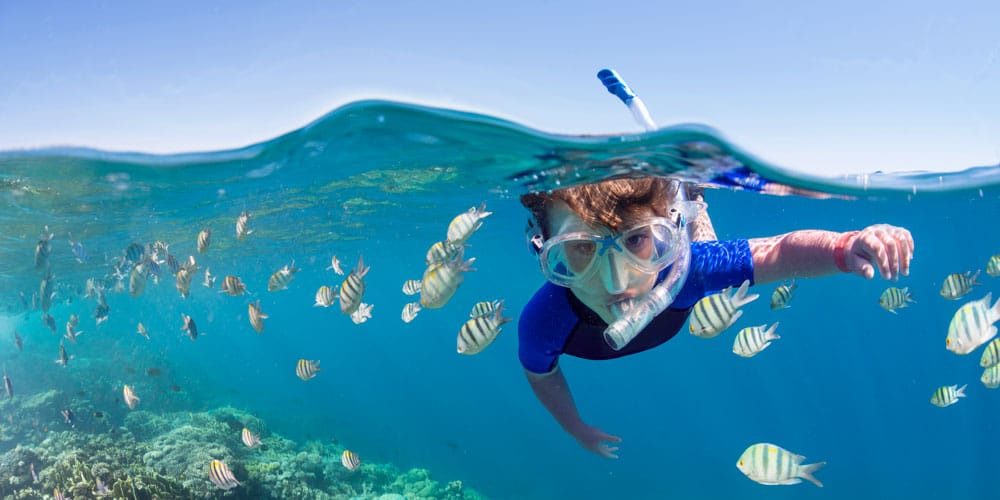 8/10

  Playa Punta Rucia – good for snorkelling
Like all the world's best beaches, Playa Punta Rucia is just far enough off the map to be peaceful, without being remote. Cruises leave here for idyllic Cayo Arena, but incredible coral reef snorkelling just off-shore, means you don't have to sail to see underwater marvels.
The tranquil lagoon is a haven for exotic birds, and a few seafood restaurants nearby are about the only signs of the outside world. So if you just want a lazy day doing nothing much at all, apart from admiring the mountain views, exploring the reef, and enjoying some glorious Caribbean weather, Playa Punta Rucia is exactly the beach for all that.   
Where: North coast, between Puerto Plata and Montecristi National Park.
Find out more about

Playa Punta Rucia

for incredible snorkelling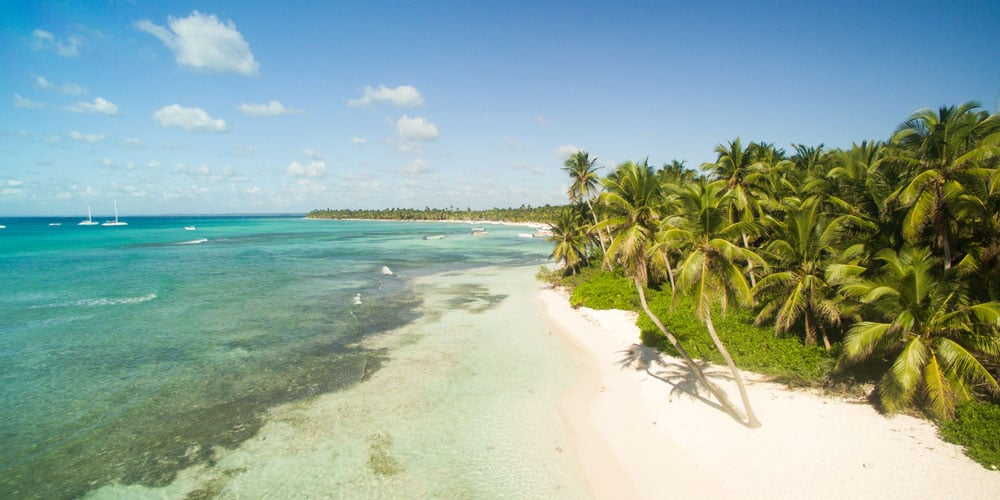 9/10

  Isla Saona – good for young explorers
Part of Del Este National Park, enchanting Isla Saona sits just off the south coast of Punta Cana. There isn't a single resort or hotel on the island, it's almost completely untouched, and justifiably famous for some of the most pristine beaches in the Caribbean.
Sailing to Saona is almost as exciting for kids as the island itself, whether you go by catamaran, speedboat or motorboat. Most cruises leave from Bayahibe town on the north west edge of Del Este, and several stop off at beautiful Playa Palmilla on the way to Isla Saona. 
Where: In Del Este National Park to the south of Punta Cana.
Find out more about

Isla Saona

in Del Este National Park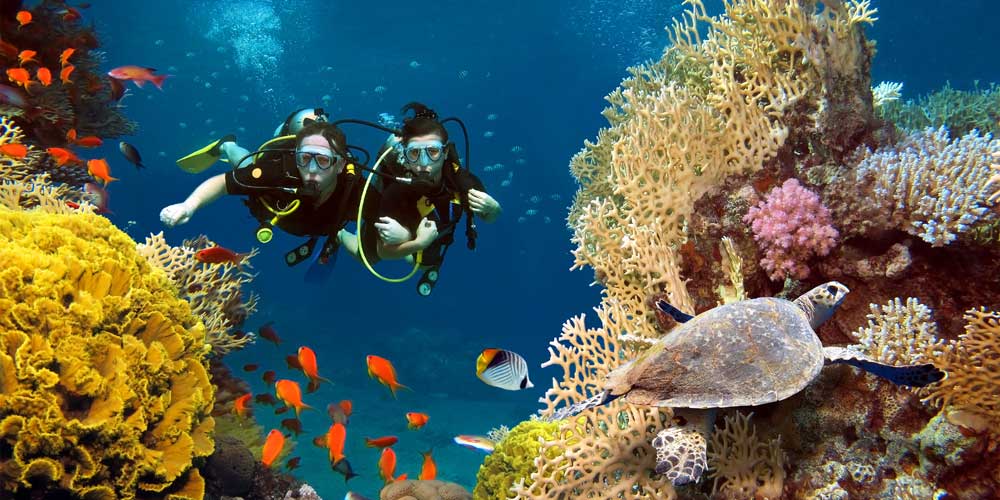 10/10

  Isla Catalina – good for scuba divers
Just over 20 minutes by boat from the city of La Romana on the south coast, Isla Catalina has a history that's far bigger than the island itself.
The recently discovered remains of the Quedagh Merchant (the last ship 'commandeered' by English pirate, William Kidd, and sunk off the island in the late 17th century) form The Living Museum of the Sea here, which experienced divers are now able to explore. Kids don't need to go underwater to learn about notorious Captain Kidd's dastardly exploits, they can hear the tales and just enjoy Catalina's gorgeous, sugary sand beaches instead.
Where: South coast, just over 20 minutes by boat from La Romana.
Find out more about

Isla Catalina

and The Living Museum of the Sea
Naturally there are quite a few other beaches round 800 miles of coastline. So if you don't see your ideal stretch of sand here, the

Dominican Republic Tourist Board

have plenty of alternatives.