Sponsored Content
The remarkable Fancourt estate in George has just been crowned South Africa's Best Golf Hotel 2019 in the prestigious World Golf Awards.   And no wonder. In addition to luxury accommodation at the Fancourt Hotel and the Manor House, the resort boasts three award-winning golf courses, comprehensive practice facilities, a Golf Academy for golfers of all ages and abilities – and an enviable offering of activities and attractions on the Cape's most beautiful coastline.
Fancourt's understated luxury and warm, relaxed generosity has been attracting families from around the world for decades. You can't fail to notice how important families are at Fancourt. It's a resort that clearly deserves every one of its five stars, but could easily pick up the same number again simply for letting kids be kids, embracing the needs of families and creating unforgettable childhood memories.
If you're looking for an action-packed holiday or a place to simply relax and reconnect, look no further than Fancourt. The resort has a bold take on family activities, so when they ask what you want to do on holiday, go with your wildest dreams. Ask for anything from ocean safaris, extreme sandboarding to sunrise meerkat safaris or game drives, and Fancourt will make it happen.
Aside from its strong spirit of adventure and extraordinary location on one of 'The World's Most Beautiful Drives' (high praise from National Geographic), Fancourt is just a short drive from several beautiful beaches and is only seven kilometres from George Airport and the historic town of George – if you decide not to drive along the Garden Route, daily flights from Cape Town to George take just under an hour.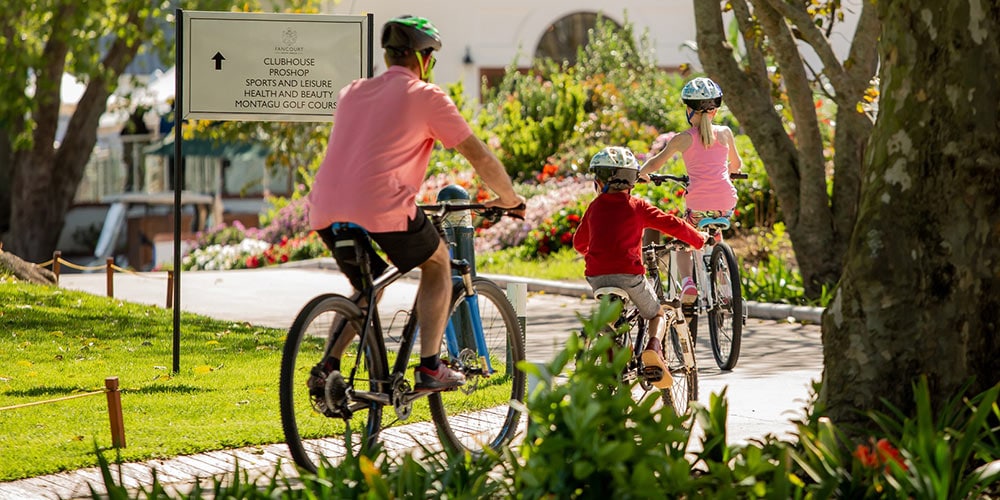 1/3

Five-star luxury and laid-back family atmosphere

Relaxing at the Fancourt Estate is easy. The resort has created the perfect environment within which to enjoy quality time with your loved ones. Between the morning meerkat encounters, famously fantastic thin crust pizzas at Fancourt's La Cantina restaurant (best in Western Cape some say), or lazing at the resort's pools (one heated), you'll love every moment of your stay on the estate.

Kidz Club gives kids aged between three and 10 space to play, get creative and make new friends, all under the supervision of Fancourt's experienced and well-trained team of carers.

Teen Lounge is heaven for young gamers, cool for just hanging out and the epicentre of fun activities for kids aged 12 and over, AKA the toughest to please of all guests.

Fancourt is the perfect base from which to explore the Garden Route. Kids of all ages like Redberry Farm. Right next door to Fancourt, it's packed with family activities, including strawberry picking in season, a ride on the Redberry Express Mini Train and a wander through the largest hedge maze in the southern hemisphere.

Victoria Bay's beaches are 20 minutes from the resort for swimming, surfing and family picnics – as is the beautiful tidal pool at Herold's Bay.

If you're not heading to the beach, Fancourt's 613ha of unspoiled countryside is made for walking, hiking, horse riding or mountain biking, and the resort's leisure team is happy to arrange anything from bikes and boots to calm ponies for first time equestrians.

Find out more about five-star family holidays at Fancourt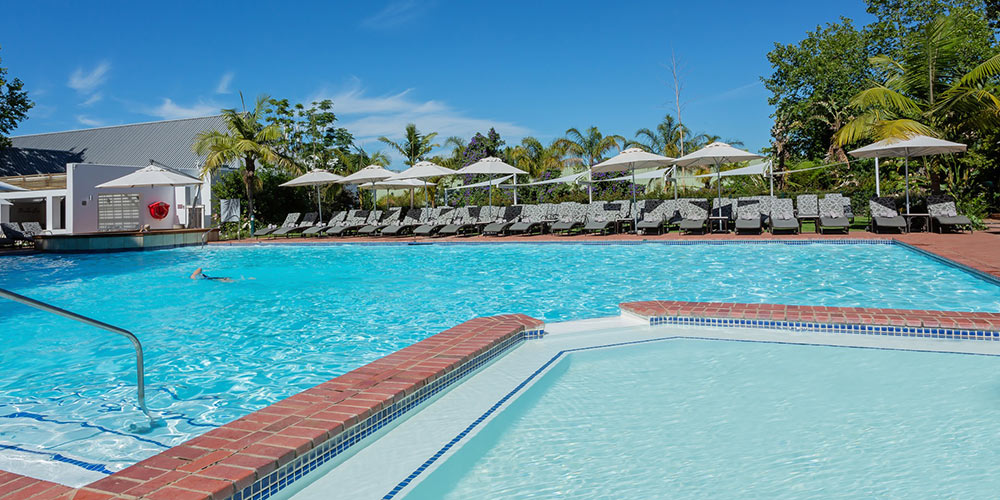 2/3

Personal space, luscious spas and fantastic food

Fancourt describes each of its 115 rooms and suites as 'sanctuaries', which sums up their sense of privacy and peace, but doesn't give a hint of how spacious they are. You can choose from 32m² Classic Rooms with private balconies or patios right up to 54m² one or two-bedroom suites. A range of interconnecting rooms are ideal for larger families and ground floor suites and rooms are designed to make life easier with younger kids.

Fancourt's 'kids under 16 stay free' promotion kicks off on 01 May 2020 and runs until 31 Oct 2020 so there is no better time to book a holiday in this beautiful part of the world.

If it's pure relaxation you are after, Fancourt Spa (named the 'Best Hotel Spa in South Africa' at the annual Les Nouvelles Esthetiques Spa Awards in 2018), soothes and pampers in equal measure. Schedule your treatments in line with fun Kidz Club activities for your brood – to ensure guilt-free time out and relaxation.

It probably won't come as much of a surprise to learn that food plays a big part in Fancourt's active family holidays, along with fresh and locally sourced ingredients and the right type of eating experience for kids and families.

La Cantina is every bit as easy-going and Mediterranean as the name suggest, it's home to those fabulous thin crust pizzas, as well as enormous buffet breakfasts.

Henry White's is the perfect excuse to book a babysitter and enjoy date night. Offering elegant yet relaxed dining and superb service, Henry White's welcomes all guests with a discerning palate.

Monet's café bistro specialises in great coffee and brilliant seasonal ingredients, with magnificent mountain views on the side.

The sporty Club House serves up steaks, burgers, cocktails and a laid back space to chill after a round of golf on one of Fancourt's three championship courses.

Find out more about family rooms and suites at Fancourt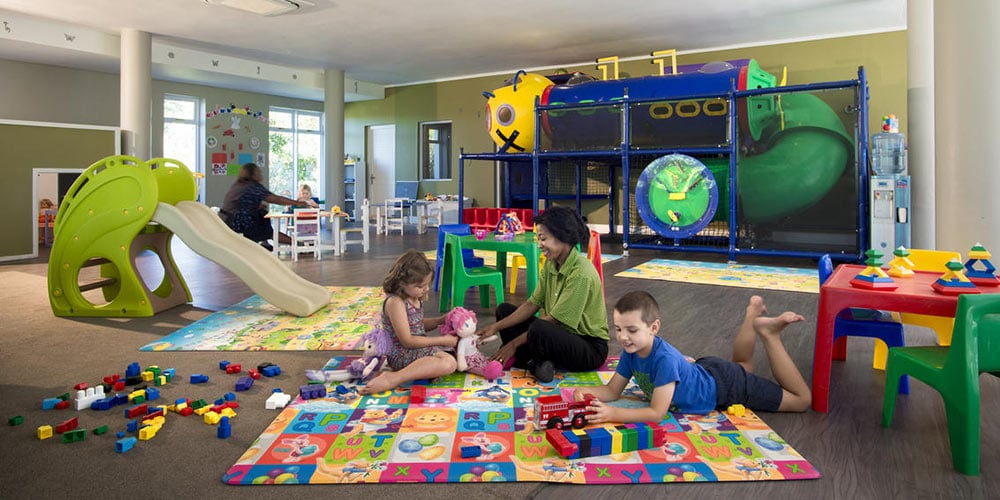 3/3

New Fancourt family activities, every single day

It's difficult to imagine any resort – even in outdoorsy South Africa – with a more exciting range of family activities than Fancourt. Naturally it helps to be slap bang in the middle of awe-inspiring countryside, within gentle hiking distance of the Outeniqua Mountains and minutes from the Garden Route's phenomenal coastline. But turning beautiful surroundings into experience-packed holidays with something different and extraordinary on offer every single day, is all down to Fancourt's skill, dedication and endless sense of adventure.

When it comes to activities, the resort leisure team can organise everything, you only have to ask. And since they're also the best people for advice on what kids will like most, have a look at their top 10 highly recommended family activities for 2020:

Hop aboard the Outeniqua Power Van and tour the mighty mountains behind Fancourt. It's great fun for kids, the views are spectacular and Fancourt will pack a picnic to take along for the ride.

Bold kids love the exhilarating, heart-in-the-mouth thrill of sandboarding Dragon Dune – the biggest and longest sandboard ride in South Africa.

Go guided caving in the amazing Congo Caves, then swap underground for aerial adventure on the Congo Cave tandem zipline – a must-do with intrepid teens.

Head to Buffelsdrift Game Lodge at the heart of Klein Karoo in time for dawn to witness the morning awakening of the region's meerkat families.

Join an ocean safari in Plettenburg Bay and spot dolphins, seals and even whales (at the right time of year), this is one experience that makes the Garden Route such a legend.

Visit Jukani Wildlife Sanctuary, Birds of Eden and Monkeyland all in one day on Fancourt's exceptional Garden Route Animal Planet tour: there's even a 28m high suspended canopy walk included in this kid-shaped adventure.

Join a guided Bottlierskop Game Drive and safari the 3500ha reserve that's home to 200 different species of birds and 26 animal species, including Black Impala, Mountain Zebra, hippos and Golden Wildebeest.

Interact, feed and gaze in awe at the magnificent herd of elephants roaming the wilds of Knynsa Elephant Park.

Try quad biking in the Wilderness at Garden Route National Park, or take a guided Segway tour if you're feeling more sedate.

The Tsitsikamma Canopy Tour in Tsisikamma Rainforest is the treetop challenge course to beat. The ancient trees are 30m high in some places, and wildlife sightings are practically guaranteed.

Find out more about family activities at Fancourt
Lowdown on Fancourt
Where
Where: George, Western Cape, South Africa
How to get there
Direct UK flights to Cape Town take from 11 hours, 30 minutes.
Flights from Cape Town to George Airport take from one hour.
Cape Town to George, driving the Garden Route, takes four hours, 40 minutes.
Garden Route weather is lovely in November and December, perfect timing for a family holiday at Fancourt and, from 01 November to 15 December 2020 the resort's even offering free accommodation for all kids under 12 years. All the more reason to book an activity break in sunny South Africa this winter.