Five beachfront family resorts on the world's loveliest beaches
Whichever way you look at it, the world's truly stunning beaches tend to involve long haul flights. So when you book a 'beachfront' resort, you don't want it open to interpretation: turning up after 14 hours on a plane to find you need binoculars to see the sea is seldom the best start to a magical family holiday.
Outrigger built their first hotel on Waikiki almost 70 years ago, beachfront was a priority then and nothing's changed. Today they have resorts from Fiji to the Maldives and they're all unique apart from one very important detail: beachfront means right on the beach. So, leaving nothing to chance, here are a few Outrigger resorts and the beaches they rule.
---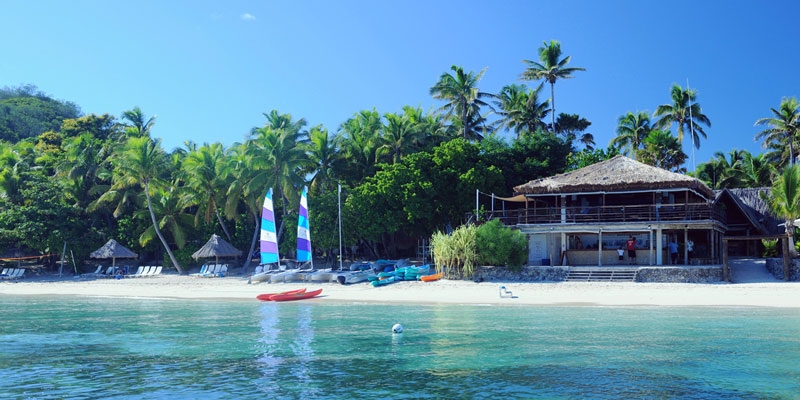 1/5 

Castaway Island, Fiji
Family-friendly isn't just an expression on Fiji, it's a way of life. There's nothing more important than family here, kids are included in just about everything and young visitors can expect to be warmly embraced (often literally) wherever they go. It's an easy characteristic to like and one that Outrigger encourages to the full on Castaway Island, just off Fiji's lively west coast.
It's hard to know if Castaway is the beachiest of all Outrigger resorts, but it's certainly in the running, with acres of white sand, cute family cottages (bure) on the shore, lush palm groves and pretty much endless South Pacific sea views. If anything ever disturbs the calm, it's an occasional seaplane or helicopter flying off in the direction of adventure-packed days out round the rest of the 333-island strong archipelago. But, exciting as that sounds, you might be tempted just to laze around the pool instead or even simply hitch a hammock in a shady spot and discover the true meaning of mindful: as natural in Fiji as breathing.
Sounds a little paradise peaceful for kids? Not even close: Castaway regularly wins TripAdvisor Traveller's Choice gold medals and Holidays with Kids' awards plus, last year they celebrated a Golden Anniversary, and you don't have rafts of accolades and flourish for 50 years without knowing how to have fun.
Castaway Kids Club's a creative-play genius for 5-12 year olds which offers new activities every day. And for family together-time take your pick from kayaking and banana boat sailing, beach games, island hopping adventures, snorkelling, diving, swimming, paddle boarding or even a spot of gentle sunset fishing.
Tropical Fiji has average temperatures of 27˚ year round and a long holiday season from March to December. Highest chance of wet weather's from November to April but, it's a known fact that smaller islands like Castaway have lower rainfall.  
Outrigger Castaway Island Family Beach Bure (traditional thatched cottage) cost from £478 per night, sleep four and include a range of water sports, Castaway Kids Club and traditional Fijian evening entertainment programme.
---