Sponsored Content
Whichever way you look at it, the world's truly stunning beaches tend to involve long haul flights. So when you book a 'beachfront' resort, you don't want it open to interpretation: turning up after 14 hours on a plane to find you need binoculars to see the sea is seldom the best start to a magical family holiday.
Outrigger built their first hotel on Waikiki almost 70 years ago, beachfront was a priority then and nothing's changed. Today they have resorts from Fiji to the Maldives and they're all unique apart from one very important detail: beachfront means right on the beach. So, leaving nothing to chance, here are a few Outrigger resorts and the beaches they rule.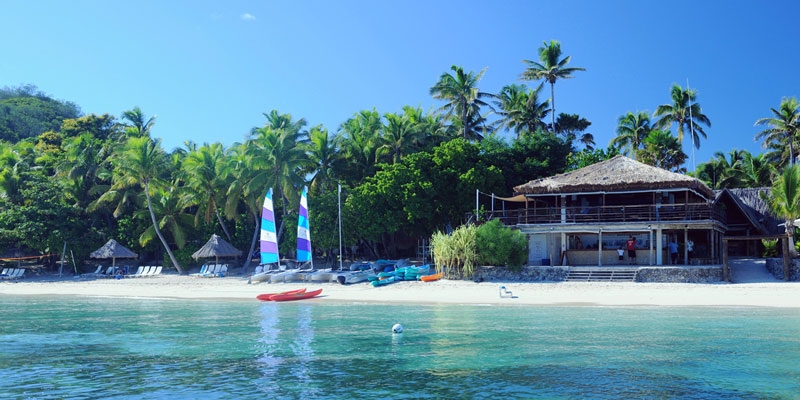 1/5 

Castaway Island, Fiji
Family-friendly isn't just an expression on Fiji, it's a way of life. There's nothing more important than family here, kids are included in just about everything and young visitors can expect to be warmly embraced (often literally) wherever they go. It's an easy characteristic to like and one that Outrigger encourages to the full on Castaway Island, just off Fiji's lively west coast.
It's hard to know if Castaway is the beachiest of all Outrigger resorts, but it's certainly in the running, with acres of white sand, cute family cottages (bure) on the shore, lush palm groves and pretty much endless South Pacific sea views. If anything ever disturbs the calm, it's an occasional seaplane or helicopter flying off in the direction of adventure-packed days out round the rest of the 333-island strong archipelago. But, exciting as that sounds, you might be tempted just to laze around the pool instead or even simply hitch a hammock in a shady spot and discover the true meaning of mindful: as natural in Fiji as breathing.
Sounds a little paradise peaceful for kids? Not even close: Castaway regularly wins TripAdvisor Traveller's Choice gold medals and Holidays with Kids' awards plus, last year they celebrated a Golden Anniversary, and you don't have rafts of accolades and flourish for 50 years without knowing how to have fun.
Castaway Kids Club's a creative-play genius for 5-12 year olds which offers new activities every day. And for family together-time take your pick from kayaking and banana boat sailing, beach games, island hopping adventures, snorkelling, diving, swimming, paddle boarding or even a spot of gentle sunset fishing.
Tropical Fiji has average temperatures of 27˚ year round and a long holiday season from March to December. Highest chance of wet weather's from November to April but, it's a known fact that smaller islands like Castaway have lower rainfall.  
Outrigger Castaway Island Family Beach Bure (traditional thatched cottage) cost from £478 per night, sleep four and include a range of water sports, Castaway Kids Club and traditional Fijian evening entertainment programme.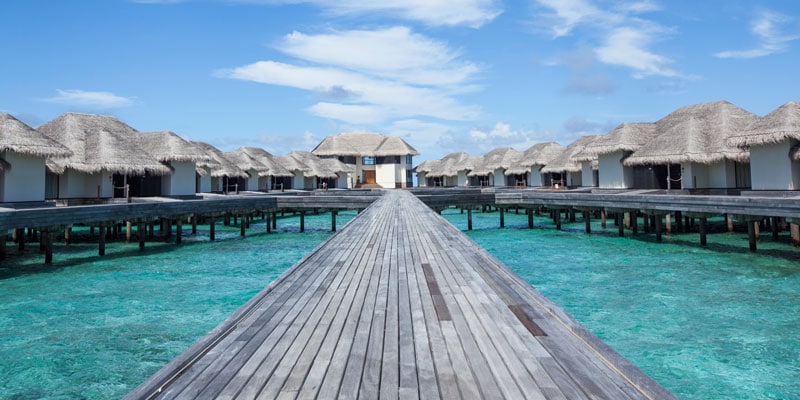 2/5

  Konotta Maldives Resort, Gaafu Dhaalu Atoll
Gorgeous and unspoiled, the Maldives' archipelago is mind's eye perfection for true romantics and honeymooners. But can dreamy white beaches, transparent seas and delicately scattered palm trees ever appeal to anyone under marriageable age? Definitely, and according to Outrigger the skill lies in spoiling grown-ups, indulging kids and creating a mighty adventure without disturbing the loveliness one bit.
It's impossible to fault that thinking at Outrigger Konotta Maldives Resort on Gaafu Dhaalu atoll. The imaginative kids club has activity-packed fun every day. Families enjoy complimentary babysitting services for the first two hours of their stay. Over 10s can have their first taste of scuba at the PADI Dive Centre. And helping Konotta's resident marine biologist with coral reef caretaking and other eco-projects in safe, warm waters is a huge hit with all ages.
Soothing spa mornings, afternoons by the pool, private diving classes, cooking courses, sailing, fishing and water sports, while away parent's child-free hours effortlessly. Leaving family time exactly as easy-going and holiday-spirit as it should be, whether you're dolphin spotting, island hopping, sunset sailing or even cruising the equator – one of the Maldives closest neighbours.
And just in case you imagine Outrigger haven't thought of every family holiday detail: children under 12 stay free and eat free from the tempting children's menu; Konotta's two bedroom family villas, by the beach or on the lagoon, have their own private pools and garden; and airport transfers to Gaafu Dhaalu only take 30 minutes by private yacht – a heaven-sent bonus with tired kids after a long flight.
The Maldives has temperatures of 30˚ year round and October to December's rainiest – southerly atolls like Gaafu Dhaalu tend to be drier, even in monsoon season.
Outrigger Konotta Maldives Resort two bedroom Beach or Lagoon Villas cost from £1358 per night, sleep up to six and have private pools and gardens.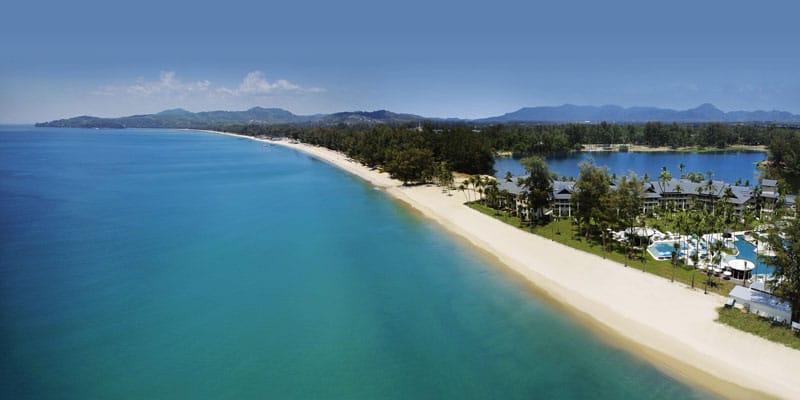 3/5

  Outrigger Laguna Phuket Beach Resort, Thailand
Anyone who says escapism isn't possible on Phuket these days, has yet to experience Outrigger Laguna Phuket Beach Resort. Tucked between the rich blue Andaman Sea and a peaceful lagoon, edged by Bangtao's golden sands and tropical forest, Laguna's so otherworldly it's like an island within an island – but really only half an hour from Phuket Town.
Laguna Phuket's also child-friendly to a fault. Under 12s love the learning-through-play daily activity programme at the Koh Club. And children of any age can try water sports on the beach and lagoon, splash around in the huge kid's pool and zip down the 55m waterslide. Leaving guiltless parents to recharge in the Angsanga Spa, hone their game with resident tennis coaches or simply laze around doing nothing much and discovering why Outrigger's mixologists are something of a Phuket legend.
Take an occasional break from beachfront bliss to explore wonders like Ao Phang Nga marine park and Khao Sak National Park or contemplate Wat Chalong and the iconic Golden Buddha. Phuket Town's never peaceful, but it's fun to go see, especially with older kids. And a day on crowded and chaotic Patong beach will only make you appreciate tranquil and lovely Bangtao even more.
And if all of this isn't quite persuasive enough, let Outrigger cook for you. The food's wonderful and carefully designed kids menus are especially tempting but, best of all, children eat free all holiday long.
Phuket has average temperatures of 27˚ year round and it's perfect for winter sun with hardly any rain from late November through to March.
Family Club Rooms at Laguna Phuket are beautifully spacious and also have access to the exclusive Voyager 47 Club Lounge. Each room includes an oversized daybed and a rollaway bed and costs from £109 per night for two adults and two children under 12.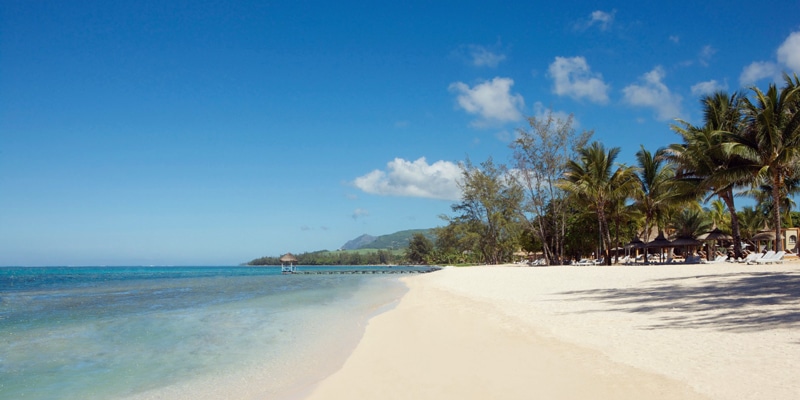 4/5

  Outrigger Mauritius Beach Resort
Mauritius is the land of lagoons and creamy beaches, volcanic peaks and lush, tropical forest. It's also an island paradise with a strong spirit of adventure, the warmest Creole heart and as much wild family fun as rare and exotic wildlife – when locals talk about Flying Foxes here, they mean the real thing, not zip-lines.
There isn't a bad side to Mauritius, but ask any islander what the best side is and the answer will always be; Bel Ombre. Tucked to the south of dramatic Le Morne Brabant with Black River Gorges National Park close by, Bel Ombre's also the west coast setting for Outrigger Mauritius Beach Resort.
The beaches here are spectacular and there isn't a single grain of sand left unenjoyed whether it's for lazing in the sun or lounging on beanbags for cocktail hour with a complimentary sunset (it's the laid-back Outrigger way). Understandably, kids won't be too impressed by flawless mixology, but pancake feasts every afternoon at three or their own evening buffet will probably do the trick instead.
Coral reef snorkelling and the Coral Kids Club are just a couple of the resort's child-size distractions. And junior spa treatments, cookery classes, a fresh-every-day activity programme, lagoon kayaking, sailing and surfing, fill in any other spare moments. If you can bear to tear yourself away from the beach, days spent exploring the island are the surest way to create a stock of unforgettable family holiday memories.
Nearby Black River Gorges National Park is where to see giant fruit bats, macaque monkeys and echo parakeet. Even wilder species are resident in Casela World of Adventure – go for giraffe feeding and camel rides. The world's largest tortoise collection lives at La Vanille Réserve and dozens of historic colonial towns and Creole villages are fun for market days and colourful local festivals.
Indian Ocean Mauritius has temperatures between 25 and 30˚ most of the year. Best time to visit is from April to December. January, February and March are the rainiest months.
Outrigger Mauritius Beach Resort sea view Family Deluxe Rooms cost from £229 per night for bed and breakfast and sleep two adults and up to three children.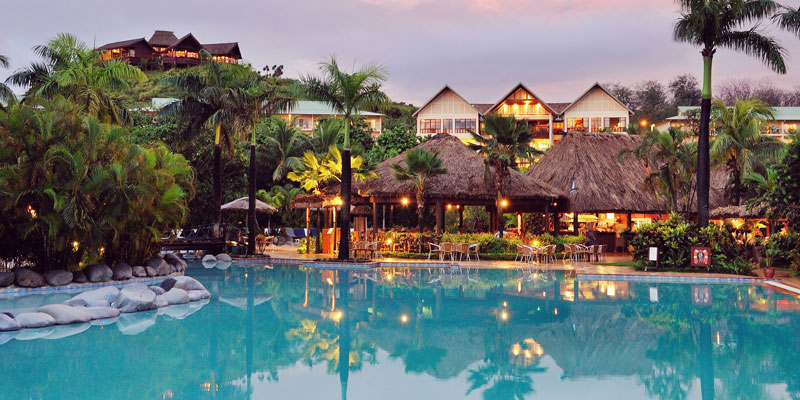 5/5 

Outrigger Fiji Beach Resort
The 50km long Coral Coast located between the lively holiday town of Nadi and Fiji's capital, Suva, is one of the country's loveliest regions. It was here that tourism first began over 50 years ago, but you wouldn't know it. The beaches are flawless, tiny fishing villages dot along peaceful roads and lush, green tropical forests give way to dramatic dunes and perfectly cared for eco-parks.
Outrigger Fiji Beach Resort sits right in the middle of all this remarkable splendour with its toes in the sand and eyes over the South Pacific. Family friendly and culturally aware, here kids are as likely to be learning traditional skills or working on art projects as playing in the pool and getting into endless water sports. It's also the resort where customs of the country are alive and well – if you want to see Fire Walking, this is the place.
Conservation and tourism go hand in hand in Fiji and Outrigger works closely with the local community on several innovative initiatives. So there's a charming, authentic quality to the resort, well balanced with irresistible luxuries and enhanced by breathtakingly exotic surroundings.
'Bula' is Fijian for welcome and the resort's Bula Desk is where guests can organise day trips to the Coral Coast's other marvels like Sigatoka Valley and Sand Dunes, Kula Wild Adventure Park, Sigatoka's colourful markets and Nakabuta and Lawai heritage villages.
Fiji's Coral Coast has average temperatures of 27˚ year round and high season's from March to December with most rainfall between November and April.    
Outrigger Fiji Beach Resort Plantation Bures (thatched cottages) and Ocean Breeze family suites cost from £180 per night for two adults and two children.