Take the Plunge
Sharing the adventure of learning to scuba dive with your family will change the way you see the world. Together, you'll discover a whole new underwater kingdom just waiting to be explored.
Take your loved ones on the adventure of a lifetime as you glide side by side with marine animals you've only dreamed of encountering. Marvel at brightly coloured coral reefs, swim through mystical kelp forests and admire pinnacles teeming with life. With PADI, you can bring history to life as you explore shipwrecks dating back hundreds of years, or seek out eerie sunken cities.
By becoming a family of PADI divers, you'll create memories that will last forever.
Watch on as your family become passionate advocates for the ocean and all that lives there. Open their hearts and minds to new cultures as you become immersed in the global PADI dive community.
Learning to dive is very attainable for almost anyone, including children as young as eight. So why not get the whole family involved in the bubble-blowing experience? Your family ticket to the underwater world is the PADI Open Water Diver course or Junior Open Water Diver course. This is the world's most popular and widely recognised scuba-diving certification.
How to get started
A PADI professional will guide you through three learning phases: knowledge development, confined-water dives and open-water dives. The knowledge development can be done in the comfort of your own home and in line with your family's schedule using either PADI's eLearning system or PADI Touch Products.
PADI courses are run and held to diving's highest standards and backed up by a top-quality management system. You can feel confident your family are in safe hands with the world's most recognised diver training organisation, having certified over 25 million PADI divers – and counting!
Consider connecting with your local PADI dive centre, or choose from one of our PADI Approved Youth Training Centres, to start your journey into the underwater world today. Learning to dive at home in the UK is the best way to make the most out of your future family holidays.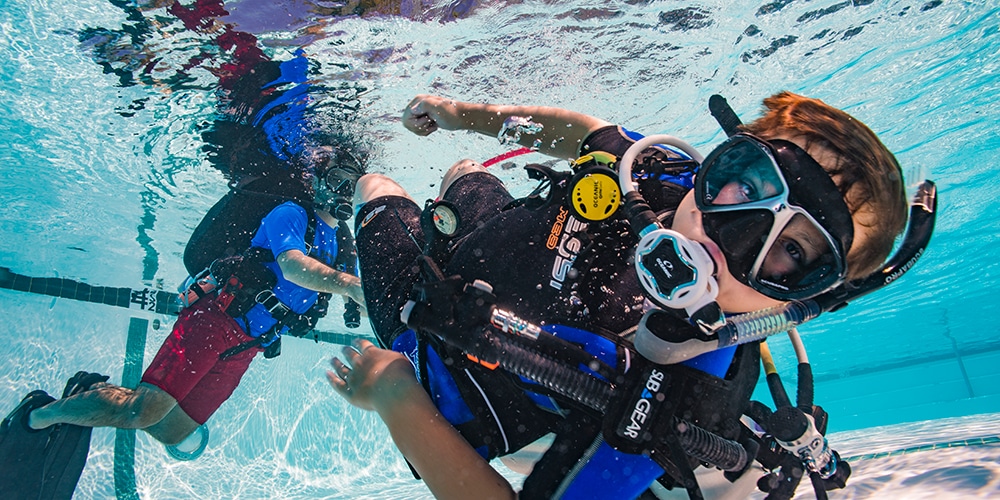 Vacation Inspiration
The next step after becoming a family of qualified PADI divers is to put your well-deserved certifications to good use and start exploring! Here are some of PADI's top picks for family-friendly dive destinations.
---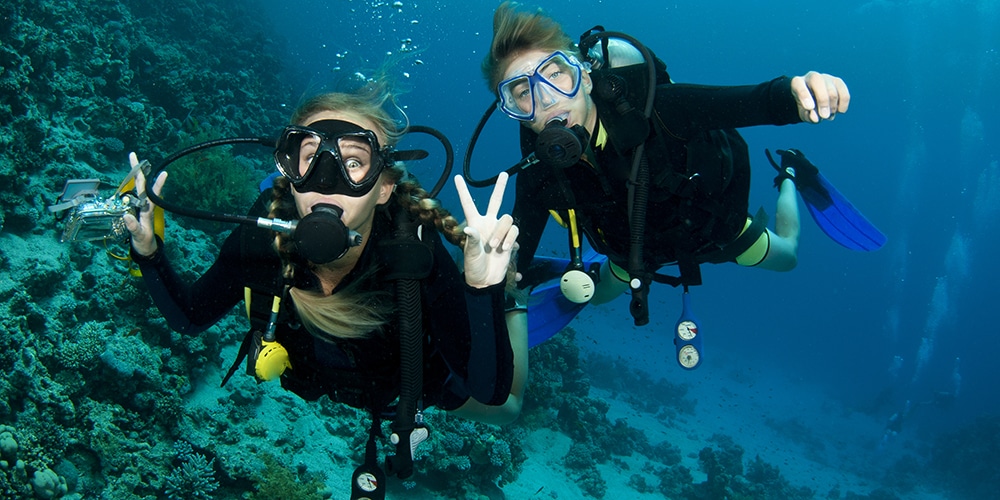 1/4

 The UK – Explore your home waters

The UK and Ireland boast incredibly varied and beautiful coastlines. Whether it's offshore islands, vast fjords or world class diving at Scapa Flow, Scotland, there is so much to explore.

A trip to Cornish coast doesn't just mean picturesque villages and family surf outings – it can also include thrilling shore diving, and the chance to encounter pods of dolphins and fascinating basking sharks.

Discover the Farne Islands off the east coast of the English/Scottish border, by contrast, will see you sharing the ocean with grey seals – a fun and memorable family experience. During your time above the surface, you can explore rocky islands where numerous seabirds nest.

Head further inland to find great options for beginners to explore the treasures that lie beneath! At various lakes and quarries, you'll find submerged aircraft, buses, tug boats, old cars, and even (rumour has it!) Stoney Cove's very own 'Nessie'…