New York City is amazingly walkable with kids. In fact, according to native New Yorker and family travel influencer, Sunshine Abou Bakar, feet first is the best way to explore the city: even with a stroller. To prove it, Sunshine and her family spent two nights at The Westin New York at Times Square – part of the incredible Marriott Bonvoy portfolio of hotels and resorts – and mapped out a kid-friendly walking route round her iconic home city.
Why New York City is made for walking with kids
One thing I love about New York City is how walkable it is. With a little determination you can get anywhere and everywhere on foot. Summers in New York, the city sings and trust me you'll want to spend as much time as possible in the streets amongst the people, feeling the pulse of the city.
So a New York City walking tour with kids is fun way to see the city. I've found tiny humans can bounce down about 20 city blocks before breaking. So on a good summer morning we love to plot a course and check a few adventures off the list. As a mother of both a stroller aged baby and a sure footed young child, my preferred way to travel is by foot or via train with accessible stations, carrying strollers in subway steps is an Olympic sport I've long retired from. So my perfect New York City walking route is following these stations above ground so I can hop on the train whenever a tiny human decides, their feet don't work. 
Why The Westin New York at Times Square is a perfect base for a New York City family staycation
We picked The Westin New York at Times Square as a base for our New York City walking tour. A junior suite on the 21st floor meant we enjoyed sprawling views high atop the city. And what I loved about the suite was the ample space for a family to spread out. There were two TVs but also multiple places to curl up with a book, and the central dividing wall made it so we could watch a movie while the baby slept. Enjoy the full American breakfast at The Foundry (downstairs in The Westin New York) and be sure to fill up on the seasonal fruit and waffles. One of my go-to things to pack when staying in hotels are reusable containers. They're this mama's sanity because they're a sustainable way to store food for later as kids never really want to eat when it's time to.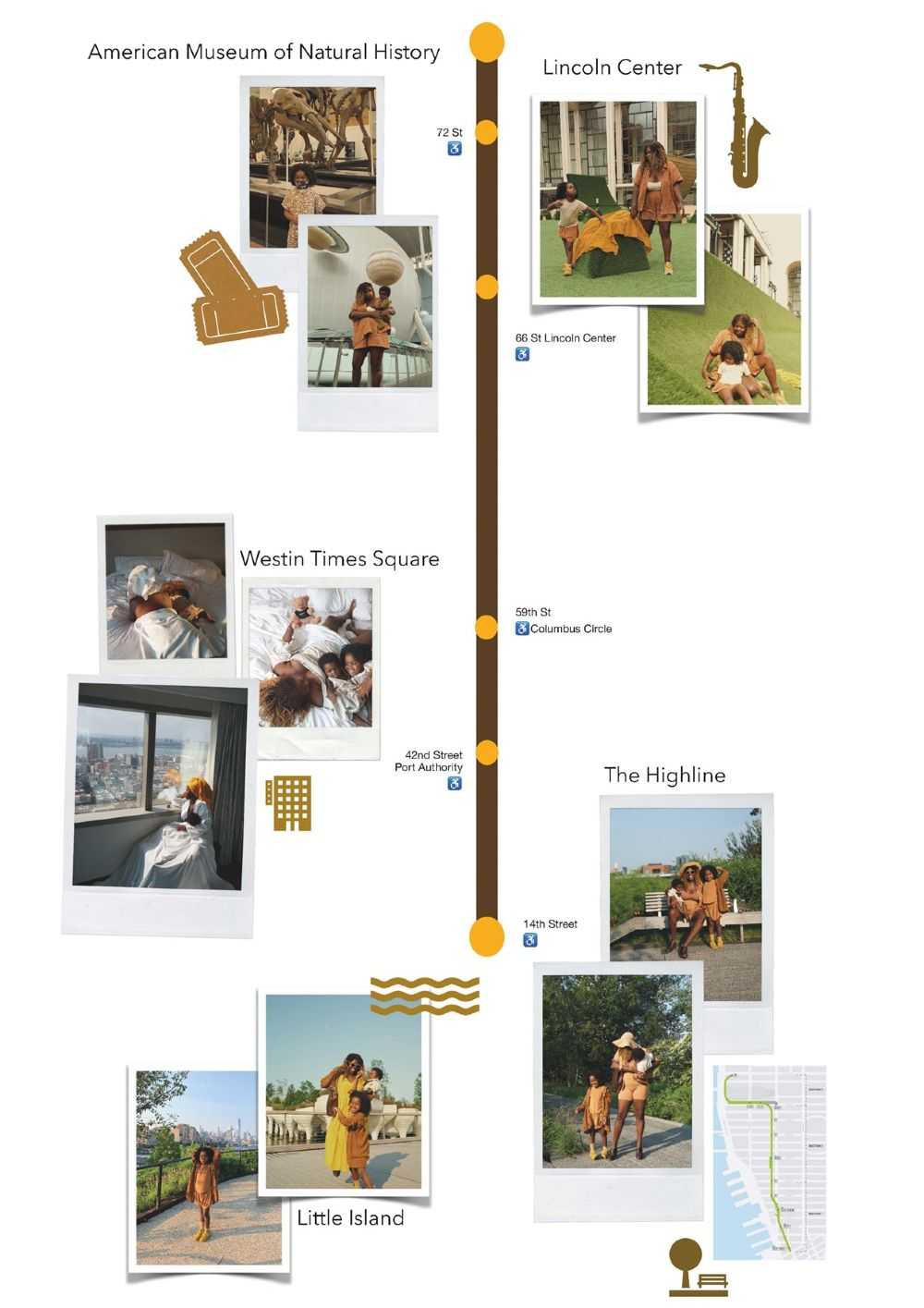 What to see and do on a kid friendly walking tour of New York City
As a native New Yorker I spend very little time actually walking around Times Square, but it's a good starting point for exploring the city with kids, and The Westin New York at Times Square is the perfect place to use as a home base to explore some of the best things New York has to offer on a kid-friendly walking tour.
From the hotel, pop over to Port Authority and hop on the train, be sure to stop at the Rube Goldberg machine in the lobby behind the escalators. Take the train down to 14th street and walk over to two of the more interesting parks in Manhattan, Little Island and the Highline.
Little Island
I've been waiting to see Little Island, the newest park in New York City, for what feels like forever. Erected on pillars rising out today the waters of the Hudson River. It's filled with rolling manicured hills and a plethora of lookouts that give you secret peaks of both the NYC skyline and her stepsister New Jersey. To maintain social distancing the park has timed entry between 12pm and 1am, but you can enter without a time slot before noon.
The High Line
The High Line is one of the more unique parks In New York City suspended above the city on an previously abandoned stretch of train tracks. It weaves itself through the very tip of the city almost kissing the island's edge. It's eye level with apartment buildings, an intimate stretch of free green space with heaps of programs and has art installations for everyone.
American Museum of Natural History
We New Yorkers could take for granted the fact that we have a national treasure like the American Museum of Natural History in our backyard. But no matter how many times we go it still feels new and fresh. Currently the museum is doing times entry, so be sure to sign in. If you're traveling with children in strollers, or you require wheelchair access, don't forget to enter through the 81st Street entrance in the newly completed Hayden Planetarium. At the moment, the museum's food options aren't open, but you can step out onto the Rose Pavilion for a snack: remember to keep your tickets handy so you can pop back in again.
Lincoln Center
As a kid I went to Lincoln center to watch Winton Marcellus make me fall in love with Jazz. Lincoln center has recently transformed their courtyard so that every inch is covered in Turf, turning what can sometimes be seen as a stuffy buttoned up place into a playground.
Planning a family staycation this year or next? Take a look at the incredible Marriott Bonvoy collection of family-friendly hotels and resorts across the US and Canada. And if you want know more about New York City family adventures at The Westin New York at Times Square check out Sunshine Abou Bakar and family @africanboheme on Instagram
Marriott Bonvoy membership opens the door to 30 extraordinary hotel brands with over 7600 properties across 133 countries worldwide. A perfect fit for family travelers, Marriott Bonvoy hotels and resorts offer thoughtful solutions like keyless entry, contactless check-in and mobile room service, wherever you travel. And an unparalleled reward structure allows Marriott Bonvoy members to earn and redeem points and access unique benefits whether they're on a family staycation in the US or taking a vacation almost anywhere else in the world.