Fun Florida family vacations are all about balance. So after a few crazy days of theme parks, here's how Aaron Millar and his family evened things up with a week on the peaceful Panhandle.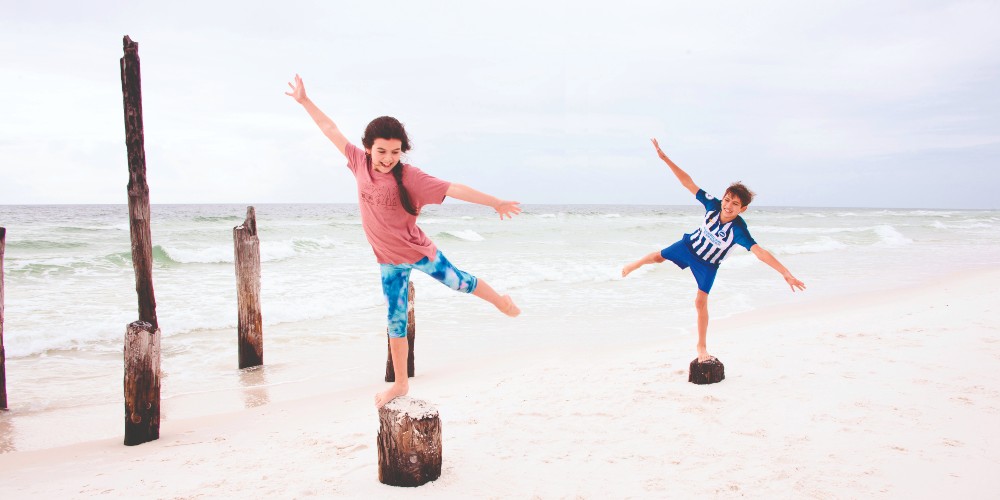 A band of deep orange rises over the Gulf of Mexico like a brush of paint on canvas. Stars emerge from the darkness slowly, like pin pricks poking through a dark cloth. Sunsets in Florida are about as beautiful as they come.
Not that the kids care. We are on a beach, sitting beside our own private bonfire, and no matter how much I point and puff and try to force their eyes west, the scene washes over them with passing indifference. I get it. It's hard to compete with marshmallows. Roasted them over an open fire, on a beach and there's no chance at all.
But it doesn't matter. This is a perfect family moment. Making sandcastles in the sunset with my daughter. Playing tag in the moonlight with my son. Moments such as these are fleeting. In memory, they're easy to find. At the time, with the distractions of bickering siblings and sand in the food, they slip past unnoticed.
But this one I see clearly, and it makes me think. Elise is nine, Cameron is 12. How many more of these moments, these perfect family moments, will we have before the days of sandcastles and childhood games are gone?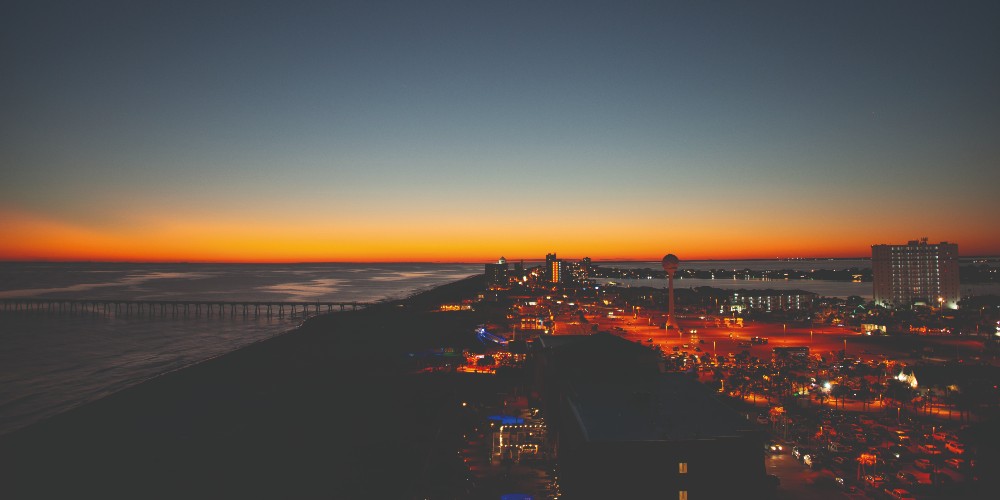 The Panhandle promise of fun Florida family vacations
All fun Florida family vacations have a reputation, at least as far as families are concerned, for two things, rollercoasters and mouse ears. But that's unfair. Florida is big, larger than England and Wales combined, and theme parks are only one, admittedly loud, part of it.
Don't get me wrong, I have no problem with being thrown upside down. But travel for me has always been about showing my children the world. And as fun as it is for a day or two, a manically happy, queue-ridden facsimile of it just won't do.
Not that I could convince my kids of that. So, we've come to . We'll scream our ears out for a few days but then we'll dig our toes into the sand and see some of the real Florida too. And it doesn't get more real than the Panhandle.
This north-western strip of the state, which is only 321 kilometres long and 160km wide at its peak, is so called because if Florida were a saucepan (and it kind of looks like one) this is where you'd pick it up.
Bordered closely by Alabama and Georgia, the people here are culturally closer to their Deep South cousins, than their fellow Floridians. But it's more 'tropical south' than old south. People say "y'all", eat grits and listen to country music but there's also reggae playing at the beach bars and Pina Coladas on tap.
Panama City: Champagne views on a lemonade budget, we like!
It's not quaint or boutique. Where we stayed in Panama City, most of the hotels are high-rise and back onto an urban strip of bars, restaurants and attractions. But those same hotels also look out to some of the Sunshine State's best beaches and once you're inside, sitting on the veranda looking out to the ocean with a cocktail in hand, it doesn't matter at all.
"Champagne view, lemonade budget" Gillian, my wife, said one night, clinking glasses. After the sparkling prices of the theme parks, a little less fizz and a little more beach, was just the compromise I was looking for.
We started in Panama City, and we started well. The Gulf of Mexico has one of the largest concentrations of bottlenose dolphins in the world, and the waters around Shell Island, an 11km-long barrier island just a short private boat ride from the shore, is one of the best places to see them.
But they don't always get the memo. While we circled the island playing "dolphin hide and seek", as Captain Jen called it, the kids sat at the front of the boat, scanning the water, giggling every time the sea sprayed onto their faces. But that was just a gentle misting. The drenching happened, of course, when Mom and Dad walked up for a look. A rogue wave, a sudden tip of the boat, and a virtual tsunami rushed over us in slow motion, soaking us from head to toe.
"We call that a 'Mermaid Margarita'," Jen said. As far as Cameron and Elise were concerned, it was the highlight. Eat your heart out Splash Mountain.
Then we saw them. First a fin, then a leap, then an entire pod circling us on all sides. Dolphins, perhaps more than any other animal, hold children in thrall. There's just something about the smiling face, the playfulness, the sentient look in their eye, that makes the world feel more magical, like a Disney film come to life.
"They're surfing the waves!" Cameron shouted. And they were – dolphins, it turns out, are pretty cool.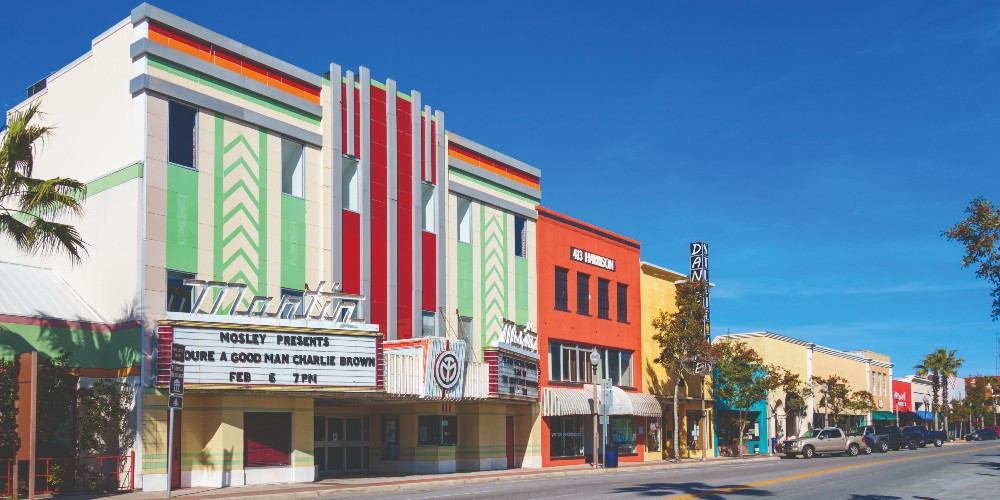 For the best fun Florida family vacations just add airboats
And those standards were about to be blown out of the water – literally. We woke up the next day and headed a few miles out of town to a swampy maze of marshes and creeks that skirt the edge of Grand Lagoon, a protected inlet just west of the city. We were taking an airboat. A cross between a hair dryer and a hovercraft, they're powered entirely by an enormous
fan as loud as a supersonic jet (headphones are provided). Airboats, Cameron and I agreed, have now been added to our bucket list of boy's toys to own one day.
We flew across the bay, wind in our hair, arms up rollercoaster style as Caleb, our guide, showed off his 360-degree spins. Deeper into the swamp we found eagles, ospreys, egrets and then still as a rock, like a real-life dinosaur, an alligator sunning herself by the banks. 'We call that one speed bump,' Caleb said. 'She likes to scratch her back on the boats as we go past.'
Going in search of the Glow kayaks
Panama City also has a plethora of state parks with hiking, biking and all manner of ocean fun (St Andrews State Park, and its hermit crab beach, was our favourite). What it doesn't have is glow kayaks. For that, we would need our next stop two hours west in Pensacola.
It turns out if you combine a 1990s rave, a boat-load of neon lights and a clear kayak, you get something rather amazing. Dreamt up by a Pensacola local, Glow Paddle is like kayaking in a nightclub. We floated out into the bay, after dark, cranked some Fatboy Slim on the portable speaker, and raved around a lagoon.
"Do you think the fish like it too?" Elise asked.
"I think they prefer The Real Swim Shady," I replied. Dad jokes, I know.
Pensacola takes its history seriously, so do we
But as techno as all this sounds, that's not really what Pensacola is all about. Founded in 1559 by Spanish explorer Tristán de Luna, this small oceanside city a few hours west of Panama City is one of the oldest European settlements in the US. Kind of. The problem is a hurricane blew it down two years after it was founded, which is why St Augustine on Florida's other coast, also lays claim to that fame.
Its history sets Pensacola apart from other places in the Panhandle. Although only covering a few blocks, compared to the modernity elsewhere in the region, Historic Pensacola is like stepping into another world, the architecture harking back to its 450-year history: huge Greek Revival mansions and grand classical homes rubbing shoulders with faded grey French Creole cottages.
We wandered the museums and art galleries and even tried our hand at some 19th-century candle-making in its living history village.
This is also the town's arts centre with cultural events happening throughout the year. For us that meant a spectacular outdoor sound, light and projection show that, while not quite putting the Disney fireworks to shame (that would be a tall order), might just have edged it by merit of their liquor license. Alcohol is not sold at Disney, which, as every parent at the end of a 12-hour stint will tell you, takes some of the magic out of the kingdom.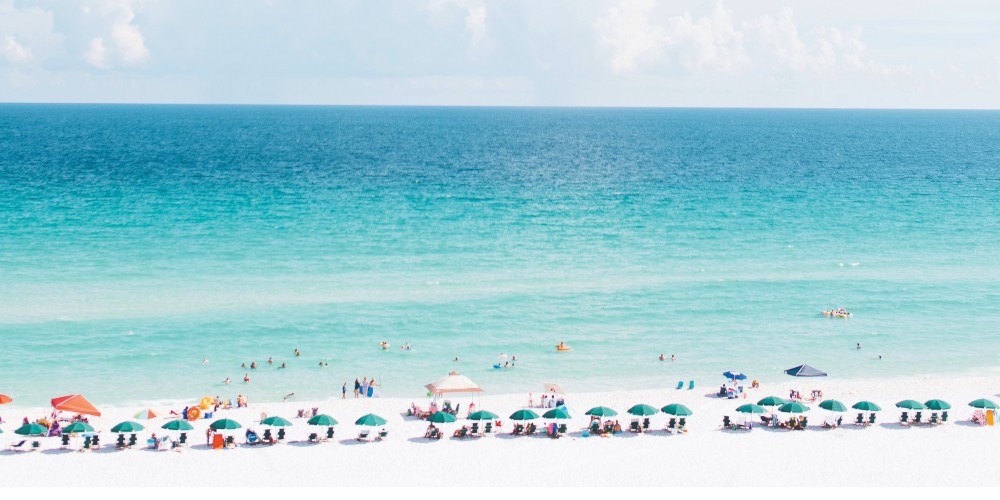 Take your pick of Pensacola's Caribbean beaches
But the beaches are why you come to Pensacola. The sand here is formed from quartz and, as a result, it gives even the most idyllic of Caribbean bays a run for its money,
a pastel line of soft white, stretching endlessly to the horizon, abutted by a clear turquoise sea.
Pensacola Beach is the main draw. Beach bars and restaurants line the shore (the seafood is out-of-this-world). We took a walk along its fishing pier and saw three manta rays gliding softly beneath us, and a manatee scratching its belly in the shallows. But it's the Gulf Islands National Seashore that sets it apart. This protected region of pristine shoreline on the outskirts of town is close enough that you can ride a bike there, but cut off enough (plus there's a national park entry fee) that you'll have it all to yourself.
It was another perfect moment. My wife snoozing in the sun. The children running carefree along the beach, collecting shells, wrestling me in the water. Moments such as these won't last forever. But I'll hold onto this one for as long as I can.