Sponsored Content
If you want to make this snow season at Whistler, Canada the best ever, begin ticking boxes on the Whistler bucket list. We've found 10 amazing family adventures to start with.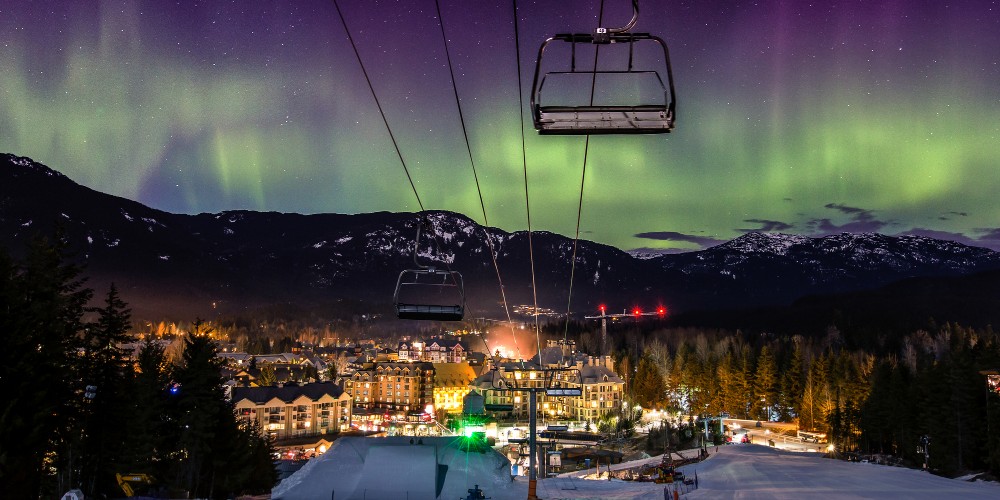 Discover the Whistler bucket list and start ticking boxes this snow season
Canada is famous for bucket list experiences, so of course its most famous ski resort is home to quite a few of them. What's different about the Whistler bucket list is how many boxes can be ticked in one place.
Even simply skiing at Whistler ticks the bucket list. It's North America's largest resort, has more than 8,000 acres of terrain and lets you ski both Blackcomb and Whistler Mountain – tick.
But like most families, you're probably keen to make the most of every second your snow vacation. So you'll be pleased to know that Whistler bucket list experiences extend well beyond skiing and snowboarding. Here are 10 of the most thrilling.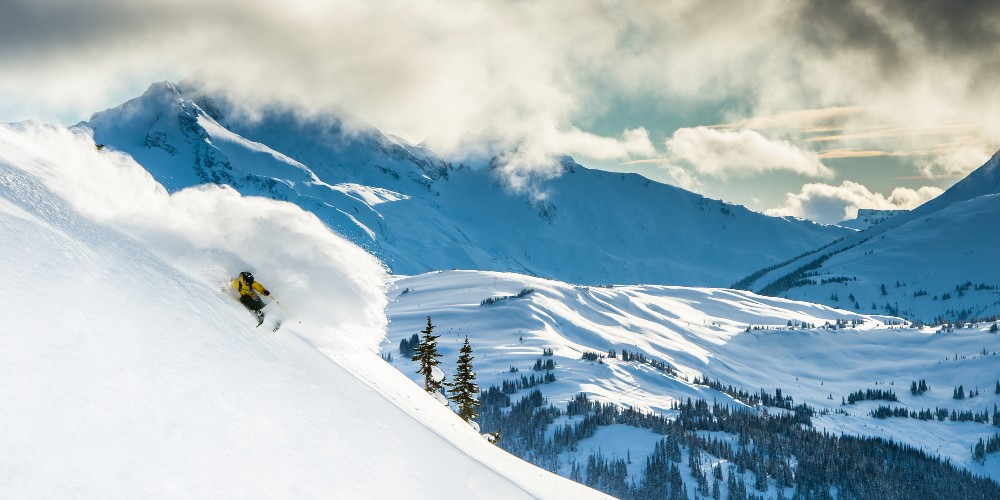 1.  Ski and snowboard the largest resort in North America
When it comes to bucket lists, skiing and snowboarding Whistler deserves a  place at the top. Whistler's the largest ski resort in North America, offers more than 8,000 acres of terrain and upwards of 200 runs. Famous for the type of impressive, big mountain skiing that looks great in movies, it's also dual mountain so you can ski Whistler or Blackcomb.
In good news for families, Whistler has 35 lifts and designated kids' zones: top, bottom and mid-mountain. And it might be an enormous resort, but 75% of the ski terrain is beginner and intermediate. So families don't need big skills to tick this bucket list experience. They simply have to be here, and out on the snow.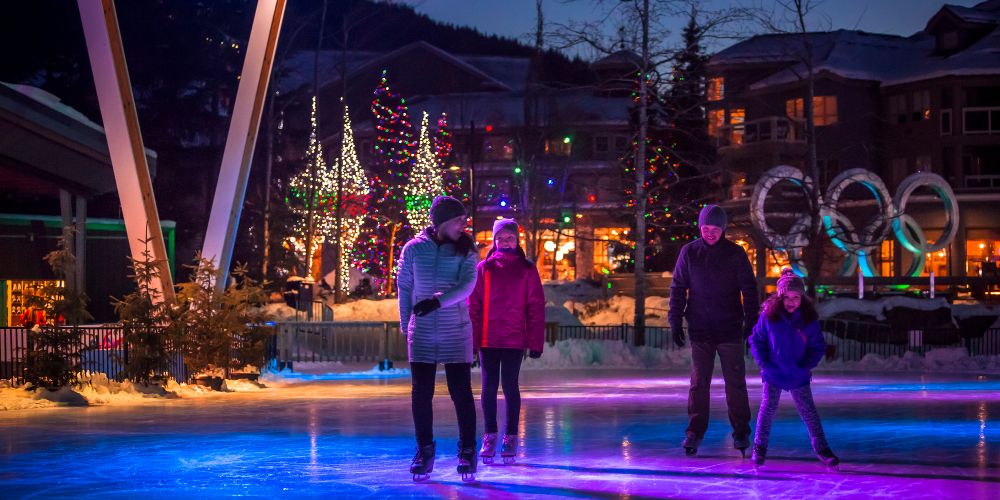 2.  Kids can tick 'feel like an Olympian' off the Whistler bucket list
As a competition venue and location of the athletes' village during the Vancouver 2010 Winter Olympics, Whistler earned its place in history and is always happy to share some of the glory. So if kids want to feel like an Olympian for an hour, a day or even longer, Whistler makes it easy and a lot of fun.
Head to lively Whistler Village and skate like champions at Olympic Plaza.
Go cross-country skiing or snowshoeing in Whistler Olympic Park and take a family selfie with the Olympic Rings.
Ride the gondola to the top of Whistler Mountain and grab a snap with the Olympic Rings there.
Whistler Olympic Park hosted the 2010 Winter Olympics' biathlon event (skiing and target shooting). Today, kids from age 10 can learn biathlon basics in exactly the same location.
Whistler Sliding Centre has the world's fastest sliding track. So if you want to tick the sports of bobsleigh or skeleton off your Olympic bucket list, this is the place – kids aged 14 and over can bobsleigh or skeleton with an adult.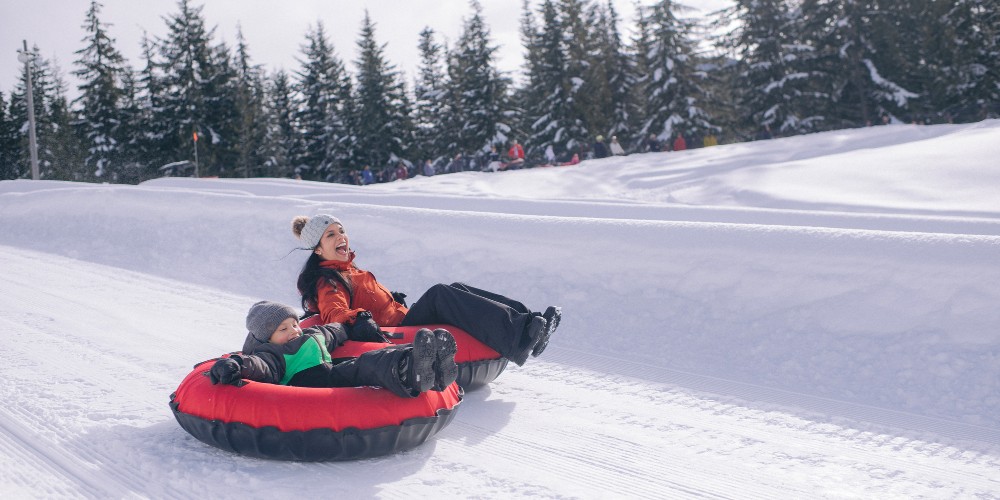 3.  Put tubing by day or night on your Whistler bucket list
Tubing is easier than tobogganing and quite a lot of fans claim it's more fun. Kids as young as three can put that to the test at bubly™ Tube Park – a free gondola ride from Whistler Village. Frozen slides are 1,000ft long, multiple lanes encourage friendly family competition and if you want to tick the night tubing bucket list box, bubly™ turns on the lights after dark to let you slide into the evening.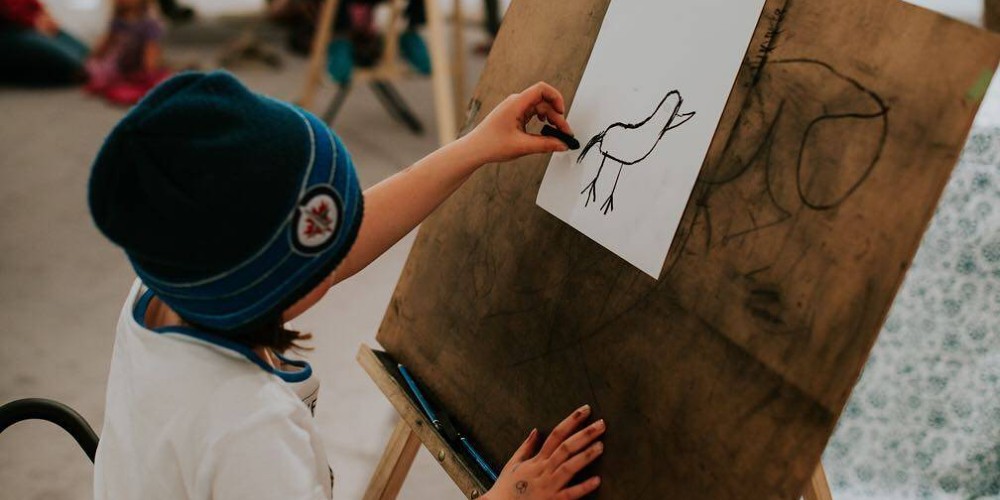 4.  Whistler takes thrills indoors with one-of-a-kind cultural experiences
Well known for outdoor thrills, creative and cultured Whistler adds plenty of excitement to the indoors too.
The Squamish Lil'Wat Cultural Centre sits on the shared traditional territories of the Squamish and Lil'Wat Nations. The first centre of this kind in Canada, it celebrates the living culture of both nations and kids love the guided tour, stories and films, art, crafts and hands-on activities.
Another Whistler one-of-a-kind, Audain Art Museum is home to more than 200 British Columbian artworks spanning more than a century. And if you want a bucket list tick, the permanent collection here also includes the most expensive work of art ever auctioned in Canada: The Crazy Stair by Emily Carr.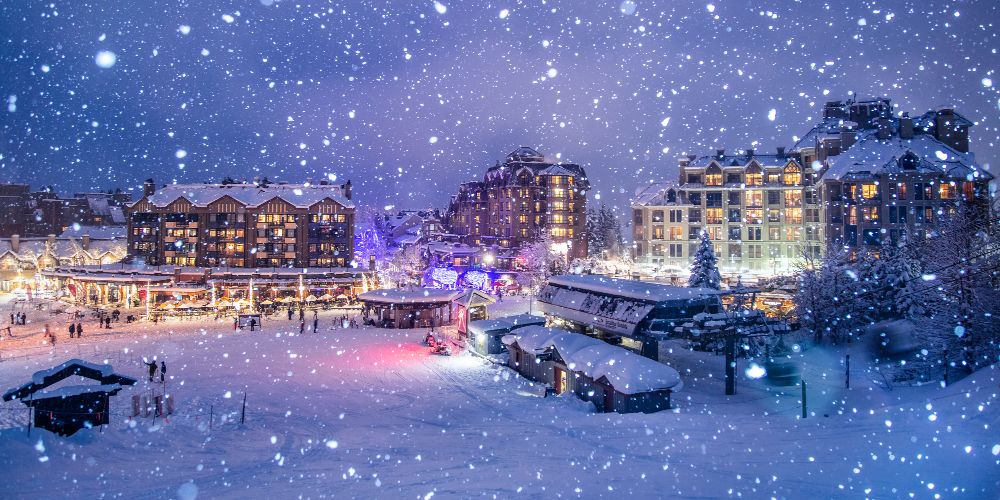 5.  Add winter wonderland après-ski to your Whistler bucket list
Whistler Village is an après-ski legend. Every evening it transforms into a magical winter wonderland twinkling with colourful lights, cosy restaurants and pretty shops. Kids love just wandering around the pedestrianised streets. Ice skating and sledging add to the excitement. You can head indoors for live music. Stay outside to catch family-friendly events like Whistler Blackcomb Fire & Ice Show. Or simply stop off at the firepit to warm up a little and enjoy the friendly, community atmosphere.

6.  Have a snowshoeing adventure and see spectacular Alexander Falls
If you can walk, you can snowshoe and snowshoeing at Whistler is an irresistible adventure for families.
Self-guided snowshoeing for the more experienced is thrilling on the well marked trails which network Lost Lake Park and Ski Callaghan. Guided snowshoe tours for first timers include everything from history lessons to traditional Canadian cookouts.
Or snowshoe Whistler Olympic Park. Not only are there more than 30km of trails across the park, you can see immense Alexander Falls on the way there. The viewing point is clearly signposted.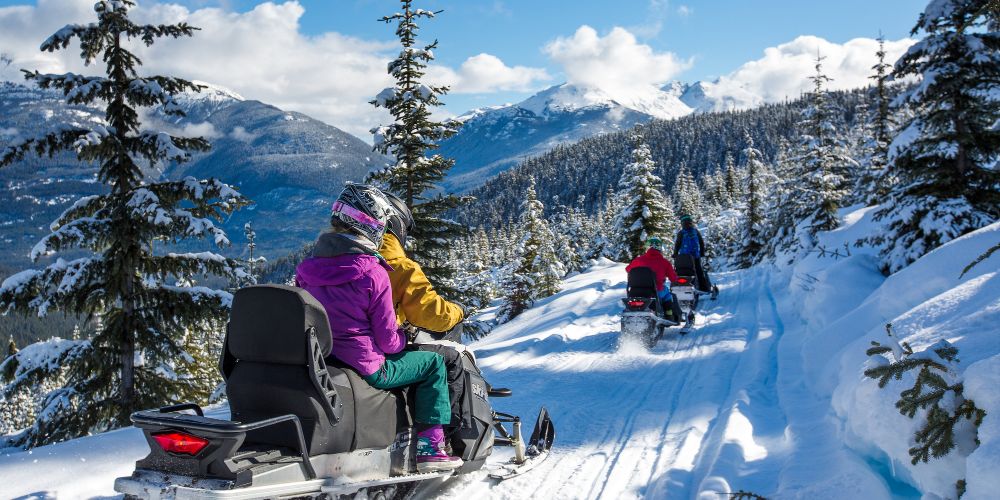 7.  Let kids tick solo-snowmobiling off their Whistler bucket list
Snowmobiling is a great Canadian winter tradition and kids here start young. Give your little snowmobilers a taste of independence. Book a Whistler family snowmobile tour and kids can ride their own Mini-Z snowmobiles round a custom created track as part of the fun.

8.  Soar between mountains on the Whistler PEAK 2 PEAK Gondola
PEAK 2 PEAK is no ordinary sightseeing experience. It's the only-at-Whistler gondola that sweeps you between Whistler and Blackcomb mountains. The views of Whistler Village, peaks, lakes and glaciers are sensational. Catch the gondola with the glass bottom and you even get an incredible bird's eye view of the valley below.

9.  Boost your Whistler bucket list with North America's longest ziplines
Mountains, forests and ziplines are made for each other, so it's no surprise to discover that Whistler offers some of the best ziplining experiences in the world. Pick one or try several, there's plenty of choice from North America's longest zipline to multi-activity zipline tours and even alpenglow ziplining.

10.  Go helicopter sightseeing and watch the sun over all the mountains
Once in a lifetime is no exaggeration when it comes to describing helicopter sightseeing tours at Whistler. From shorter flights over the Coast Mountains to three hour expeditions which include ice caves and volcanoes, these are the ultimate only-in-Whistler experiences on a family vacation.