The of-the-moment travel destination, and the world's second largest country, has no shortage of wonders. And for families, endless thrilling and extraordinary adventures await. Even in remote and chilly Yukon, you can bask under the magical lights of the Aurora Borealis. The wildly beautiful Rockies offer plenty of opportunities for skiers, climbers and even train travelers. Not to mention the plethora of wonderful cities to choose from and explore. In fact, if Canada does have a problem, it may be that there's simply too much choice. Luckily, we've narrowed it down to 10 stunning activities that shouldn't be missed.
1/10

  Kayaking with Beluga Whales, Churchill, Manitoba

Often called "the white ghosts of the north," nothing is quite as unique or wonderfully strange as the blanched Beluga Whale.

Every year, from roughly mid-July to mid-August thousands of these mesmerising creatures gather at the Churchill River Estuary on Hudson Bay in the far northern reaches of Manitoba. They're highly sociable with each other and insatiably curious about the people willing to sail or snorkel in their territory. Get close enough to one and don't be surprised if it turns and looks at you: Belugas are the only whales with flexible necks.

Obviously they aren't as big as Killer Whales (almost nothing is) but an adult male weighs nearly 1,100 pounds and can be upwards of 13 feet. So for all the milky, smiley face cuteness, they're also pretty awe-inspiring to be around.

One of the best ways to meet Belugas with kids is to take a kayaking tour from Churchill town. No paddling experience is needed and double kayaks are ideal for younger children. All tours are accompanied by safety Zodiac and calm weather is a prerequisite for sailing, so you can rest easy knowing there won't be any Captain Ahab drama on this astonishing adventure.

Where: Churchill, Hudson Bay, Manitoba

When: daily in July and August, weather permitting

Who: Sea North Tours, Churchill, Manitoba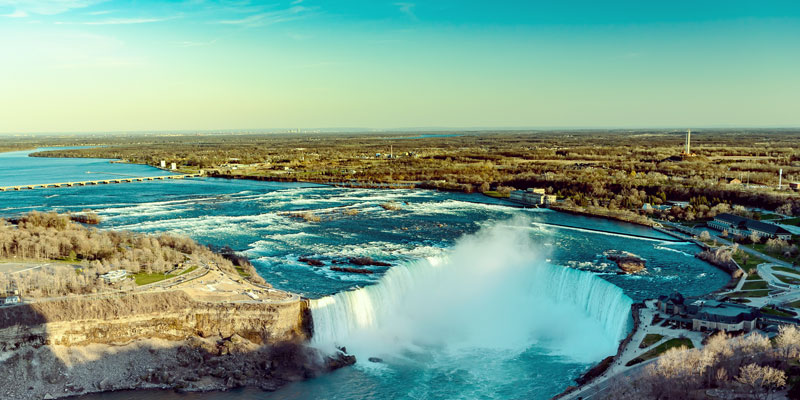 2/10  

Niagara Falls, Ontario
For sheer magnetism, Niagara Falls is hard to beat. Most visitors wouldn't dream of crossing on a tightrope as Nick Wallenda did, successfully, in 2012. But there's almost nobody on earth within traveling distance of the world's widest waterfalls who doesn't want to see (and hear the roar of) this stunning attraction.
The most famous of the falls, the enormous Horseshoe Falls, are in Canada (the US owns the considerably smaller Bridal Veil Falls). Naturally this means the most spectacular cruises begin in Canada too. You can sail in the evening for as much romance as the roar of 6 million cubic feet of falling water per minute allows. Seeing the falls strikingly lit up during The Illumination and Firework night sails are pretty stunning too. But on these you will only catch a "light mist" and it's Niagara Falls, so opting to get slightly damp kind of misses the point.
With the kids in tow, to the heart of the falls on a "full mist" voyage is the only way to go. Everyone gets a mist cape and despite the drenching and astounding noise, the custom-built Niagara catamarans are a surprisingly smooth sailing experience – even for young kids. The round trip takes just over 20 minutes but they're fairly adrenalin-rich, so be prepared.
Where: Niagara Falls, Ontario
When: cruises every 15 minutes daily from 1 April to 30 November
Who: Hornblower Niagara Cruises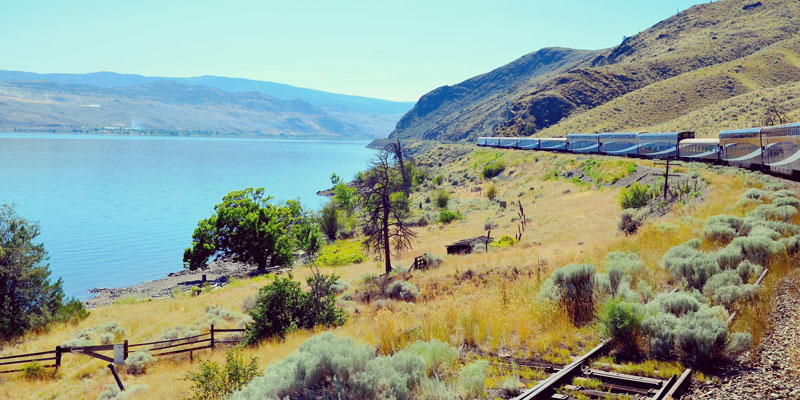 3/10

  Rocky Mountaineer "First Passage to the West" rail journey
While many countries have great rail journeys, Canada boasts the Rockies and the legendary Rocky Mountaineer. Which pretty much means it wins hands down on majestic grandeur, history and "just sit back and enjoy the ride" good old fashioned opulence.
From the 360˚ viewing carriage to the plump seats, charming crew and gracious pace, the Rocky Mountaineer is one of the world's finest trains. It's only fitting then that the First Passage to the West route between Vancouver and Banff is number seven in the World's Top 25 Rail Journeys. Once called the "Kicking Horse," this two-day voyage that travels along Canada's original trans-continental line, first opened in 1885. The standard of comfort's been considerably raised since then, but the majestic scenery has barely changed at all.
Awe-struck wonder is the default emotion on this once-in-lifetime ride. One minute you're sweeping past pristine, glacial lakes and the next, towering peaks hug the tracks and mighty canyons break the horizon. Adorable stations that feel as though time stopped moving long ago are next to normal on-route. Ospreys and eagles swoop overhead and kids have been known to spot black bears or even grizzlies – grown ups are usually too relaxed for that type of keen-eyed observation. But nothing too extraordinary will be missed: the entertaining and well informed Rocky Mountaineer conductors make sure of that.
Where: Vancouver – Kamloops – Lake Louise – Banff
When: from April to October, two-day journey with overnight hotel stay
Who: Rocky Mountaineer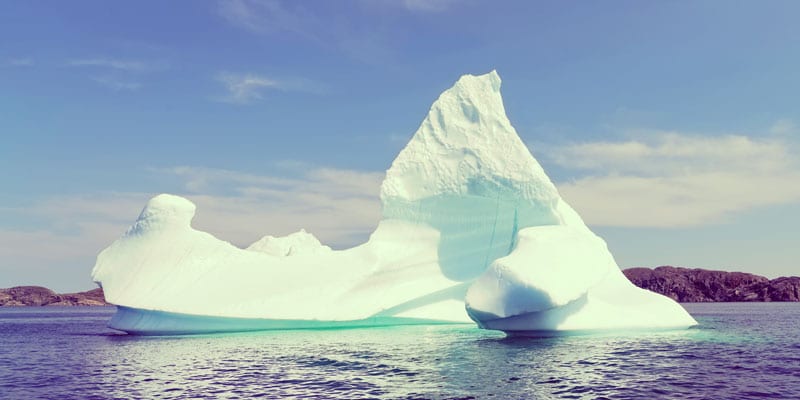 4/10

  Iceberg Quest, St. John's, Newfoundland
If you want to see icebergs up close (and trust us, you do), head to Newfoundland. This is as far east as you can go in Canada and you will learn everything worth knowing about immense and mesmerizing free-floating chunks of glacier on this trip. It was just 250 miles from Newfoundland that the "unsinkable" Titanic met her frozen nemesis and untimely end.
Today's sailors are certainly more cautious about tempting fate, especially as the enormous ice mountains above the surface are nothing compared to what lies beneath: up to 90% of an iceberg's total bulk is entirely submerged. But have no fear late spring cruises into the ice kingdom off the Newfoundland coast are both stunning and safe.
Plus, icebergs aren't the only unforgettable spectacle you'll spot here. Between mid-June and late August every year the world's largest population of whales migrate through these chilly waters. Breaching Humpbacks are a common sight, along with slightly smaller Minke, outrigger porpoises, Finback whales and, most breathtaking of all, the Orca, or "killer whale" as it's commonly known.
Timing a voyage to fit in icebergs and whales takes a bit of planning to get the right dates, but it can be done. Pull it off and, as far as the kids are concerned, you can probably sit back and rest on those parental laurels indefinitely.
Where: Twillingate or St. John's, Newfoundland
When: daily from 1 May (weather permitting)
Who: Iceberg Quest Ocean Tours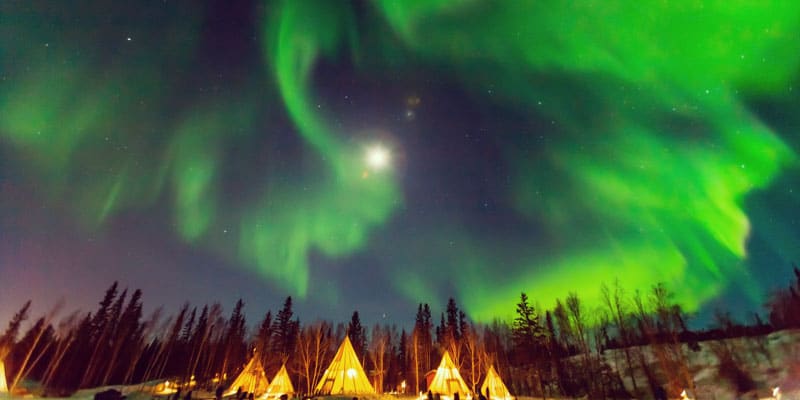 5/10  

Northern Lights, Whitehorse, Yukon
A site that's sure to be on everyone's bucket list is the dazzling lights of Aurora Borealis.  Finding the best location to ensure clear and dramatic viewing can be tricky. The people of Edinburgh claim you can see the phenomena in the city centre every now and again: no surprise, photographic evidence of that is hard to come by. Parts of Scandinavia are a much safer bet. But if you want Northern Light guarantees, you want Yukon.
Canada's northwest territory is the ancestral home to 14 of the country's First Nations, keeper of ancient legends and land of the Klondike Gold Rush. Bold adventuring is second nature here and wilderness is basically the backyard.
But don't worry, seeing the Northern Lights won't demand extremes of endurance. Cozy cabins, deliciously deep and mysterious forests, crisp winter days and some Arctic gear for viewing expeditions are more the kind of expectation you should have. Kids are suitably indulged while still getting a taste of tough adventure in the great outdoors and the fun goes well beyond staring at a night sky.
Yukon's lightshow switches on as early as late August, peaking from November to January and still looks fairly astonishing right up until early April.
Where: Whitehorse, Yukon
When: from late August to early April – one night to five day tours.
Who: Northern Tales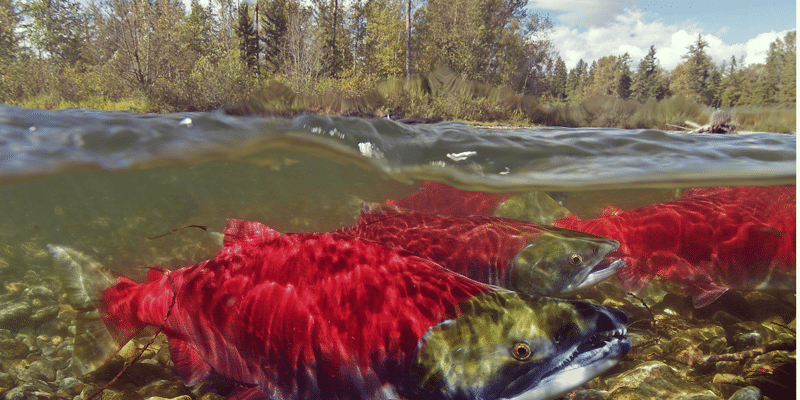 6/10

  Salmon Snorkelling, Vancouver Island, British Columbia
The lifecycle of Pacific Salmon is one of the nature's greatest mysteries and another of those, "but why,?" questions kids love to ask. Parents on Vancouver Island have it easy: they just pack their inquisitive offspring into a wetsuit, pop a mask over their heads and point them in the direction of the Campbell River.
Known as the Salmon Capital of the World, this river is the freshwater start and finish to life for these fascinating fish. It takes every one of thousands of salmon hatched here upwards of seven years to return. In that time they'll have traveled downstream to Puget Sound and around the Arctic Ocean before finally swimming back upstream to lay eggs in the place of their own birth.
Nothing illustrates all that biology better than plunging into the water and meeting vast schools of chinook, coho, pink, sockeye and chum salmon up close. Salmon snorkeling raft expeditions take place between mid-July and late September when Campbell River is teeming with fish and the weather is generally pleasant. The rafting part is exhilarating, and with experienced guides in charge, all the tricky questions are taken care of with speed and accuracy. Although, after a few minutes snorkeling in a kaleidoscope of glittering scales and fins, most kids are happy to simply accept the magic and let the science slide.
Where: Campbell River, Vancouver Island, British Columbia
When: daily from mid-July to late September
Who: Destiny River Adventures, Vancouver Island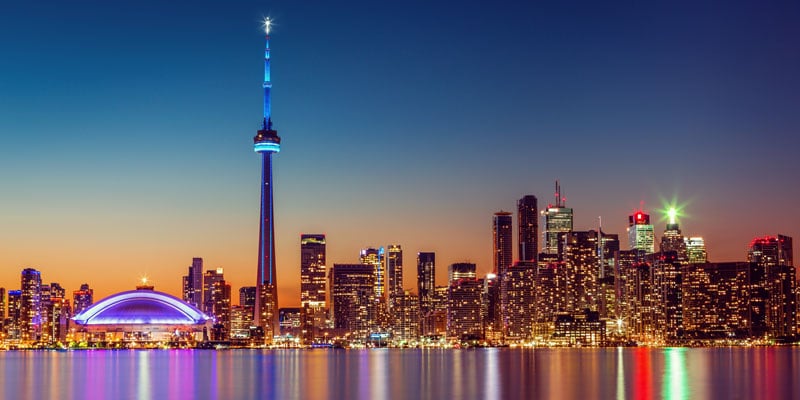 7/10

  CN Tower, Toronto, Ontario
From its world famous film festival to the largest aquarium in Canada and the only "real" castle in all of North America, Toronto is larger than life in almost every way imaginable. But big should not be mistaken for brash. The city's galleries, museums and historic districts are international icons. They even play ice-hockey with heritage here and culture seeps into and is distilled in the local craft brews.
With so much packed into one city, it takes a fairly striking feat of construction to stare down Toronto. And the CN Tower lives up to the task. At just over 1,800 feet, it's far from the tallest building in the world these days. But it is the only one where you can step out into thin air at 149 stories and take a walk (if you dare) with nothing between you and the ground but a harness and nerves of steel. The world's highest, hands-free experience, EdgeWalk is about as extreme as it gets – even in Canada.
For those seeking a slightly more cautious option, you can also stroll over the nearly 3 inch thick glass floor at 113 stories or watch daring EdgeWalkers from the enclosed upper story SkyPod. Or you can always take the relaxing option of enjoying a hot beverage and a 360˚ view of the city from the safety of the revolving restaurant.
Where: Toronto

When: 364 days a year from 9am to 10.30pm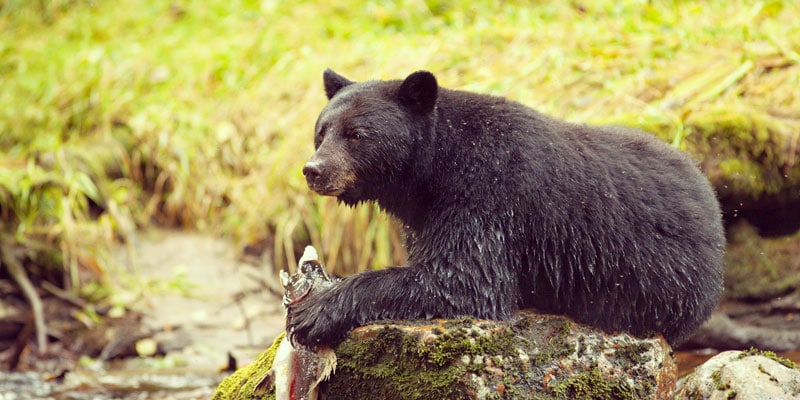 8/10

  Great Bear Rainforest, Northern British Columbia
Tucked between ocean and mountain, nearly 5 million acres of adventure await. Great Bear is the world's largest and last remaining temperate rainforest. A miraculous environment where 1000 year old cedar trees still grow, ancient cultures flourish and the wildest of wildlife is a constant presence.
This is the natural habitat of the uniquely beautiful Spirit Bear: a black bear which, thanks to a recessive gene, has a pure white coat. Possibly the most mysterious of all of Canada's awe-inspiring creatures, it's also known as the Kermode Bear and has long lived at the root of many traditional myths, legends and rituals.
Wandering into any Canadian forest alone, in search of bears, isn't a good plan. On the other hand, joining forces with expert Spirit Bear guides and staying in the heart of the rainforest is destined to be one of those unforgettable experiences people back home will eventually beg you to stop talking about.
Plus, you can easily sneak some history and culture lessons for the kids into this trip. Kitasoo/Xai'xais First Nations have lived here for thousands of years and visitors to the forest are their guests. Learning about their customs and lifestyle is another of the many reasons to shift Great Bear Rainforest up top on your Canadian wish list.
Where: Great Bear Rainforest, Northern British Columbia
When: June to October, tours from four to seven days
Who: Spirit Bear Lodge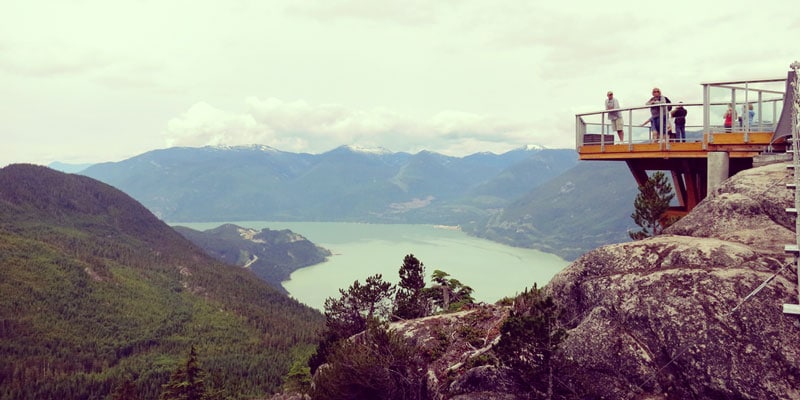 9/10  

Sea-to-Sky Gondola, Squamish, British Columbia
Less romantically known as Highway 99, the stretch of road which links Howe Sound (the sea) to Whistler Mountain (the sky) more than owns a place on the world's most scenic routes' list. It's where water meets forest meets soaring peaks and has everything from enormous waterfalls to breathtaking bays and a magnificent valley in between.
While it is all very thrilling and majestic, for a heart-in-the-mouth exciting experience, take a 10 minute ride on the Sea-to-Sky Gondola from Howe Sound to the top of the mountain. At just over half a mile above sea level it's not for the faint of heart. But the beautifully designed cabins feel remarkably stable, only carry eight passengers at a time and provide sensational views in every direction.
Catch your breath at the top and then ready yourself for more adventures on walking trails with cantilevered observation platforms, challenging rock climbing routes, backcountry paths and the must-do trek across the incredible Sky Pilot Suspension Bridge.
Where: Highway 99, Sea-to-Sky Road, British Columbia

When: all year round from 10am

Who: Sea-to-Sky Gondola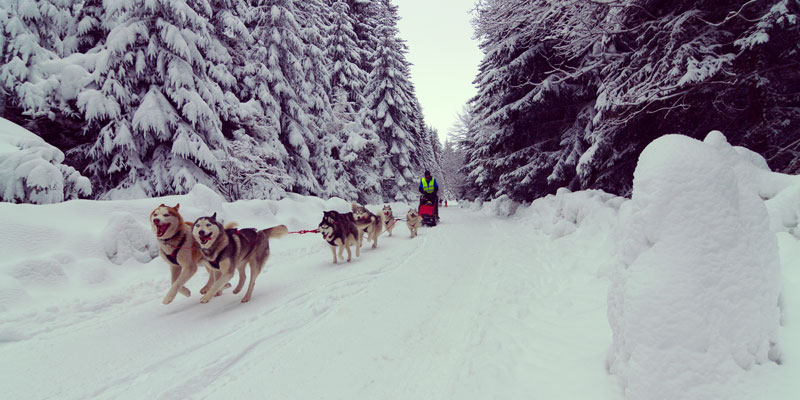 10/10  

Dog Sledding, Northern Saskatchewan
Nothing says Canadian adventure quite like a team of sled dogs, elk stew and a canvas trapper's tent. If that sounds like your type of family trip, head for the million acre Great Northern Forest in Saskatchewan.
Days here are spent getting to know your dogs, learning the ways of the sled and traversing the frozen wilderness landscapes where man and beast have a centuries-old history of pitting themselves as a team against the elements.
Naturally, there's a high level of comfort involved too or so many fearless visitors wouldn't return to do this year after year. But the activities are satisfyingly extreme and, once you get used to and (bundled up for) the freezing temperatures, extremely exciting.
The full dog sledding experience might be a bit too much for younger kids, so Puppy Camps work well for children under 10 to meet veteran sled dogs, play around outside, learn new skills and – if you're truly lucky – actually see new born pups.
Where: Waskesiu, Saskatchwan
When: November to March
Who: Sundogs Sled Excursions