Sponsored Content
Barcelona's one of the world's most visited cities. If you need proof, go in summer and see the crowds for yourself. Alternatively, do what smart families do and head west to the lovely Costa Dorada. Just an hour from Barcelona Airport, this is the slice of Mediterranean coast where PortAventura World Resort has mastered the perfect combo of outrageously exciting theme parks and waterparks, luxury family hotels and all the sun, sand and sea you'd expect in summertime Spain. Here are our top five reasons why you need to take the kids to PortaVentura World this summer:

1/5

 PortAventura Park: six wonderful worlds in one single, sensational place
PortAventura Park's the original white-knuckle wonderland which put PortAventura on the map and made Costa Dorada even more fun than nearby Barcelona for summer holidays. Bigger and brighter than ever in 2017, it now has over 40 rides from truly terrifying Furius Baco (a catapult that goes from zero to 135kmph in three seconds) to the ridiculously cute Coco Piloto – designed by none other than Sesame Street's Grover.
But, just in case warp-speeds and cuddly characters aren't thrilling enough, PortAventura Park famously throws world travel into the mix too. So kids can spin round Mexico, chute through Polynesia, ride the wilds of America's Far West, sail into China, speed round the Mediterranean or glide about SésamoAventura: a newly invented country created just for younger explorers, again, with more than a little help from Sesame Street.
Mention downtime and most kids just hear, 'boring', and that definitely isn't the PortAventura way. Gaps between rollercoasters and roundabouts are filled with a packed programme of shows, parades and interactive events. The entertainment's endless and the dreaded 'b' word's completely banned: whether you've a budding mega-star or a potential palaeontologist on your hands.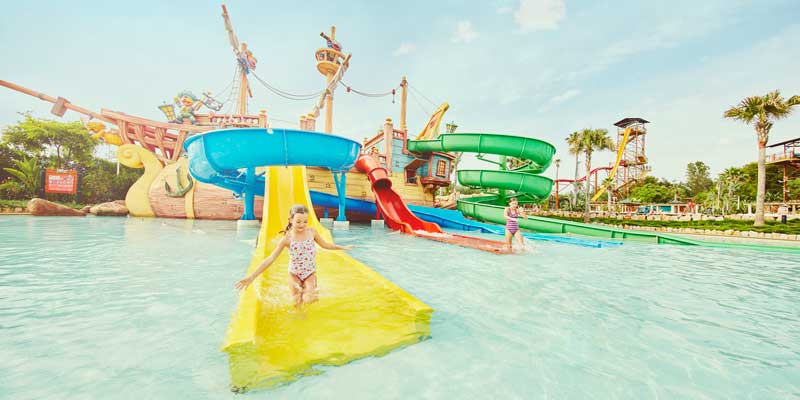 2/5

 Suit-up and splashdown in Caribe Aquatic Park
Warm, sunny summers are a reasonable expectation on the Costa Dorada and nothing goes as well with soaring temps as extreme soaking, courtesy of Caribe Aquatic Park. As waterparks go this PortAventura masterpiece ticks every box from fast and more than a little terrifying rides to lazy-river soothing, cool Caribbean beaches and plenty safe splash-around space too.
If 'freefall' is one of your favourite words, meet mighty King Kajuna and Ciclón Tropical. Rapid Race is designed to satisfy the thrill-seeking slide-purist. You might have trouble dragging tiny fish-in-training away from sweet Sésamo Beach, it's made just for families so hanging out isn't too much of a hardship.
Book a BA PortAventura family holiday between May and September and free entry to Caribe Aquatic is a cool treat perfectly timed for the Med's hottest months.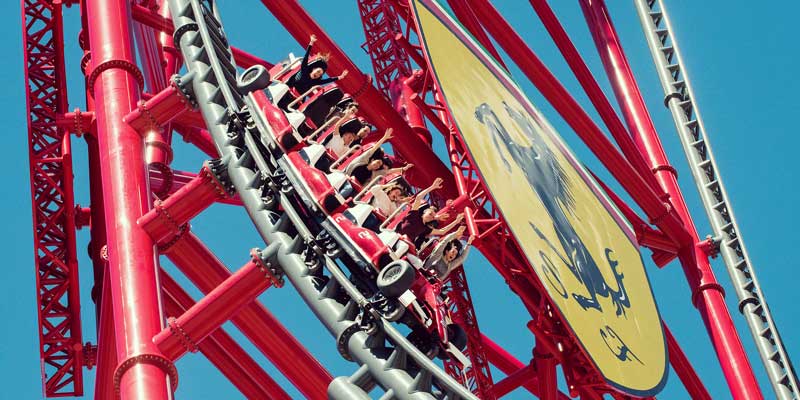 3/5

 Europe's first Ferrari Land pulls up at PortAventura
Good news: Europe's first ever Ferrari Land has arrived at PortAventura, which means you can satisfy your passion for performance cars and Formula One without going anywhere near the boiling hot Dubai desert this summer.
The theme's obvious – jaw-dropping speed and sheer adrenalin. It's the incredible interpretation that's unexpected and guaranteed to win you over: even if you can't tell the difference between an 812 Superfast and a 488 Spider, and really couldn't care less.
But beware, once you've gone head to head on a full-size race track, pitted your wits against the F1 Simulator, taken the plunge from the Bounce Back Tower and immersed in a full Ferrari Experience, whatever you drive back home is going to look a touch tame by comparison.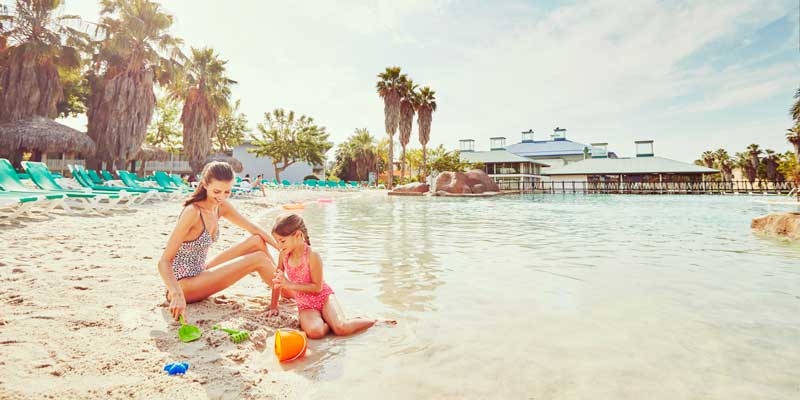 4/5

 Five fantastic and family-friendly PortAventura hotels
Barcelona's a beautiful city but to say it's crowded, stuffy and hectic with kids doesn't even come close to describing the signature summer style. PortAventura, on the other hand, is cool, beachy, fresh, fun and has five world-themed hotels to help you really appreciate the difference.
Graceful Victorian villas, opulent family rooms and elegant restaurants are all part of the time-gone-by appeal of five-star Hotel Mansión de Lucy. But, from private swimming pools and indulgent spa treatments to free WIFI, this is a very contemporary take on America's peaceful Far West.
Four-star PortAventura Hotel looks like a charming Mediterranean village and acts like the best type of relaxed luxury resort right down four cool restaurants, theme bedrooms for kids, spacious suites and family swimming pools. It's also minutes away from all PortAventura Parks, only perfect for younger children.
Hotel Gold River is the wild-west adventure member of the PortAventura four-star collection. It's just about as close as you can get to the waterparks and theme parks, if you can bear to leave the lagoon-style pools, playgrounds, generous family suites and charming restaurants behind.
If irresistible Caribbean cool isn't enough to tempt you into Hotel Caribe, try the largest white-sand swimming pools in Europe as an added incentive. The ultimate water-baby's haven is also the PortAventura four-star with its own beach club.
Sunken galleons in the swimming pool, fortresses in the playgrounds and a laid-back hacienda living style, four-star Hotel El Paso is Mexico without the long-haul.
Plus, pick any PortAventura Hotel for your BA family holiday and unlimited entry to PortAventura Park is included in the cost of your stay – for the entire stay. There are also great discounts for Caribe Aquatic Park and guaranteed tickets to hugely popular Ferrari Land – even in high season when everyone wants to go racing.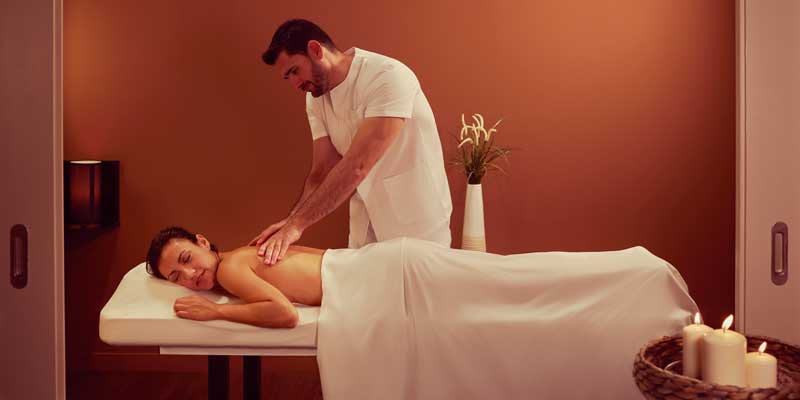 5/5

 PortAventura parent-size fun (or just a well-earned rest)
All this talk of chutes, rides and slides, themed hotels, kid-shaped entertainment and dawn to dusk activity, could leave a parent feeling a little left out or worn out. PortAventura know the feeling and they've taken every step to make sure grown-ups get a little slice of holiday time too.
So, whether you want to play golf in the Mediterranean sunshine, take five for some spa pampering, get into all sorts of too-tough-for-kids water sports or even just go shopping, the combination of PortAventura World and the gorgeous Costa Dorada has everything you need to make anything happen.
Cirque du Soleil are performing at PortAventura from 6 July until 14 August (first time ever at a European holiday resort). And if you can't resist the lure of Gaudi and Barrio Gótico, Barcelona's under an hour's drive away and open morning, noon and night, all year round.