10 amazing Missouri holiday traditions families love best
Sponsored
Discover 10 wonderful Missouri holiday traditions handpicked by Family Fun Mo, your family's guide to Missouri this festive season, and all year round.
---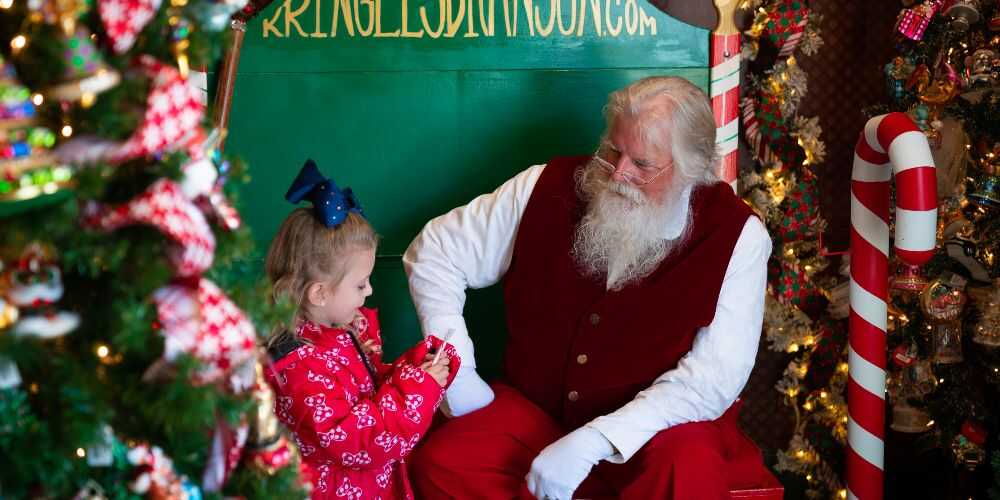 Missouri is laid back, affordable and easy to get around. It's also home to some of the country's best Christmas celebrations.
There's so much happening during this festive season, you might need a guide. That's where Family Fun Mo comes in. She's the Missouri expert on finding something for the whole family on any budget. So we asked for experiences that light up kids' faces and Christmas traditions to turn parents into wide-eyed children again. Thanks to Mo, here are 10 of the most enchanting, heartwarming and fun things to do in Missouri during the holidays this year.
---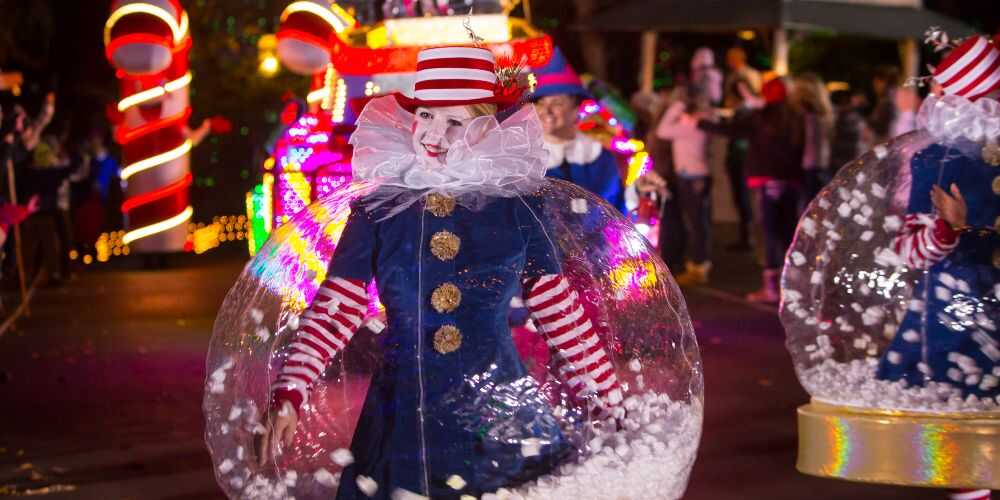 1. An Old Time Christmas: One of the greatest Missouri holiday traditions
An Old Time Christmas at Silver Dollar City isn't just a Missouri holiday legend, it's also one of the country's top Christmas celebrations. It sparkles with more than 6.5 million multicolored lights. There are fabulous family shows every day and, weather permitting, rides and attractions too.
Kids can visit Santa's Cottage to make their Christmas wishes come true. Fantastic festive food is also part of the experience. And if you have an ounce of energy left over, spend it exploring more than 60 tempting shops packed with seasonal gifts and treats.
An Old Time Christmas runs Nov. 6 through Dec. 30.
The festival is a four-time winner and reigning title holder of USA Today Readers' Choice for Best Theme Park Holiday Event.
"Home For Christmas" is a new Broadway-style show for winter 2021.
"A Dickens' Christmas Carol" musical returns to the Opera House.
The Christmas in Midtown spectacular features 5 million lights.
Silver Dollar City theme park rides and attractions will be open, weather permitting.
2. Festival of Lights at Powell Gardens: Fresh festive wonder for the holiday season
The Festival of Lights dazzles once again at Powell Gardens from Nov. 11 through Dec. 30. There are more than 20 miles of lights decorating trees and trails this year, so look forward to some exploring with the family. And there's a lot more happening besides the light show. The glass domed conservatory has been transformed into an Enchanted Tiki Bar for the festival, and if you get cold following the light trails, stop off at the warming station for hot chocolate.
Look out for the larger-than-life snow globe, and light-wrapped Magic Tree.
Don't miss the view of the lights from atop the Missouri Barn Silo.
Santa's reindeer visit on Saturdays, starting Nov. 27.
Kids can deliver their holiday wish lists to Santa at the Children's Garden.
The Marketplace is open for garden-inspired gifts.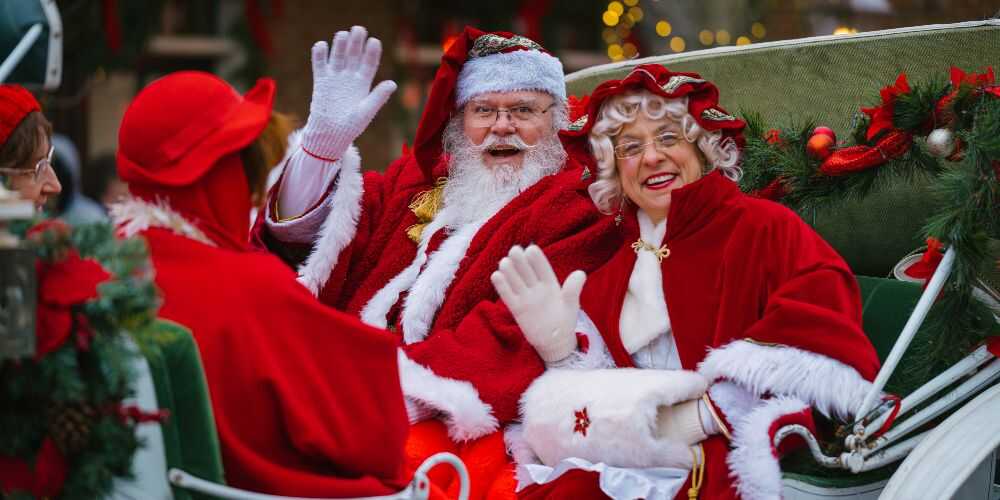 3. Saint Charles Christmas Traditions: A wonderful tradition for almost 50 years
Celebrate the holiday season at Saint Charles Christmas Traditions. Creating cheer for almost 50 years, the festival is centered around storytelling, history and fairy-tale fantasy. Learning is part of the fun, as the festival features global Christmas traditions. It's no surprise to find children love every minute of the magical atmosphere.
Saint Charles Christmas Traditions runs from Nov. 26 through Dec. 24.
There will be dazzling pageants and festive food from around the world.
You can look forward to Victorian carolers, roasting chestnuts and old fashioned customs.
The festival takes place in the wonderful setting of Saint Charles' centuries-old Historic District.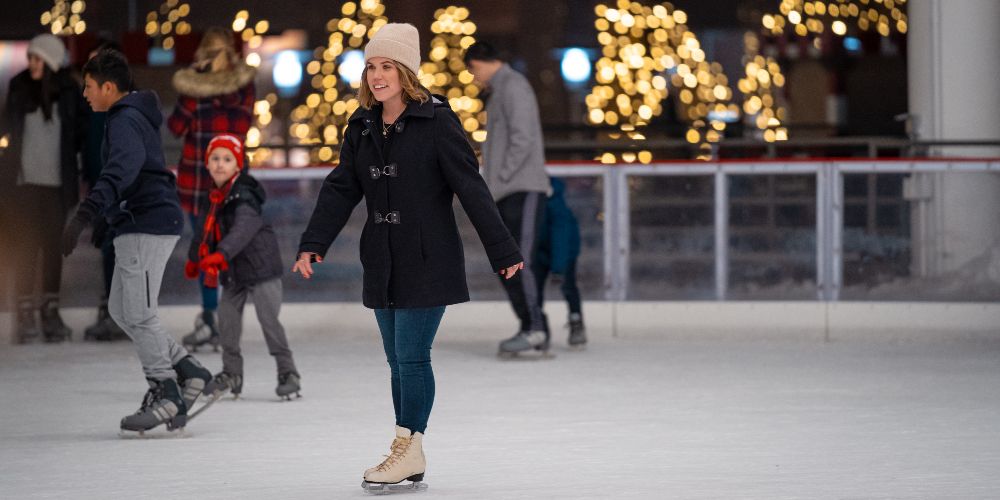 4. Crown Center Ice Terrace in Kansas City: Skating with a spectacular view
Take to the ice under a snowy white canopy at Kansas City's Crown Center, and spin by one of the country's tallest Christmas trees. The 100-foot-tall Mayor's Christmas Tree stands next to the  Crown Center Ice Terrace.
The Ice Terrace opens Nov. 5 through March 2022.
The Mayor's Christmas Tree Lighting Ceremony takes place Nov. 26.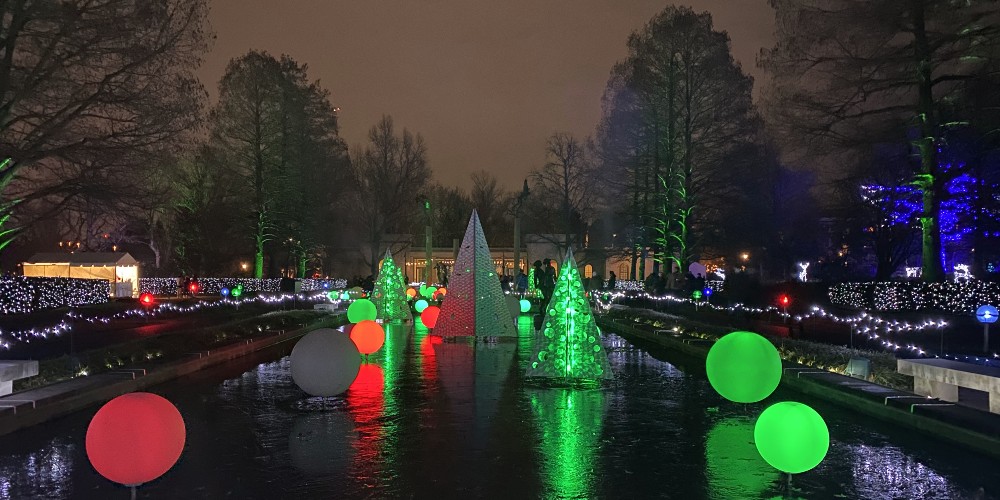 5. Garden Glow at Missouri Botanical Garden: A million lights say happy holidays
The Missouri Botanical Garden in St. Louis is really glowing for the holidays. Garden Glow involves more than a million colorful lights, illuminating the grounds from every possible angle.
Garden Glow runs Nov. 11 through Jan. 2, 2022.
Over 1 million lights create an incredible display in one of Missouri's loveliest gardens.
Come hungry for s'mores, hot chocolate and holiday-themed drinks.
Create your own family Christmas cards with oversized picture frames around the gardens.
Bring kids to meet Santa in his sleigh at Linnaean Plaza starting Nov. 19.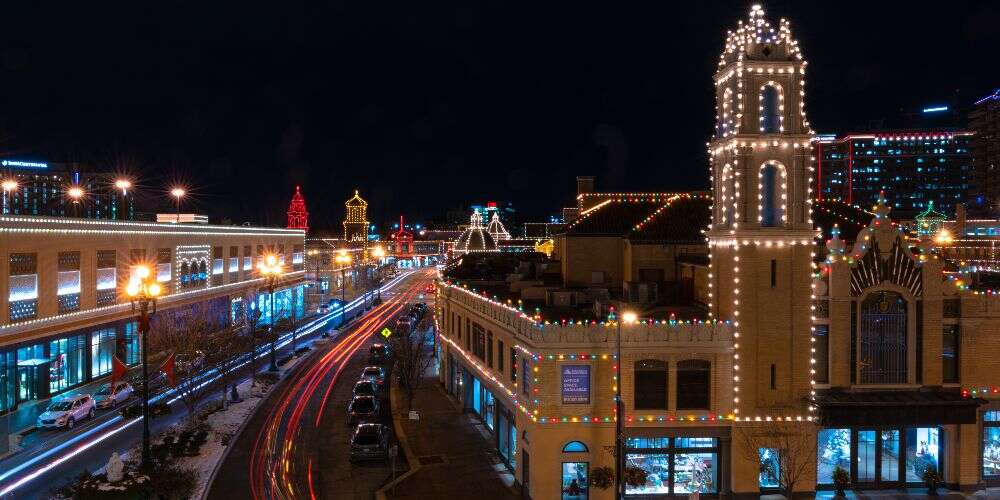 6. Lighting Ceremony at Country Club Plaza: A holiday tradition for over 90 years
Is there anything more exciting than holiday lights? A much-loved tradition for over 90 years, the Country Club Plaza grand lighting ceremony is as thrilling as ever. Just wait for awestruck gasps when the 15-block shopping district suddenly blazes into glorious, light-filled life.
The Evergy Plaza Lighting Ceremony takes place Thanksgiving evening from 5 p.m. to 8 p.m.
A fireworks display will follow the lighting.
A variety of performances will take place during the event.
7. Meier Horseshoe Pines: Make new Missouri family holiday traditions
It is impossible not to be enchanted by Meier Horseshoe Pines in Jackson. They grow five different types of Christmas trees here, from traditional Scotch pine to scented Norway spruce. Kids love to ride out to the tree field on a wagon pulled by giant Belgian horses – one of the world's tallest breeds.
Browse the Christmas shop for unique decorations and gifts.
See the selection of handmade seasonal wreaths and garlands.
Tree fields open the Friday after Thanksgiving and on weekends Nov. 27 – Dec. 19, while supplies last.
8. Wild Nights at Saint Louis Zoo: New Missouri family holiday traditions
Everyone loves a day at the zoo, but a night there is even more thrilling. Wild Nights at the award winning Saint Louis Zoo is one of Missouri's newer holiday traditions, but has already established itself as a must-do festivity for families. The light displays are spectacular – think giant sparkling animals, and lots of them, while carol singers and costumed characters keep kids entertained.
On selected nights from Nov. 26 through Dec. 30.
A special night for visitors with sensory sensitivities is available Dec. 13.
9. Steinberg Skating Rink: The largest outdoor rink in the Midwest
The enormous Steinberg Skating Rink is said to be the largest outdoor rink in the Midwest, and it's also unique in that it doesn't do sessions. So, if you want – or have the stamina – you could skate here all day, but think carefully before you share that news with your energetic kids. The rink is in St. Louis' Forest Park.
The skating season runs from Nov. 13 through Feb. 28, 2022.
The rink is cash only, and an ATM is available on-site.
The rink also offers Bumper Cars on Ice Nov. 19-Jan. 17, 2022.
10. Starr Pines Christmas Tree Farm: Find your own tree for trimming
It's been more than 30 years since Wayne and Ann Starr planted their first trees at Starr Pines Christmas Tree Farm in Boonville. Their story is as heartwarming as the holiday season itself. The farm is named in honor of their first daughter, born just a year after they moved there in 1986. So if you want to create some new Missouri holiday traditions of your own, Starr Pines is the perfect place to start.
Stroll through the fields, choose your own tree and cut it down yourself.
Outside the barn, browse Christmas wreaths and gifts and purchase cartons of cider.
Take the kids to meet the "wise donkeys" and free- roving chickens.
For every tree that is purchased, Starr Pines plant three new seedlings.
The tree farm is open seven days a week, from Thanksgiving to Christmas.
---
Now that you've heard from Family Fun Mo, meet the others. No matter what your family loves to do, there's a Mo to help you find exactly what you're looking for – from good-value accommodations to fun theme parks, family festivals or incredible outdoor adventures.