Why Sarasota and Bradenton for family vacations in Florida?
Family vacations in Florida could begin and end with the dazzling Gulf Coast. This is where the state keeps beautiful beaches, clear waters, pretty resorts and great seaside cities like Sarasota and Bradenton, both of which should be on your must-do list and here's why:
---
1/10

 Mote Marine Aquarium, Sarasota
At interactive Mote Aquarium they start the day with Turtle Time and often end up moonlight kayaking round Sarasota Bay. Fun is high on the agenda here, but conservation and education are equally important – it's hard to spot the difference, but good to know. Over 450 turtles have been treated in Mote's Turtle Hospital in the past 20 years; the aquarium's AZA (Association of Zoos and Aquariums) accredited, and Mote marine biologists are actively involved in research projects as part of the Protect our Reef initiative. Mote Aquarium can easily fill a day; leave at least two hours to see the aquarium alone.
Take a look at Polk County for more family vacations in Florida
2/10

 Treeumph Aerial Adventure Course, Bradenton 
Head for heights? Head to Treeumph, South West Florida's biggest aerial obstacle course spread out over 14 acres of forest in Bradenton. A mix of inventive challenges, ziplines, bridges, slides and pulleys, there's more than enough here to challenge the boldest of teenagers and adults. Ape Up is designed just for seven and eight year olds, so no one is left out. And safety and thrills are well matched: all Treeumph harnesses use advanced Clic-It technology, and nobody climbs anywhere until they've been thoroughly briefed by the team at Base Camp.
3/10

 Kayak Tours, Anna Maria Island
Only 20 minutes from Bradenton, Anna Maria Island is quietly famous for laid back and beachy family vacations in Florida – think ice cream paint colours, soda parlours, cute stores, seafood shacks and acres of pure white sands. Kids love the sense of freedom here and it's a wildlife paradise – if you need proof, take a guided kayak tour of Anna Maria Sound. Sailing through  mysterious Mangroves, spotting pods of dolphin, gliding around rookeries and close to oyster shoals, is a close to perfect Gulf Coast adventure. And the local guides are good fun and know just about everything there is to know about Anna Maria Island's wildest residents.
4/10

 Deep Sea Fishing, Bradenton Area
Deep sea fishing is almost a signature of family vacations in Florida and you don't need to know the difference between a Sea Bass and a Trigger to have fun. Expertise, tuition, equipment and encouragement are all part of a day out with Cortez. They even clean your catch, so all you have to do is fish and cook. This experience is nothing like sitting on a dock: it's high energy, all action and far out at sea. No worries about bored younger kids, teens will rise to the challenge, and nothing tastes quite like your own catch-of-the-day.
Take a look at 7 animal adventures to have on family vacations in Florida
5/10

 Family Boat Tours, Sarasota
A boat tour that guarantees dolphin or manatee spotting has to be put to the test. Le Barge Tropical Cruises in Sarasota are so confident they promise to take you out sailing again for free if they don't come good on sightings first time round. The company are also local experts on everything from stingray to wild birds, they offer discounts on group bookings too and their boats couldn't be cuter.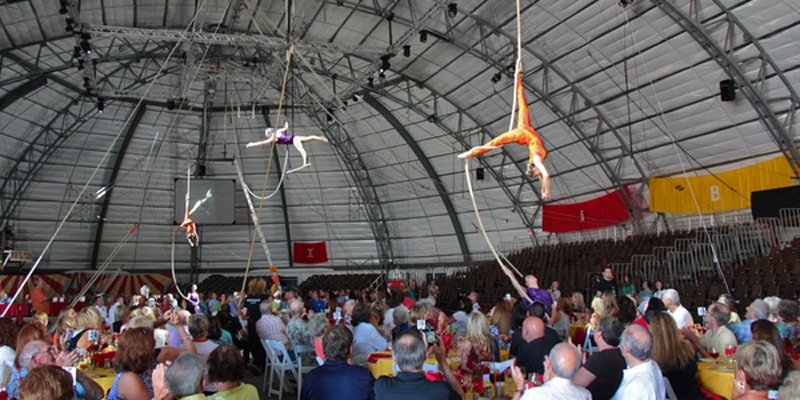 6/10

 Circus Arts Classes, Sarasota
The circus tradition in Sarasota stretches back almost 80 years to when the city was winter home to Ringling Bros and the legendary Barnum & Bailey Circus. This legacy's kept alive today by Circus Sarasota where Big Top skill building is up for grabs each year at the Circus Summer Camp – a week of non-stop thrills and adventure aimed at introducing kids to everything from clowning to tightrope walking. If a full week is a bit of a commitment, Tito Gaona's Trapeze Academy teaches children from age five and classes are as short as two hours. And the Ringling Circus Museum in Sarasota is great fun for kids who prefer to see rather than do.
Find out about Marathon for beachy family vacations in Florida
7/10

 Sarasota Jungle Gardens
At Sarasota Jungle Gardens they must be doing something very right as they opened in 1939 and are still going strong over 80 years later. It's hard to beat the winning formula of petting zoos and animal meet 'n' greets, keeper experiences and wild residents ranging from charming Cockatoos to prehistoric alligators. A year-round kids event programme,  adventure playgrounds and extensive nature trails are all in the mix here too. And look out for star attractions like feeding flamingos, playing with mini-pigs, caring for injured animals and exploring Old Florida.
8/10

 Manatee Village Historical Park, Bradenton Area
If you've ever wondered what life was like in Florida before theme parks, visit Manatee Village and all will be revealed. This carefully recreated pioneer village is precise down to the smallest detail and takes you back to a time of mills and blacksmiths, wooden courthouses, dry goods' stores, smokehouses, potteries and well-tended vegetable gardens. The Settler's House is an Instagram icon, kids love the Schoolhouse and everyone's enchanted by the village church's gentle charm. It's a living museum thanks to a community of resident artists and artisans who work and it hosts events all year round, from farm markets to heritage open days.
9/10

 Coquina Beach, Anna Maria Island, Bradenton Area
Conde Nast Traveller has named Coquina Beach on Anna Maria Island one of the 'Top Five Beaches in the World for Perfect Sand'. It's often described as Old Style Florida, so expect wooden lifeguard towers, brightly coloured sun umbrellas, paddling locals and a peaceful atmosphere. If you can be bothered, wander down the quaint pier and explore the shady pine forest or have a swim in the clear sea. Alternatively, just sit on the 'perfect sand', admire the view and soak up the Gulf Coast vibe.
10/10

 Siesta Key Beaches, Sarasota
Siesta Key Beaches in Sarasota are mostly about acres of pure white sand (99% quartz and cool underfoot, even on the hottest days).  But there are several volleyball courts, safe and shallow waters for swimming and full time lifeguard patrols too. They also have Blue Wave status for cleanliness and water quality, and roll-out ADA walkways for buggies, wheelchairs and pedestrians make them very easy to enjoy.
Family vacations in Florida not enough of a getaway this summer? Check out 9 best places in Sierra Nevada to escape crowds. And don't forget to follow Family Traveller on Instagram and Facebook and share your travel plans – or just say 'hi'.