With breathtaking national parks, charming steam trains, boutique hotels and even underground trampolines, discover how Wales is one big playground for families!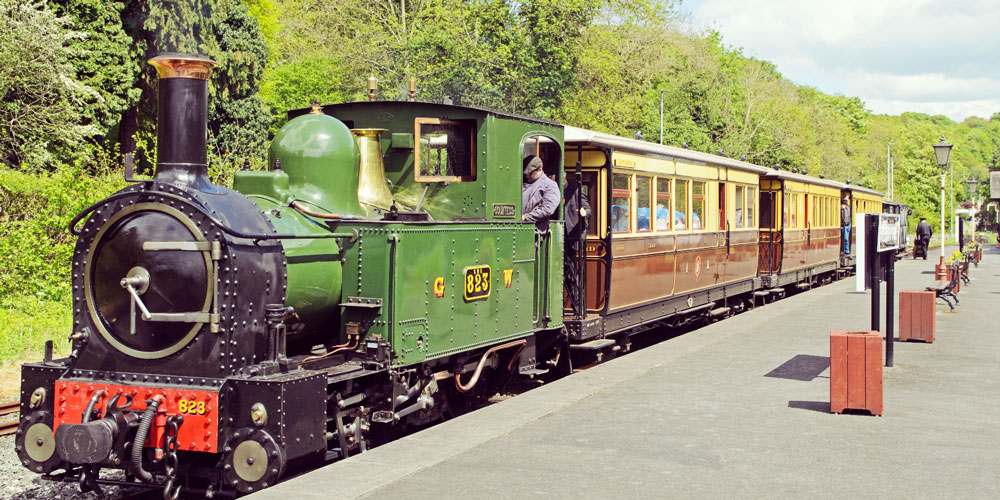 Welshpool & Llanfair Steam Train by Mike Heath
Welshpool & Llanfair Steam Train
Billowing smoke disperses through a moving picture of green valleys framed by the windows of a little steam train. Its history gleaming in the varnish of its honey-wood walls and planked wooden seats that capture the upright alertness once found in a Victorian era classroom. ­
Built to serve the villages between Welshpool & Llanfair, the narrow-gauge railway welcomed its maiden voyage in 1903 and served for 53 years until it no longer made economic sense. Train enthusiasts championed for the line to reopen as a heritage railway, solidifying Welshpool and Llanfair Railway's position as part of 'The Great Little Trains of Wales' movement.
Led by the banks of Banwy River, the train traverses through Banwy's fertile valleys, chugging past agricultural pastures, lone stone cottages and the sprawl that is William Hague's mansion house.
Every shrill of the whistle and hiss of steam is sure to delight children along the way.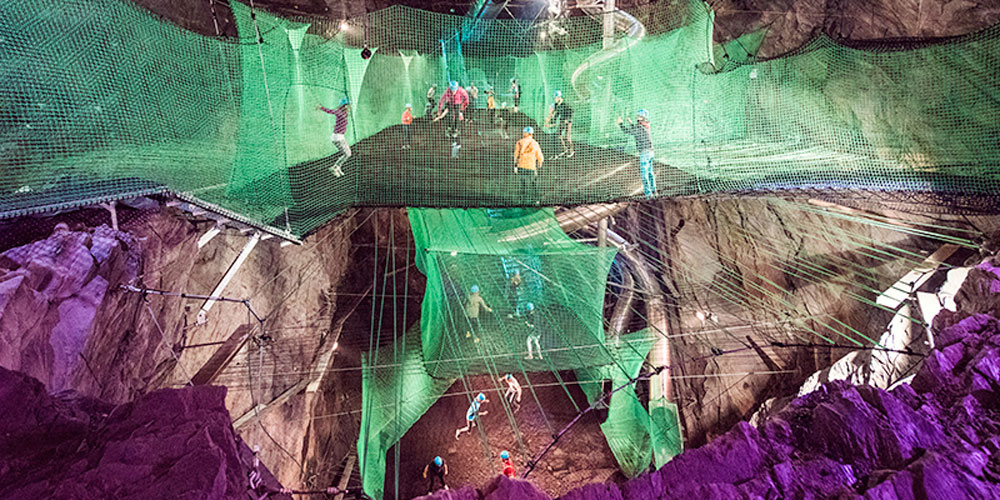 Blaenau Ffestiniog Zip World
Squeezed between slivers of slate, an extraordinary labyrinth of nets is strung between amethyst lit rock faces that spiral into the belly of the mountain.
Leaving its dusty tones behind, Llechwedd Slate Cavern has emerged, 200 years on, as a glorified rainbow lit adventure paradise, where families can challenge their adrenaline capacity by zipping from rock to rock, tightrope walking across narrow drops – all cradled by mesh. The bravest family members have the option to select a challenging finish by tackling the UK's steepest zipwire.
Younger folk will appreciate the gentler option of 'Bounce Below', a cocoon of nets draped deep within the cavern that will catapult children into the air for a euphoric trampolining experience.
For those with a stomach for it, should head topside to experience 'Titan', the world's first 4 person seated zipline that hurtles families over 2,000 metres of valleys, offering an unfiltered view of Blaenau Ffestiniog.
It's a thrilling experience that's sure to be embedded into the minds of children for years to come.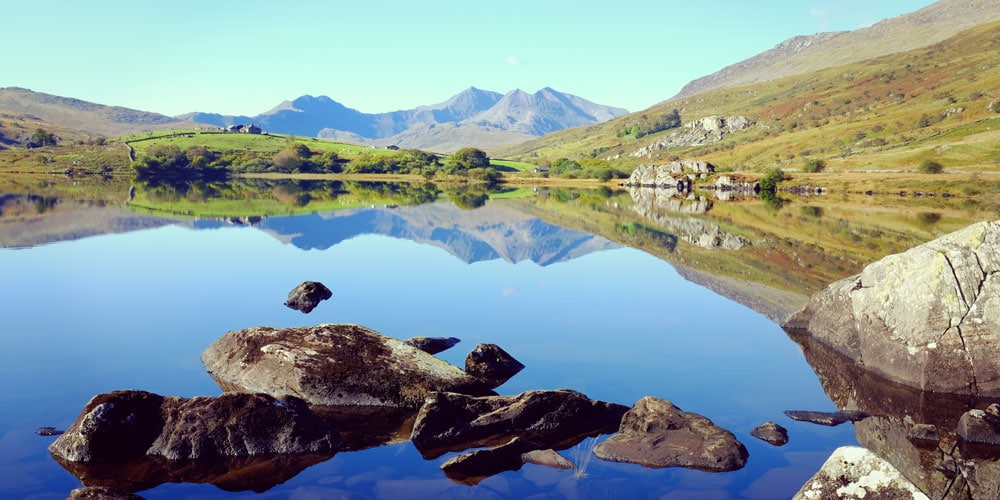 Snowdonia National Park – Getty images
Cross Foxes Restaurant, Snowdonia National Park
A cozy stone house spills light across the foot of Cadair Idris; its tables packed with a world of explorers warming themselves through with hearty servings of welsh lamb pie roofed with golden crust pastry, sides of creamy mash and garden-picked beans tossed in butter.
Doing simple well has earned Cross Foxes 'Gold' recognition from Visit Wales for its upbeat service, use of local produce and smart casual surrounds that's suited to families.
In true rural manner, the mountain dictates the hours – catching explorers on the early, a full English breakfast served from 8am that will fuel families for a ramble over Cadair Idris leaving dusk to bring in the last mountaineers careering down the slopes for the final evening service to grab a spot of winter warming goodness, just the reward after a robust day of hiking.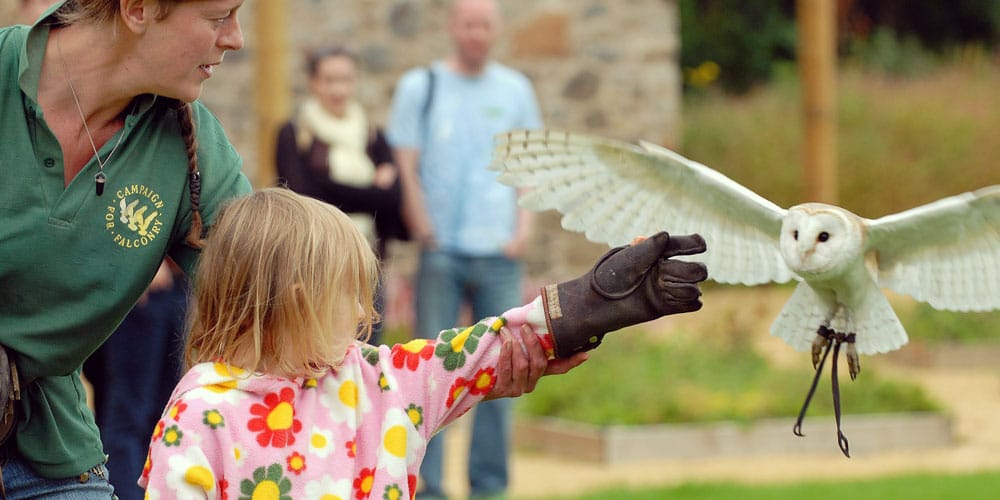 Falconry Experience Wales, Machynlleth
Taking expertise garnered from the banks of the Gambia River to the Welsh mountain ranges of Cambria, Ornithologist, Barry Macdonald and his wife Luce, have created a haven for birds of prey – sheltering and rearing wild birds including Mog, a pint-sized house owl who leaves an indelible mark on everyone who meets her.
Conservation sits at the heart of Falconry Experience Wales, whose team work hard to educate families on how to care for and handle the birds, have also purposefully bred in captivity a range of falcons, eagles, hawks, and Altai, a famed golden eagle who starred alongside Jean Reno in the film 'Brothers of the Wind'.
Whether a feathered fascination has been nurtured by JK Rowling's Harry Potter, Barry and Luce will tailor a personal experience for every child and parent within an intimate setting that ensures a safe and extraordinary hands-on encounter with these magnificent creatures of the wild.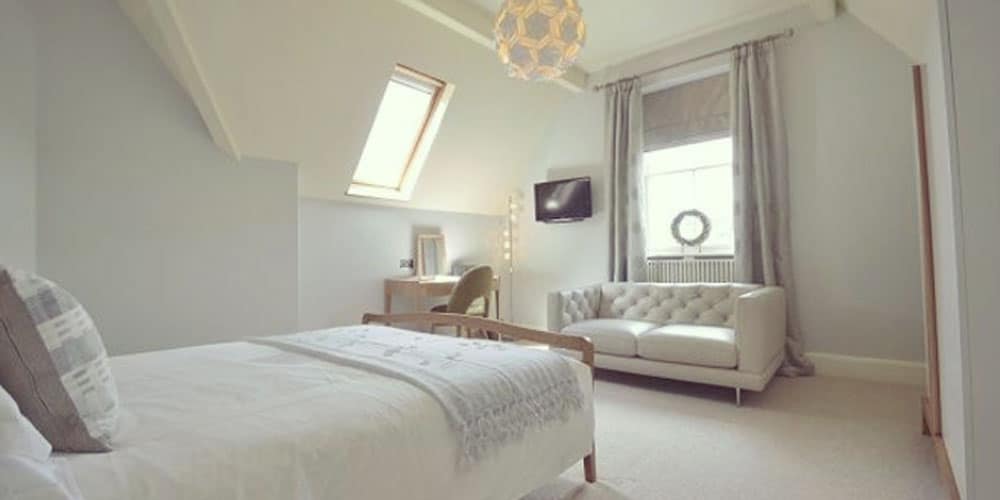 Ffynnon Boutique Hotel
Sitting in the shadows of Cadair Idris, the beautifully restored stone-house of Ffynnon Boutique Hotel has encapsulated the detail of gothic grandeur and simple contemporary lines; its palette of dove grey, white and caramel tones­­, a wrap of calm.
As a nod to its Victorian-Gothic roots, an imposing arched stain-glass window scatters a kaleidoscope of colours across the stairwell leading down to an elegant furnished library with a chandelier glittering over the ebony-ivory keys of a baby grand and an open fireplace that's flanked by oatmeal couches, all welcoming a drop of tea and home-baked scones served with berried jam and clotted cream.
Families will appreciate the 'hazel suite' that has its own private entrance, a spacious lounge, and a contemporary designed wet room including a freestanding bath that encourages a soak after a long day of hiking.
Stepping away from the chill of the mountain air has never been cosier.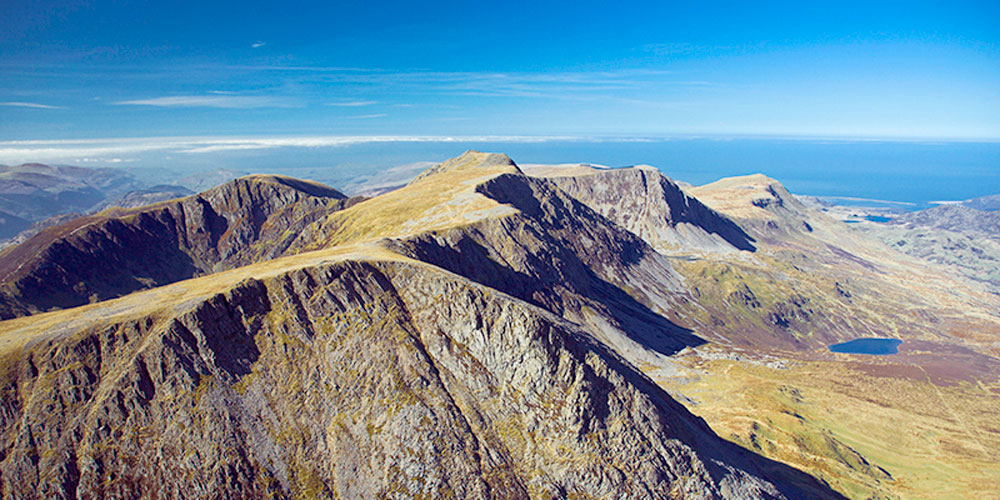 © Crown copyright (2016) Visit Wales
Cadair Idris
Cadair Idris has inspired myths and created legends; its craggy peaks often shrouded in mist, scraping the clouds at 893 metres high, its rock faces curving down to navy-hued mirrored waters – an area so beautiful that the Welsh legend of Idris, a giant, had the good sense to make the mountain his chair.
Idris's Chair, while a restful place, requires stamina when negotiating the grass tufted rocky paths and scree patches. The more forgiving Pony Track is ideal for amateur hikers. With two entrances to choose from – either the carpark of Ty-nant or the village of Dolgellau, the 10 kilometres walk eases into the incline and has an estimated time of about 5 hours from start to finish.
For those who are conditioned to handle steeper inclines, the more scenic Minffordd track cuts the journey time by half, taking hikers steeply up at the outset.
To navigate successfully through Cadair Idris's 'four seasons in one day' climate, come equipped with proper hiking boots and layers that can cope with both warm and cool weather, plus a pack full of food and water.
With the essentials sorted, reaching the 'tippy top' is incentive enough for determined young explorers keen to experience the thrill of summiting.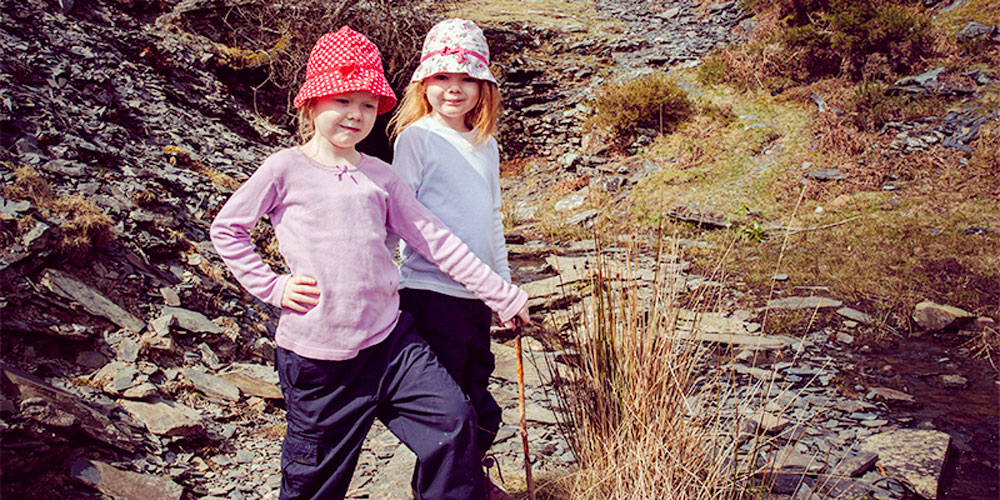 Slate Valley Paths, Gwynedd
There's something appealing about being the crowd; among mountains packed with empty horizons that encourage the cheerful hollers of children.
More than just hills, Gwynedd has a myriad of slate quarries that open a world of imaginative play. Tracing its mining roots to middle ages, slate was carted by horses up until 18th century when modernisation occurred in the form of steam trains.
The dirt paths reveal the hardship faced by quarrymen, who trudged across precarious slopes to move entire rock-faces – the juxtaposition of wealth and poverty exposed in the remains of derelict slate huts and rusted rail tracks. Today, much of region's slate mines sit on the tentative 'World Heritage Site' list.
There's plenty of easy to moderate walking routes to choose from within the valleys of Ogwen, Peris, Nantlle, Blaenau Ffestiniog and Corris.
Indeed, its mountain quarries are as good as it gets for a Famous Five styled adventure so pack in sarnies, ruby-red apples and thick slices of sponge cake for a half day hike through beautiful rugged slate country.
On good weather days, RAF jets can be spotted flying across the mountain tops.