London is a vibrant city and a great one to introduce the kids to international travel. Whether you're ready to get your child's first passport stamp or 20th, London is a must-visit for any kid, and we have the 10 best things to do in London with kids.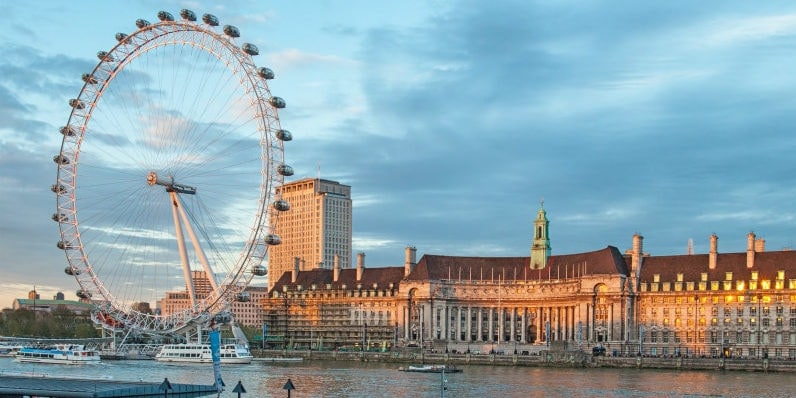 Take in views of London from the London Eye
One of London's most iconic modern landmarks and the world's highest observation wheel, the London Eye offers far-reaching aerial views of the city and beyond – as far as Windsor castle on a clear day – and is a must-do attraction in fine weather.
The slowly rotating pods have a maximum capacity of 25, ensuring great views for every passenger on the half hour flight.
Nearest tube station: Westminster
Visit London's Premier Toy Shop, Hamleys
The finest, biggest and most famous toy shop in the world – Hamleys needs little introduction. Seven floors of enthusiastic and child-friendly staff test drive all the latest games, gizmo's and gadgets: not to mention demonstration areas allowing kids to play with it, build it, draw it, design it and fly whatever they like.
To call it shopping is underselling it – this is a fabulously over-the-top junior retail experience.
Nearest tube station: Oxford Circus
Visit London's Iconic Zoo
London Zoo is home to all the usual suspects. But it's more than just a showcase for some of the world's wildest animals: its primary role is that of conservation.
Its location means it's been unable to expand over the years but it has seen massive improvements in the animals' living conditions. Harry Potter fans will recognise the reptile house from The Philosopher's Stone.
Nearest tube station: Regent's Park
Visit London of the Past at the London Dungeons
Not for the faint-hearted (or those under eight), the London Dungeons takes visitors through a 90-minute potted history of London's murky past, using spine-chilling storytelling, horrific re-enactments and a series of rides and shows.
It's tongue-in-cheek scary – using actors, severed limbs and special effects. Meet some of the cities most notorious residents, including Jack the Ripper and Sweeney Todd as you journey through 1,000 years of history.
Nearest tube station: London Waterloo
Find Cultural Fun at the Somerset House
Somerset House is a major arts and cultural centre in the heart of London and offers regular, weekend family workshops exploring everything from painting and model-making to fashion design and animation.
Famous for its sensational winter ice-rink, it is equally worth a visit in summer months when over 50 mini fountains dance around the courtyard providing a wonderful water playground for over-heated children. And there's plenty of places to eat.
Nearest tube stations: Temple and Embankment
Get Interactive at the Science Museum
Join the Red Arrows on one of their aerobatic displays, step inside a human bubble, see what you look like through the lens of a thermal imaging camera, manipulate light using mirrors, lenses and filters to create your own rainbow, and launch your own rocket.
With over 800 hands-on interactive displays, the Science Museum encourages children to experiment, examine and explore to their hearts content. Boring old museum this is not!
Nearest tube station: South Kensington
Enjoy Eats and Street Entertainment at Covent Garden
Home to the Royal Opera House, the London Transport Museum, a mass of different eateries, boutiques, market stalls and the best street theatre in the capital, it's hard not to fall in love with the charm of Covent Garden, whatever your age.
Offering some of the best people-watching alfresco dining opportunities in London, the kids will be entertained by everything from fire eaters to mime acts, musicians to magicians.
Nearest tube station: Covent Garden
Take a Boat Ride on the Thames
For a view of London's historical landmarks, take a cruise on the capital's oldest thoroughfare, the River Thames. Thames River Cruises offer a circular hop-on, hop-off tour, enabling you to stop and visit different sites.
Pass under Tower Bridge and marvel at one of the world's most famous fortresses, The Tower of London, then explore The Docklands, Canary Wharf, The Thames Barrier and Greenwich.
Location: You can catch a Thames River Cruise at Greenwich (SE10 9HT), St Katharine's Pier (E1W 1LD), and Westminster Pier (SW1A 2JH)
Picnic in Hyde Park
An oasis of green, Hyde Park is central London's largest park: the perfect spot for a picnic or for little ones to run around in. Hire a boat on the Serpentine – the lake that dominates the park – or, for a couple of months a year, you can even don your swimmers and take to the Lido, the oldest swimming club in Britain.
For those wanting to keep their feet dry, bike hire and horse riding opportunities offer alternative ways of whiling away a day.
Nearest tube stations: Hyde Park Corner or Marble Arch

See the Natural World at the Natural History Museum
Watch thousands of live leafcutter ants at work, come face-to-face with the animatronic T-Rex with his 15cm long teeth, check out the size of the massive blue whale and feel the earth move under your feet in the earthquake room.
Explorer backpacks (complete with safari hat, binoculars and activity kit) are available for under-sevens and Discovery Guides for kids aged 4-16 relate museum exhibits to the national curriculum.
Nearest tube station: South Kengsington