Jet off to laid-back Jamaica, land of white sand, blue seas, hammocks on the beach, and a mellow reggae soundtrack. It's also the land of Usain Bolt — and you don't get to be the fastest man alive by lying around doing nothing.
Jamaica is the top island for white water tubing, forest zip-lining, extreme mountain biking, cliff-jumping, scuba diving and all-out adventure. It should be on your family's holiday wish list by now. But if it isn't, here are 10 very good reasons to rethink..
1/10

 Zip lines, dune buggies and wild water tubing

Good Hope Estate is one of Jamaica's great all-rounders. It's a picturesque plantation right down to the colonial architecture and tropical gardens. It's also a fantasy land of zip-lining, dune buggies, all terrain challenges, and enough white water action to satisfy the pickiest of teens.

Take the estate tour while kids are rampaging around, or admit you're not too old for an all-out adventure and join them! Relaxed Good Hope works beautifully for everyone. Or, if you're looking for a kids-free afternoon, enjoy the plantation's homemade rum.
2/10

 Swim with dolphins for the day

Spend the day at Dolphin Cove and discover the delights of swimming with dolphins in their natural habitat — the warm, clear, Caribbean sea. Gentle meet and greets are perfect for younger kids, while bold teens can take to the water with porpoise pairs for a swim. Plus, they learn the art of the dolphin's legendary "foot push" – phones at the ready for this one; it's an Instagram classic.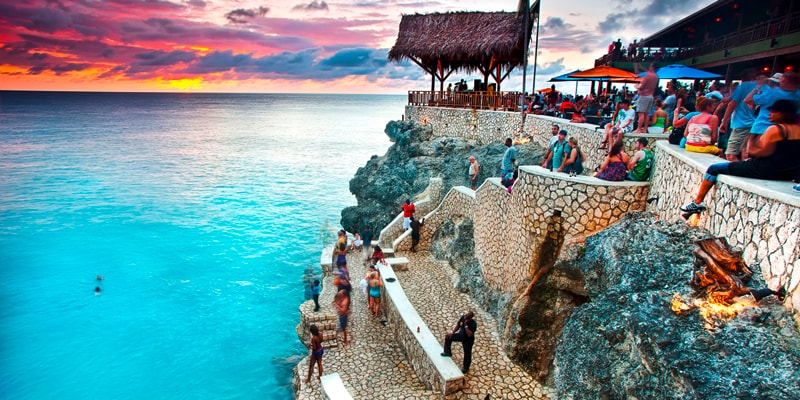 3/10

 Go cliff jumping at Rick's Café

There comes a time in every parent's life when you just have to let your little ones jump off a cliff. Don't worry, though — jumping into the big, blue Caribbean at Rick's Café is a Jamaican rite of passage for older teens, a tradition that's been lovingly upheld for the past 35 years.

You might want to exert a bit of caution and,understandably, take, a "not on my watch" stand for this particular feat, but you can still boost your cool credentials with a round of teen-perfect mocktails at the bar — it's regularly voted one of the 10 Best in the World. Cute pool, pretty people, and a view of the island's finest sunsets come standard. They also serve up a mean jerk chicken all-way — cliff jumping, optional.
4/10

  World-class snorkeling

World-class snorkeling is a talent particular to the Caribbean – hard to go wrong with transparent water, flawless coral reefs and earth's biggest natural aquarium right under the surface.  Jamaica stands out as one of the best destinations to pop on a mask and flippers in the Caribbean, – especially for first-timers.

The island is famous for shallow off-shore sites, great beaches and year-round visibility – almost unheard of elsewhere, even in the calmest stretches of the Caribbean. Jamaica also has some of the world's top dive schools, and several specialise in teaching beginners and families. So. if your kids haven't tried snorkelling yet, prepare for Jamaica to be the start of a lifelong passion.
5/10

 Ride the rapids at Dunn River Falls

These 600-foot-high falls are astonishing to look at and jaw-droppingly exciting to play on, and are as famous in Jamaica as jerk chicken, reggae and rum — almost. The noise of rushing water alone is stupendous, but once kids get used to the racket — which takes about 30 seconds — they dive right i. Younger children might want to stick with a walk, but fortune favours the brave teen with everything from white-water tubing and rafting to zip-lining.

This is one of Jamaica's biggest attractions, and thousands of visitors roar down Dunn every year. The adventure is well-managed and safe even at its most thrilling and busy, which comes as good news for parents. Your kids will never forget this adrenaline rush!
6/10

 Take conscientious teens on an eco-cruise

Wild adventuring is a big part of any vacation in Jamaica, but the island doesn't get to be such good fun without a little taking care of. Teens with a conservation-conscious mind will love eco-cruises to Bogue Lagoon Fish & Bird Sanctuary.

Sailing the Caribbean on a traditional catamaran is fantastic on its own — add snorkelling in the island's most heavily protected lagoon surrounded by impossibly colourful marine life into the equation and this experience is as close to perfection for young nature lovers as it's possible to get.

The journey along lamplit Montego Bay to safe harbour is one of those childhood memories everyone deserves to have stored away.
7/10

 Any day's a great golf day in Jamaica

Jamaica has some of the world's most challenging and downright gorgeous golf courses. If you want a memorable round or two with your equally passionate teen player, book some tee time at Tryall.

Ranked as one of the Caribbean's top five clubs, Tryall's 18-hole championship course is designed on an 18th-century sugar plantation. Views from the greens are lovely, and the club limits player numbers, so you can enjoy a morning or afternoon in flawless peace. The silence will probably come in handy as Tryall is known for several demanding holes and some tricky natural hazards.
8/10

 Go horseback riding on the beach

Even if kids don't know the first thing about horses, Half Moon Equestrian Centre on Montego Bay will have them riding confidently in no time. One of Jamaica's finest stables and wonderful for beginners, Half Moon is also the place for the magical experience of riding bareback along a Caribbean beach.

Sounding a bit advanced for beginners? Kids get to know their horse first, take a few turns round the paddock before heading out to the beach. Kids are outfitted with helmets and life-jackets as standard. A canter along the sand and splashing about in the sea is all done with an expert guide in tow. So it's great fun and plenty exciting, but reassuringly safe too.

9/10

  Bobsledding in the rainforest on Mystic Mountain

Wild doesn't come wilder than Ochos Rios rainforest, even in Jamaica. This huge, lush park is a wildlife wonderland. That's where Mystic Mountain comes in, with everything from treetop ziplining and sky tours to hair raising waterslides and bobsled rides.

Kids never traveled at speed through a rainforest before? Try the unique bobsled for starters. But bear in mind Mystic Mountain is Jamaica's leading attraction, so you've little chance of getting through a vacation with just one visit to Ochos Rios.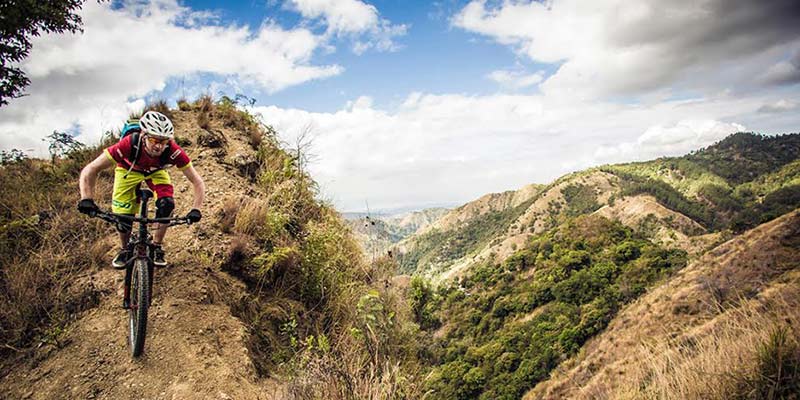 10/10

  Extreme mountain biking in the Blue Mountains

If kids know the difference between "all mountain" and "enduro," they'll be more than up for a "Jamaican Technical" mountain bike jaunt in the Blue Mountains.

The Blue Mountains are spectacular, and are home to some of the tallest peaks in the Caribbean, so rides here aren't the ones to go on alone. Luckily, Jamaica has some of the world's best guides to keep teens on track. It's the land of Fat Bike and Gravity Jamaica, so expert credentials and very high levels of cool are never in doubt.