In search of this year's best carry on luggage, Family Traveller contributor Colleen Kelly discovered these 11 chart-topping options across categories like price, convenience, and appearance.
Your carry on luggage might be the only suitcase you're toting around and its quality can make or break the ease of travel. A good carry-on is affordable, durable, and meets airline standards – and gets bonus points for style. Whether you're a weekend warrior or long-term nomad, these choices are sure to improve your travel experience on the ground and in the air.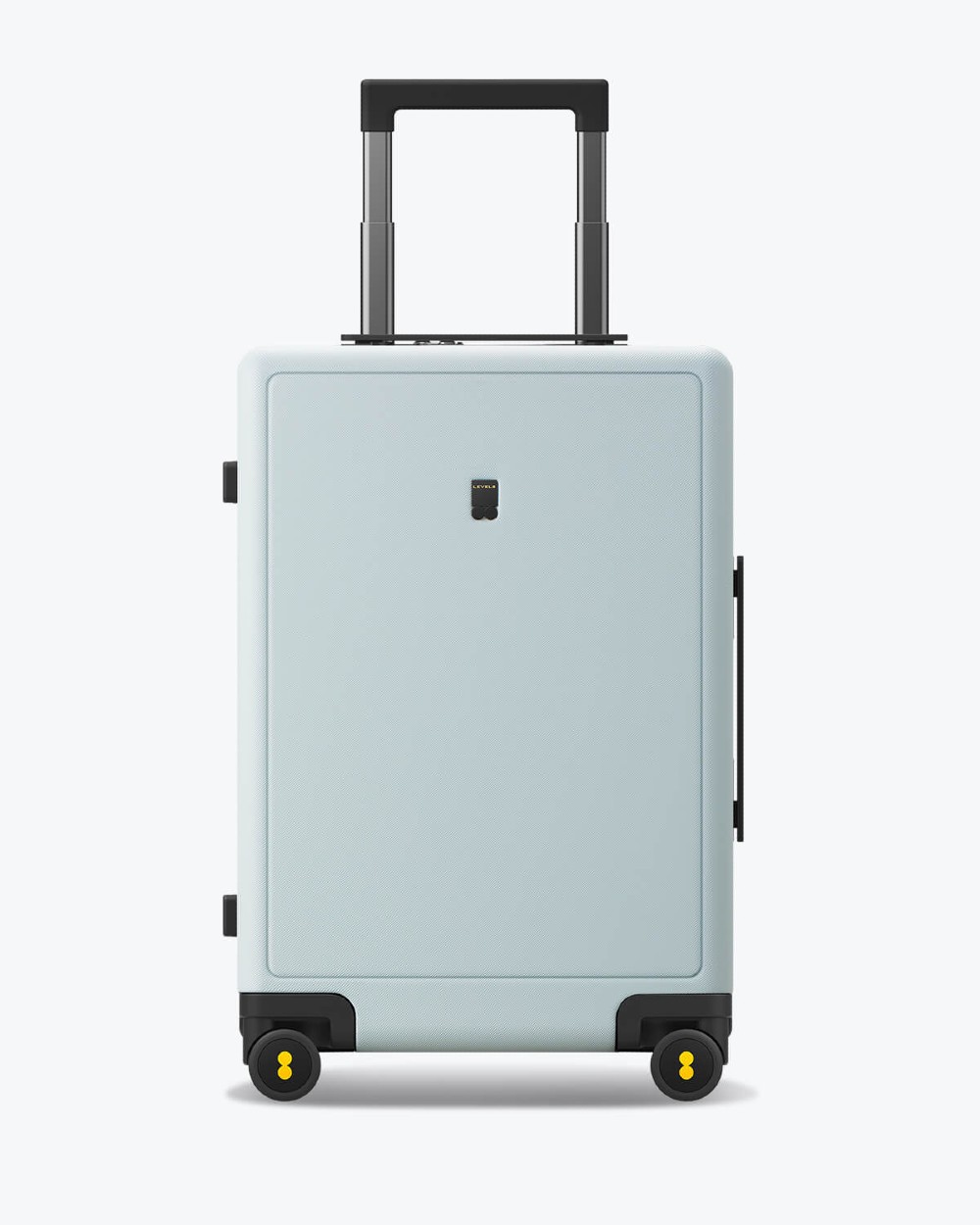 Best carry on overall: LEVEL 8 Luminous
Affordable, Sturdy, Chic
Level up your travel game with LEVEL8's Luminous. This suitcase comes as our first pick. It's low-cost without compromising on space or flexibility and it's the perfect combination of strength and sophisticated style. LEVEL8 is committed to perfect practicality and inspiring infinite adventure. It has 360 spinner wheels, a durable polycarbonate shell, 4-height handle, a lightweight build, and TSA lock. Its textured, 3 layer polycarbonate case can withstand airline treatment and comes in 4 modern colors that compliment its sleek shape. Luminous is your best bet for an adaptable, all-purpose carry-on.
Bag size: 21.5 x 14.5 x 9.2 / 7.7 lbs. From $159
Best carry on luggage under $100: Coolife Luggage
Economical, Fresh, Tough
Coolife is a hip but reliable budget brand that comes in many colors. This lightweight suitcase features compact convenience in dent resistant material for a fraction of the cost. It has been through rigorous impact testing and has proven itself well against any rough handling. It features spinner wheels and a TSA security lock and is also part of a stackable luggage set, all designed to make travel easy and wallet friendly.
Bag size: 15.4 x 8.7 x 22.4 / 6.7 lbs. From $60.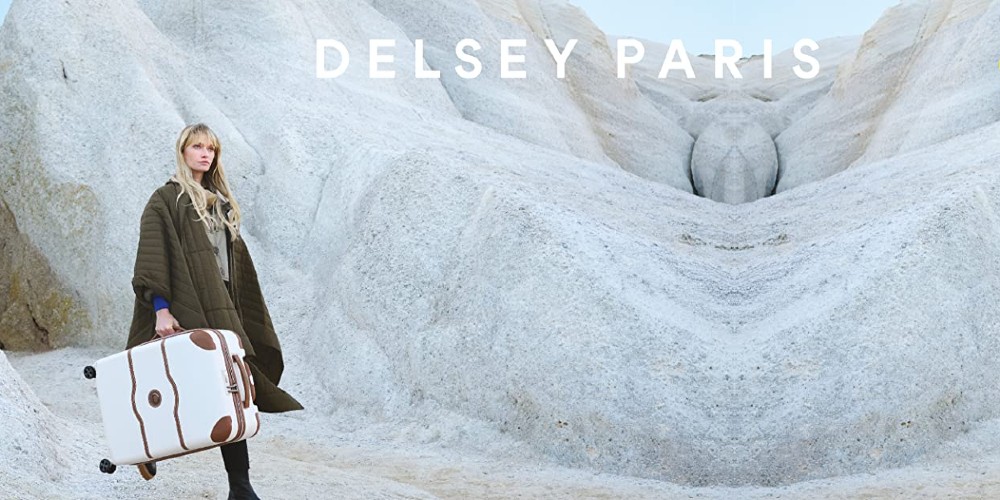 Leading lightweight: Delsey Paris Clavel
Featherlight, Modern, Resilient
At just over 5 pounds, Delsey's ultralight luggage can be packed to the limit without unnecessary weight. It's made with 100% polypropylene, so it's both airy and extremely hardy with a supple, aerodynamic shell. Choose from a broad range of colors with handsome tones and shades of sorbet. This carry-on suitcase won the 2020 Red Dot Design Award for its combination of usability and fashion sense. Its patented closing system and elegant shape are sure to inspire a classy, comfortable journey.
Bag size: 9.75 x 13.75 x 21.75 / 5.3 lbs. From $177.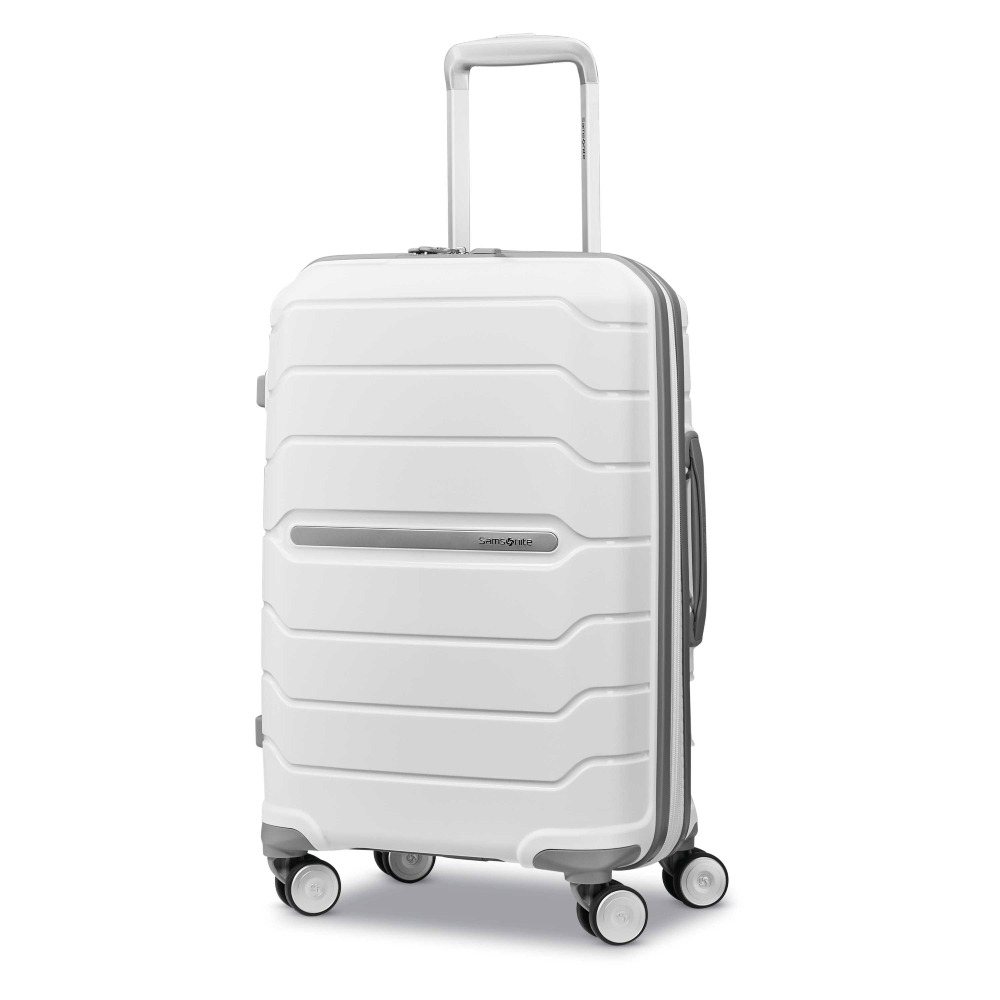 Best expandable carry on: Samsonite Freeform
Progressive, Confident, Reliable
Samsonite is one the most reliable travel brands on the market. However, the Freeform pairs historic dependability with extra functionality and a futuristic design. Universally, travelers want space but less bulk, more maneuverability, and long-lasting quality. Samsonite hears you and Freeform delivers all of this along with a 10-year warranty. You also have the advantage of 360 spinner wheels and a TSA lock, alongside an internal organization system. There are also 15 color options so you get pretty sweet form with your function.
Bag size: 10 x 15.25 x 21.25 / 6.5 lbs. From $190.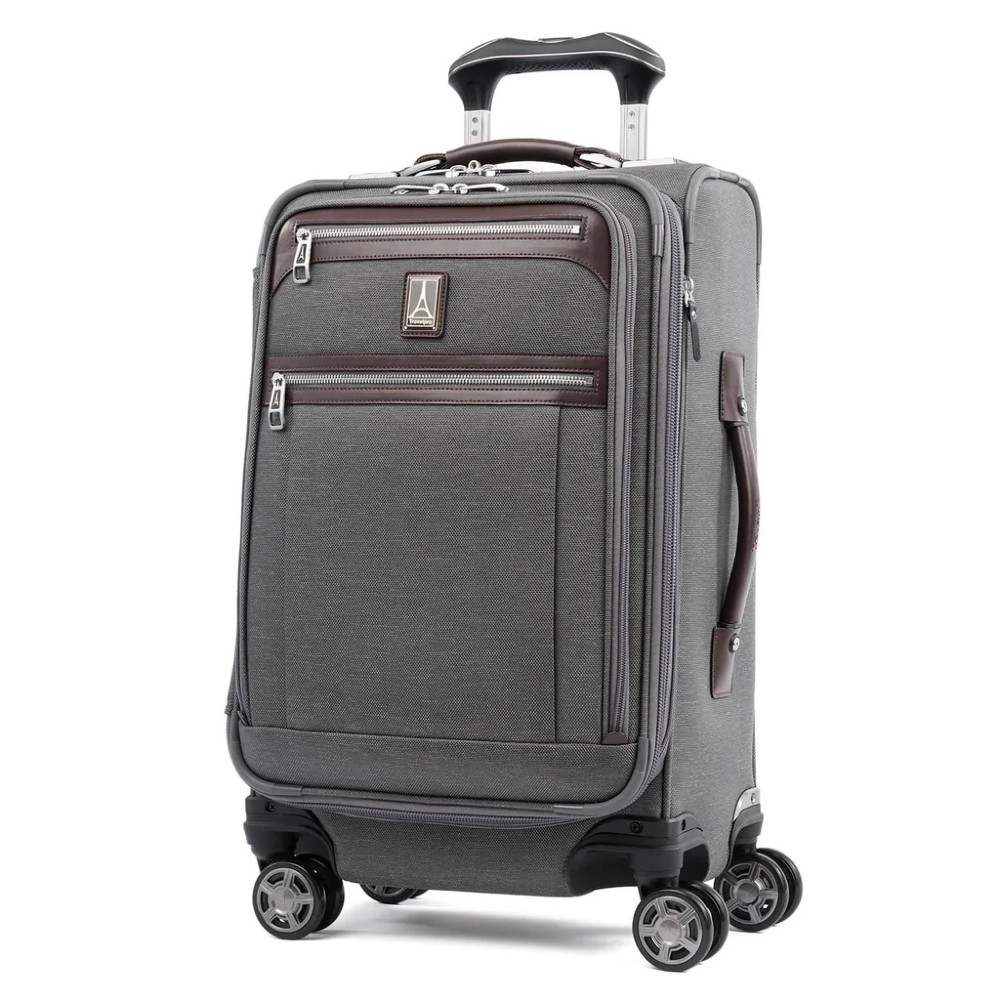 Top softshell recommendation: Travelpro Platinum Elite
Luxurious, Thoughtful, Practical
A first-class carry-on for any tier of travel, the Travelpro Platinum Elite is an opulent soft-shell suitcase with a lifetime warranty. So you can fly for 100s of 1000s of miles without worrying about wear and tear. Its appearance is at once worldly and wise, but also cosmopolitan and determined. It comes with a patented contour grip handle and dedicated power port compartment, as well as a precision glide system. In addition, multiple internal and external accessory pockets mean this powerful carry on could become your favorite all-time traveling companion.
Bag size: 9 x 14.5 x 23.5 / 9.8 lbs. From $444.
Best carry on backpack: Cotopaxi Allpa 42l
Cool, Eco-friendly, Comfortable
Cotopaxi is a sustainable outdoor brand that uses recycled materials and community artists to create their products. Each pack is as individual as you are and there are endless color combinations to suit your personal taste. Additionally, the bag comes packed with pockets. In fact it has a total of eight, including two designed for laptops, plus a hidden compartment for valuables. The backpack opens suitcase style for maximum accessibility and keeps comfort in mind with padded and adjustable chest and hip straps. In more good news, a portion of every purchase's revenue is funneled into combating climate change. So this one of a kind carry-on is a real game changer.
Bag size: 22 x 14 x 11 / 4 lbs 2 oz. From $210.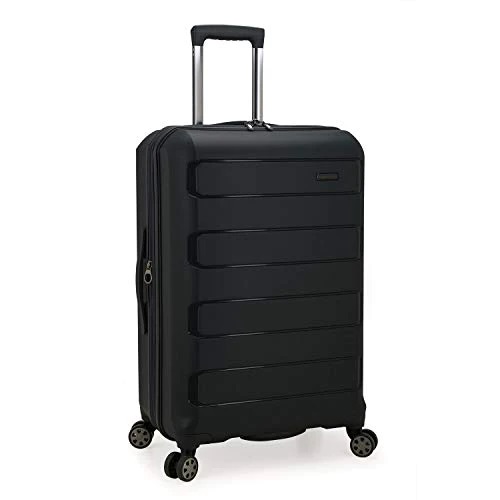 Toughest carry on luggage: Rockland Pagosa
Heavy-duty, Large, Flexible
This piece from Pagosa is made of textured polypropylene that is abrasion, water, and scratch resistent. Therefore the outer hard shell luggage design is considered to be nearly unbreakable and is sure to outlast travel's toughest tests. Internally, it's lined with an antimicrobial material to protect against unwanted bacteria. The Pagosa also features a 2 port charging system and 360 spinner wheels. Additionally, it offers a 2 inch expansion option, and self-locking mechanism. Although it's the largest carry-on luggage on our list, it still maintains a crisp appearance and is offered in five standard colors.
Bag size: 22 x 14.25 x 9.25 / 6.3 lbs. From $67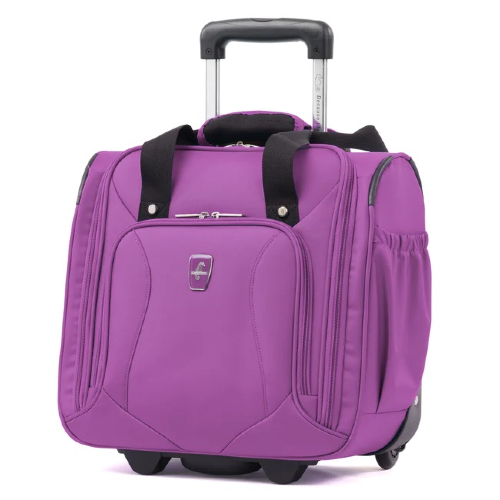 Best carry on luggage for underseat: Atlanta Luggage
Compact, Flexible, Convenient
An underseat carry on you don't need to carry is ideal for managing the parent/kids/airport combo. This one is small enough to fit beneath a seat, but has a roomy main compartment for all your on-board travel essentials. A single-hand push-button extension handle gives you rollable control even when you're wrangling your pack through security. Plus, it's made from strong, polyester fabric with a waterproof coating, so it deals with spills and leaks like a pro.
Bag size: 14 x 14.5 x 7/4.5lbs. From $79.95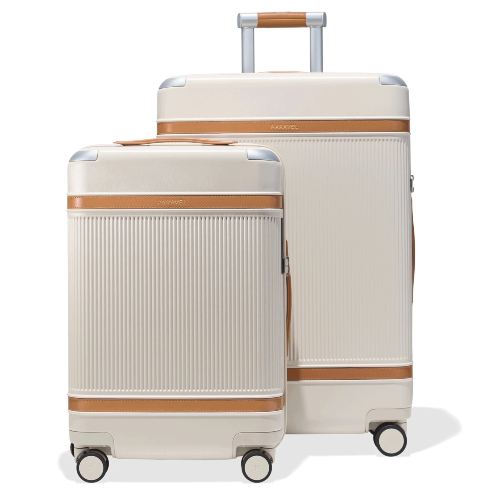 Most stylish carry on: Paravel Aviator
Gorgeous, Sustainable, Versatile
Contrasting textiles and textures and a classic color palette with vintage appeal make Paravel's Aviator luggage quite a looker. However, Paravel's products are not only beautiful in photos, they're our most eco-conscious choice too. This piece is made from 100% recycled material and vegan leather and Paravel off-sets carbon emissions too. Although, the perks don't end with style and a clean conscience. The Aviator also includes an interior compression board and laundry bag, as well as 360 spinner wheels. Plus, it's large enough for up to a week's worth of clothing.
Bag size: 13.7 x 9 x 21.7 / 17.6 lbs. From $350

Best carry on luggage for tech: Hanke
Strong, Accessible, Intuitive
The clever Hanke carry-on features a handy front pocket with a 180° opening to speed up airport security. This flawless design allows users to slide their tech tools in and out with ease into two spaces designated for a 15.6" laptop, a 9.7" tablet, and 2 storage compartments for chargers and accessories. The carry on combines ample and accessible gadget storage with a timeless, smooth design in 6 deep but muted hues. This hard shell luggage is made from a durable aluminum frame and PVC cover that supports a solid, spacious, and secure construction for the best suitcase experience.
Bag size: 14.37 x 9.25 x 19.09 / 8.7 lbs. From $152.
Best carry on luggage for kids: Somode Scooter
Fun, Versatile, Strong
The Somode Scooter carry on is the hybrid that's cool enough for teens, kid-friendly and even serves business looks for adult scooters. It's compact, but at 50L with five separate compartments, has all the room young travelers need for their 'essentials. Handy pockets keep tech organised, so on-board entertainment is fuss-free. Constructed out of aluminu-magnesium alloy, the scooter frame is strong, stable and can hold riders of up to 331lbs. And as an added bonus the carry-on doubles as a bag for school, so as well as making airport navigation more fun, it's also an excellent investment.
Bag size: 25 x 14.4 x 11.8/ 13.2 lbs. From $239.99