11 of the Best Afternoon Teas in London for Families
Whether you're celebrating a birthday or just fancy a special treat for tired little feet sightseeing in London, a family friendly afternoon tea in the capital is just the ticket.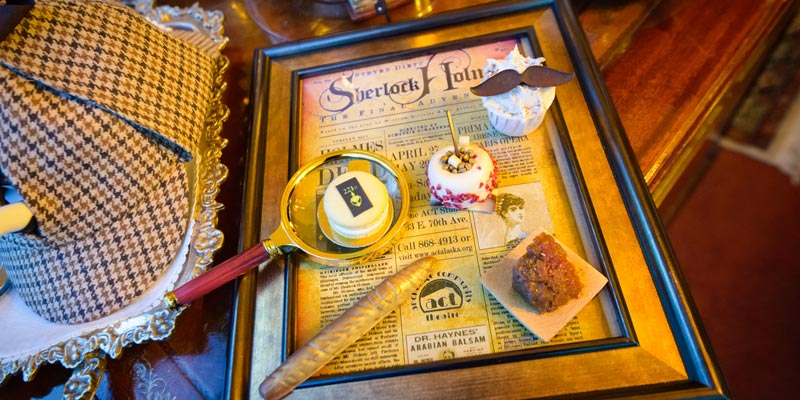 Sherlock Holmes Afternoon Tea at St. James' Court A Taj Hotel
54 Buckingham Gate, Westminster, London SW1E
There's something deliciously under-cover about darting off London's Buckingham Gate in through the black wrought iron gates, past the clandestine courtyard at St. James' Court A Taj Hotel, to find its impressive Kona restaurant. Could we be spies, detectives, or even better, Sherlock Holmes himself? As part of Taj's series of English Classics Reinvented campaign, the new Sherlock Holmes afternoon tea is sure to engage wannabe sleuths. It's a sure hit for a day out, or a special occasion, especially if your kids are fans of the TV series with Benedict Cumberbatch or the Robert Downey Jr films. Or heavens above, they might even have read Sir Arthur Conan Doyle books!
Mini detectives arrive to a table laid with Baker Street signage, magnifying glass, and handcuffs. First task is to choose one of 22 teas – we opted for the Taj Earl Grey Blue Blossom, which seemed to unlock the key to 'The Sign of the Flour', a framed picture of a fingerprint laden with sandwiches. Among them the Hound of the Baskerville, a fine roast beef bun with English mustard and the cutest Baker Street chicken pie. Next up is a fine array of cakes and pastries including the Watson's Moustache Stout cupcake and Mrs. Hudson's sticky date pudding. Finished off with an array fine scones, clotted cream and jam, this afternoon tea solves the mystery of any rumbly tummy.