6 Mountain Getaways for Summer Vacation
Summer is all about long days, best spent outside in fresh, clean air surrounded by nature, wildlife and adventure. There's no better place to spend a summer vacation than in a majestic mountain setting, where endless thrills await on foot, by bike and even on rivers that roar through the peaks. Not to mention that as the usual ski resort prices tumble, these destinations around the world tend to become more affordable. Here's some our favorite mountain vacations where you can enjoy an abundance of family-friendly and fun activities this summer.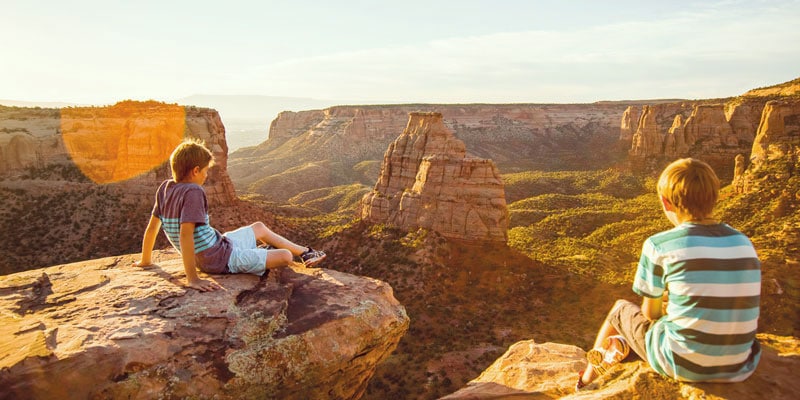 1/6

  Colorado
The Wild West is the ultimate destination for any adventurous family during the summer. The old mining towns scattered around the state (Steamboat, Telluride, Crested Butte, Ouray to name a few) make the perfect base for families looking to have some high-altitude fun. Colorado is also the true home of the dude ranch and even if your kids can't ride, Western style is easy to pick up for the whole family and learning to lasso, rope a cow and herd cows on horseback is fun everyone can get into. The Rocky Mountains also offer endless possibilities on the water. From stand-up paddle boarding and white-water rafting to fishing on the many crystal-clear lakes and rivers that tumble through the peaks, there's something everyone can enjoy.
Top Activities
Start in Denver with and cheer for the home team at a baseball, basketball or football game. Go canyoning in Ouray where children over 12 can rappel, jump, swim, scramble and slide through canyons at Angel Creek. Become a cowboy at C Lazy U Guest Ranch, which offers luxury camping and ranching experiences for the whole family, with cattle-pushing clinics, ranger tours and riding. Or, go ziplining at Colorado Springs. The Broadmoor, a family-friendly resort, has three ziplines and two suspension bridges offering a bird's eye view of the South Cheyenne Canyon below.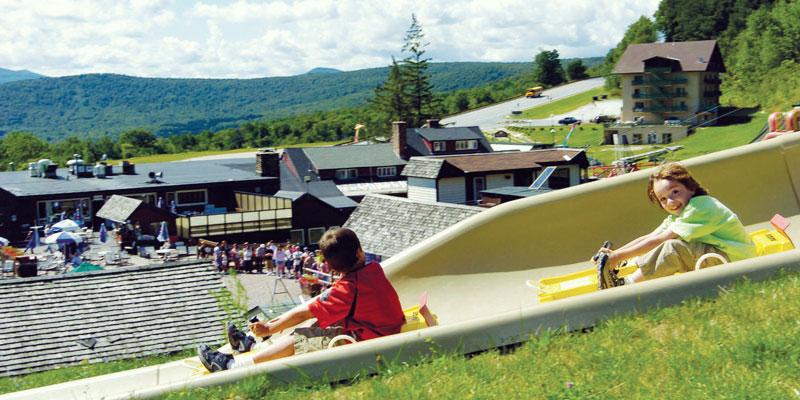 2/6

 Vermont
This often overlooked state is an under-the-radar gem in summer for families. From New York you can catch Amtrak's Ethan Allen Express along the shores of the Hudson River and you'll soon be relaxing in the otherworldly Green Mountains. Plus it's the home of Ben & Jerry's ice cream, so you can't go wrong with the kids.
Top Activities
Kids will love the dirt road biking, the fly fishing, the horse riding and other top attractions such as Jay Peak's Pump House Waterpark and the Zip Tour Adventure at Stowe Mountain Resort. But swimming in the crystal-clear pools of Vermont's Green Mountain Forest might just trump them all. This wonderful experience offers waterfalls, caves and gentle pools perfect for paddling, leaping or diving deep. There are nearly 50 state-recognized natural swimming choices in Vermont, but among the top-rated options is Bristol Falls, located between the Mad River and Lake Champlain Byway.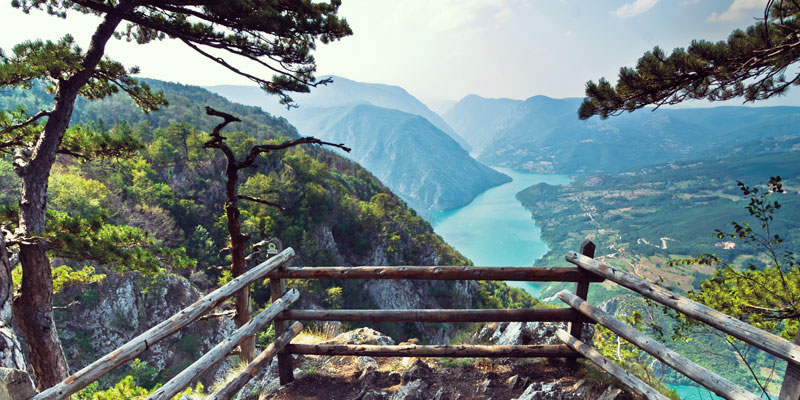 3/6

 Serbia
If you're looking for a mountain adventure that's a little farther from home and off the beaten track, Serbia is a great option. Families will find great value here, a warm welcome and have the chance to explore a country that few have yet to discover. Serbia is largely covered by mountains in four different regions: the Dinaric Alps, the Carpathian Mountains, the Balkan Mountains and the Rilo-Rhodope Mountains. It is home to five national parks, with the nearly 50,000 acres of Tara National Park in the west a favorite destination for incredible views, adventures and the occasional bear spotting. Offering an abundance of activities including nature walks, hiking, horseback riding, rafting, boat rides, sailing, rowing and cycling in the 60 different nature reserves, it's all here for the taking.
Top Activities
Take a boat ride along the Tara River Gorge or a train ride on the Šargan Eight, the narrow gauge railway that, from 1925 until 1974, connected Belgrade to Sarajevo. Join an adventure camp with Wild Serbia, just 56 miles from Belgrade in the Gradac River, to try kayaking, climbing, caving and zip-lining. Visit the hauntingly beautiful stone pyramids of Djavolja Varos (Devil's Town) on the slopes of mount Radan in the south where there are more than 200 of these wonders ranging between 6 and 50 ft tall.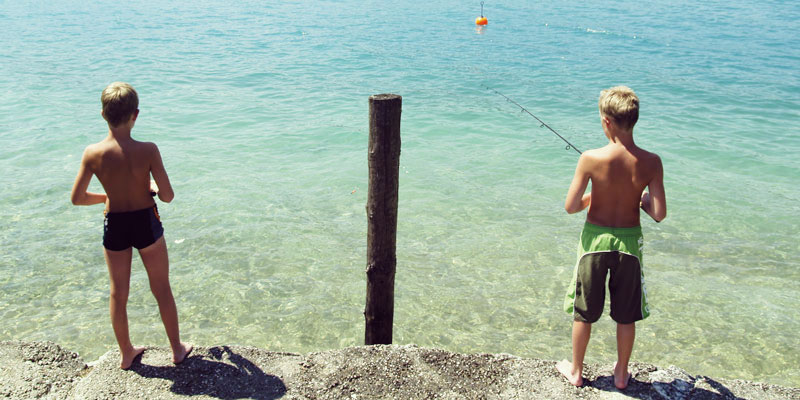 4/6

 Austrian Alps
Sun, lakes, mountains, fresh air and meadow flowers with the chime of cowbells in the background — this is summer in the mountains in Austria. Ski resorts that buzz during the winter turn sleepy, charming and even more welcoming by summer, offering a playground for families looking for some adventure. Austrian hospitality has to be experienced to be believed. You'll never go hungry here – huge buffet breakfasts and four- or five-course dinners are standard. But you'll need the sustenance since Austria's mountains are teeming with activities that can be enjoyed at all ages from whitewater rafting and canyoning to mountain biking, rock climbing and hiking. Austria is also home to many natural hot springs, so after a strenuous day of activities, be sure to relax in the local healing waters.
Take the beautiful flight directly into Innsbruck, the historic capital city of the Tyrol region. Explore the old town on foot to wonder at the imperial buildings, then let children run around in the playground or enjoy a game on the giant chess boards within the open space of the Imperial Gardens. The Nordkettenbahnen lift goes from near Imperial Palace, taking passengers to the Seegrube (6,500 ft) in just 20 minutes.
Top Activities
Just 11 miles from Innsbruck is the magical Swarovski Crystal Worlds, a mystical and fabulous family day out in Wattens. If your children like horses, go riding beneath the majestic glaciers of the Ötztal Valley on home-bred Tyrolean Haflinger horses at the highest riding stables in Austria, the Edelweiss & Gurgl Riding Stables in Obergurgl. Or, visit Ebbs Stud Farm, a leading Haflinger stud farm in Austria and learn the history of these golden horses in its museum.
Horn Park in St Johann is the largest aerial forest in the Kitzbühel Alps with eight courses that have varying levels of difficulty for everyone, aged 3 and up, including the Flying Fox, a zipline canopy tour that has you flying through the air and over a mountain lake. Get up close and personal with Austria's native animals at the Innsbruck Alpine Zoo, high above the city. Here you can peer into habitats of native species including ibexes, brown bears, otters, golden eagles and wolves. Younger kids can play with pigs, chickens and goats in the onsite farm.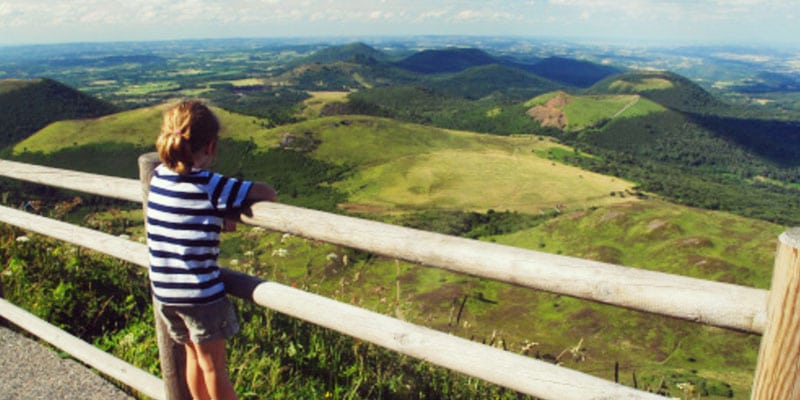 5/6

 Auvergne, France
If you've heard of Auvergne, it's likely because the most famous mineral water is bottled in this ancient and volcanic region of central France, and filtered through layers of volcanic rock under Chaîne des Puys. Treat your family to an incredible adventure in this unique rural landscape, exploring volcanoes and swimming in the many natural lakes and dams. There's cycling, horseback riding and walking options aplenty, and you can stay on a farm, in a vacation home (called a gîte in France) or at a variety of campsites.
Top Activities
Vulcania, an educational theme park and museum at Saint-Ours, many attractions specifically aimed at kids, such as several volcano-themed play areas, a 3-D dinosaur movie experience and a geyser that spews water 65 ft into the air. Climb inside an extinct volcano at Lemptégy near Volvic or savor a view to beat all views at the Puy de Dômes, the highest peak in the region. Enjoy an adventure in any one of a number of forest adventure parks, such as Acrofun and Prabouré, where you'll find climbing routes and ziplines. Take a donkey ride along The Stevenson Trail, the 150 mile path walked by Robert Louis Stevenson and his donkey.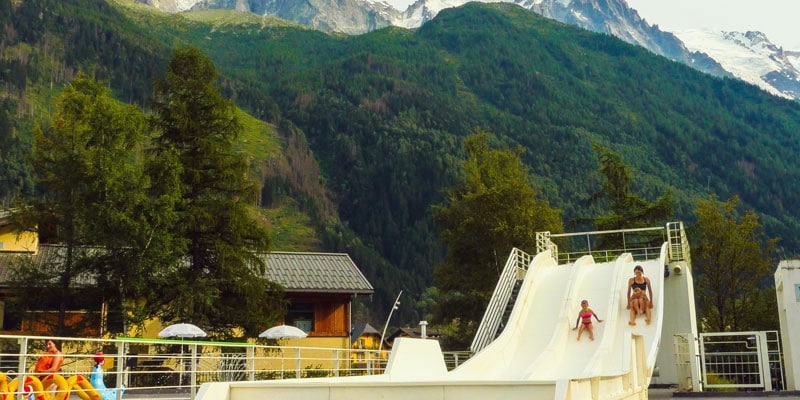 6/6

 French Alps
Once the snow has melted, and the ski lifts have stopped, visitors will experience a quieter side to the French Alps, making it the perfect European base for a summer family vacation. Prices are lower than in winter and every activity imaginable is offered — from mountain biking and rock climbing to adventure parks, hiking and walks, bungee jumping, whitewater rafting and supervised kids' clubs. If you've never had a chance to experience it, summer skiing is truly magical — think warm and sunny mornings on the slopes in a relaxed and fun atmosphere. Tignes and Les Deux Alpes both offer glacier skiing during the summer months. Chamonix is great for kids, with plenty of activities from whitewater rafting to summer luge. Should you happen to encounter a rainy day, spend it at the Richard Bozon Sports Centre with its heated pool.
Top Activities
A popular activity at Chamonix for kids aged 10 and over is rafting on the Arve River; it's reasonably priced and goes right from the centre of town. The Chamonix Amusement Park is another must where activities include trampolines, toboggans and electric motorcycles. Tour the Mer de Glace at Montenvers, arriving by train, and walk into the glacier and soak up information at the new exhibition centre. Explore the local wildlife at the Merlet Animal Park or try the up-and-coming sport of mountainboarding (think ATV meets skateboard) in Valloire.
A little further afield, Chamonix All Year has a minibus that takes guests to Le Châtelard VS Attraction Park in Switzerland, 12 miles away, for a journey to the Emosson Dam. Attractions include the steepest funicular in the world (with a gradient of 87 percent) and you can take a walk across the top of the dam, explore the dinosaur trail or visit the dinosaur footprints at Vieux-Emosson.