Family Traveller reader and mother of three, Celia Dillow, reminisces on how scrapbooking came to form a crucial part of family holidays.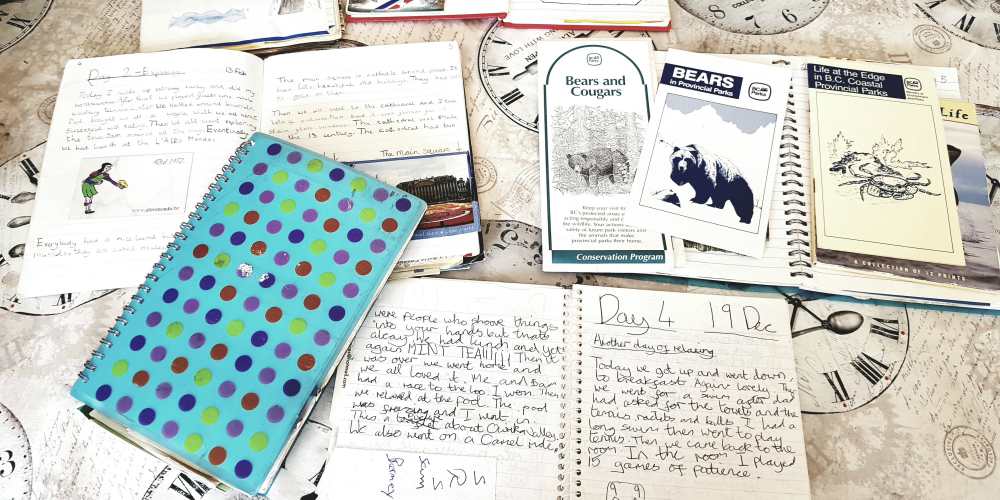 Once upon a time, the film on the plane was just that: the film. Just the one, shown on a screen above the aisle. It played when the chief steward decided it would. It you wanted to watch it, you simply plugged in your headphones and looked up. Can you imagine? There were no seat-back screens and no special kids' channels offering an endless selection of cartoons, films and games.
Cars didn't have screens in the back of the headrests either, although you could always stick a stretched tape of very annoying songs in the cassette deck and singalong. As the day turned into night, my canny parents would lay us out flat in the back of the Skoda Estate with pillows and blankets and we would watch the neon lights flash by or counted stars as we drifted to sleep without wearing any seat belts. It's much safer now, of course.
The thing is, whether you are an Instagram influencer or a grey-gappie, travelling solo or packing a brace of toddlers, travel involves a lot of waiting around. The journey is important, that's something we can all appreciate. And there is a lot to be said for learning the creative art of being bored while avoiding annoying everyone else in the process. But sometimes you just need something to do, particularly when there are children at your feet.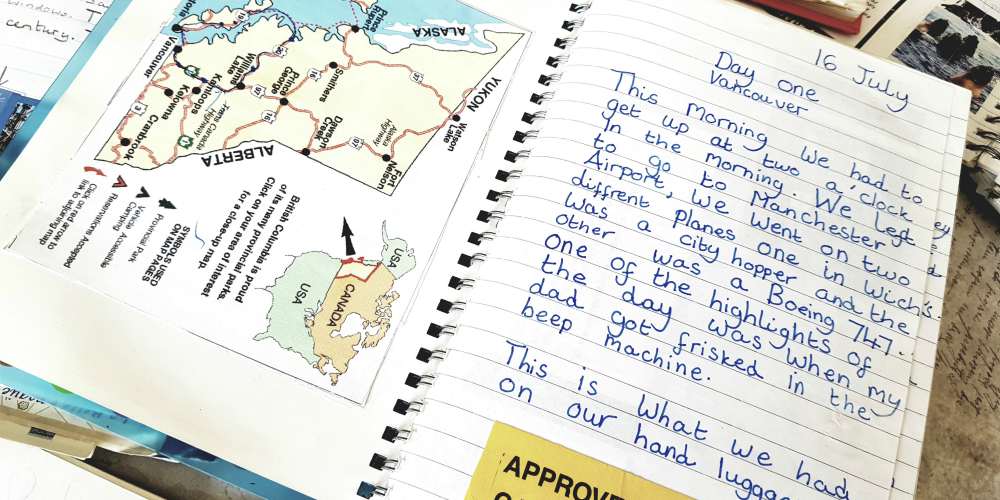 So, may I suggest the art of scrapbooking? It might not be cool or instant, and it is very low-tech, but my goodness, it's wonderful. We spent a lot of time in drippy tents and rocky caravans when our boys were little, with bags of spare time to fill.
Before each trip, I would pack a Ziploc wallet (a different colour for each child) with a cheap, lined exercise book, a tiny pack of crayons, pens and pencils, a small glue stick and scissors. This was the basic kit, although there might be other additions depending on the trip, stickers for example, or a puzzle sheet. The boys collected leaflets, tickets and coasters. They cut out maps and pictures, pressed leaves and petals and picked up feathers. They rubbed coins and copied money, told jokes and recounted their days. Often they didn't want to write, but they all loved snipping and sticking.
We developed the habit of 'scrapbook time' each day and it was made clear that you could write anything you wanted. Spelling didn't matter. If you wanted to moan about Mum and Dad, or how annoying your brothers were, that was fine too. It could take place anywhere – while in the car, on the beach, up a tree. It could be a solo activity, collaborative, and sometimes even competitive. The frequency of long, boring journeys seemed to diminish as their projects grew.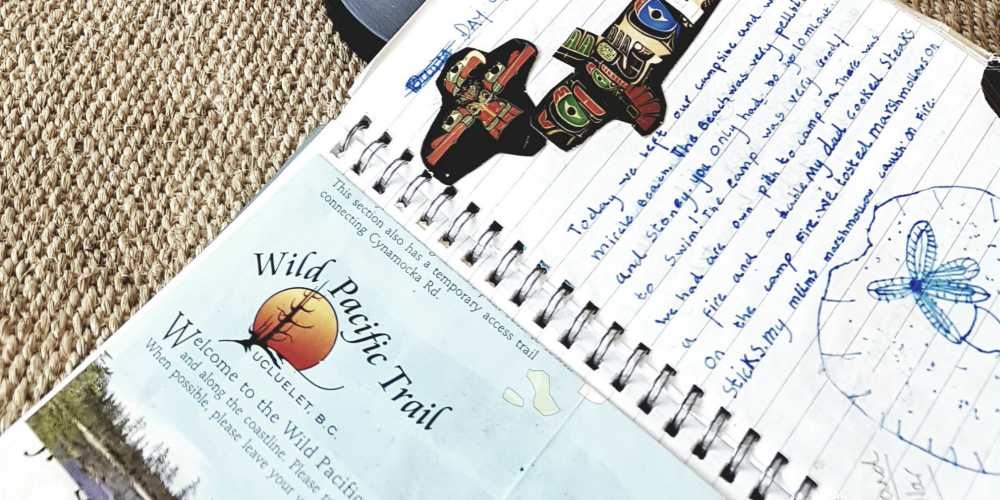 They usually shared their treasures, keen to have their stories and in-jokes read aloud and savoured. They gradually developed their own styles. One year they became obsessed with collecting French vocabulary. Some were lists of menus and meals, others were more confiding. Their scrapbooks became sticky with ice cream and covered in mud. On occasion, they were dropped in the river or the pool, but we never, ever lost them. Sometimes, I pre-loaded questions or created treasure hunts. But the best ones were unruly, chaotic and free-flowing. 
I have them still, although their authors flew the nest long ago. They are precious documents and a record of wonderful times. They hold the pulse of family life within their pages. Arguments and hilarity are recorded with equal weight. The travel delays, frustrations and joyful discoveries are all there, tiny triumphs and huge achievements. They are a patchwork, or bricolage, of our journeys together.
But be careful what you start, for scrapbooking is addictive. We visited our youngest son in the Northwoods of Minnesota last year where he was working a summer internship at a black bear research centre. I couldn't help noticing that he was sticking leaflets and tickets into his travel journal. This time he had bought his own glue stick. 
About the author
Celia is the 2019 Bradt New Travel Writer of the Year. She is the mother of three adult sons and grandmother to 16-month old Arthur. When the boys were teenagers, the family spent five years living and travelling in Argentina and then Italy. They have just enjoyed their first three-generation holiday all together in the south of France.
Want to become a PAID writer? Contribute an article to Family Traveller and earn money by submitting content through the View from the reader section of the website. Don't forget to add images and include a short bio at the bottom.