Travelling while pregnant can be smooth sailing for some women, whilst others prefer to avoid it altogether. It can be hard to find trustworthy advice on what is safe and unsafe to do in pregnancy, so we chatted to Marina Fogle, founder of The Bump Class and author of The Expert Guide to Pregnancy, Birth and Beyond for her professional take on how to travel like a pro whilst carrying precious cargo!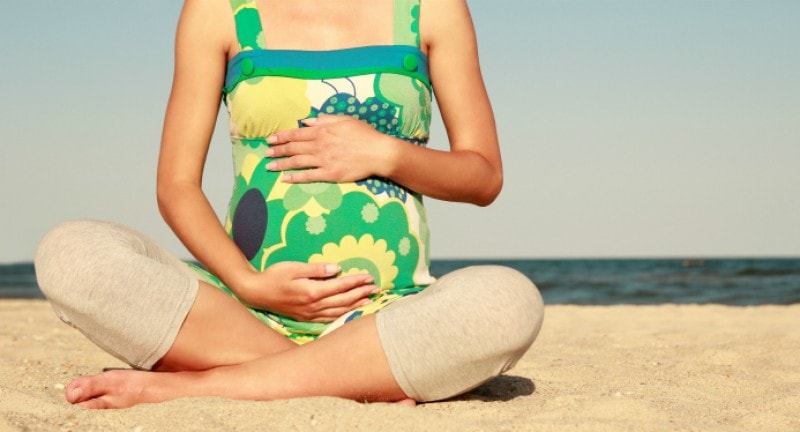 1-4 weeks:
Often, women during the very first stages of pregnancy aren't even aware that they are pregnant. Sensitive pregnancy tests may have changed this a little but mostly there will be few, if any, noticeable symptoms. Take advantage of the fact that you are still feeling perky before hormonal changes cause morning sickness to kick in and continue to travel for work and pleasure as normal. Radiation whilst flying is not a problem and aeroplane cabins are pressurised, though it is a good idea to wear compression stockings to aid blood circulation.
Why not try…
A sophisticated getaway at La Residence de la Pinede in St. Tropez, with Michelin-starred dining and a superior sea-view room from £830 per couple.
5-8 weeks:
This is the stage when most women will have taken a pregnancy test and are in the mood to celebrate that little blue line! However, it's time to cut down on caffeine which might not help the tiredness that may be creeping in. Morning sickness also often starts around this time and it is important to get plenty of sleep and nutritious food to ensure that you don't burn out. Your breasts may also start feeling tender so if your usual travel involves arduous activity, you may want to start looking at alternatives.
Why not try…
Littleton Mill's Jiva Retreats will allow you to focus on your wellbeing and relaxation. The Creative Cookery and Conscious Eating weekends, at £375 per person, are the perfect way to take your mind off any discomfort and re-energise with plenty of good food, fun cookery classes and gentle yoga.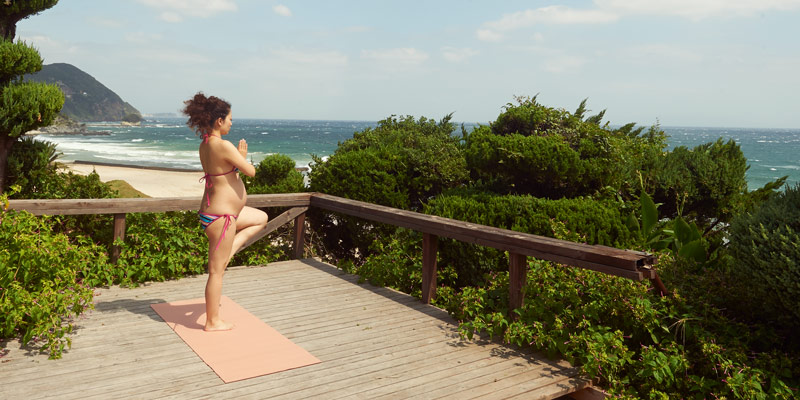 9-12 weeks:
It's almost time for a scan and the first glimpse of your baby! Now the size of a plum, your little one is fully formed and will be opening and closing its tiny mouth and hands. Extra progesterone may be causing acid reflux so eat small, regular meals to aid digestion. The first-trimester higher risk of miscarriage is almost over but you may want to stay fairly close to home until you feel comfortable. Your 12-week scan is also likely to be at your local hospital so short, local trips are much more convenient than long-haul destinations. Now is the time to book antenatal classes; birth might seem a long way off but classes get booked up quickly.
13-16 weeks:
This is the beginning of the second trimester, when many women say that they feel their best in pregnancy. It is the 'golden middle', between the exhaustion and morning sickness of the first trimester and the strain of the extra weight of the third. Get away for a romantic break with your partner while airlines will let you fly; just make sure that you have had all the recommended (inactive) vaccinations for your destination. Also bear in mind that flying can increase dehydration, so ensure that you drink plenty of water during and after your flight. As soon as you're given your hospital notes make sure you carry them with you, especially after 20 weeks. Because pregnant women mostly travel further than a short distance from their hospital, it's safest for women to have hand-held notes that they can give to whichever doctors are looking after them. Take the opportunity to invest in a bag which will hold them comfortably to make sure they are with you the whole time.
Why not try…
The adults-only Barcelo Illetas in Mallorca (from £104 per person per night) has access to a private beach and a unique 24-hour concierge via Whatsapp, so you can order whatever luxuries you desire in seconds!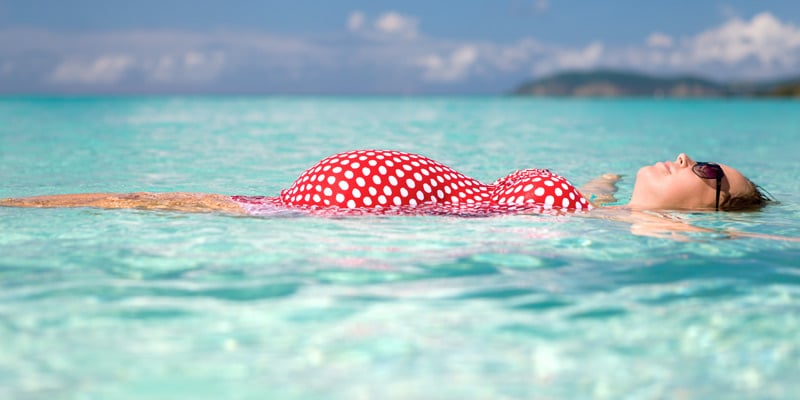 17-20 weeks:
Still in the swing of the 'Super Second' trimester, many women will be enjoying the feeling of having a little bump and often experience the revered 'pregnancy glow' around this time, with hair becoming thicker and glossier. You will be gaining around a pound a week so this is an ideal time to get away on a break that takes advantage of your wellness to enjoy some unique, gently active experiences. Remember to pack all of your pregnancy vitamins and take frequent breaks from sitting on planes and stretch your legs to improve blood flow. Be sure to book your trip to arrive back in time for your 20 week scan!
Why not try…
With rooms from £99 and an extensive programme of outdoor and indoor pursuits, The Fish Hotel in the Cotswolds is a great place to try your hand at something new or rekindle an old passion!
21-24 weeks:
You will be starting to experience the incredible feeling of baby's kicks and hiccups now, and hopefully will still be feeling good. From this point on women should travel only to places where they would be happy giving birth; outer Mongolia is a no-no for now! As you get bigger remember to take pillows on long trips to support your back and neck, and wear loose-fitting shoes to aid potential swelling. Ask someone else to lift heavy luggage for you and ensure that you are travelling to places with safe drinking water, seatbelts and a cool climate as your metabolism will be in overdrive. Whilst travelling in cars place seatbelts over your lap and not your bump, and the other strap between your breasts and to the side of your belly.
Why not try…
A three-night shopping trip to New York City staying at the classic Wyndham New Yorker hotel, from £499 per person with return BA flights.
25-28 weeks:
Now is the time to slow down a little and if possible, start to work from home or go on maternity leave. If you have signed up for for antenatal classes these will begin now, helping you feel more confident, informed and empowered about labour and birth. If you do need to travel by air, many airlines will require a doctor's certificate before allowing pregnant women to fly past 28 weeks so ensure you have one if it's an important trip!
Why not try…
A relaxing overnight stay at The Goring in Belgravia, ideally located for exploring London. Make an occasion of it with tickets to the David Hockney exhibition at the Tate followed by a night in a sumptuous room for £435 per couple.
29-32 weeks:
With weekly antenatal classes and increasing midwife appointments, you probably won't want to go too far from home in this later stage of pregnancy. Women carrying twins or more shouldn't fly after 32 weeks due to the increased risk of premature labour. If you are desperate for a break, avoid hot countries and long journeys as you are likely to feel increasingly uncomfortable with a large bump!
Why not try…
The Wild Rabbit in The Cotswolds has stunning rooms and delicious food; with rates from £175 per night it is the ideal place for a last-minute babymoon.
33-36 weeks:
Now is the time to start preparing for your baby's birth. A good antenatal class should have gone through all birth options and while having a preference for the type of birth you'd like, make sure you're informed about all options so that you're ready to welcome your little one, however they arrive! A paediatric First Aid class is also a great idea; try the Bump Class Paediatric First Aid Course from just £75 per person.
It is also time for shopping! Make sure you have bought all the essentials for your baby, from buggy to cot, babygrows to nappies. The Bump Class book has lists of what to buy in advance and what to pack in your hospital bag.
Why not try…
A trip to The Nursery Window in Chelsea will help you get into the baby mood; with Janet Jackson and Kate Middleton as clients it is the ideal boutique to pick up last-minute touches for baby's nursery. Since it's time to spoil yourself too, why not finish up around the corner at The Ivy Chelsea Garden and indulge in a delicious traditional afternoon tea.
37-40 weeks:
Your expected due date is fast approaching (or perhaps already here if you have a multiple pregnancy) and travelling away from home is probably the last thing on your mind. Airlines won't allow women in the last few weeks of pregnancy to fly and with good reason; giving birth mid-air is not the safest or most relaxing way to bring a baby into the world! Take this time to nest, relax and batch-cook some nutritious meals so that you have a healthy store once the baby is born. Ensure that you have a travel plan to get to the hospital or birth centre if that's where you plan to give birth, and of course a car seat to bring your precious new arrival home!
Why not try…
Fresh Fitness Food delivers meals to your door so once your freezer is empty you can continue to enjoy being at home with your baby without the stress of cooking.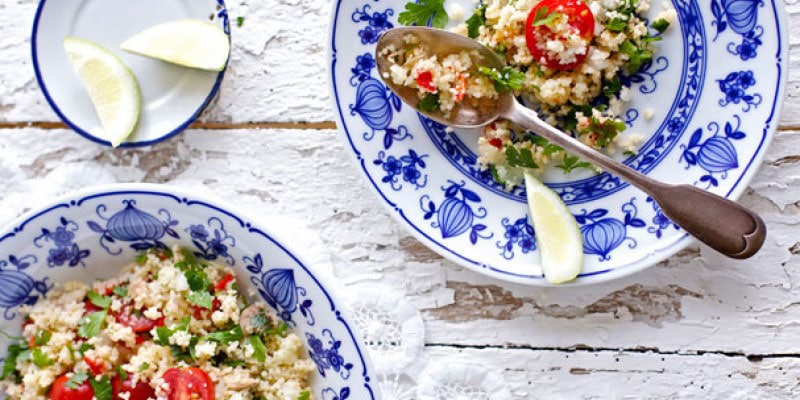 Marina's Top Tips for Travelling Whilst Pregnant
* Always take your hospital notes
* It's worth checking out where the nearest maternity hospital is in case you have an emergency. If you need to go, you will save time knowing where it is and not having to google. This is particularly important after 24 weeks' gestation.
* Many obstetricians recommend not travelling anywhere where you wouldn't be happy to have your baby. Most European cities have great maternity care, but this may be a consideration when selecting your holiday destination.
* Avoid Zika affected areas. Whatever the locals say, Zika increases the risk of microcephaly in unborn children and the WHO recommends not travelling to any Zika infected area if you are pregnant, could be pregnant or are trying to conceive.
* Legally airlines can prevent you from flying unless you have a letter confirming your estimated due date and that you are fit to fly. As soon as your bump starts to emerge, it's worth getting a letter from your midwife, just to be on the safe side.
* Relax! You will probably find your bump has grown considerably after a week of doing nothing. Big babies tend to be easier and more content, so kick off those shoes and don't feel guilty about being lazy.