Thou shalt not burn this summer and neither shall thy kids if you follow our Beauty Editor Sophie Qureshi's safe-sun guide.
1/

 Thou shalt not kid thyself  
That 'healthy' tan you crave is a sign of DNA damage. Your skin produces melanin as a defence mechanism to absorb the sun's UV rays. It doesn't matter how many times you're warned about the dangers of tanning, you still want to enjoy the sun on holiday, so you might as well know the facts. First off, all UV is not the same. Think of UVA as the 'ageing' one and UVB as the 'burning' one.
You need a broad-spectrum sunscreen that blocks both, so look for ingredients such as titanium dioxide and octinoxate to protect against UVB and zinc oxide, avobenzone and ecamsule (aka Mexoryl) to protect against UVA.
2/  

Thou shalt not be sticky 
Beauty brands have been promising non-stick sunscreens for years, and they've finally cracked it. The new dry-touch formulations sink in instantly, so gloop and grease have truly had their day in the sun. Try Piz Buin Ultra Light Dry Touch Sun Fluid SPF 30, £16.99, Garnier Ambre Solaire Dry Touch Protective Mist SPF30, £15.99 (both boots.com), or Crème de la Mer The SPF50 UV Protecting Fluid, £65.
For acne-prone teenagers reluctant to slather up, Bioderma Photoderm AKN Mat SPF30, £13.70, will keep sebum production in check, while mattifying powders soak up excess shine.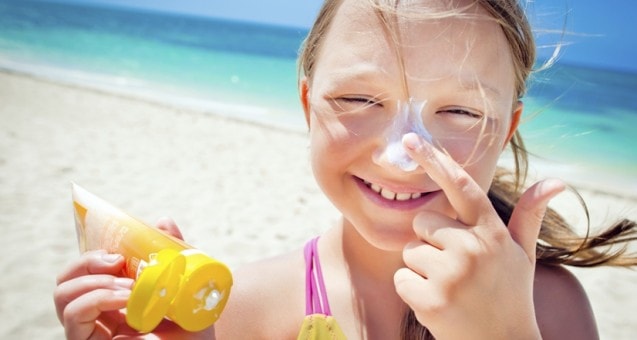 3/

 Thou shalt not skimp  
Studies have found that most of us apply only about half the amount of sunscreen needed to give us the protection promised on the bottle. If you're using a lotion, you'll need 30 to 40ml (that's about a shot glassful) per application. You need to reapply at least every two hours and after every dunk in the water. There are some good water-resistant sunscreens out there, such as  P20 SPF30, £13.29, but towelling off can rub away up to 85 per cent of a product, so unless you're going to air-dry, you'll need to start again.
And don't even think about digging out last year's bottles from the bathroom cupboard. Sunscreen filters break down over time so check the expiry date. Sunlight degrades the active ingredients, too, so stash the bottles in your beach bag when you're busy building sandcastles.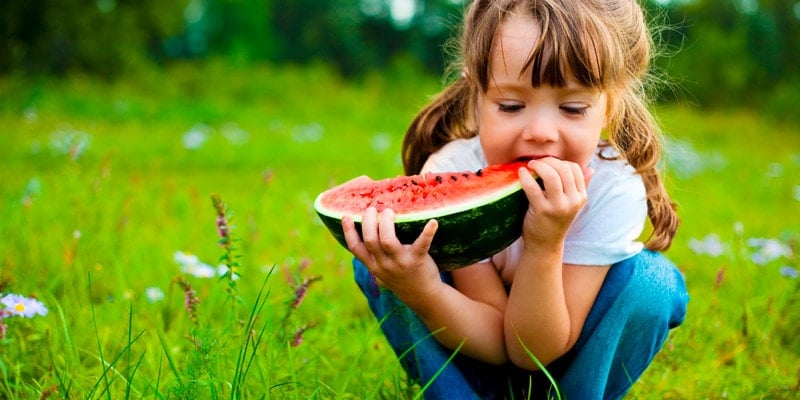 4/

 Thou shalt eat watermelon 
Eat foods that are rich in lycopene to bolster your skin's natural defences against sun damage. You'll find lycopene in tomatoes, red peppers and (the daddy of all sources) watermelon. If you're not opposed to pill popping, you'll also find it in Imedeen Tan Optimizer, £40.80.
5/

 Thou shalt look fabulous  
If staving off wrinkles and sun spots isn't incentive enough to apply sunscreen religiously, maybe the prospect of looking flawless on the beach will persuade you. The secret to getting an enviable glow lies in the new breed of tinted sunscreen/make-up hybrids that perfect as well as protect, evening out skin tone and giving you just enough coverage to look effortlessly polished.
6/  

Though shalt get him to spray top 
For some reason, men seem to think sunscreen is just for girls. By every hotel pool, there's always at least one beetroot-cheeked Brit, oblivious to the fact he's getting redder by the second. Aerosol sprays are great for sunscreen-phobic males – they're quick to use, don't feel sticky (the general complaint) and, if he still resists, you can always spritz him when he's not looking.
They're also brilliant for guys with thinning hair.

Lancaster Sun Sport Invisible Mist SPF30

, £23, is a good choice because it's transparent and can be sprayed onto wet skin. Plus, the word 'sport' always seems to help.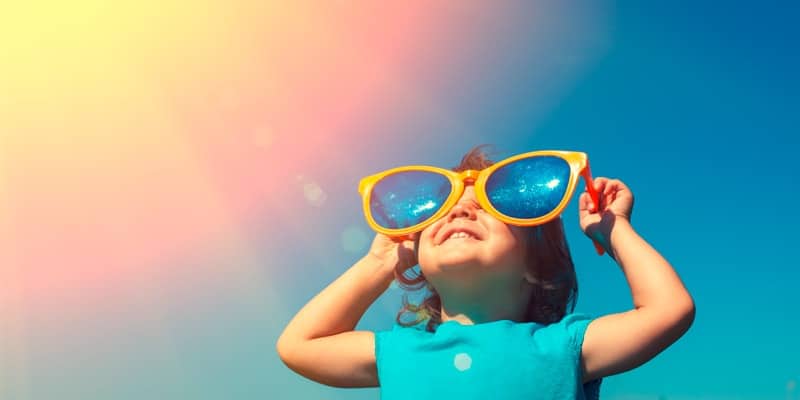 7/

 Thou shalt not fry the kids 
If you've ever wondered whether you really need to buy a separate sunscreen for your kids or whether it's just a cynical marketing ploy, the answer's probably a bit of both. 'Babies and young children are best protected by sunscreens with physical filters that deflect UV from the skin like a mirror, as opposed to chemical filters, which are absorbed and mop up UV rays like a sponge,' says dermatologist Dr Sam Bunting. 'It's fine to use physical sunscreens on adults, too, but the textures aren't as refined, so you might not like the feel on your skin.'
For young kids, Bunting recommends SunSense Toddler Milk SPF50, £9.28, which comes in a handy roll-on.
8/

 Thou shalt not peel 
To stop your tan flaking off before you've even boarded the plane home, apply after sun nightly. Clinique After Sun Rescue Balm With Aloe, £19, feels amazing when you've overdone it, especially if you store it in the minibar or fridge.
If you want to boost your colour, try Clarins After Sun Moisturizer Self Tanning, £19. It contains shea butter to moisturise sun-parched skin and a smidge of fake tan to help your colour last longer.
Proof that you don't need to board a plane to enjoy golden sands, turquoise waters and yes – SUN! – discover 15 beautiful beaches you won't believe are in the UK.