Travelling with a baby can be incredibly daunting, but luckily, there are plenty of clever, multi-tasking travel products on the market designed to make your trip go as smoothly as possible. Read on to discover our favourites.

Sleepyhead Deluxe Baby Pod, £110
This multi-functional baby pod is suitable for tiny ones, aged 0-8 months. It weighs less than 2kg, making it ideal for trips away, when it can be used as travel bed. Back home, it's perfect for co-sleeping, as well as using as a cot insert and a play pod.
Family Traveller review
First-time mum Lucy Clark and daughter Ivy (aged three weeks) put the Sleepyhead Deluxe to the test: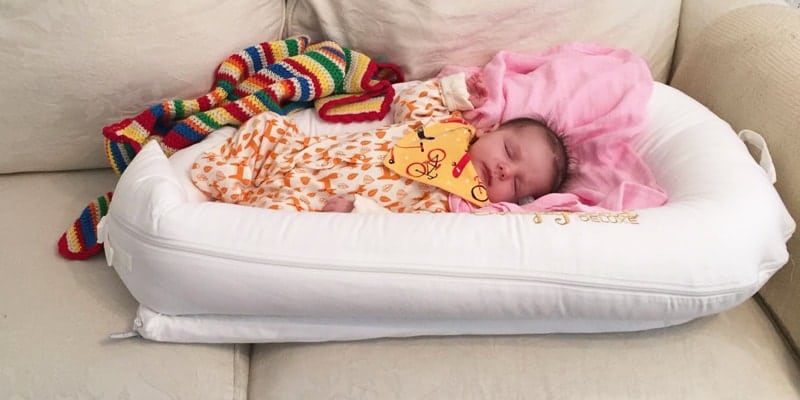 Ivy had a six-hour stretch of sleep in the Sleepyhead Deluxe last night (result!) and has been chilling out in it all day. Here she is in the Sleepyhead Delxue on the sofa. It's great to be able to have her next to me, instead of on me! Yesterday I couldn't put her down for a second without her grizzling, but in the Sleepyhead I can comfort her with a hand on her tummy and I only need to lift her out for feeds and nappy changes.
It would be helpful if the Sleepyhead came with more than one cover, so Ivy could still use it while I'm washing the cover. I also find the white gets dirty quickly, but it is available in other colours.
I do wonder what tonight will bring, as she tends to have one good night followed by a bad one – but so far the Sleepyhead Deluxe has been a blessing!

Mamascarf Breastfeeding Scarf, 
£17.99

–

£30.00

Made from 100% cotton, The Mamascarf Breastfeeding Scarf is designed to give new mums privacy and comfort during the breastfeeding period, should they want it. Perfectly sized for any newborn, the Mamascarf is designed with discrete pockets for concealing your breastfeeding pads and a distinct shape designed for maintaining eye contact with your little on for distraction-free feeding time.

iAngel hipseat carrier, £146
What sets the iAngel apart from other baby carriers is its moulded hipseat, which baby sits on.The hip part is detachable from the main carrier and can be used on its own for children up to three years. Your baby's legs will naturally fall into the frog leg position, which is good for their spine, and carrying your baby's weight on your hips will also relieve stress on your shoulders and back. This makes it ideal for carrying babies for long periods of time, when you're out and about on holiday.
Baby can face in or out of the carrier and you can also wear it on your back as your little one grows. The carrier also has detachable pockets to allow your baby to stay cool in hot weather, a UV-protected and organic sleeping hood and organic removable teething pods. These guys have thought of everything!
WaterWipes Baby Wipes, £13.50
No matter what new parenting gizmos and gadgets modern technology gives us, the humble baby wipe will always be one of the most important tools in a mum or dad's travel bag. These wipes are made from 99.9% water (which we still can't get our heads around). The remaining .01%? All natural grapefruit seed extract, so there's no need to worry about harmful chemicals here.
Go Everywhere Mat, £65.00
Comfy, portable, and available in lots of prints and patterns, the Go Everywhere Mat is perfect for families who do just that. Hook it onto your pram, lay it out on the beach, or throw it into your changing bag for on-the-go ease.

Omnio Stroller – compact & wearable, £389
This innovative British design is a full size pushchair that folds into a neat backpack. The omni-wheels provide agile steering across different terrains and the unique wearable design means parents can have both hands free for parenting.
Family Traveller review
Mum Sarah Adams and her son Jacob (eight months) take the Omnio for a test drive: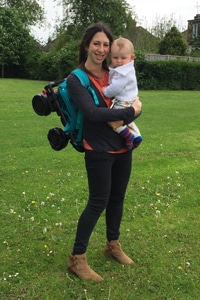 This agile, compact and wearable stroller is great for families with toddlers who can walk but also get tired when out and about, offering an easy solution to the dilemma of whether or not to take the pushchair out!
The Omnio folds up into a backpack to give you both hands free and unfolds easily into a stroller suitable for children from six months to around five years (up to 22kg).
It comes with an all-weather protective hood (SPF 50+) and rain cover, and has good storage for a compact pushchair.
The stroller is stylish, but reassuringly robust too. I'm not surprised it's won awards. It looks and feels like a quality product. Particularly notable are the special omni-wheels making for super smooth and easy steering.

Bababing Roma Changing Bag, 
£

49.99

Bababing has updated its classic changing bag to introduce the Roma, the stylish option for on-the-go mums and dads and perfect for day trippers. The Roma has a slimline silhouette so you can pack your changing back with everything you need and still have a bag that looks like a stylish accessory. The Roma comes with a large integrated changing mat that attaches magnetically to the bag to prevent slipping when changing. It also come with a free pushchair clip and two bottle holders – ideal for when you're out all day. Finally, the Roma has a handy 'your space' protected pocket designed for wallet, keys, and other bits and bobs.

Molly & Moo Camile Quilted Play Blanket, 
£56
This 100% cotton blanket is a generous 100cm x 100cm, giving little ones plenty of space to kick-around on. The modern, quilted design comes in three muted colours – grey, blush pink and jade green, perfect for lovers of on-trend Scandi style. Each blanket comes with a matching duffle bag (similar to a yoga mat bag), making it ideal for packing up and taking on trips.
Family Traveller review
New mum Lucy Clark and daughter Ivy (aged nine weeks) get cosy on the Camile Quilted Blanket: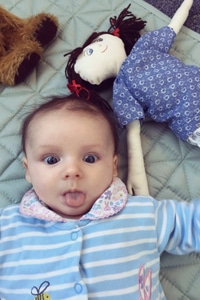 I love the blanket's gorgeous sage-green colour, which would suit mums and dads who prefer a neutral colour-scheme.
The blanket has no squeakers, scrunchy bits or other sensory stuff, so at the moment its charm is a bit lost on Ivy (as you can see!), but I imagine it'll come into its own when she's older. It'll make a lovely play mat when she's a toddler, and perhaps a throw for her bed.
For now, I lie her on it while she's under her baby gym, which she loves. It's very soft and she's comfortable and happy wriggling around on it.
When it comes out of the bag, the blanket is a bit creased, but the creases drop out easily and it washes nicely in the machine, at 40°C.
It's rare to find something so elegant, stylish and soft that's so practical and stands up against Ivy's mess!
We Made Me Soohu Sling Charcoal Grey, £49.99
Designed for toddlers up to two years of age, the Soohu Sling makes carrying your growing baby simple. The sling comes with five easy carrying positions, as well as two made for discreet breastfeeding. The Soohu sling is the only baby carrier with a cradle-carry design, the most natural and lightweight position for carrying newborns and toddlers.
HippyChick Wet/Dry Bag, £11.99
Be ready for wherever your holiday takes you with the Wet/Dry Bag from HippyChick. With two large compartments for your baby's wet and dry products and heat-sealed for maximum waterproof protection, the Wet/Dry Bag will take your items from the beach and back easily. The bag is also machine washable and is phthalate, BPA, PVC, and lead-free, so you can guarantee that your baby's belongings are safe from harm.
Find out more about the Wet/Dry bag
Baby Bjorn Carrier One, £124.99
A true parenting classic, the Baby Bjorn Carrier One makes strolling with your infant easy thanks to its weight distribution technologies and chic and lightweight design. It's also made to carry your little one until they are three years old, so it more than pays for itself. Even better, the Baby Bjorn is specially fitted with hip stablisation technology and shoulder padding for your comfort.

ergoPouch Baby ergoCocoon, £34,99
This award-winning 2-in-1 Swaddle Sleep Bag from ergoPouch is designed to keep babies securely swaddled and snug, without parents having to worry about getting to grips with complicated wrapping techniques. By using the snaps in the armholes, the ergoCocoon can be converted into a sleeping bag. It's shaped like a bell, allowing babies enough room for natural movement. The ergoCocoon is made from breathable, organic cotton and has a two-way zip for easy nappy changes.
Family Traveller review
Mum Lucy Clark tries swaddling her four-month old daughter Ivy, for the first time: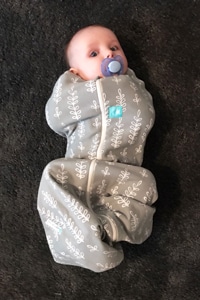 Ivy and I tried out the 3-12 months ergoCocoon in tog one, which is the lightweight version, best for summer months. It's warm but not at all bulky, so great for packing in a suitcase. The first thing I noticed was that it's super soft inside. I zipped Ivy into it, in the sleeping bag mode – with her arms out – and she seemed very comfy.
She has a cold at the moment so isn't sleeping well, so all sleep aids are very welcome. The night we tried the ergoCocoon, she woke every half hour, due to her cold. I decided to try it with her arms tucked in. She then slept for stretches of 2.5 and a 3.5 hours. I felt she settled a bit easier in the cot without her windmilling arms to wake her. Plus she looked hilarious (see pic) so it cheered me up at 2am. Other bonuses were that she was no longer able to claw my skin with her needle-like fingernails or repeatedly pull at my top.
Even if the ergoCocoon is not for you, I would recommend tying up your baby for an easier life (chortle). I'm going to wash and tumble it (you can stick it in the machine at 40°C) and use it again tonight.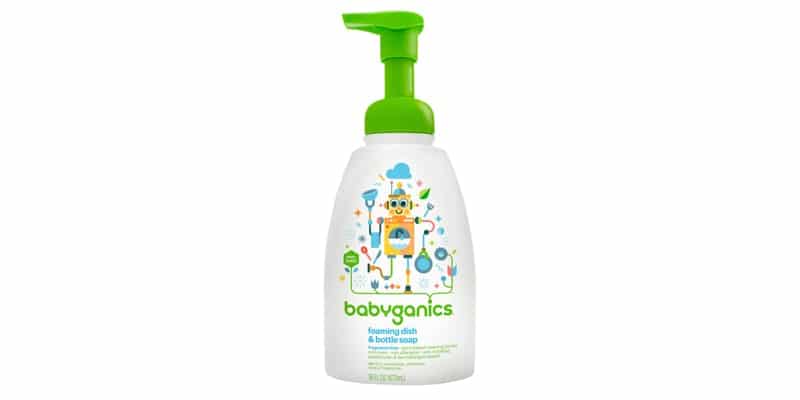 Babyganics foaming dish and bottle soap, £5.40
While it might not be on your standard packing list, having a travel-sized container of dish and bottle soap is a smart move when baby's in tow. No matter where you go, travelling usually means germs and a baby always means washing up (how many times have you stood at the sink and wondered how someone so small can create such a mountain of dirty cups and bottles?). Babyganics soap is fragrance free too, which means no harmful chemicals.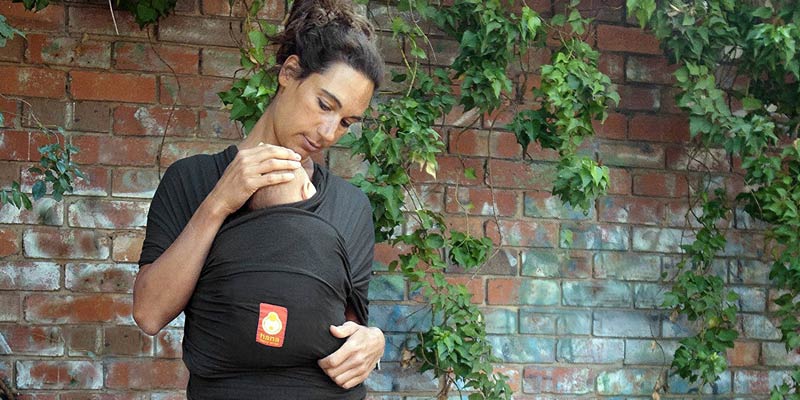 Hana Baby Wrap, £41.99 – £43.99
Hana Baby Wraps are suitable for babies from birth and a godsend for when you need to be hands-free. By wearing your baby in wrap, you distribute the weight and the little one will feel feather light, which is helpful when you're out and about. Made primarily from breathable bamboo and cotton, the Hana Bamboo wrap is perfect for warm-weather swaddling. Bamboo is silky soft and hypo-allergenic. It's also machine washable and has no pesky straps or buckles. It comes in two sizes (shorty for small women, and regular) so it's going to fit every parent perfectly. The wraps are also hypoallergenic and suitable from birth, so it's convenient for any stage.
Image: Hana
HippyChick Bumkins Sleeved Bib, £8.99
Bumkins bibs make mealtimes at home and on-the-go that bit easier and are made from a nifty easy-wipe and waterproof material. They're super practical and have a tie-up back, perfect for fast-growing babies. Made from stretch-resistant fabric, the bib is machine washable. Bumskins sleeved-bibs come in loads of funky designs and have a clever pocket on the front to catch those pesky crumbs.
Barnaby Sheep Neckerchew: £12.99
Made with three-layers of super-absorbent, tri-layered fabric and tipped with a lemon flavoured triangle of BPA-free plastic, the 100% cotton Barnaby Neckerchew will be your baby's new favourite accessory. It's also perfect to help keep teething newborns quiet when you're out and about.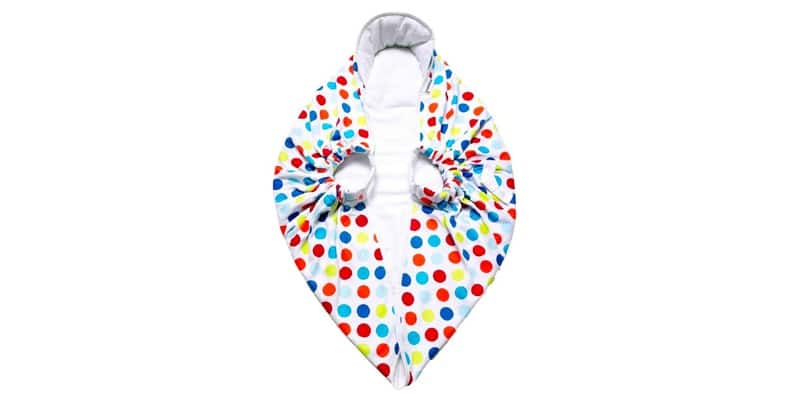 SnuggleBundl, £34.99
The SnuggleBundl has soft, strong padded handles so you can move your sleeping baby safely from car to pram and back again, without waking them. It can be used as a play mat, a protective cover when breastfeeding in public, or a blanket when in the car. It's ideal for new borns up to six months. The design fully supports baby's head, neck and back, while also supporting mum's back and helping new mums recover from the birth. The SnuggleBundl is 100% cotton and machine washable too.