Sponsored Content
The Royal Life Saving Society puts everyone being able to swim at number three on their list of top five family holiday essentials. If you have that covered, great. But if not, don't worry too much. As far as staying safe goes: watching children at all times near water and making sure they know the dangers is always advisable, whether they can swim or not.
On holiday kids have the perfect opportunity to learn to enjoy swimming whether it be in the pool or on the beach. The Konfidence Swim Jacket makes learning to swim fun and wearing a swim jacket takes the pressure off having to work so hard to stay afloat whilst practicing arm and leg movements and breathing technique.
Konfidence recently won Gold for Best Children's Swimwear Brand at the 2016 Junior Design Awards thanks to their innovative kids' swim jacket. So who better to hand out some friendly advice on easing even the youngest swimmers into the pool and keeping everyone safe and happy this summer?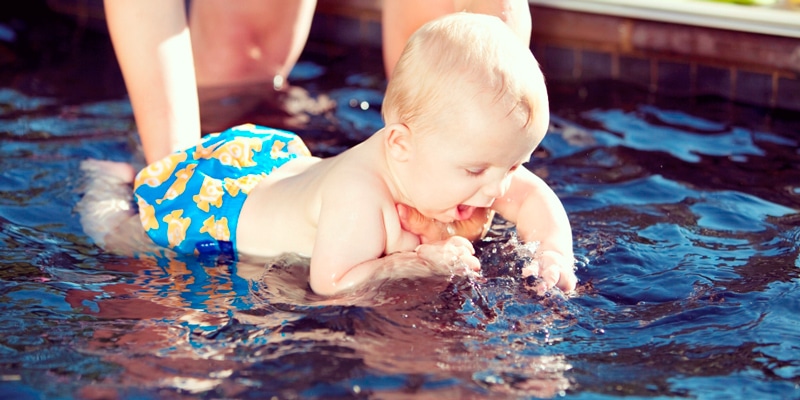 1/6

 Bringing up baby bubble-maker
Convincing kids to put their face into the water is never easy. Every single natural instinct fights this one tooth and nail. But once they discover they can see underwater, hold their breath for a little and still surface safe and sound, it feels like nothing short of a miracle. Begin by making the big deal into a small, fun game.
Get comfortable together in a quiet spot on the pool steps. Keep eye contact and talk soothingly while you slowly submerge your shoulders – your tiny wannabe might just want to sit and watch at first. Gently put your mouth under the water and blow a stream of bubbles. Come up instantly, big smile. Repeat a few times and most kids can be persuaded to give bubble-making a go for themselves.
Quick tip
Smiling eye contact's essential, even when your mouth's underwater, so sunglasses are a definite no-no for this one.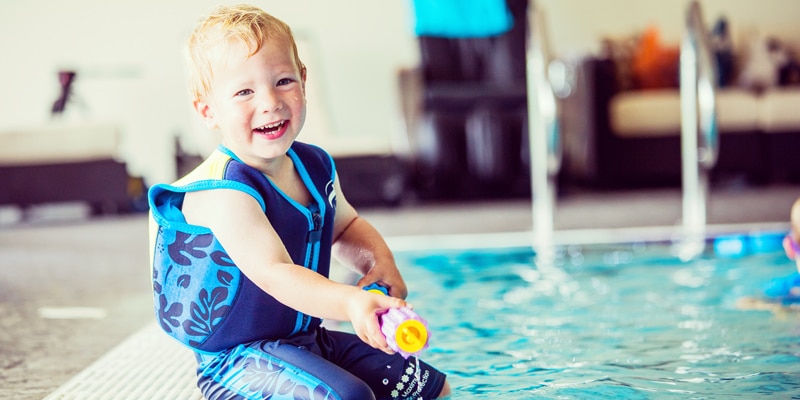 2/6

 Come on in, the water's lovely
Taking a family of confident swimmers on holiday is the ideal. But since you live in the real world, that might not be where your kids are at this year. Don't worry, teaching swim basics in warm water when the sun's shining is a lot easier than doing the same on a busy Saturday morning at your local pool.
Sunny afternoons on holiday, when the pool's had a chance to heat up a little, are perfect learning conditions for little swimmers. Just remember water feels quite a bit cooler than air so don't stay in too long, especially with under twos.
Quick tip
Even if the weather's sunny, have a towel handy to wrap kids in for instant warmth and comfort as soon as they come out of the water.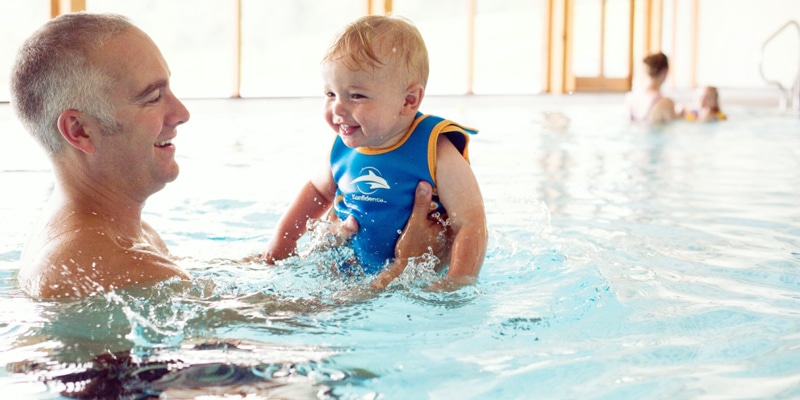 3/6

 One, two, three or ready, steady, go
The combination of children and pools makes small water surprises almost inevitable. But try to avoid any shocks at all when you're just getting started. It doesn't take much to put a kid off water and working your way back from a fright and rebuilding confidence is just as difficult as it sounds.
Explain exactly what you're about to do, whether it's blowing bubbles or letting go for a second. If possible, demonstrate first and make it look easy and fun. Keep all your movements slow and gentle, talk calmly and softly and reassure constantly. Then have a countdown: one, two, three for older kids or ready, steady, go with toddlers. And 'go', is only when they're happy to 'go' and never before.\
Quick tip 
Don't force any moves if kids aren't keen. Take a break from the pool, do something different and then come back and try again.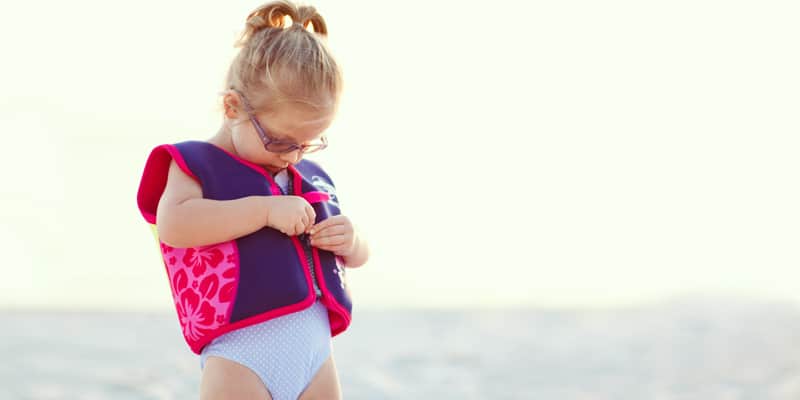 4/6

 Swap floaties for the freedom of swim jackets
No surprise to find children get pretty attached to floaties. If you need proof, try to persuade a novice swimmer to let go of one. So think swim jackets with removable floats instead. Kids wear them, so their arms are free and swimming feels like swimming right away. It's easier for you to get in close and create a sense of comfort. Plus, discretely taking away floats as they progress, won't cause instant panic.
Award winning Konfidence Swim Jackets are ideal from 18 months onwards. Designed in soft neoprene with eight removable floats they're light and soft and give kids freedom of movement while keeping them securely afloat at the same time. So even when you aren't teaching swim skills, playing's easier and any instructor will tell you having fun in the water is the best way to learn.
Quick tip
Even kids who swim never notice they're too tired in the water, until they are. Konfidence Swim Jackets are an excellent coping mechanism for those times and the high-vis back lets you spot your own little fish fast in crowded pools.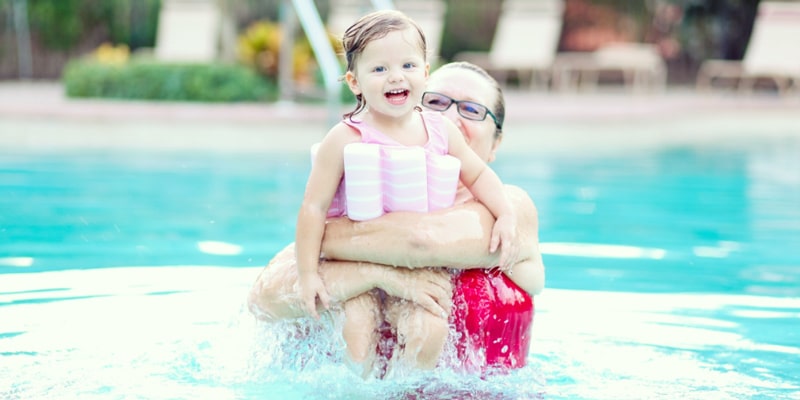 5/6

 Every little swimmer should start off slow
How frightening water is to a small child can be hard to grasp. What seems like a friendly, shallow baby pool, shimmering in the holiday sunshine to you, probably looks like an infinite, perilous ocean to a three year old. If you hunker down and see things from that perspective before you take the plunge, it's a lot easier to understand why moving at kid-pace makes sense.
Hold hands, walk as far as the first pool step, sit down together and splash your feet gently. Have a look around, talk about what you both see, stay close and comforting. When you're ready to move into the water a little further, head to the next step down.
Quick tip
It's amazing how many kids don't know they can stand up in the pool. Make it your mission to have that basic comfort-zone pointed out as soon as possible, it really does help.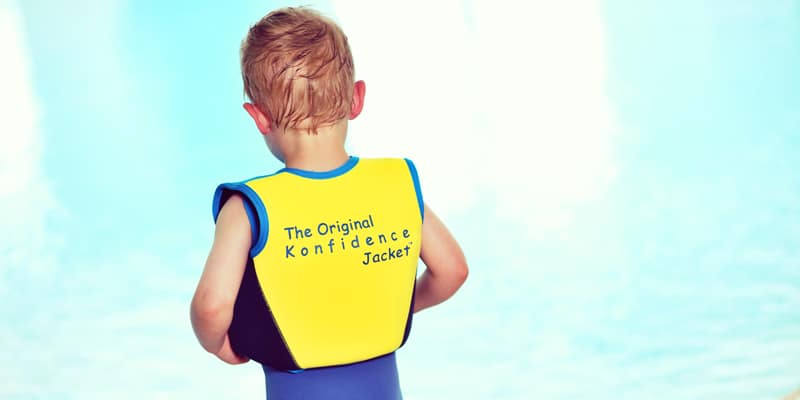 6/6

 Three simple essentials for happy holiday swimming
Three things can put paid to holiday swimming lessons quicker than anything else: too much learning too soon; tummy cramps; sore ears. They're all easy to overlook and most parents can hold their hand up to at least one of them. But in the spirit of keeping poolside drama to a minimum, it's worth taking a few precautionary measures.
15 to 20 minutes is about the maximum for teaching a two to four year old anything useful in the pool. Make sure your little swimmers haven't eaten for at least an hour before going into the water. Always pack eardrops; it doesn't take much for young kids to pick up infections in swimming pools and that could mean an entire holiday of sleepless nights – lucky you.
Quick tip
Disposable silicone or wax earplugs, designed for babies and young kids, won't harm delicate ears and will keep water out. Look for hypo-allergenic and organic brands.
Konfidence Swim Jackets are suitable for kids from 18 months to seven years. Made from soft neoprene with eight removable floats, they're available in a choice of designs from surf-inspired classics to Scoot the Clownfish cuteness. All jackets have a distinctive, high-vis back and built-in, 100% UV protection.