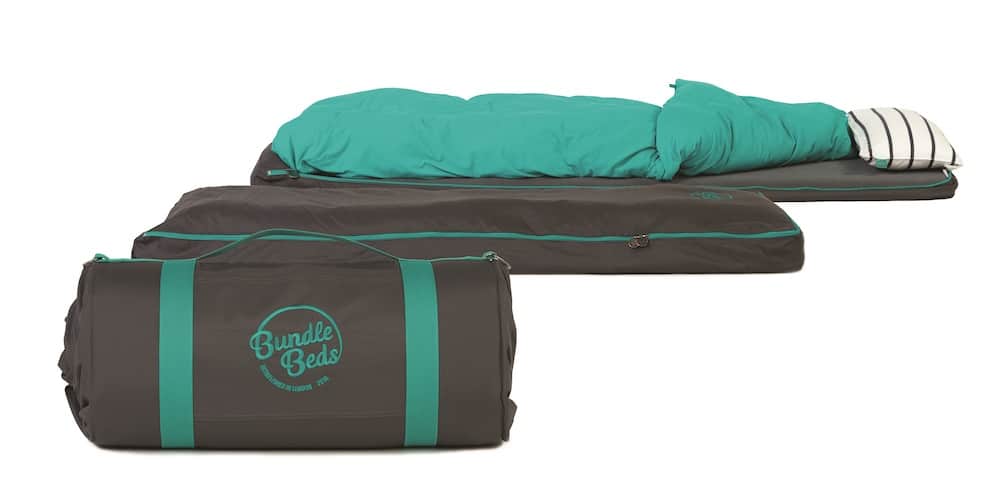 A Bundle Bed is the perfect accessory for festival-loving, adventure-seeking, road-tripping families.
With a Bundle Bed you don't need to cram the car full of air beds and sleeping bags and camping mats and blankets and pillows and … the list goes on. This all-in-one bed has it all, handily rolled up into one neat bundle that's super easy to use – simply unclip, unroll, unzip and sleep! Perfect for rolling out into a tent, the back of a car, or if you need an extra bed in a hotel room. Rolling it back up is just as easy and quick.
The bed includes a slim but super-comfortable self-inflating mattress (so no need for airbed pumps and waking up in the middle of the night on a deflated bed!) and a built-in luxury duvet and pillow with soft, cosy 100% jersey cotton sheets.
Not only comfy and practical, Bundle Beds are durable and washable too making them an essential for keen campers who often have little muddy feet and paw prints traipsing in and out of the tent.
Whatever your plans this summer, let the adventures begin knowing full well you will have a comfortable night's sleep with a Bundle Bed in tow.
Find out more at www.bundlebeds.com
The prize:
One lucky winner will win two Bundle Beds worth £199.99 each
Choose from four colour combos – Grey and Teal, Grey and Coral, Navy and Yellow, or Navy and Pink.
Competition closes 11pm on 11th May 2018. Good luck!