Win a Mother's Day voucher for dreamy Merci Maman jewellery
Thank you, mum!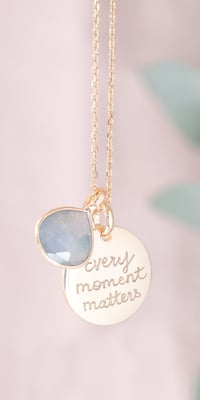 The first Merci Maman bracelet was crafted in 2007 by Béatrice de Montille, a French mum living in London, from her kitchen table. Béatrice now works alongside her husband, Arnaud, and their team of 20 in their London studio.
Merci Maman is French for 'thank you Mummy' and is a nod to the creators' French origins and a celebration of the mother and child bond. The jewellery is now loved by men, women, boys and girls of all ages and is even treasured by royalty – The Duchess of Cambridge wears a Merci Maman necklace engraved with Prince George's name!
Their signature Merci Maman orange gift boxes containing necklaces, bracelets, rings and accessories are now being given to loved ones all over the world.
Merci Maman puts love, joy and friendship at the heart of every design. Inspired by Béatrice and Arnaud's French roots and handmade in their London studio, each individual piece of jewellery tells a unique story.
The personalised pieces are all hand-engraved with elegance and precision, making the gift giving and receiving experience extra special. Every element, from the materials and crafting skills to the distinctive signature orange boxes, is used to create the perfect gifts for your loved ones to cherish.
[soliloquy slug="merci-maman-new-500″]
Prize for hard-working mums
Win a £100 voucher for Merci Maman in time for Mother's Day on Sunday 26th March and treat a hard-working woman in your life to something special.
Competition closes at midnight on Monday 20 March 2017. Good luck!