Win Keep 'Em Quiet kids travel packs worth £100
Introducing the ultimate travel pack for kids
Picture the scene: you're five minutes into your journey and the kids' tantrums have already started. All you want is peace and quiet, but the little ones are bored. The iPad is on flight mode, so there's no WiFi and they refuse to watch the same episode of Peppa Pig again (you forgot to download anything else). We've all been there, right?
At last, there is a solution. Keep 'Em Quiet create specially curated travel packs for children, designed to keep kids entertained, engaged, busy and happy – while travelling or on holiday.
The exciting packs are packaged in colourful, reusable backpacks, perfect for using on holiday excursions.
What's inside?
Each travel pack is crammed with books, toys, educational products, puzzles and activities, as well as healthy snacks. In short, everything you need to make the process of traveling with children that little bit less stressful.
How it works
Ordering Keep 'Em Quiet packs for your little jetsetters couldn't be easier:
Simply visit the Keep'Em Quiet website and select from girls, boys or unisex pack. Then select the child's age (packs are created for kids aged 2+ years, 3-5 years and 5+ years). Select the length of the trip: short, medium or long. Then sit back and relax! Your Keep 'Em Quiet travel pack will be delivered straight to your door in perfect time for your trip
Prices start from: £9.99 for a Short Trip, £12.99 for a Medium Trip and £15.99 for a Long Trip and each pack contains a selection of entertainment items and healthy snacks. The packs are far more affordable than buying the products individually and the process is incredibly easy and convenient.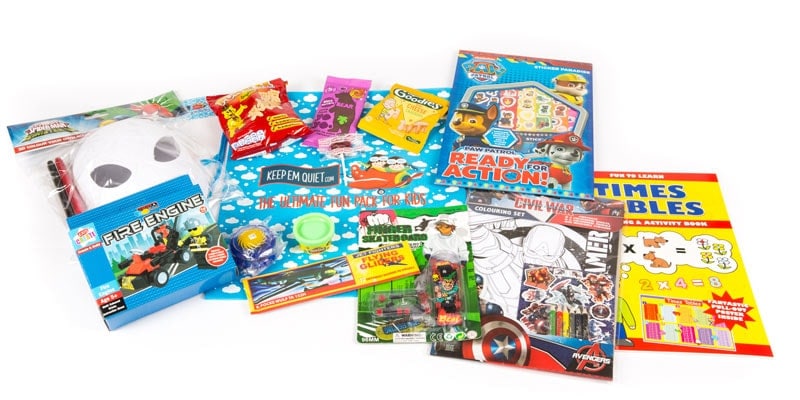 What's the story?
Keep 'Em 'Quiet packs are the brainchild of Carly and Daniel Moosah, as a result of enduring some difficult journeys with their own kids! After a few 'epic fails' while travelling as a family, Carly and Daniel were desperate for ideas to the kids entertained that didn't involve electronics. They started making packs for their own kids and their friends' kids, which were a huge hit.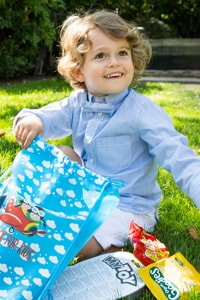 Children love surprises, so the contents of the pack are constantly updated and the 'return leg' options means kids will get a different pack on the way home. As well as being great for flights, car journeys and train rides, Keep Em' Quiet packs are ideal for long weekends, family day trips, days at the pool or for anytime mum and dad need a bit of peace and quiet.
Subscribe for a gift that keeps on giving
For year-round peace and quiet, subscribe for monthly gift backs. The kids will receive a 'long trip' pack every month, each containing different items.
Win a pack today (10 chances to win!)
To win a Short Trip pack for your little one, simply answer the question below.
Competition closes at midnight on Friday 16 December 2016. Good luck!