Win an amazing wearable Omnio stroller worth £389
Win a compact, wearable pushchair
Whether you're planning a staycation, holiday, or a day trip, the new Omnio Stroller provides the ideal mode of transport for families with young children (six months+), wishing to 'push on' with their travel adventures.
Ready-to-go, straight out of the box, complete with all the travel essentials – rain-cover, UV protective all-weather hood and travel bag – the Omnio Stroller, with its compact, lightweight (7.5kg), wearable design and large carry capacity (22kg), is fit for any family excursion that comes its way.
Hikes
Independent toddlers never bore of exploration, but they do tire easily. Thanks to Omnio Stroller's wearable design and puncture-proof, multi-terrain tyres, parents always have convenient back-up transport for just those occasions.
Sightseeing
Castles, historic homes and other tourist attractions aren't always the most pushchair-friendly environments, with awkward staircases, narrow corridors, and confined spaces. Omnio Stroller's lightweight, wearable design means parents can carry their child and the stroller at the same time. The revolutionary 360-degree 'omni-wheels' make light work of navigating tricky corners and passages.
Cafes & restaurants
A compact fold ensures that Omnio Stroller can easily be stowed away under a table or chair, without causing obstruction.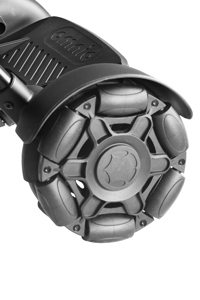 Transport
Whether using public or private transport, the Omnio Stroller fits neatly into tight spaces, whilst the travel bag and removable wheels ensure dirt and debris are kept to an absolute minimum.
The Omnio Stroller (£389 RRP) makes an ideal follow-on stroller for active family lifestyles!
Competition closes at midnight on Monday 3 July 2017. Good luck!