John Lewisohn explores the pretty Italian Alpine resort of Champoluc in the Valle d'Aosta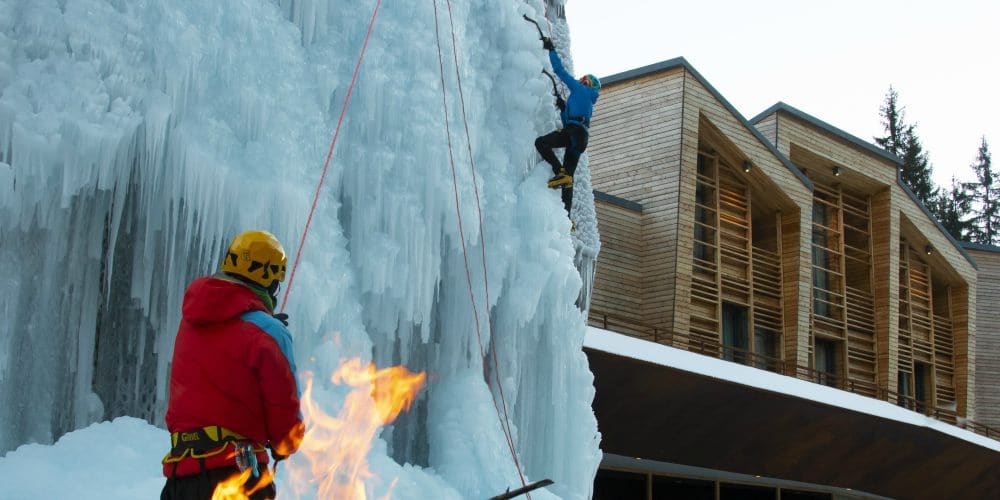 Those icicles must be almost a metre long I thought, as I gazed up the towering wall of ice. Unusually, I wasn't half way up a mountain peak, but outside the recently opened Camp Zero hotel in the little-known resort (to British skiers at least) of Champoluc in the Valle d'Aosta where guests can scale the building's ice wall with ropes and crampons.
This is definitely a ski hotel with a difference. In the lobby, there's a huge indoor climbing wall behind Perspex glass where excited children are being taught how to clamber up. The resort describes itself as offering 'active luxury' and if 007 had strode over, I wouldn't have been surprised.
Champoluc is an easy transfer from Turin airport. As we drove into the Monterosa mountains, the snow depth increased until we reached a pretty wooded valley. Described as Italy's 'trois vallees', together with Gressoney and Alagna. Champoluc does not look like a typical ski resort and is all the better for that. It feels like a village, and from the hotel there is a wonderfully pretty and well-marked trail through the woods to reach the bustling resort, where tired skiers were having an après-ski hot drink or beer.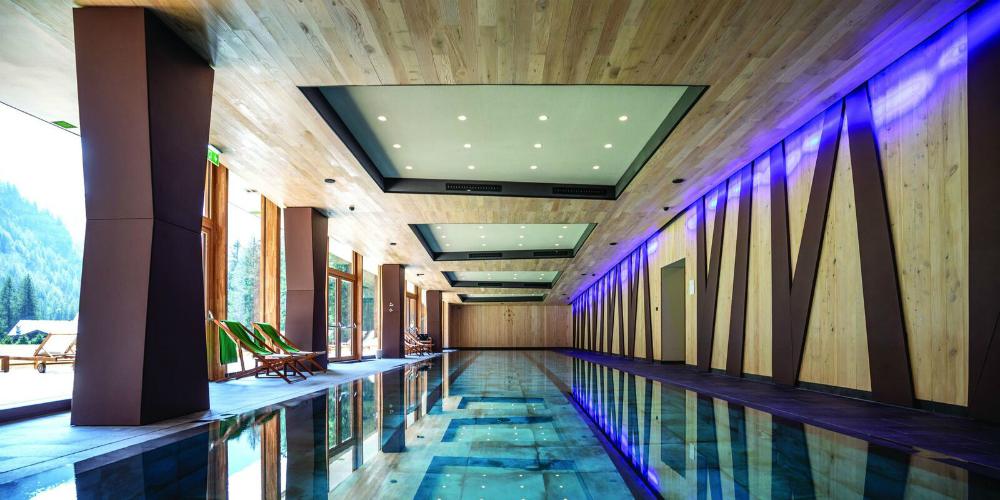 Camp Zero, with its wooden exterior and acres of glass, feels achingly cool. Our two-floor guest suites were beautifully furnished and cosy. After a hard day's skiing, the lavish spa – with its pool, saunas, relaxation areas overlooking snowy woods, Jacuzzi and an amazing shower that squirted out a cold mist at the same time as enveloping the user in a hot-rain deluge – was particularly welcome.
The slopes here are remarkably empty compared to other resorts and it's easy to drop into both the central valley of Gressoney and even the far valley of Alagna in one day if you're a competent intermediate. As darkness fell, we transferred to the better-known resort of Cervinia which, as the crow flies, is not that far, but traversing the valleys takes two hours. Rumour has it that the Alplinks project will connect these Monterosa resorts directly to Cervinia and its famous neighbour Zermatt, eventually making it one of the world's largest interlinked ski regions.
Our home in Cervinia was the traditional-looking four-star Excelsior Planet Hotel, which had an awe-inspiring location overlooking the less well-known Italian face of the Matterhorn. Inside all is traditional wood décor, except our modern top floor suites with their cosy sitting rooms and lavish bedrooms.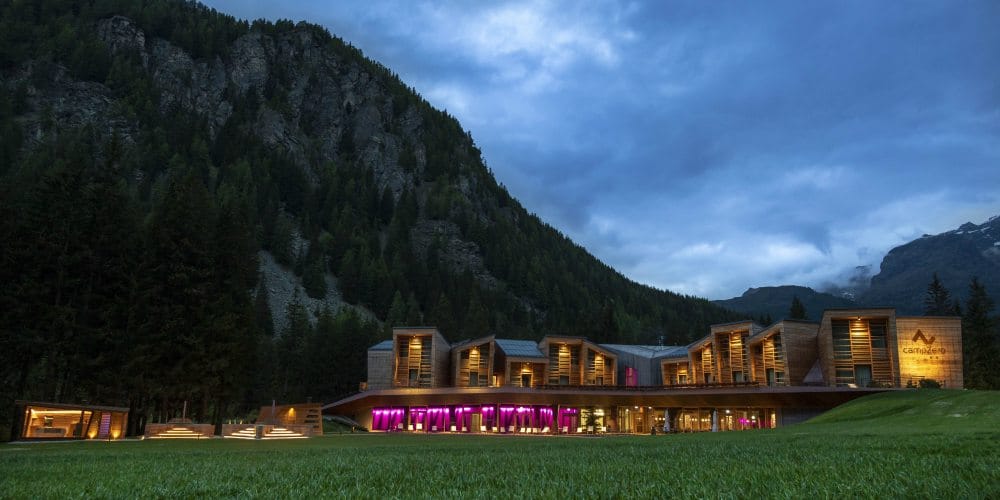 The following morning, the view that greeted me from my terrace would have gladdened the heart of any keen skier – bright blue sky with the sun creating shadows on the incredible massif that is the Matterhorn. I've never been in a resort where gigantic mountain peaks rise up so dramatically from the town. We were blessed with perfect weather and conditions for our two days in Cervinia, which included skiing over into the Zermatt valley.
Since 1865 and the first ascent of the Matterhorn, the Cervinia area has been famous as a mountaineering hub, but the resort proper only launched in 1936.
Blessed with such clement conditions, we were able to get to the highest point of the Alps reached by lift at Klein Matterhorn, 3,883 metres high. As well as the stupendous views, one can use one of the world's most expensive public toilets. Despite being so high, much of the skiing at the top of the mountain is quite gentle, with greens and blues ideal for family groups.
Cervinia is vastly cheaper than Zermatt and stories abound of unfortunate skiers getting stuck in Zermatt having mistimed the last lift back up the mountain. One is either faced with a long and ruinously expensive £385 taxi ride back or spending the equivalent in a Zermatt hotel. From the top we skied arguably the longest run in the Alps.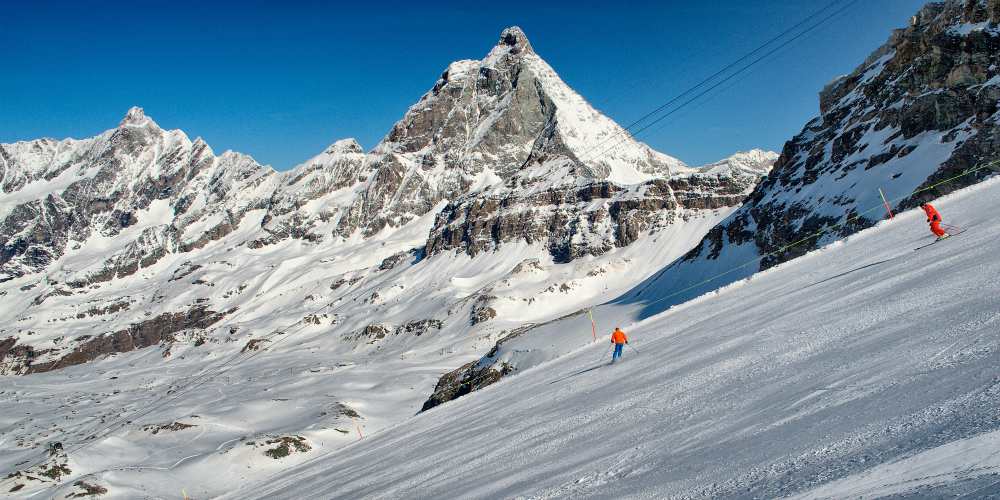 It's 25km down the fabled Route 7, a sinuous red run back down to Cervinia, and well within the compass of intermediates and families if taken slowly. Do ensure children are well wrapped up if heading to the top as benign weather conditions at such altitude can change alarmingly quickly.
There are plenty of choices of ski passes. One option is to purchase a Cervinia-only ticket as there is more than enough skiing, particularly for beginners here. The closest run to the Matterhorn is actually on the Cervinia side and what makes skiing on either side so memorable is the variety of views of this extraordinary pinnacle. Cervinia could never be described as Alpine pretty, but there are plenty of attractive bars, shops and restaurants at a fraction of the cost one finds in Zermatt.
Having a beer on our last afternoon at a mountain bar, I watched a young English boy point at Matterhorn's impossibly pointy peak and say to his mother, 'It looks just like the mountains I draw, Mummy, but I put a cow on top. Could a cow really climb up there?' Imagination meets reality in Italy's Valle d'Aosta.
The lowdown
How to get there
Fly from London Gatwick to Turin return from £110 with British Airways.
Where to stay
Camp Zero costs from £400 per night with breakfast for two adults and one child (0-6). campzero.com Excelsior Planet Hotel costs from £356 per night with breakfast for two adults and one child (0-6).
Find out more about Valle d'Aosta