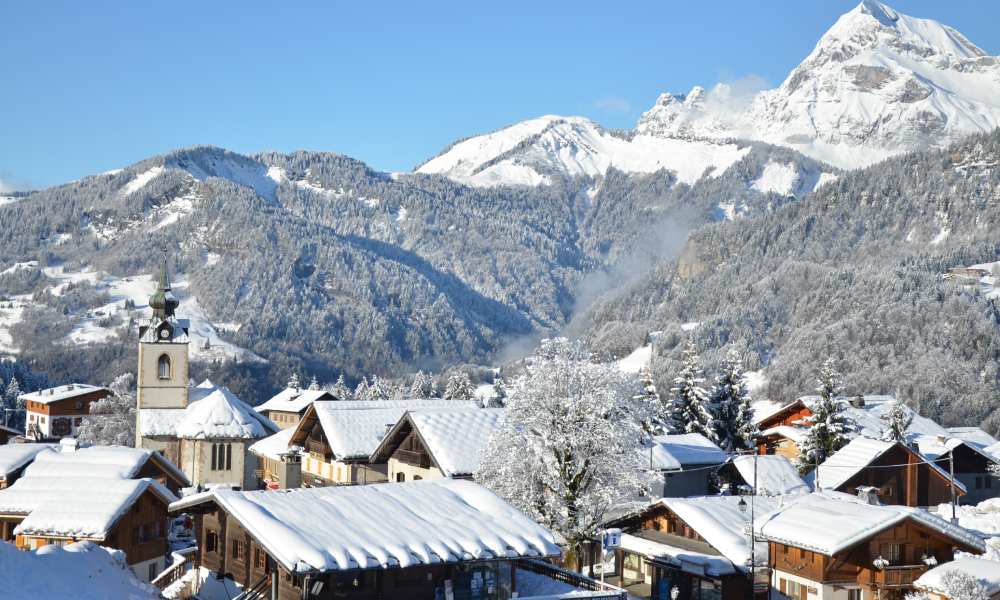 Val d'Arly villages in France really capture this winter's mood for crowd-free family ski holidays. One of the most unspoiled and naturally lovely valleys in Auvergne-Rhône-Alpes, Val d'Arly is well known to French families but still a bit of a secret to the outside world. Which is a surprise, considering it's right at the heart of L'Espace Diamant and Les Portes du Mont-Blanc ski areas, no distance at all from glamorous Haute-Savoie legends like Megève and a very easy drive east of Lyon-Saint-Exupéry Airport.
Of course, Val d'Arly is a spectacular natural beauty, this close to Mont-Blanc it really couldn't be anything else. But it's also worked hard to preserve heritage, so you can look forward to medieval churches and baroque bell towers, traditional farms and incredible artisanal produce. What you won't find are big hotels and ugly new build apartment blocks. Val d'Arly's style tends to wooden chalets, pretty residences, family-run restaurants and friendly bars where locals like to drink and the chat's more likely to be village news than skiing exploits.
Just don't let the gentle atmosphere deceive you into thinking Val d'Arly villages are too low-key for kids. That couldn't be further from the truth. Kids rule the valley in terms of activities so feel free to ramp up the excitement with promises of mammoth downhill toboggan runs, fat-biking, snow-biking, tree-top adventuring, ziplines and sleigh rides, paragliding, torchlit skiing and even ski schools that are as much about fun as learning – newbies start lessons from age three here.
Historic Val d'Arly villages for unforgettable family ski holidays
Crest-Voland/Cohennoz is instant enchantment. Petit and cosy, it's the type of place where locals greet kids with a friendly 'bonjour', and winter sounds like church bells, sleigh bells and gently falling snow. As a Famille Plus resort excellence is the standard for everything from ski-instruction to childcare. There's plenty for older kids and teens to get up to, like tobogganing down the 20-minute Crestvoluge run or climbing through the treetops at Escaladventure. The nearest ski area at Les Saisies is only a chairlift away from the centre. And if you want a gentler sort of excitement, there are family events here all season from strolls with Yeti Opoual to live shows, traditional markets, guided snowshoe hikes and regular torchlit skiing.
Take a closer look at Crest-Voland/Cohennoz for family ski holidays
Flumet/St Nicolas La Chapelle is often called the soul of Val d'Arly and comes close to perfection if you want a little escapism in your family ski holiday this winter. You'll find heritage charm everywhere here, from ancient architecture to family-run restaurants serving up locally produced cheese and charcuterie. But there's also more than enough to keep kids interested whether they're up for snowshoe treks through pine forests, tobogganing or picking up the basics of orienteering. Ski-lessons start from age three at the local, multi-lingual L'École du ski français. And, if you already know the ropes, the village is very well connected to L'Espace Diamant ski area.
Take a closer look at Flumet/St Nicolas La Chapelle for family ski holidays
La Giettaz en Aravis, or La Giett as the locals say, has excellent links to the Portes du Mont-Blanc ski area, though you wouldn't know it to look at this time-stood-still fairy tale village. When families aren't skiing here, the moods all about getting close to nature. You can promise kids sightings of chamois in their natural habitat, free-riding in vast pine forests, dog-sledding, snow-biking in the wilds or the unforgettable experience of family snowshoe hikes with a side of spectacular mountain drama. It's another resort with its own toboggan run and if your heart's set on a traditional family chalet for the holidays, La Giett is the place for those too.
Take a closer look at La Giettaz en Aravis for family ski holidays
Notre-Dame de Bellecombe might sit right at the heart of L'Espace Diamant but this delightful village resort avoids just about everything else associated with major ski areas. In fact, it's more likely to make you feel like a kid again with its family restaurants and cheerful bars; ice skating under the stars; friendly locals and all-round carefree atmosphere. Beyond the enchantment of quaint belltowers and cute wooden chalets, the village comes good on entertaining kids endlessly; whether they're young enough to be captivated by the House of Fairy Tales or just the right age for snow-scooting, sledging, snake-gliss and snow biking.
Take a closer look at Notre Dame de Bellecombe for family ski holidays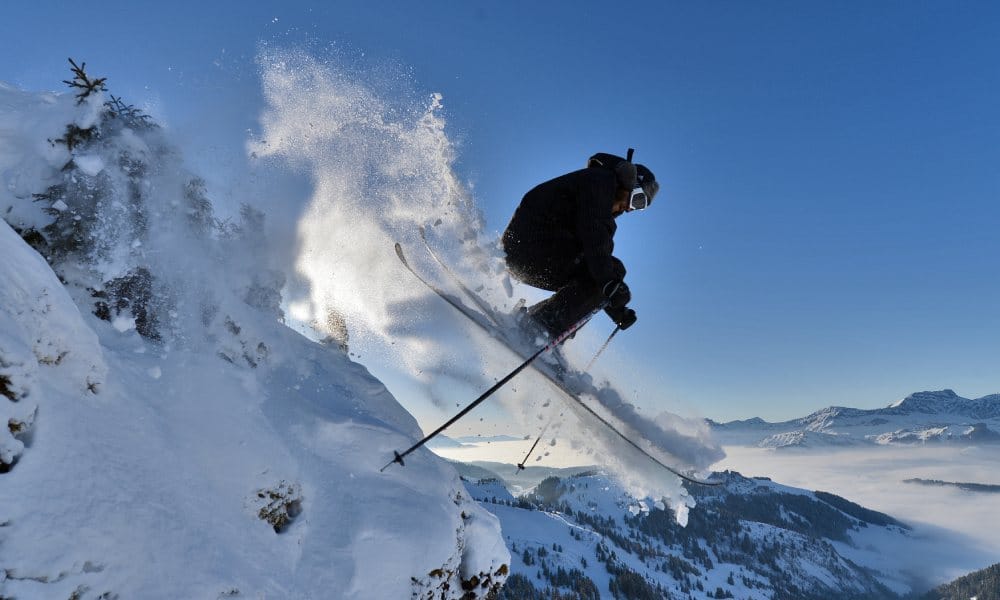 Easy connections to sensational ski areas
Not having to choose between authentic atmosphere and good skiing is another reason to plan a family ski holiday in Val d'Arly this winter.
Flumet, Notre-Dame de Bellecombe and Crest-Voland/Cohennoz are all well connected to L'Espace Diamant where you'll find an astonishing 192km of runs and some of the French Alps' most magical 'skiing in nature' experiences. Plus, up-close views of Mont-Blanc are jaw-droppingly magnificent.
Take the chairlift from La Giettaz en Aravis straight to Les Portes du Mont-Blanc for over 100km of runs, Aravis Mountain panoramas and thrills like slaloming through pine forests. This is also the area for gliding down slopes scattered with picture-book-perfect wooden chalets and, on a clear day, seeing all the way to Beaufortain.
Family ski holidays Val d'Arly 2021/22
Where
Val d'Arly is in the Auvergne-Rhône-Alpes region of south east France.
How to get there
Direct flights from London to Lyon-Saint-Exupéry Airport take from one hour, 35 minutes.
Val d'Arly is just under two hours' drive east of Lyon-Saint-Exupéry Airport.
When to go
Val d'Arly winter season runs from December 2021 to April 2022.
In the mood to think ahead? Take a look at our month by month dream holiday guide for 2022. And don't forget to follow Family Traveller on Instagram and Facebook and share your holiday dreams – or just say 'hi'.