Sweeping up from the northern end of Lake Garda, Trentino is one of Italy's great ski regions, and anyone who tries to tell you otherwise obviously knows nothing. The hint is in 730km of downhill runs, cross-country trails covering upwards of 450km and a long, long, snow-sure season.
But there's more to a family ski holiday than just skiing, and few places understand that better than multi-faceted Trentino. So whether you don't ski/won't ski or just want to mix up the skiing with other fun stuff, take a look at the top six ski-free activities in Trentino this winter.
1/6 

Tobogganing is more thrilling than ever

Depending on your kids' ages, they might have forgotten how much fun tobogganing is, or not even tried it out yet. Either way, there are quick fixes for that all over Trentino this winter and quite a few surprises, destined to thrill even the staunchest toboggan traditionalist on your team.
Night-hawks will like tobogganing the 2.5km long floodlit trails at Laner-Obereggen in Val di Fiemme.
High above Predazzo, the region's first ever Alpine Coaster is designed for riders who don't think mere toboggans are fast enough.
Val di Fassa has a great mix of tubing and tobogganing experiences for all ages, from fun mini-trails in kid-friendly snowparks to white-knuckle runs for teens.
Alpe Cimbra is the ultimate in Trentino tobogganing and comes complete with state of the art sledge lifts to whisk you up to the top of the run so you can zip straight down, without getting off your toboggan at all.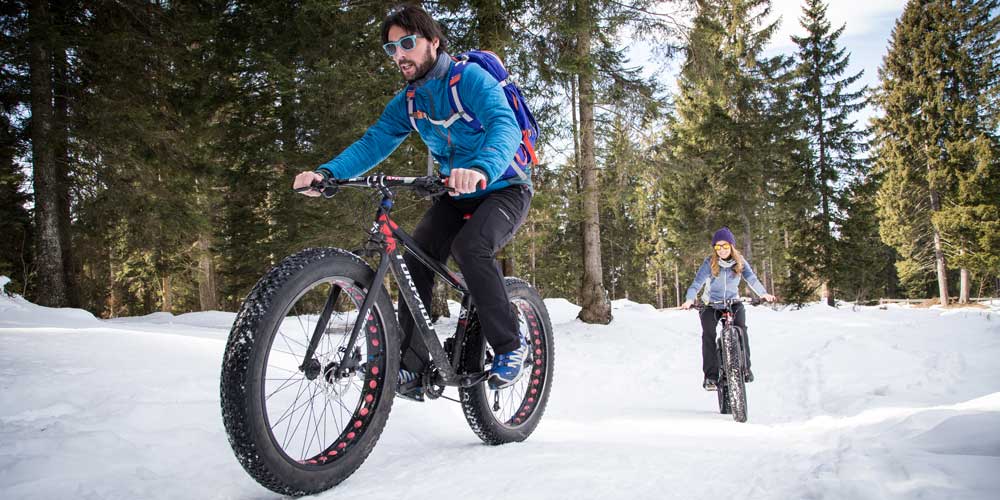 2/6

  Fat bikes work wonders in winter Trentino

Forget foregoing your wheels for winter, and take on the snow with a fat bike instead. Trentino has been a big fan of low-pressure tires and beaten trails for years, so you'll find everything here, from brilliant bikes to advice on the best techniques for cycling smoothly and satisfyingly across the region's wondrous frozen terrain. The style is a bit different from MTB, but easy to master and enough fun to convert the most ardent mountain biker.
Hire fat bikes in the Alpe Cimbra and follow expert local guides on Folgaria and Lavarone's excellent beaten trails.
Try fat bike guided tours in the Dolomiti Paganella Bike Area; on Monte Bunone or across the Brentonico Plateau.
Enter La Winter Downhill race on the Biancaneve Piste in Cogolo di Pajo. It's a bumpy, jumpy ride of a lifetime and not for the fainthearted, but it is great fun and you can even hire bikes and safety equipment to compete.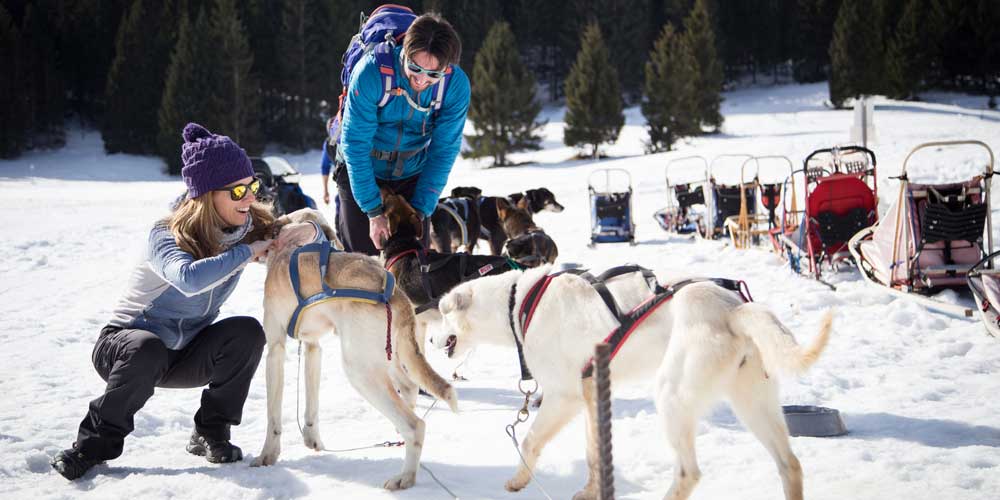 3/6 

Discover the delights of dogsledding in Trentino

As far as unforgettable family holiday experiences go, dogsledding in the snow-laden landscape of wintery Trentino is particularly hard to beat. You can choose to snug up cosy with kids and let someone else take the reins or try out as trainee mushers and learn to handle remarkable Siberian Huskies for yourself. But if it's full-on enchantment you want, go for a moonlit sled ride and wait for the magic to happen – it always does.
Visit Windshot at Passo Coe in Alpe Cimbra. The friendly team here train magnificent Siberian Huskies and offer 15 minute sled rides for three to six year olds, and junior-musher experiences for kids from age eight.
Husky and Scuola Italiana Sleddog at Val di Sole in Passo del Tonale is home to over 70 huskies. Kids and adults can take a turn as mushers here or choose from a range of sledding tours.
Dogsledding Athabaska near Madonna di Campiglio starts with 4km taster sled rides and goes right through to four-day training courses. This is also the centre for dogsledding after dark.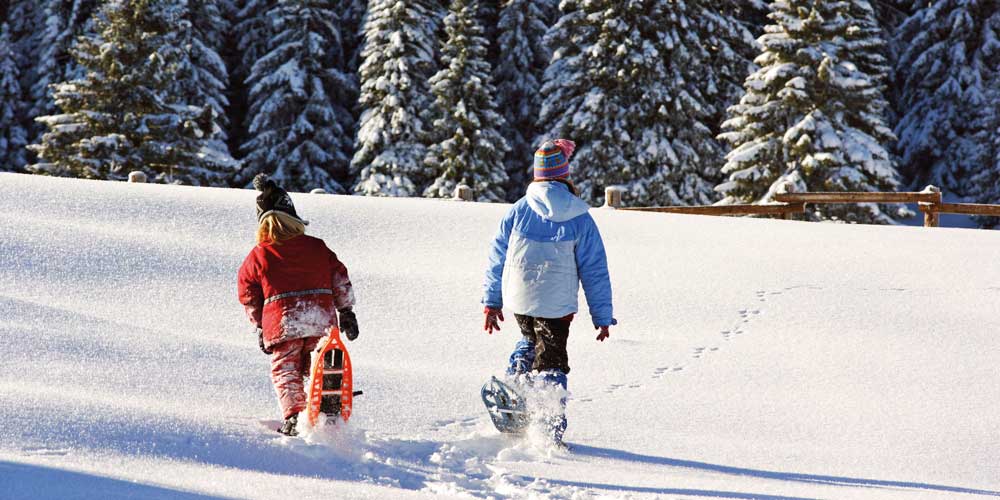 4/6 

Step into snowshoes for endless family adventures

Hushed trekking over snow might make kids feel like intrepid explorers, but today's hi-tech snowshoes take about five minutes to master, although the thrill of snowshoeing always feels brand new. It's one of the easiest ways to hike in winter, lets you in on some of Trentino's best kept secrets, and there's almost nowhere you can't simply snap on shoes and start walking.
There are well-marked trails right across the region. Short, forest walks are good for first time snowshoeing expeditions, and for younger kids.
Several resorts offer guided snowshoeing adventures ranging from an hour-long hike to an entire day trekking, depending on energy levels and experience: tailor your tour choice to the ability of the smallest family member.
Outstanding local cooking at mountain huts all over Trentino reward snowshoeing efforts on-route. Try Rufigio Fuciade, at the end of the four kilometre trail above Passo San Pellegrino; Capanna Cervino under the Pale di San Martino massif or Malga Ritorto near Madonna di Campiglio.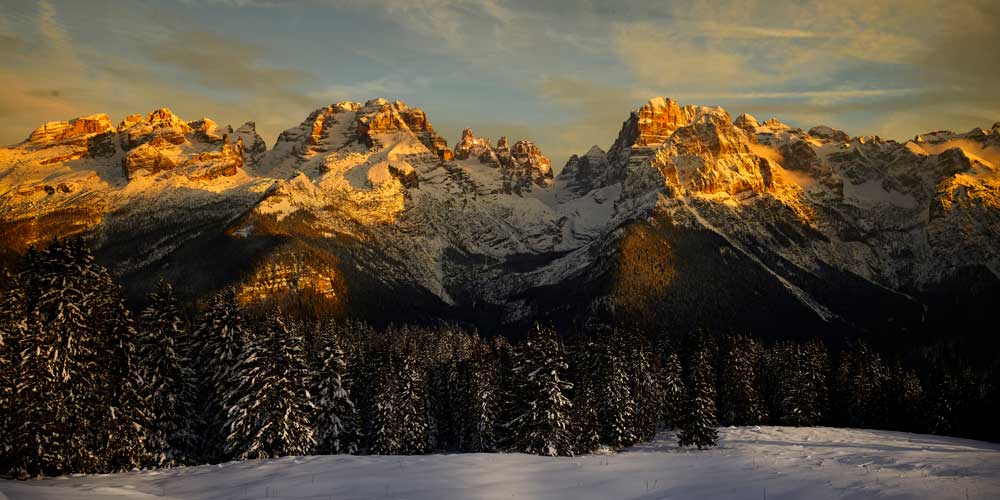 5/6

  Open your eyes to Trentino's sunrise on the snow

The Trentino Ski Sunrise programme runs from January to early April every year, but book early: the experience is as captivating as it sounds, and understandably very popular with families. If you don't ski, that's fine, the sunrise is just as spectacular in snowshoes or hiking boots, so non-skiers are as welcome as skiers on this dawn adventure.
Sunrise seekers have exclusive use of early-morning lifts to the top of some of the region's most stunning runs.
A mountain hut breakfast with strong Italian coffee comes first.
Family-friendly Ski Sunrise is guided by local ski instructors, welcomes kids aged 12 and over, and takes place at various resorts across Trentino.
The programme runs at the weekend, and on several mid-week days.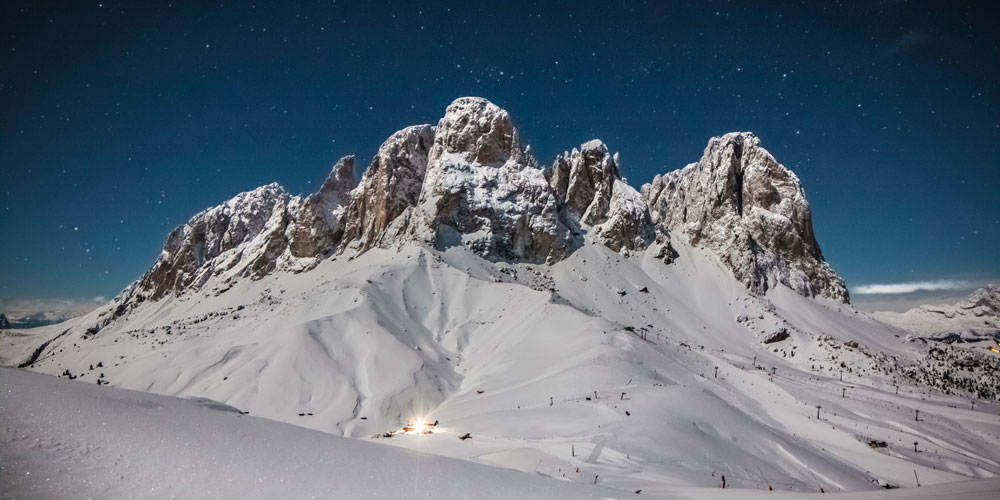 6/6

  Trentino night-skiing is wide-awake fun for families

Take to the slopes all over Trentino after dark and you might never want to ski in daylight again. There's a long tradition of night-skiing in this part of Italy and it's a bit of a local passion, so expect to be spoiled for choice on the range of experience: think anything from floodlit skiing to sailing down runs lit by glimmering solar globes. It's great fun with kids and about as close to a fairy tale as it gets – especially around Christmas. And if skiing isn't your thing, try night time tobogganing or tubing instead.
Madonna di Campiglio was the first Trentino resort to introduce night skiing on its exciting 3-Tre Piste, and it's still one of the best.
The Pinzolo-Carisolo Centre in Val Rendena offers floodlit cross-country skiing round an enchanting three kilometre circuit.
Passo Brocon in Valsugana is where younger night owls can ski after dark on the resort's illuminated nursery slopes.
Colverde Snowpark lights up the night for freestylers to practice their moves.
Forty Sunglobes bring winter wonderland sparkle to the slopes at San Martino di Castrozza.
Family winter holiday in Trentino 2021/22
Where
The Trentino region of northern Italy lies between Lake Garda and Sud Tyrol.
How to get there
Direct UK flights to Venice Treviso, one hour and 50 minutes, year round. Trentino is about two hour's drive north of Treviso.