Abigail Butcher explores the world of kids' ski racing and finds the best ski race camps for youngsters 
Ski racing is about aspiring Olympians, right? Actually, no. Ski racing is for anyone, and can be done at almost any dry or artificial ski slope around the UK — and it doesn't have to lead to a career as a ski racer, it can just give your children focus. After all, they might do tennis lessons, tap dance or piano — why should skiing be so different?
Where to start?
Most dry ski slopes and snow domes in the UK have some kind of race club. Go Ski, Go Board is a campaign from Snowsport England, Snowsport Scotland and Snowsport Wales to encourage people back into snowsports — or into skiing or snowboarding from scratch. The campaign's website has a handy activity finder that allows users to search for an Alpine Skiing club (similarly snowboarding and freestyle) near them.
"If you fancy giving ski racing a go, the best starting point (if you can already ski) is to join a ski club at your local slope or snow centre," said a spokesman for Snowsport England.
"Most slopes will have a race club where you can give skiing through gates a go to see if you like it and coaching to help improve technique. If you catch the bug, then there are hundreds of regional and national races taking place throughout the year – and you will be able to enter through your local club."
One example is The Snow Dome at Hemel Hempstead, which has a programme called Snow Stars at weekends 8am – 10pm.
"This is for kids who have reached a good level of recreational skiing and are independent (using lifts etc)," says Pete Gillespie, head of snowsports at Hemel. "Our coaches then develop their all-round skills incorporating carving skills, basic freestyle, skiing variables etc. We are looking to build an all-round skier.
"In the sessions the children will get to ski slalom in various turn shapes and lengths to further develop versatility and skill. Once some of these skills have been developed we will invite them to the Snow Stars Academy on a Monday evening 5pm – 7pm where the focus becomes more on performance and racing technique. The same coaches oversee the programme week in, week out and cost ranges from £42 a session."
One parent's ski racing story
Ben Moore, founder of family ski website Parallel Trails, is evangelistic about the benefits of ski racing for his children Seb, 14 (pictured above in blue) and Ollie, 12 (pictured at the top of the page). After a couple of family ski trips, the boys joined their local race club at Bowles dry slope in East Sussex. Every Friday night from 5.30pm they train for two hours. The club has members from the ages of six to 76, so they get to mix with a lot of different people and get technique coaching to hone their skills.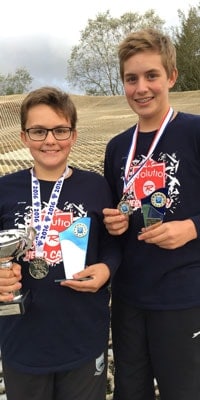 "Seb and Ollie [shown on the left, with Seb on the right] compete in slalom races in London and South East and Southern regions," says Ben. "This allows them to challenge for podium places against other skiers in their age group. It gives them a focus to their skiing all year round when they're not on holiday with mum and dad. They love the challenge of pushing themselves and the chance of winning medals."
"Ski racing really accelerates a child's learning and technique. Don't be put off getting involved in this because you think it's only for wannabee Lindsey Vonns or Marcel Hirschers. Your son or daughter doesn't have to want to be an Olympic Champion to get a real buzz and boost out of ski racing. Get them involved and they will grow up to be the best skiers they can be, with a love for being on the slopes."
Join a ski race camp
As well as regular club nights at slopes in the UK, there are also a number of junior race camps around the UK and in Europe, where your child can immerse themselves in ski racing for days at a time with others their own age. Here is a selection of the best:
Snoworks runs junior race camps during the summer and autumn on the Grand Motte Glacier in Tignes, and one-day sessions in the UK
Alpine Training Centre runs camps in Scotland and across Europe's glaciers
Ski 2 runs race training camps for youngsters in the family-friendly resort of Champoluc, Italy
Team Evolution runs camps around the UK
Le Chardon in Val d'Isere has just launched a teen race clinic with British Olympian Alain Baxter and U21 slalom champion Zak Vinter
One youngster's racing story
Zak Vinter, 18, is the current British U21 slalom champion and has recently received sponsorship from Le Chardon in Val d'Isère.
"I'd advise kids to get into it wherever they can, at an indoor slope or artificial slope and keep training," says Zak. "It's better to get some experience on snow, but indoors you can get the same feeling and work a lot on the basics."
Zak adds: "If they do want to take it further and aim for the British team it has massive rewards — getting up every day and being in a beautiful environment, it's not a bad place to be. It is a lot of hard work but has its benefits — I can see the pathway I'm on and what I want to achieve."
Are your kids keen on learning to ski? Here are the best indoor ski centres in the UK.