Sponsored Content
Every winter day is a perfect family ski day at Whistler, Canada. But as this snow season has been particularly long awaited, here's how to make every minute matter on your family ski holiday this winter.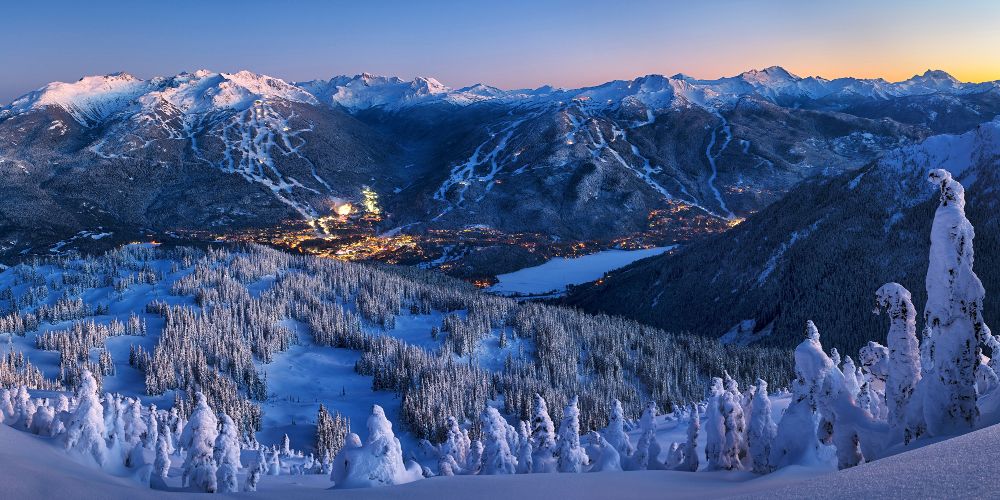 Whistler ski season is back, plan the best family ski day, every day
Snow season is back at Whistler and if it feels too long since your last family ski holiday, let's make the next one really count. From magical high altitude children's adventure parks to ice caves and enchanted forests, we've mapped out the perfect family ski day at Whistler for you and your little ones.
Feel free to ski and repeat as often as you want. Or use our guide as inspiration and create your own unforgettable family ski days. At Whistler you have a lot to play with: more than 8,000 acres of terrain; 200 plus runs; two world famous mountains, and the biggest ski resort and longest ski season in North America, with lots of snow in March & April. So start making plans.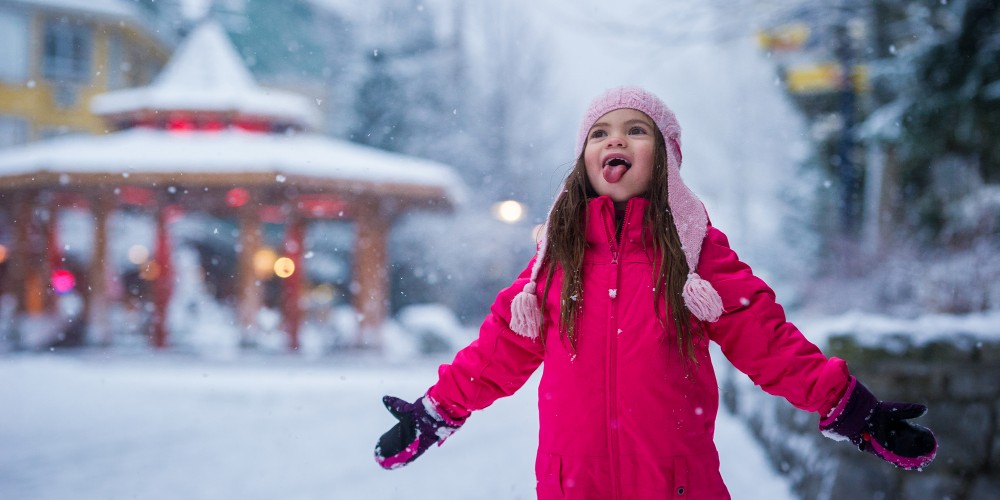 Start your family ski day with breakfast the Whistler way
Breakfast is the most important meal of the day and Whistler Village is determined you and your kids won't hit the mountain hungry.
Try Crepe Montagne for its authentic French creperie atmosphere, a variety of delicious breakfast crepes and a choice of lighter breakfasts too. Or reserve an early table at Elements which has been voted best breakfast spot in Whistler since 2005. Go for their Eggs Benedict seven different ways, frittata with chorizo or a traditional Canadian breakfast with a choice of artisan breads.
If you're keen to get your family ski day started fast, Whistler Village grab and go options have you covered. Lift Coffee is known for the best flat whites and lattes in Whistler, they also serve light bites to go for hungry kids. Mount Currie Coffee on Main Street makes coffee, cosiness and breakfast pastries its theme. A good choice for vegan or gluten-free eats, and you can call your order in ahead – bonus if you've younger kids.
Alternatively, if you really want a head start on the morning lift queues, do a grocery shop in the village the night before and make breakfast for kids in the comfort of your accommodation. Don't forget to pick up snacks for a day on the mountains to boost kids' energy levels and avoid those hangry moments.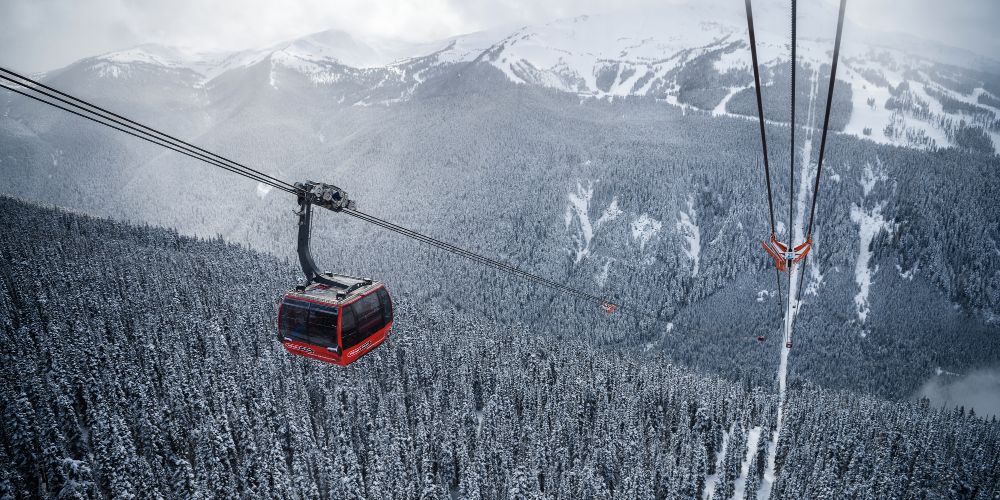 Peak 2 Peak Gondola: soar between mountains on your family ski day
The first and highest lift of its kind, anywhere, the Peak 2 Peak Gondola connects Whistler and Blackcomb mountain, so you can ski both in one day. Even if you don't ski, it's a spectacular sightseeing experience. The views are stunning in every direction, even under your feet, if you catch the glass-bottom gondola.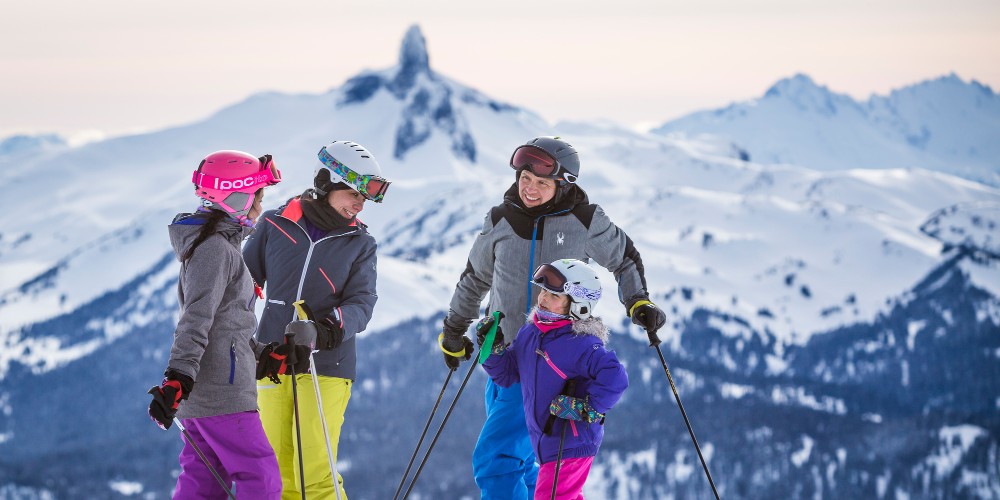 Find your family ski day spot on Whistler or Blackcomb Mountain
With more than 8,000 acres of skiable terrain between the two mountains, side by side, families can ski both in one day.
But what surprises many Whistler first timers is how accessible and family-friendly the mountains are and how easy it is to find the perfect spots and trails for kids. So much so, that Whistler even has a downloadable Kids Trail Map. You'll quickly find your own family's happy place on the mountain, but here are a few pointers for your family ski day.
Blackcomb Mountain: add Magic Castles and ice caves to the family ski day
Easy Out is a fun run and a good start to the day for beginners and intermediate skiers. Accessed from the top of Blackcomb Mountain, it winds down from there.
Give kids a breather at the Children's Adventure Park. Its Magic Castle is great fun and the park's accessible from Easy Out, close to the Catskinner chairlift.
When skies are clear, head to 7th Heaven and catch some rays as you ride the sunniest side of the mountain. Lots of good family photo spots here too.
More experienced skiers should hike over the backside of Blackcomb to see the ice caves – one of Whistler's many wonders.
Whistler Mountain: ski enchanted forests with kids
Much of

Whistler's

mid-station is a designated family zone with a magic carpet and easy terrain for little beginners to master the basics.

Don't miss skiing the Enchanted Forest with kids.
At 11km, Peak to Creek is the longest run on Whistler Mountain and ends up in Creekside Village. Creekside is another Whistler Mountain base, about 10 minutes drive south of Whistler Village. 
Head over to Symphony for intermediate runs and the chance of spotting local Whiskey Jack birds.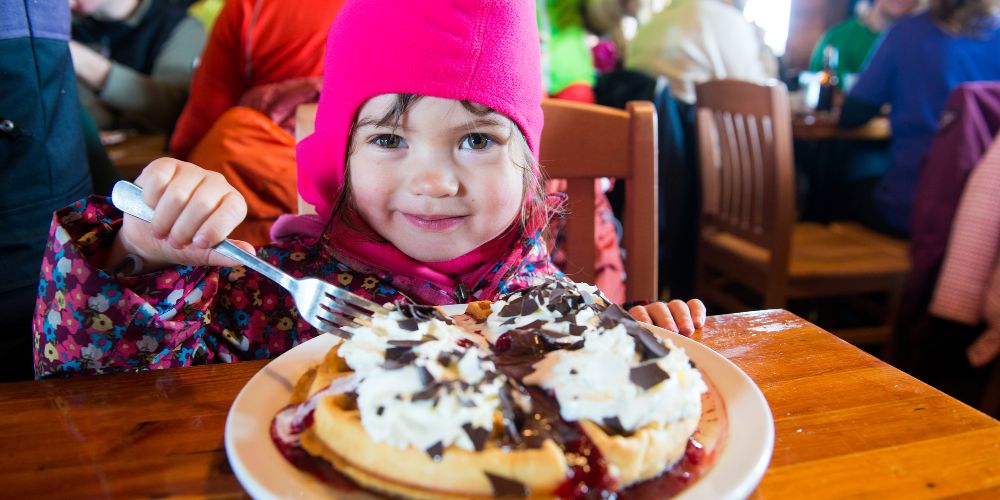 Stop for lunch and fit a mountain restaurant into your family ski day
Whistler Blackcomb has many on-mountain restaurants, so when it's time for lunch you will have plenty of family-friendly options. Remember, if you're eating indoors everyone aged 12 years and over needs to have a vaccine passport, and masks must be worn inside. It's best to make restaurant reservations the day before to ensure the best on-mountain dining experience. Or if you prefer a little more independence, packing your own picnic lunch is a great plan – just don't forget those all important energising snacks for kids!
Whistler on-mountain dining
Roundhouse Lodge is Whistler's biggest restaurant. Sitting at an altitude of 1,850m the mountain views here are incredible and the restaurant is also home to the Whistler Olympic Legacy display.
Blackcomb on-mountain dining
Make a lunch reservation at Christine's at the top of the Blackcomb Gondola. The views of the Coast Mountains alone make this a real family treat. Glacier Creek Lodge is another on-mountain restaurant with amazing views. It's also set at the bottom of the Jersey Cream Express and Glacier Express chairlifts, which is very convenient for hungry kids.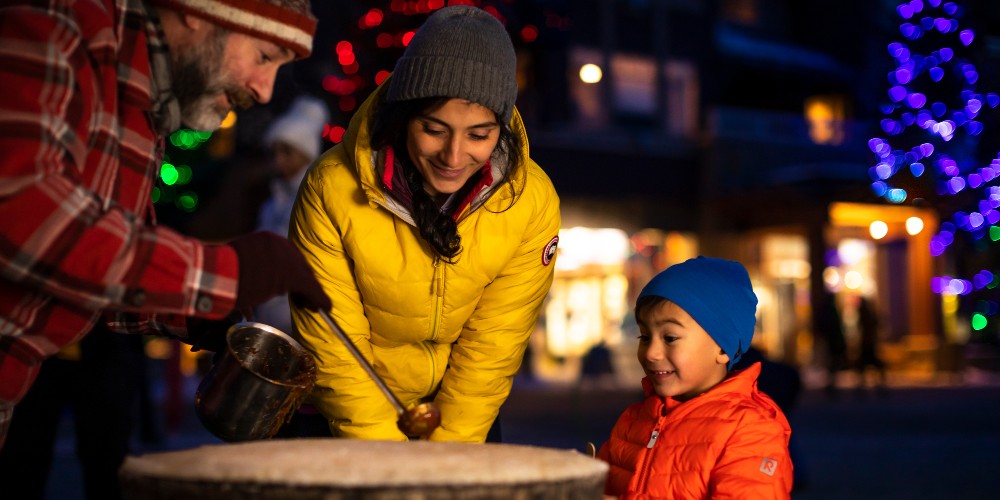 Family après is the perfect way to end every family ski day in Whistler
Family après is what Whistler Olympic Plaza Snow Zone is all about. Open every day in the heart of Whistler Village, it's where you can skate for as long as you like on the enormous ice rink. There's sledding and tobogganing too, kids can build snowmen and, if toes and fingers get chilly, the cosy Snow Zone firepit is the place to warm up. 
Whistler Village is also packed with kid-friendly restaurants and cafés for warming après food. Plus, the streets are fully pedestrianised, so even wandering around and watching the Village light up for the evening is a magical end to any family ski day for kids.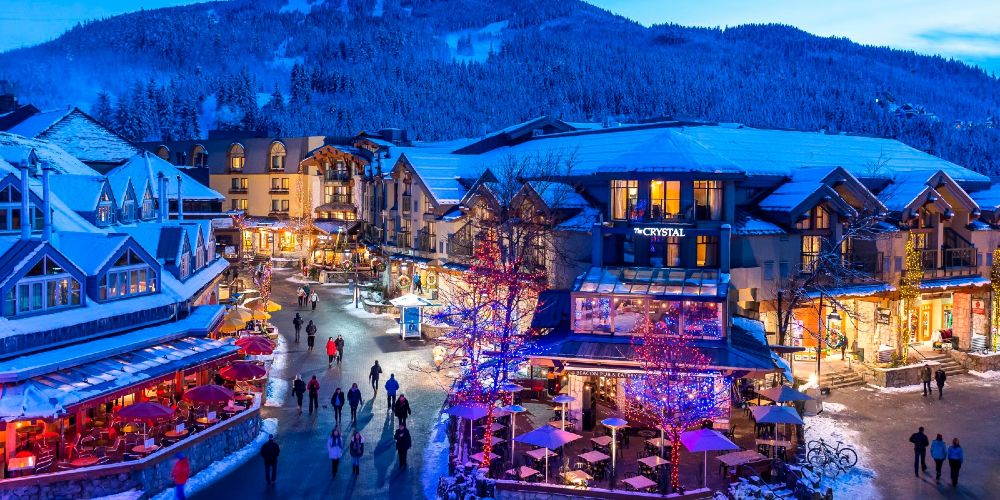 Have dinner in Whistler Village, you really earned it today
An easy going, kid-friendly restaurant for dinner is exactly what you need after a busy family ski day. Fortunately Whistler Village gives you plenty of choice. And to make sure that eating out is fun, relaxed and safe with kids, take a look at Whistler's Know Before You Go advice below for up-to-date information on making reservations and restaurant health protocols.
KNOW BEFORE YOU GO
What to know before you go to Whistler
We know you can't wait to get your family ski days planned after all this time, so here are a few things to remember before you head to Whistler.
Travel protocols are constantly changing. Stay informed on your government's mandated requirements before making travel plans.

Visit whistler.com/covid for the most up to date Covid information.

To make the most of your Whistler family vacation, plan ahead and make reservations for dining and activities.

Be patient with staff, they're working hard to serve you.

Health and safety remain top of mind in the resort. Please review Whistler's Doors Open Directory to learn how local businesses are upholding the highest of standards in health and safety for all.

Book with confidence with Whistler's flexible cancellation policy.
Ready to start planning family ski days for real? Whistler is ready and waiting to welcome you back this snow season. Visit whistler.com for everything you need from accommodation booking to reserving kid friendly Whistler activities.