Sponsored Content
France vs Italy
Once upon a time, the French Alps were first choice for family ski holidays, no question. With some of Europe's biggest ski areas, highest altitude resorts and snow-sure slopes up until late April in many places, they were tough to beat.
But for the past few years, more and more families have been discovering what some canny skiers have known for decades: the Italian Alps are wonderful for skiing too, consistently break snowfall records and, more often than not, throw in quite a bit of winter sun.
Does this mean you should be brushing up on your Italian and turning your back on the French?
If only life were that simple. France is still a front runner in many ways, but the Italian Alps have a lot going for them too. So the short answer is: both are great for family ski holidays, you just have to decide which suits your particular family of skiers.
Before you make up your mind, we asked ski specialists Butler & Lloyd have a look at how one of the best French resorts compares to its Italian counterpart.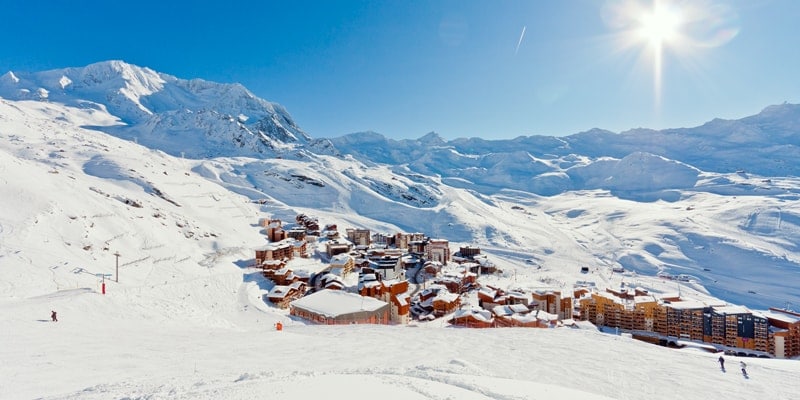 French Alps – Val Thorens
The highest resort in Europe and part of the massive Trois Vallee ski area, Val Thorens is a skiing legend. Strange to think it's the resort they said was, 'too high and too cold', to survive, when it was first built in the 1970s. Seems all that gloom was misplaced: not only has Val Thorens survived, it's flourished.
Best Ski Resort in the World 2016
Val Thorens was named, 'Best Ski Resort in the World' in 2016 as well as 'European Best Ski Resort' and 'Best Ski Resort in France' for the third year running. It now has one of the longest ski seasons, a network of over 180 lifts and good snow cover well into spring at altitudes of up to 3000m. But, you don't get to be the best of the best based on natural advantages alone, that would be taking égalité
just a little too fa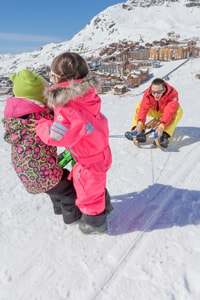 r.
The resort's technically brilliant, no arguments there. But it was also one of the first in France to recognise that great skiing alone doesn't always make a great skiing holiday and invest in a more rounded Val Thorens' experience. So while it's managed to hold on to a cool reputation and still attracts the ski-all-day, party-all-night crowd, it's now one of the top French picks for families too.
Family size adventure on and off the slopes
If you're looking for cutesy Alpine charm, you won't find it in abundance here. But what Val Thorens lacks in authenticity it more than makes up for in imaginative activities, outstanding ski schools and excellent nursery slopes right next to the village – beginners can concentrate on skiing not the complexities of ski lifts.
This is also the resort where you can take frozen yoga classes, spend the night in a yurt, ice dive or drive, dog sled, toboggan and ski-jump on to giant airbags. There's paramotoring and paragliding for thrill seekers as well as off-piste ski tours and the exhilarating Tyrolienne which lets skiers soar, zip-line style, over Trois Vallee.
World class skiing and world famous après-ski
Skiing will always be Val Thoren's biggest asset. Apart from the 500km of groomed runs across the area, the resort has one of the best snow parks in Europe and world-class freeriding at nearby Orelle.
But, there are now almost as many restaurants in Val Thorens as runs and the resorts fast becoming Trois Vallee's leading foodie resort too. No mean feat considering it's near neighbour is Royal Family favourite, Courchevel.
Val Thorens ski resort
The downside of being the French Alp's highest achieving resort is huge popularity and Val Thorens is reliably busy in high season.
On a positive note, there's skiing here from early December right through until April. So, with a bit of planning, it's possible to avoid the crowds or even look at a family ski holiday in spring, instead of winter.
Prices
Family Lift Pass:
Two adults and Two children (seven days) £200 per person.
Accommodation: Hotel Altapura, Val Thorens £3885 per person, seven nights, half-board. Based on four sharing a family duplex and including private flights from Farnborough Airport, resort transfers, ski-instruction and kids club.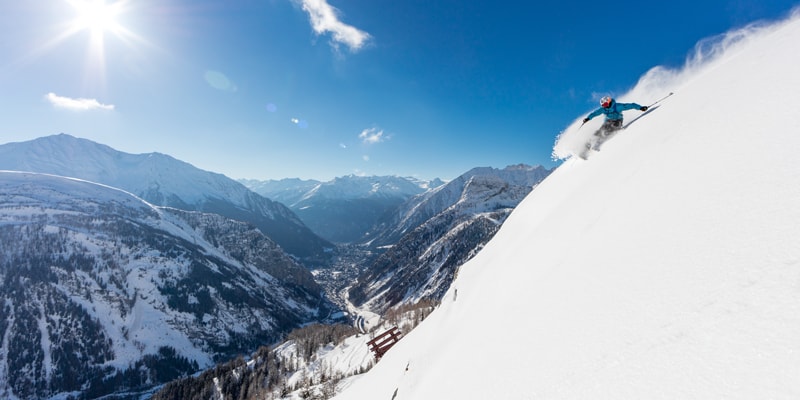 Italian Alps – Courmayeur
If your heart's set on authentic Alpine prettiness, Courmayeur's considered to be one of the loveliest ski towns in Italy. Relaxed elegance is the signature here, designer shopping is a favourite après-ski sport and few snow-sure European resorts have quite as many award-winning restaurants.
Skiing in Val d'Aosta and on Mont Blanc

Courmayeur's part of the Val d'Aosta region so the skiing's good on home territory with over 100km of groomed piste and altitudes of 2755m. The local area's relatively compact with several red runs and the type of spectacular mountain views that take your breath away. But the real beauty of Courmayeur is a bigger picture which includes the might of more accessible than ever Mont Blanc.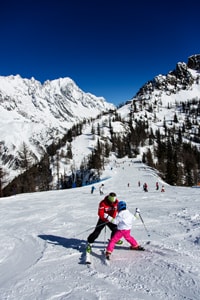 Thanks to the Mont Blanc Sky Way, skiing on Europe's mightiest massif is now as effortless in Courmayeur as it is in Chamonix. The bad old days of complex lift networks and elderly cable cars are long gone, replaced by one remarkable feat of engineering. And the combination of Mont Blanc's six challenging itineraries and Val d'Aosta's range of reds and blacks, is definitely a vote in favour of Italy for experienced skiers.
Exceptional off-piste on the Italian side of Courmayeur is another plus-point for accomplished downhillers – made all the better by the fact that several of the area's top mountain guides are based in town.
Good for beginners and intermediates
Courmayeur's a favourite with weekending Italian families, so the resort has some of the region's best ski-schools and very accessible nursery slopes. A wide range of intermediate runs are great for kids' confidence and the town's one of a handful in the region to offer childcare – grandma in tow is more common round these parts. 
Family-friendly, kid-friendly, excellent all-rounder
For all its undeniable good looks, elegant shopping and very chic skiers, Courmayeur is warmly Italian to the core and works hard to keep everyone happy, particularly children. An imaginative and well-organised activity programme doesn't leave any gaps for boredom and kids can get up to all sorts from ice skating and snow-biking to rock climbing, snowshoeing and sledging.
Naturally, Courmayeur scores high when it comes to food. The town has several of Val d'Aosta's best restaurants, simple antipasti is an art form and even basics like pizza and pasta are closer to gourmet experiences than fast food.
Courmayeur ski resort
Italian warmth, outstanding service and good intermediate runs combined with the challenges of local off-piste and nearby Mont Blanc, all count in Courmayeur's favour. The resort doesn't have an exceptionally long season but its snow record's good and skiing into early spring isn't unusual.
Prices
Family Lift Pass: Val d'Aosta – Adult , £226.  Over 8s – £158. Under 8s ski free with an adult and all passes include two days skiing at other Val d'Aosta resorts.
Accommodation: Grand Hotel, Courmayeur £2840 per person, seven nights, half-board. Based on four sharing a junior suite and including private flights from Farnborough Airport, resort transfers, group ski-instruction and kids club.