Choosing the right ski resort can make or break your family ski trip, especially if it's your family's first time on the slopes. If you're planning a snowy getaway, don't miss our roundup of the best resorts for your family's first time. All packages are in February half term and based on a family of four.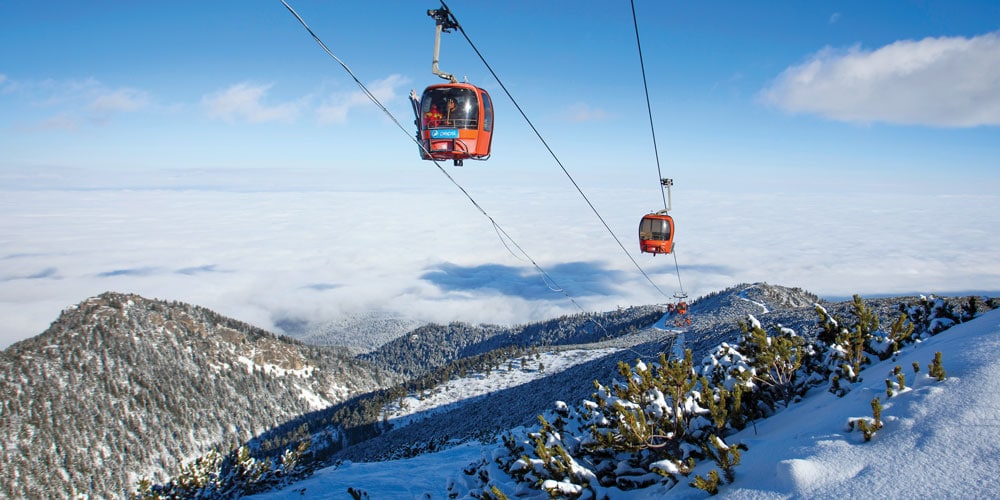 1/9

Borovets, Bulgaria

Ideal for families who are new to skiing and don't want to break the bank, Borovets is in the popular holiday destination of Bulgaria. Around ninety minutes' drive from Sofia airport, the resort is compact yet offers 58 km of runs for every type of skier. Kids love the gondola ride to the top of the mountain with views over pine valleys below. There is a funpark at the base of the slopes with a magic carpet lift, snow tubing and other games for children, as well as traditional ski schools. The accommodation is within walking distance of the slopes and lifts and centred around a main street offering restaurants, traditional tavernas and skiwear stores. Kids can also enjoy husky sleigh rides, bowling and swimming within the resort.

How to holiday in Borovets

What: Half board at the Hotel Ela with flights from London plus transfers

When: February half term

Price: £1,516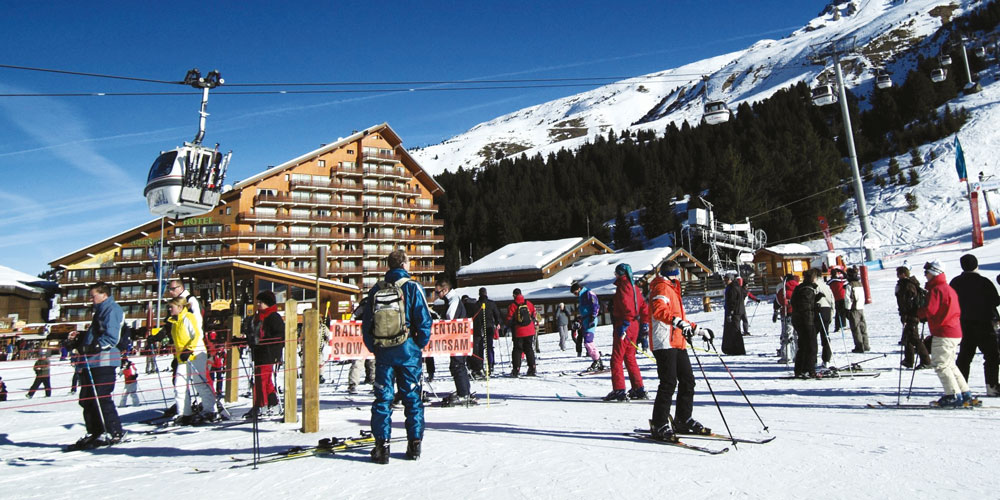 2/9

 Meribel, France

This popular French resort was awarded 'Famille Plus' status in 2013 thanks to its 'above and beyond' attitude to families with children. Accommodation such as spacious chalets and cosy apartments mean that you can find the perfect base for your break. There are plenty of options for childcare such as 'Les Saturnins' for toddlers or 'Les Piou Piou' for preschoolers. Families with two or more children also receive special deals on lift passes, with adults paying kids' prices. There are several themed ski areas for children to make their first time on the slopes memorable including Inuit Village with mini slaloms and games. For intermediate skiers aged six to twelve there is also a mini ski and boarder cross course, Le P'tit Moon. Families can head to the local cinema or Parc Olympique for some warmer sports such as rock climbing, or try one of the many Meribel restaurants.

How to holiday in Meribel

What: ski week, staying in a self catering apartment and flying from Gatwick

When: February half term

Price: £2,280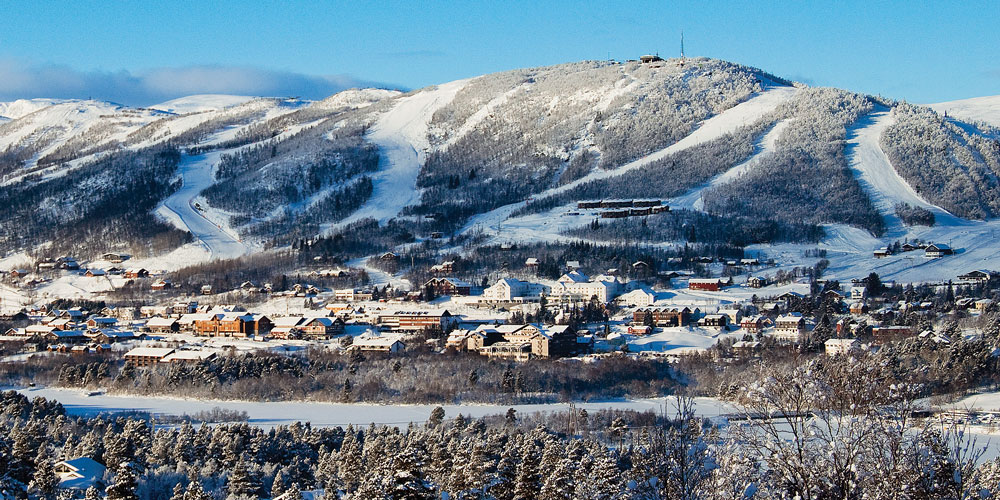 3/9

Geilolia-Kikut, Norway

Rated five stars for families, Geilolia-Kikut is part of the famous Geilo resort in Norway and has two areas for children to improve their skills on the snow. One offers 'magic carpet' and pommel lifts while the other has a children's playground. The resort is what could be called fun-size, with its 13.6km of runs; not too overwhelming for first-time family skiers! Snow is guaranteed thanks to the 100 cannons that are placed across all the slopes and the snow is prepped overnight to ensure perfect skiing conditions. There are cosy lodge restaurants at the base station and family-run hotels within the resort, some of which guests can ski to at the end of the day.

How to holiday in Geilo

What: Stay in the four star Forest Cabins among snow-capped pine trees. Fly out from London

When: February half term

Price: £2,267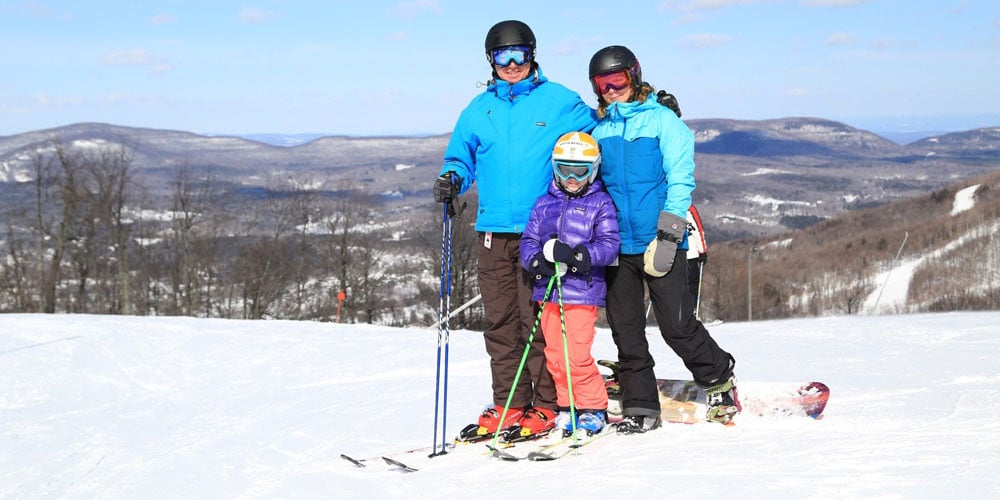 4/9

Windham Mountain, New York, USA

The perfect weekend getaway for New Yorkers with kids, Windham Mountain has over 50 trails for skiers of all abilities. The Children's Learning Centre for non-skiing children aged two to seven keeps young guests entertained with activities based on popular themes such as 'Trolls' and 'I Heart Disney'. Older children will love the Adventure Park with attractions including ziplines, ice skating and even kids' snowmobiles! The resort offers ski lessons for adults and is just three hours' drive from New York City, making it a great option for a short break or dual centre trip. Accommodation options vary from condominiums and traditional inns with free shuttles to the mountain, to privately owned hotels with 24-hour guest snack pantries. Family friendly restaurants include a popular Mexican joint and traditional pub.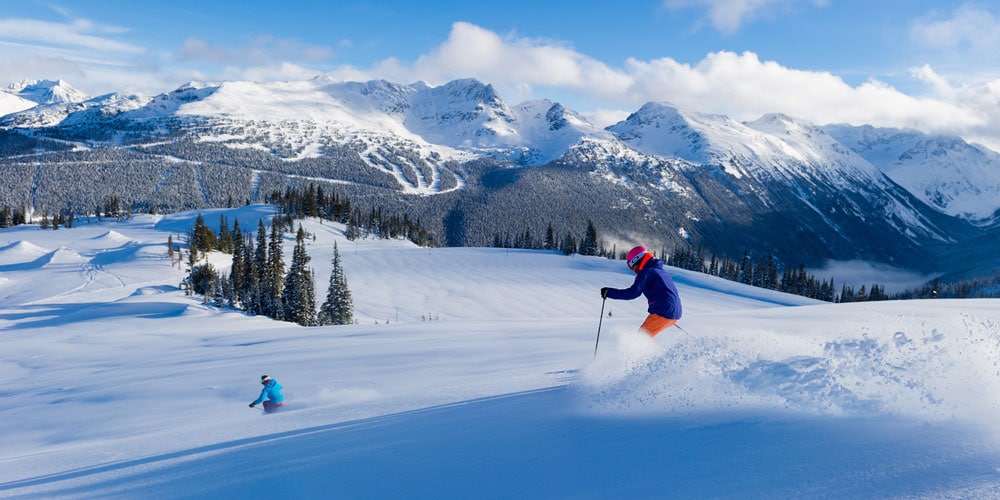 5/9

Whistler, Canada

Consistently ranked the #1 ski resort in Canada, Whistler lies two hours' drive north of Vancouver. Kids can enjoy the top quality ski instruction at the Whistler Kids' Training Centre, featuring a race training zone and another area for skills improvement. The Enchanted Forest run is a magical trail through picturesque woodland and the Magic Castle playgrounds on the mountain make the perfect place to take a break from skiing. Local restaurants offer 'kids eat free' deals and families can join in the annual family apres ski event at the Olympic Plaza, with snow-themed activities and games with snacks and hot beverages. There are countless other child friendly attractions such as 'fire and ice' shows, a trampolining centre and a base boarding park.

How to holiday in Whistler

What: Stay in luxury at the Aava Hotel on a B&B basis with return flights from London and transfers

When: February half term

Price: £5,076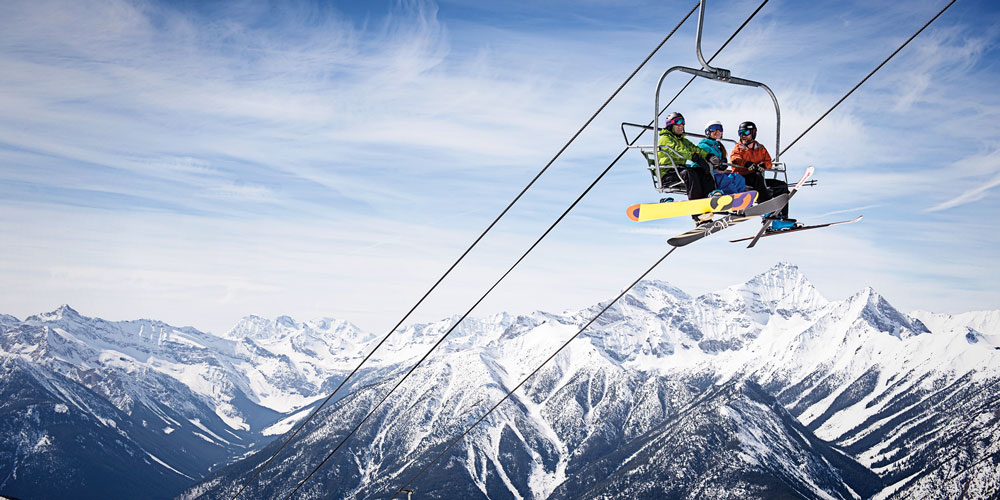 6/9

Sun Peaks, Canada

The second largest ski resort in Canada, Sun Peaks was redeveloped in 2015 and now boasts 4,270 acres of ski area spread over three mountains. Despite its development the resort still hasn't fallen prey to rowdy crowds and thumping bars, making it ideal for families. The quiet nature of the resort also means that queues are rare, so visitors get more time on the slopes. The Sun Kids facilities offer care for children aged 18 months to 12 years. Children under five receive free lift passes and there are nursery slopes in the village centre so parents won't have to lug their skis far. After a morning on the slopes, families can choose from snow tubing or dog sled rides, or wind down with cocoa in the local chocolate shop.

How to holiday in Sun Peaks

What: Stay in the quaint Nancy Greene's Cahilty Hotel on a self catering basis, with a family room with kitchen. Flights from Heathrow and transfers included

When: February half term

Price: £3,496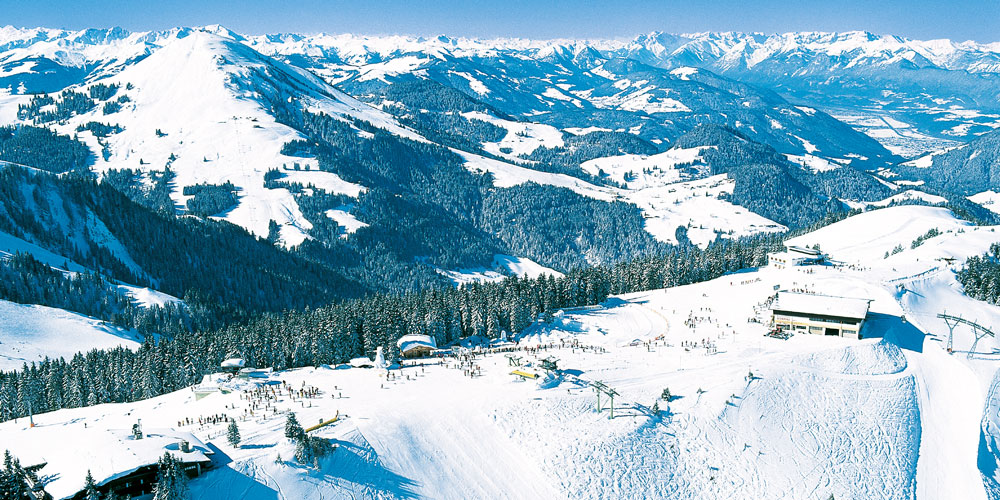 7/9

Soll, Austria

Once known as a party town, Soll has transformed into a family-friendly ski resort with some of the best skiing in Austria. With 90 chairlifts and over 284 km of slopes, this is a great choice for families who want variety when it comes to terrain. There are 22 ski schools for children to choose from, four fun parks including a playground and three illuminated toboggan runs for family fun in the evening. Soll also has Austria's largest night skiing area and three exercise meadows where tiny tots can get their first taste of snow with 'magic carpet' lifts and gentle slopes.

How to holiday in Soll

What: Stay at the Ferienhotel Fuchs on a half board basis, just 5 minutes from the village centre. Fly from Luton and stay in a family room with transfers included

When: February half term

Price: £2,878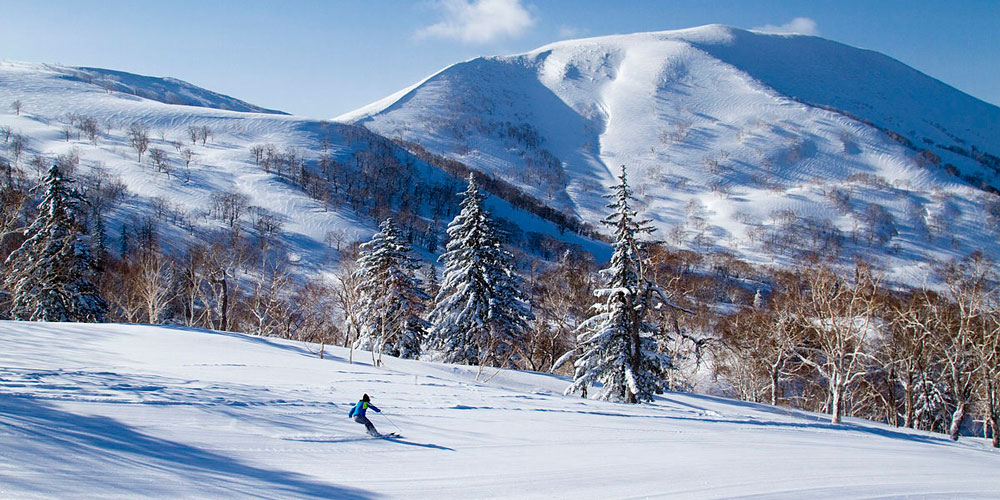 8/9

Kiroro Snow World, Japan

Japan has some of the most memorable and underrated ski resorts in the world. Kiroro Snow World has 21 metres of snow each year, so you are guaranteed great powder when visiting in winter. The Annie Kids' Ski Academy, founded by Olympic gold medallist Annie Famouse, utilises a French educational philosophy to teach kids the ways of the slopes in a fun and engaging way. As well as skiing and snowboarding, families can try snow zorbing, snow mobiles and arts and crafts in the family Mountain Centre. There is also a kids' snow park for those who prefer not to ski. Kiroro is also close to the Japanese coast so families can take a trip to the seaside when they are tired of snow sports.

How to holiday in Kiroro

What: Unwind in luxury at the five star Sheraton Kiroro hotel and receive complimentary breakfast and lift passes for seven nights

When: February half term

Price: £4,400 (flights not included)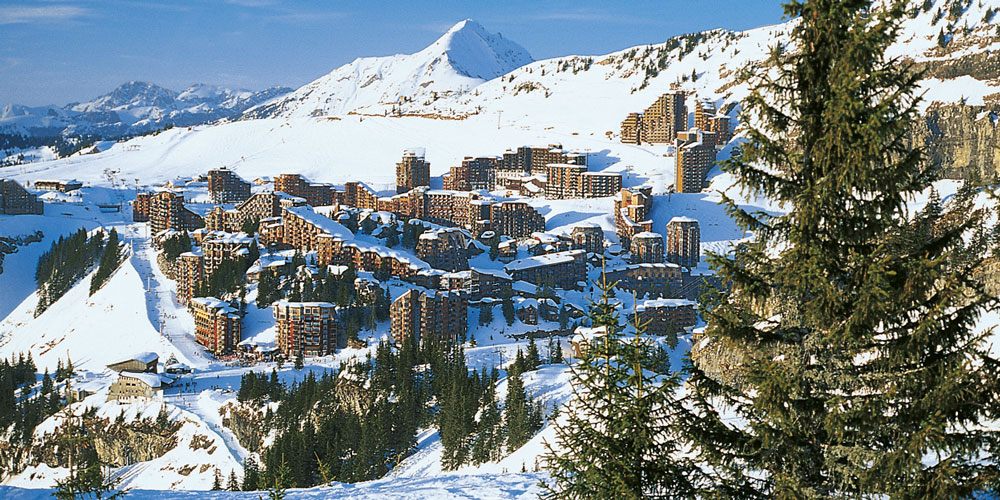 9/9

Avoriaz, France

"Avoriaz; the resort where kids are kings". It just can't get more child-friendly than that and for families looking for plenty of exciting attractions apart from skiing, Avoriaz is the perfect holiday destination. The epic indoor waterpark has a water climbing wall, rope swings and waterslides. Families can spend the evening touring the resort in a romantic horse-drawn sleigh or indulge in a rich fondue in one of the cosy lodge-style restaurants. Avoriaz is home to the famous Village des Enfants, where children aged three and over can learn to ski based on games and fun activities with mini jumps, gentle slopes and their favourite cartoon characters watching over them.

How to holiday in Avoriaz

What: Stay in the spacious La Falaise apartments on a self catering basis, with flights from London and transfers

When: February half term

Price: £2,116