5 of the best safari and wildlife trips
Sponsored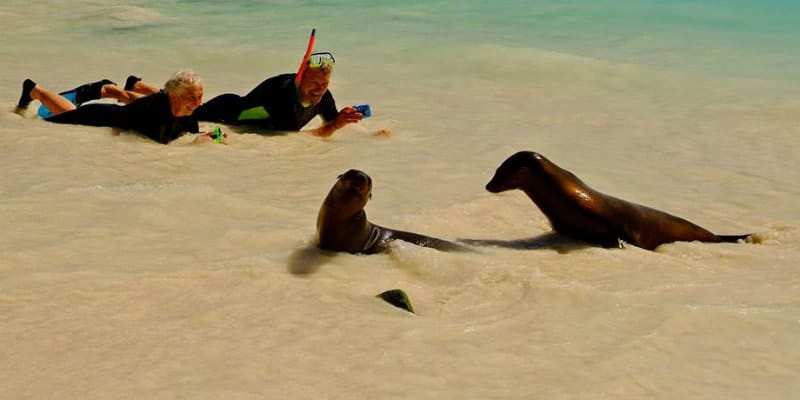 2/5

Play with sea lions on the Galapagos islands
Why go?
Ecuador is the dream destination for families looking to escape and dive into a new, thrilling and exotic culture. Dwarfed by its neighbours, Ecuador is a true testament that size isn't everything. Whilst the mainland is impressive enough, the Galapagos Islands all too often steal the show. However this is unsurprising when you consider the wildlife cast involved.
Wildlife awaits
On land you'll meet marine iguanas, blue-footed boobies and birds who will charm you with their show-off expanding chests – always a real hit with the kids. If that wasn't special enough the real magic begins underwater. You'll have the opportunity to snorkel with incredible sea lions, coming face to face with them and even blow bubbles at them and vice versa. Whatever your age, having a sea lion blow bubbles at you is one story you'll be retelling for years to come.
The fun doesn't end there, adding to this spectacular display are the dancing albatross and hyper penguins who skip between land and water. You'll feel as though you're in a David Attenborough documentary during this incredible natural experience.
Exploring this equatorial archipelago is best by boat. There are onshore excursions each day where you'll get up close to a treasured species. The Galapagos Islands are famous for their natural wonders and with some of the best guides in the business, your family will be well catered for. So let the kids tick off another destination from their bucket list because this will be one trip they'll cherish forever.
The Lowdown 
Flights depart London Heathrow to Quito, domestic flight to the Galapagos Islands and flight time is 13+ hours. Health considerations include; bringing a yellow fever certificate if you arrive from an infected area.
Best time to go: Easter, October and Christmas School Holidays
Suitable for: Ages 5+
Find out more about wildlife encounters on the Galapagos Islands.