2019 was the year the world truly woke up to the effects of climate change and people finally began to acknowledge their responsibility to making drastic changes in their own lives with regards to everything, from eating habits to travel. Benedict Smith runs through the top sustainable family trends for 2020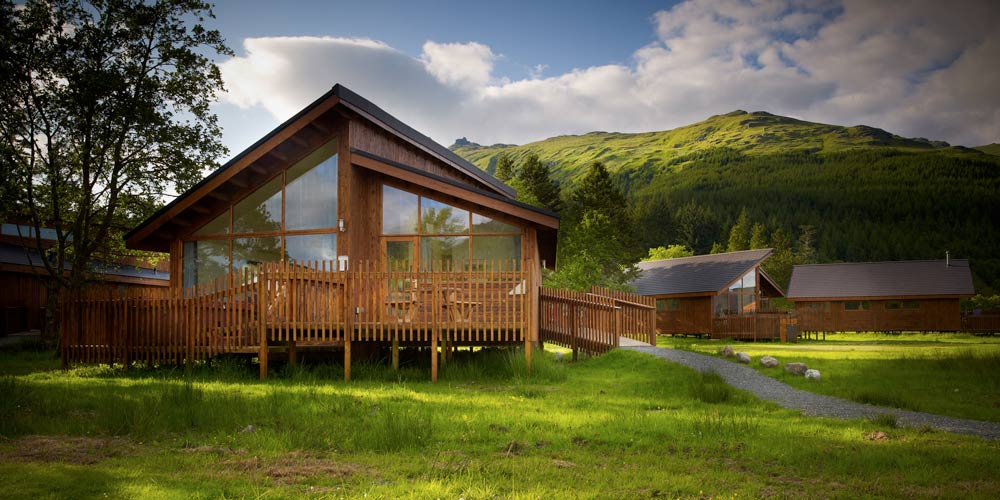 Trend #1: UK glamping holidays
From fresh on-site produce to solar powered showers, glamping has long been associated with eco-conscious holidaying, particularly when compared to hotel, their energy-guzzling alternative. Here is our selection of the greenest (and most fun) glamping sites in the UK.
Eco-escape Camping and Glamping Nature Reserve, Pembrokeshire
As the name suggests, Eco-escape's commitment to the environment can be seen everywhere across the site, from the upcycled fire pits and homemade furniture to the solar powered lighting and purpose-built bird boxes.
They are also a certified Greener Camping Club campsite, which means that by staying there guests are supporting environmental projects, such as habitat creation and carbon off-set schemes. You don't even need to feel guilty about using the hot tub – it's wood-fired!
Prices for one double bed and two single beds (four guests) from £60 per night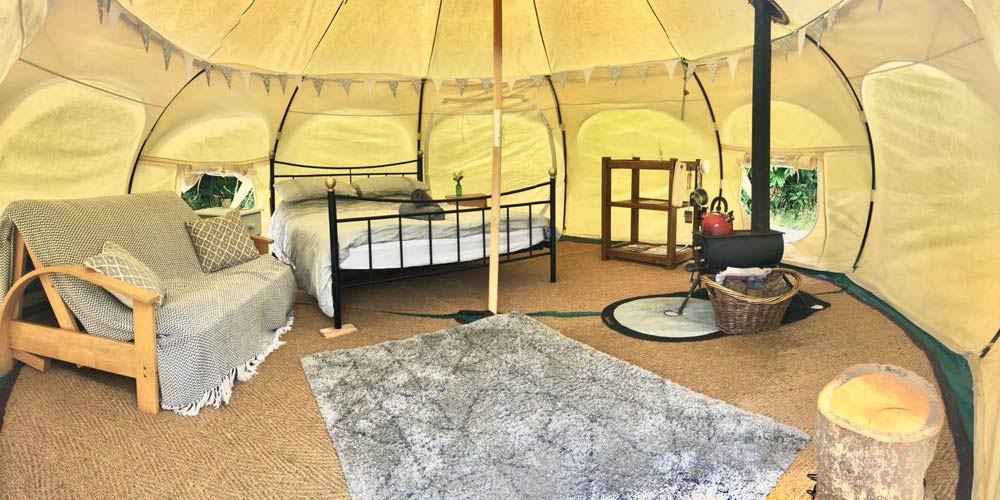 Tre-End, Cornwall
Set in lush Cornish countryside, Tre-End is made up of a cluster of swish glamping units just 15 minutes from The Eden Project, Heligan Gardens and a plethora of characteristically beautiful beaches.
With no wifi, it is powered entirely by solar panels, providing a setting that's perfect for reconnecting with nature and spending quality time together as a family. A local pub and shops for essentials are within walking distance, while at night there are barbecues and fire pits available for cooking up a delicious meal and keeping toasty. Composting loos are dotted around the site.
Prices for a family of four from £50 per night
Catchpenny Safari Lodges, Fife
Whether it's watching the sunrise over the sea, toasting marshmallows on the fire or falling asleep to the sound of crashing waves, Catchpenny Safari Lodges in Fife are a true family-friendly delight. Situated between the charming fishing villages of Elie and St Monans, the lodges are powered entirely by self-sufficient energy sources produced by wind and solar.
Catchpenny offers a real chance to turn off the tech, offering books, toys and games to keep families occupied, as well as bird book for identifying the myriad avifauna that occupy the area.
Prices for a cabin sleeping up to six guests from £150 per night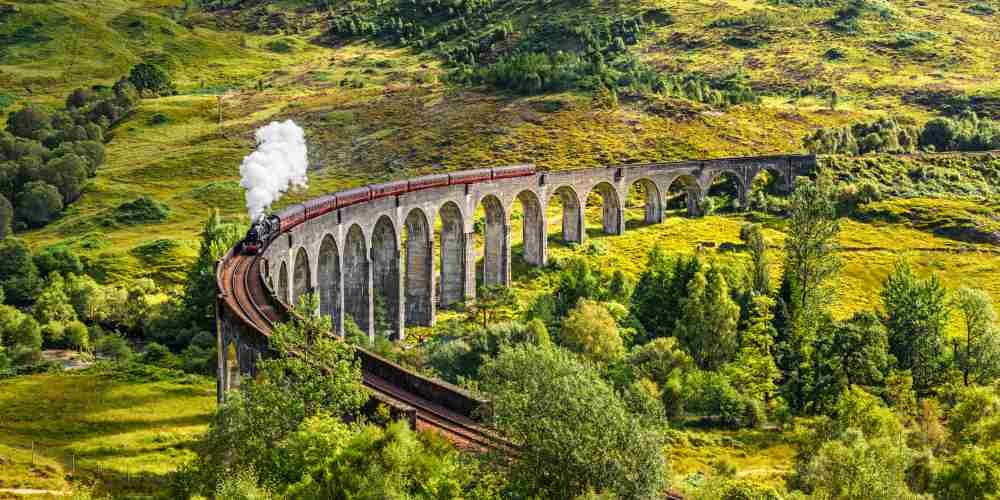 Trend #2: Europe by train
Last year, the term flygskam – a Swedish word literally translating as 'flight-shame' – entered the public's vernacular, largely thanks to figures such as Bjorn Ferry and Greta Thunberg, both of whom champion the use of train travel over flying. Put flygskam into action and embark on one of these unforgettable journeys by rail.
Edinburgh
While you may be lucky to enjoy a journey time of less than five hours from London, catching the train to Edinburgh is a wise choice when all the hassle of catching a flight for such a short distance is considered. What's more, with the Caledonian Sleeper train offering comfortable overnight travel in a range of different accommodation options, the journey can easily become an exciting part of the trip for you and your family.
Once there, Edinburgh boasts a fascinating jumble of family attractions, from interactive museums and ancient castles, to adventurous walking trails and sweet-scented botanic gardens. One of the most attractive qualities of the Scottish capital, however, is its size: compact enough to walk around without worrying about taxis, you are sure to have everything right on your doorstep during your stay.
February half term family tickets (two adults, two children) from London Euston from £160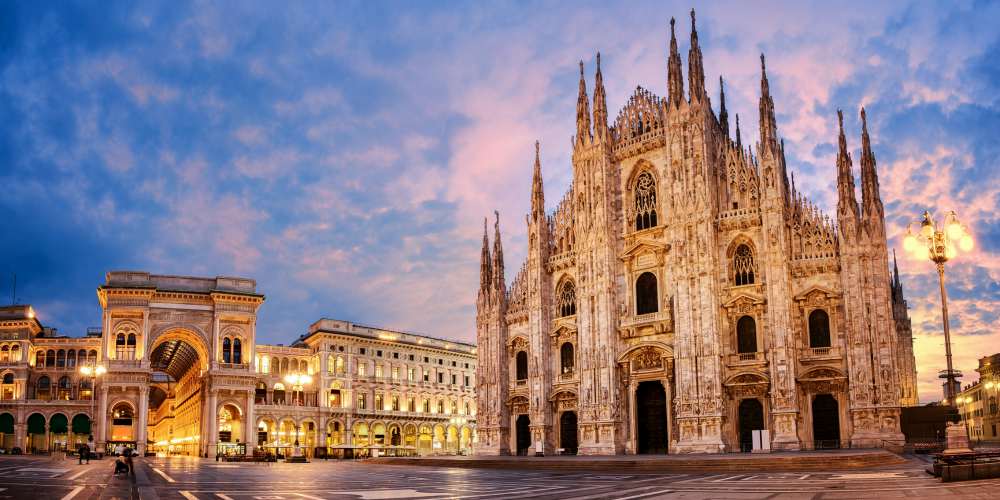 Milan
A theory that is often floated with respect to train travel is the idea that it will involve travelling through breathtaking scenery that would otherwise be missed 30,000 ft up in the body of a plane. While this patently isn't always true, the train journey to Milan from the UK is nothing short of spectacular.
Formed of a two legs, it follows a scenic route through France and the foothills of the Alps, passing through Paris on the way – the perfect excuse for a whistle stop tour of the French capital to break up the 9-hour journey before continuing on to the northern Italian city. Milan may not seem like an obvious choice for a family holiday, yet after trying to spot all 135 of the city's gargoyles before chowing down to a delicious thin crust pizza, they are bound to be impressed.
February half term family tickets (two adults, two children) from London St Pancras from £1,163
Bruges
At just three-and-a-half hours by train from London, a day trip to Bruges is hardly out of the question; however, with so much to explore it would be shame to rush the the Belgian UNESCO World Heritage City. Stepping off the train and arriving in the medieval centre, with all its tangle of cobbled streets, snaking canals, and Gothic architecture, you would be forgiven for thinking you were in a fairytale.
Like Milan, it involves a two-part journey (London to Brussels; Brussels to Bruges), albeit a much shorter one, while it is as good in the summer as it is in the winter. During the winter months, a yearly Christmas market takes centre stage, comprised of cosy wooden chalets, glittering lights and a sparkling ice rink – kids will return wide-eyed and awe-inspired.
February half term family tickets (two adults, two children) from London St Pancras to Brussels from £423. Trains from Brussels to Bruges run daily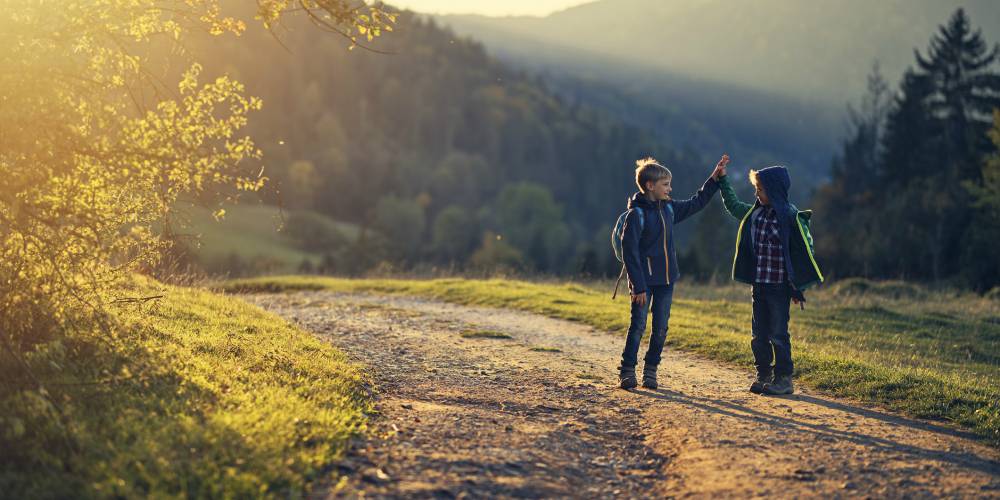 Trend #3: Walking holidays
There are few better ways of getting to know a place than wandering its trails, ambling through its forests, following its coastal paths or hiking its hillsides. Not only does it allow visitors to feel at one with their natural surroundings, it can provide a unique opportunity to bond as a family, while getting some good old fashioned fresh air.
Three-night family walking adventure, Lake District
Joining the likes of Machu Picchu, the Grand Canyon and the Taj Mahal when it was awarded UNESCO World Heritage status in 2017, the Lake District is Britain's largest and arguably best known national park, drawing millions of visitors every year, drawn to the area by its sweeping views, glistening lakes and craggy peaks.
A three-night family walking tour with HF Holidays families the perfect chance to discover the Lake District in all its beauty, revealing the awe-inspiring setting that appealed to so many artists, writers and poets of the past. Included in the price is full board en suite accommodation, a full programme of guided walks and transport to and from the designated trails.
Prices start at £399 per adult. Under 18s go free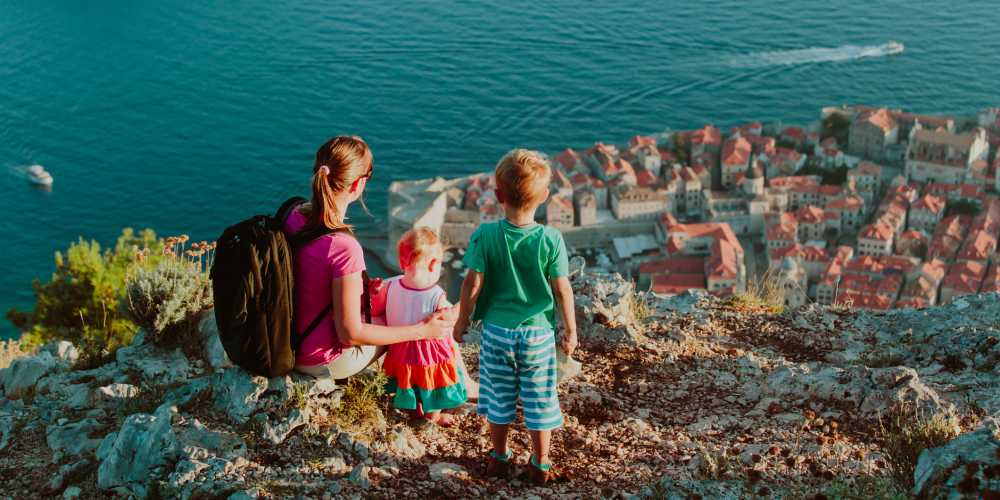 Dubrovnik & islands walking holiday, Croatia
While a popular European city may not seem like the first choice for a family walking holiday, Dubrovnik provides an excellent destination for a few days' escape, thanks to its pedestrianised Old Town (the walls of which can also be walked along), striking architecture, elegant Baroque churches and glistening azure waters. For tired legs, there's even a cable car, boasting panoramic views towards the Aegean Sea with a restaurant at the top.
Far from being the end of the fun, Dubrovnik acts as a springboard onto the surrounding Elaphiti Islands where families can take hikes out on Lopud, Kolocep and Sipan, to discover a variety of pine forests, sandy beaches and elevated coastal ridges.
With Responsible Travel, prices for a family of four start at £573, excluding flights
Zillertal Alps family walking adventure, Austria
Rolling meadows, charming Alpine villages, cable car vistas and family-friendly mountainside walks; if this sounds like your idea of bliss, then look no further than the Zillertal Alps, a popular Austrian resort for active families. Surrounded by breathtaking scenery, the area sits at the junction of four major valleys close to the Italian border, meaning the views are some of the most exceptional in Europe.
Hike along well trodden paths, take the cable car into the mountains, enjoy delectable cuisine and enjoy time together as a family with walks for all ages and abilities.
HF Holidays offer seven nights including flights from £1,379 per person