There she blows!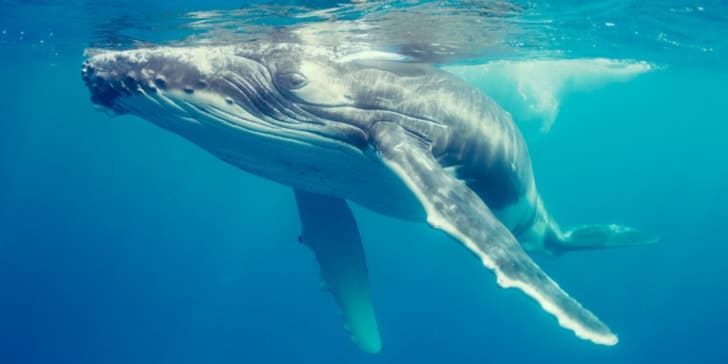 Do you dream of taking the kids to watch dolphins and whales in the wild? Richard Hammond explains where to go to watch these amazing creatures responsibly.
Few wildlife encounters can rival the exhilaration of standing within a belly flop of a majestic 50-ton whale. Just encountering these magnificent creatures in the wild is special, but if you're lucky, you may see one breach the surface or, perhaps, lift its tail fluke clear of the water before slapping it down with tremendous force.
Whale-watching trips are now available in more than 120 countries, and it has become big business. Yet there are concerns that, given the financial rewards and pressure on operators to provide the best possible experience, the welfare of the animals is being put a risk. In an effort to encourage more responsible whale-watching, the World Cetacean Alliance (WCA) has created a new accreditation scheme that aims to shine a light on the most ethical places to go whale-watching. WCA's 'Whale Heritage Site' accreditation is being awarded to areas considered to be centres of excellence and which actively engage their own communities and visitors, connecting people with marine life through arts, science, music, education and events.
'In my opinion the best possible way to protect ocean wildlife is to encourage people to see it for themselves in a responsible way,' says Dylan Walker, Secretariat of the World Cetacean Alliance. 'If, through Whale Heritage Sites, those same people can also experience coastal communities that celebrate and care for their marine natural heritage and understand the importance of a sustainable approach, we may yet win the battle to save our oceans.'
Hotspots for ethical dolphin and whale watching
Click 'next' to continue through the gallery or jump straight to your favourite place below…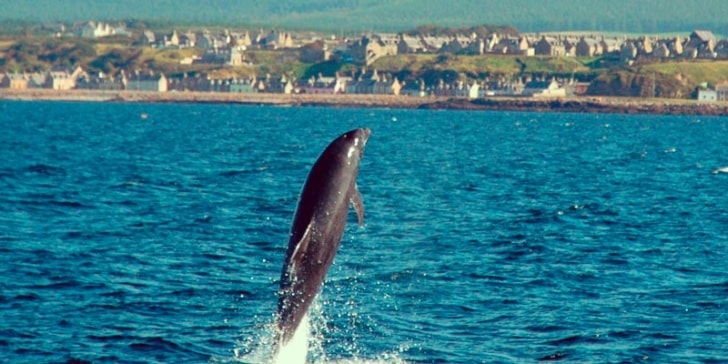 1/10

The Hebrides, Scotland

Part of the World Wildlife Fund's Dolphin Adoption funds go to support the Hebridean Whale and Dolphin Trust based at Tobermory on the Isle of Mull (where little ones might recognise the CBeebies series Balamory was filmed!). A new interactive display opens this June in the renovated visitor's centre with amazing insights into whale and dolphin sightings. From May to October enthusiastic volunteers can join research yacht Silurian and become marine mammal scientists. Two surveys are for teenagers aged 16-17 and cost from £950. Find out more about whale watching trips in the area.

Find out more about the Whale and Dolphin Trust.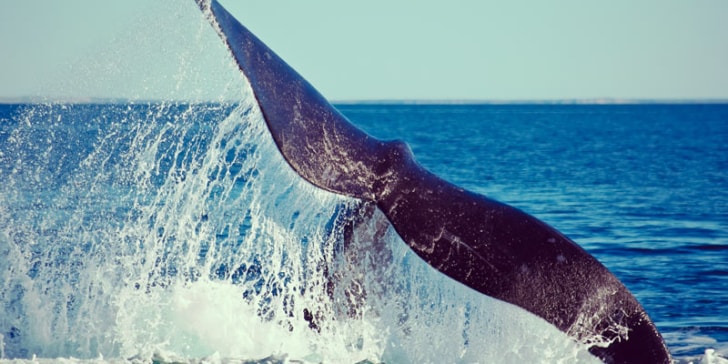 2/10

The Azores, Portugal

The Azores archipelago is visited by over a third of all whale and dolphin species throughout the year, and has become a mecca for whale-watchers. Thankfully, whale-watching is carefully managed through guidelines enshrined in Azorean law. Head there in spring to see migrating baleen whales such as blue whales, fin whales and sei whales, while summer is the best time to see Atlantic spotted dolphins, pilot whales and striped dolphins. Local operator Futurismo runs daily trips led by qualified biologists and nature guides, £42 for a three-hour tour.

Find out more about whale and dolphin watching trips with Futurismo.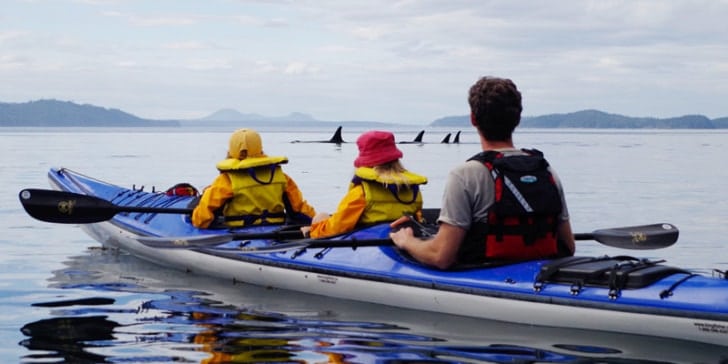 3/10

North Vancouver Island, Canada

The stretch of sea between western Queen Charlotte Strait and the northern Strait of Georgia off the north of Vancouver Island is one of the most reliable places to see killer whales (orcas) and humpback whales. Thanks to the work of The North Island Marine Mammal Stewardship Association (NIMMSA), about 25 local whale-watching operators adhere to a code of conduct for responsible whale-watching. NIMMSA member Kingfisher Wilderness Adventures runs a four-day 'Family Kayak with Whales' trip (designed for children aged six to 14) to see orcas and humpbacks as well as harbour seals, sea lions, and porpoises from its Family Orca Waters Base Camp near the Johnstone Strait. The trip costs from £607 per person.

Find out more about Kingfisher Wilderness Adventures.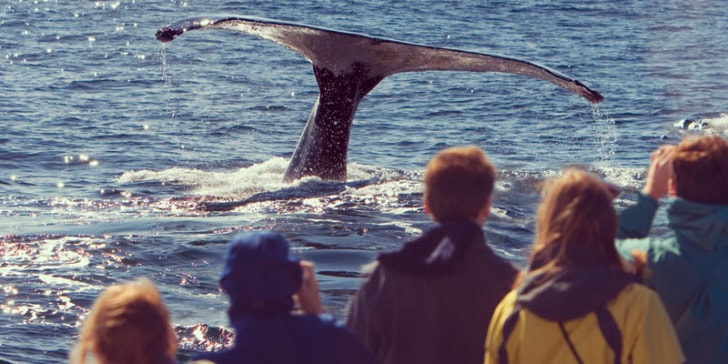 4/10

Massachusetts, United States

The draw for visitors to the Massachusetts waters off the east coast of America is the sheer variety of whale species seen here, including humpback, minke, northern right, pilot, sperm, sei and fin whales, as well as Atlantic white sided dolphins and harbour porpoises. The area is known for extensive marine research, and it was here that the responsible whale-watching programme Whale SENSE was founded, providing guidance to commercial whale-watching companies in the US Atlantic and Alaska regions. Cape Ann Whale Watch in Gloucester, Massachusetts, runs three- to four-hour whale-watching tours out to Stellwagen Bank, a national marine reserve off the coast of Gloucester, from about £34 per adult and £23 for children under 16 (under-3s are free), which includes a marine conservation educational programme integrated into the trip.

Find out more about whale watching in Massachusetts.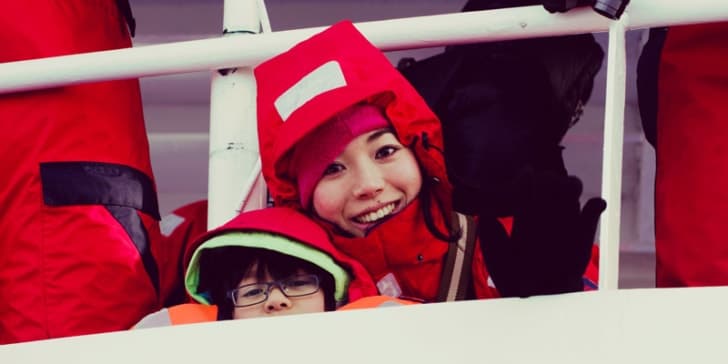 5/11

Iceland

During the summer months, from April to September, you can see over 20 species of cetacea, including orca, minke, humpback, and blue whales, in the North Atlantic and Arctic oceans on either side of Iceland. Thanks to the efforts of IceWhale, the Icelandic Whale Watching Association, local operators adhere to strict guidelines for whale-watching that aim to safeguard the sustainability of the island's fast-growing whale-watching industry. One its members is Elding, a family-owned company based in Reykjavik, which operates five boats for whale-watching tours from the capital, including a Whales and Northern Lights tour from about £104 per adult and £52 per child.

Find out more about whale spotting trips with Elding.

6/11

El Vizcaíno Biosphere Reserve, Mexico

Controlled access to the shallow, well-protected Laguna San Ignacio in El Vizcaíno Biosphere Reserve (Mexico's largest protected area) has ensured the area is one of the best places in the world to see North Pacific grey whale. Other marine mammals you may encounter include bottlenose dolphins, harbour seals, California sea lions, northern elephant seals and turtles. Searcher Natural History Tours runs a 12-day whale-watching boat trip to Baja California, also incorporating Laguna San Ignacio, from £3,374, which includes the Mexican Conservation Passport to access Natural Protected Areas.

Find out more about watching whales in Baja, California.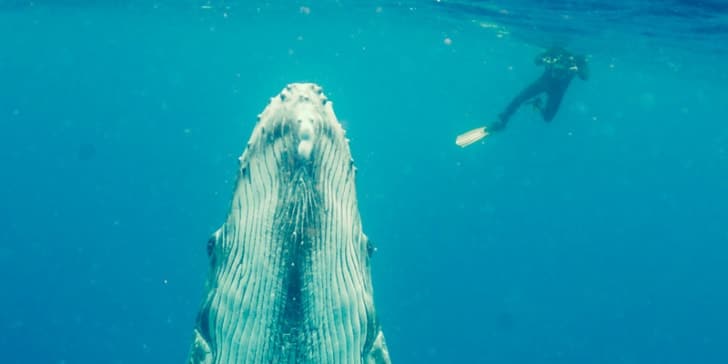 7/11

Tonga

Tonga is one of the best places in the world to see humpback whales, who migrate some 5,000 miles from their feeding grounds in the Antarctic to the warm, sheltered waters of Tonga's Vava'u group of islands. Regulations for the Tonga Whale-watching Operators Association were drawn up with input from the South Pacific Regional Environment Programme, and the International Fund for Animal Welfare. Whale-watching Vava'u, whose motto is 'Maximum encounter – Minimal impact', has run whale-watching trips in the area since 1993, operating two boats that carry a maximum of eight passengers per boat. A day trip costs about £110 per person.

Find out more about whale watching in Tonga.


8/11

Silver Bank, Dominican Republic

The warm shallow waters of the Silver Bank – a submerged limestone plateau between the Dominican Republic and Turks & Caicos – is the winter breeding ground for thousands of North Atlantic humpback whales. The government of the Dominican Republic has established it as a 'Sanctuary for the Marine Mammals of the Dominican Republic', limiting the number, frequency and duration of sightseeing trips to the area, and so minimising the disturbance of the whales while providing those lucky enough to gain access with an exclusive experience. Conscious Breath Adventures operate a seven-night live-aboard whale-watching cruise, including five days on the Silver Bank, from £2,754 per person.

Find out more about taking a whale watching cruise with Conscious Breath Adventures.

9/11

Peninsula Valdez, Argentina

The sheltered waters around the Peninsula Valdez off the east coast of Argentina are home to the southern right whale, one of the largest whale species, which can be as long as 15m and weigh up to 60 tons. Five local operators (Tito Bottazzi Whale Watch, Jorge Schmid, Hydrosport, Whales Argentina and Peke Sosa) work together in an innovative scheme that shares the use of boats to reduce the disturbance of the animals. Tito Bottazzi's bilingual guides run 90-minute whale-watching boat trips departing from Puerto Madryn.

Find out more about boat trips with Tito Bottazzi.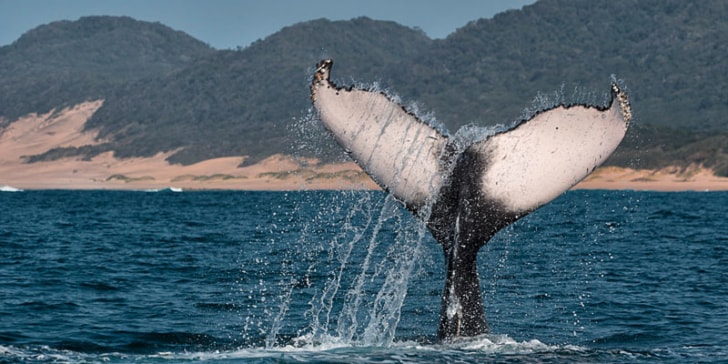 10/11

South Africa

From June each year, humpback whales can be seen as they pass up the east coast of South Africa to their breeding grounds, and then again from November when they return. Other species that can be spotted throughout the summer include southern right whales, Bryde's whales, minke, as well as bottlenose, common and humpback dolphins. In many areas, only one operator is permitted to approach within 50m of whales (all other boats must remain no closer than 300m). One such operator, Raggy Charters, which works in combination with the Baywatch Marine Conservation Project and organises regular beach cleans in the Port Elizabeth area, runs guided whale- and dolphin-watching cruises, most of which are led by conservationist, wildlife educator and marine safari specialist Lloyd Edwards. Half-day trips from Port Elizabeth cost about £54 per person, £30 for children under 12.

Find out about more about whale watching trips from Port Elizabeth.

11/11

Outer Barrier Reef, Australia

Visit the Outer Barrier Reef to see minke whales with one of the nine permitted whale-watching operators and your recorded sightings will help feed into a management plan of the marine park. Award-winning Eye to Eye Marine Encounters, run by John and Linda Rumney (who have 30 years of experience living and working on the Great Barrier Reef), provide luxury live-aboard trips to swim with minke whales on the Outer Barrier Reef. They are currently establishing a marine research and educational organizsation, 'Great Barrier Reef Legacy'. A five-day whale-watching trip onboard a luxury 70ft boat costs from £728 per person per day, not including an environmental management charge of £8.70 per person.

Find out more about Minke whale expeditions with Eye to Eye.